From Tom Cruise's 80s aviators to Arnold Schwarzenegger's wayfarers in Terminator, here are the most iconic vintage sunglasses from Hollywood movies ever!
Hey guys! No matter what the season, sunglasses are always in. And no one does sunglasses better than hot Hollywood actors (and actresses)! Especially in the movies. Movie sunglasses set trends, sometimes they define trends. From Tom Cruise's Ray Ban aviator sunglasses in the 80s to the latest James Bond Spectre with Daniel Craig donning the Tom Ford wayfarers in 2015, they have a way of finding themselves into the latest trends that everyone wants to wear.
So, to put it all together, I picked out the top and most iconic Hollywood movie men's vintage sunglasses and rated them from the most popular to the least. Let's check it out!
Most Famous Vintage Sunglasses  from Hollywood Movies Ever!
Tom Cruise's aviators are obviously going to take the top spot. I think everyone will agree! They're still so iconic and popular, even after decades, that they're not even considered vintage sunglasses!
Arnold Schwarzenegger in both Terminator and Terminator 2 is a close second.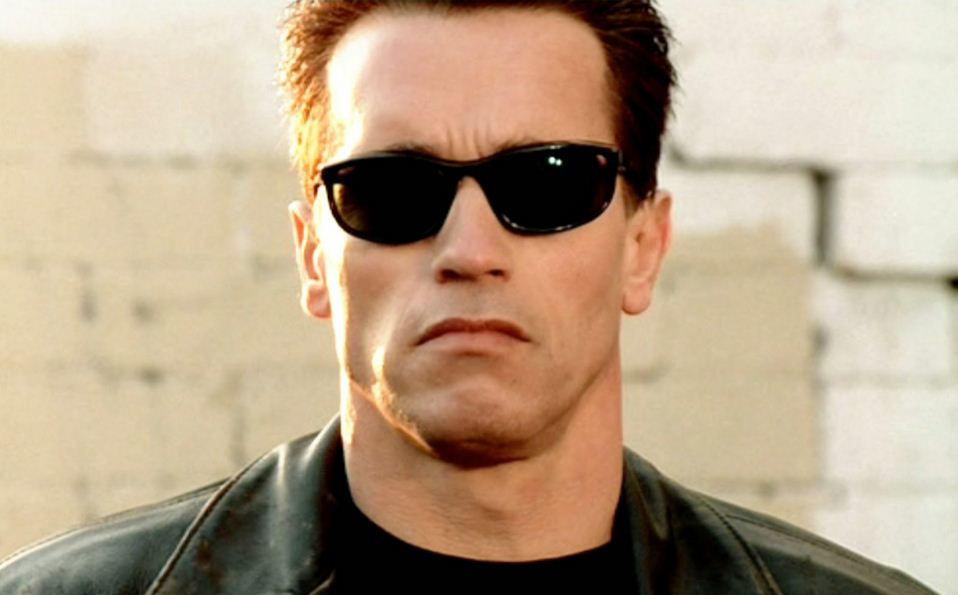 I am an Arnold fan and these are my favorite Hollywood movie vintage sunglasses ever! Also featured in our earlier article: Men's Fashion Trend: 80s Inspired Sports Sunglasses
Men in Black from the 90s – who can forget this duo of Will Smith and Tommy Lee Jones in their black suits and sunglasses hunting down the trouble-making aliens in their top secret jobs!
And of course, Brad Pitt in Fight Club with his red oval sunglasses that made both Brad and red popular. And it made bad cool!
Also check out: Hollywood Actor Beards – The Good, The Bad and The Ugly.
James Bond is always stylish, and Daniel Craig's sunglasses from Quantum of Solace are our favorite pick out of all James Bond sunglasses.
To have seen Matrix again and again, and missed Keanu Reeves' oval sunglasses is practically impossible! Although I'm not a fan of these, personally.
And most guys I know love these cool red aviators from the Hangover. Not really vintage – but I'm putting them here anyway!
Here's the early Tom Cruise – pre-Top Gun's Maverick and pre-Mission Impossible!
Dicaprio's brown tortoise-shell sunglasses are so cool, I love them!
Dolce Vita's pair is as vintage as you get!
This is too recent to be considered as iconic – but I'm loving these sunglasses on Henry Cavill anyway! Also check out: The Man from UNCLE | 60s Men's Fashion
Here's another recent movie pair of sunglasses I really like!
Morgan Freeman's round sunglasses are the only side-shade ones in the list:
Morgan Freeman in Oblivion
So those were our top picks for the most iconic Hollywood movie actors' and vintage sunglasses. Which one are your favorite? And which pair do you have already? Let me know below! 🙂
And no, I did not forget Sylvester Stallone. Check out Men's Fashion Trend: 80s Inspired Sports Sunglasses.
Shilpa Ahuja the editor-in-chief of ShilpaAhuja.com, which she founded with the goal of inspiring confidence in the modern working woman through fashion. Other than defining the direction of the magazine, she also writes about fashion & beauty trend forecasts, industry analysis, and opinions.
Shilpa's work has been published in the University of Fashion blog and Jet Airways magazine. She is also an artist, illustrator and cartoonist. She is also the creator of Audrey O., a comic series that represents the lifestyle of millennial women. She enjoys creative writing and world travel. Her art has been exhibited at Harvard Graduate School of Design and the Aroma Hotel, Chandigarh and been published in Chandigarh Times.
Originally from Chandigarh, Shilpa also has a degree in architecture and has worked in interior project management. She is also the author of the book "Designing a Chinese Cultural Center in India". Shilpa has a Masters in Design Studies degree from Harvard University.
For feedback and questions, please email [email protected]