From types of waistlines to different types of silhouettes, there are so many terms that define a garment's overall shape, and we even see new ones every season. Find them all here! 
Types of Silhouettes
A-line silhouette (ADJ.) [ay lahyn] A-line or A line silhouette has fitted bodice until the waist and flares out to create the shape of the letter A. Unlike a ball gown, A-line silhouette doesn't have a full skirt or puffiness. This is one of the simplest types of silhouettes used in gowns or dresses, and is always created with a well-defined waistline. Also see modified A-line.
Ball gown silhouette (N.) [bawl goun] See ball gown in types of dresses.
Butt cape (N.) [buht kay-p] See waist cape.

Cape silhouette (N.) [kay-p] A cape is a long piece of fabric, which covers the back of the wearer, with attached straps that are tied around the neck. A cape silhouette is one that has a large plain fabric at the back to give the illusion of a cape. It may either be created with exaggerated sleeves or with a cape (panel of fabric), attached to a dress or jacket, at the neck or shoulders that falls at the back. This is the type of silhouette used to create a cape coat, cape top, cape gown, etc. Also see butt cape.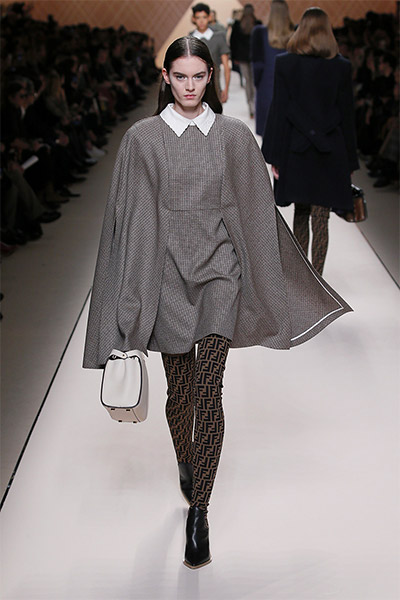 Cold-shoulder (ADJ.) [kohld shohl-der] A silhouette with a cut-out at the shoulders to reveal exposed shoulders is called cold shoulder. This design is used to create other variations like asymmetric cold shoulder, cold shoulder dress, and cold shoulder top. The shoulder cut-outs are usually geometric and symmetrical, but could also be oval, or shaped differently for each shoulder. At times, the cut-outs may be so large so as to expose part of the upper arm.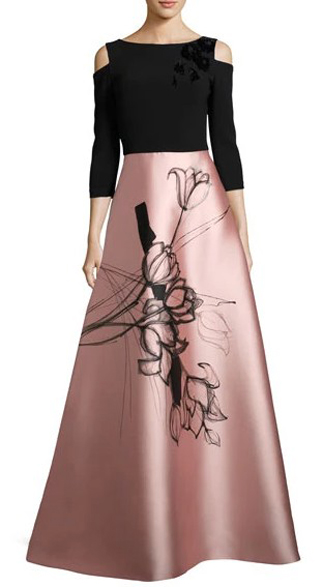 Empire silhouette (ADJ.) [em-pahyuh r] Empire is a type of silhouette in which the waistline is cinched or gathered just below the breasts and flares out from there. This is one of the types of silhouettes most commonly worn by pear-shaped women, pregnant women or those wanting to cover their stomach. This type of silhouette is also known as empire waistline, and used in an empire waist dress, empire waisted gown, or top.
Halter (ADJ.) [hawl-ter] See halter in Types of Necklines.
High low silhouette (N.) [hahy loh] A trend in skirts, dress or tops where the front hemline is higher than the back is know as high low. The trend of these types of silhouettes first began in the 15th century dresses, where women wore their skirts slightly higher in the front to reveal their petticoats. Later in the 17th century, the top poufy tier of the skirt revealed the under-layer in the front, while covering it completely at the back. In the 21st century, a modified version of this trend returned as fashion designers introduced high-low dresses and tops, to be worn over trousers or just as is.

Maxi silhouette  (N.) [mak-see] A type of skirt or dress that touches the ankles is called a maxi dress or skirt. Maxi could be designed in combination with other types of silhouettes, such as a high-low maxi dress, an A-line maxi gown or a maxi skirt with a train. Also see maxi dress in types of dresses.
Mermaid silhouette (ADJ.) [mur-meyd] Mermaid gown style is fitted or body-hugging till the knees or calves, and then tapers or flares out to become a full skirt or train. As the name suggests, this design is inspired by the mermaid's tail. This is one of the types of silhouettes that is commonly used in wedding dresses or formal gowns. It is unusual to see this silhouette in casual garments or ready to wear.

Midi silhouette (N./ ADJ.) [mi-dee] A type of skirt, dress or silhouette that is below the knee but above the ankle is called a midi. In the early 20th century, midi dresses became very popular owing to the growing freedom of women post World War I, who wanted comfortable casual wear. In the decades since, many different designers have played with varying lengths in the midi silhouette. Such as Christian Dior designed calf-length skirts in 1940s. Coco Chanel popularized just-below-the-knee skirt suits in 1920s and then Jackie Kennedy wore those designs again in the 1960s. And finally, Raf Simons re-introduced the famous below-the-calf gowns for Dior in 2012.
Micro-mini silhouette (N./ ADJ.) [mahy-kroh mi-nee] Micro mini is a type of skirt, dress or silhouette that ends just below the hips. Also micro dress, micro skirt. In the 1920s, micro-mini skirts were first designed to be worn over bikini bottoms as swimwear. They remained popular as such throughout the '40s and '50s. Finally, in the 1960s, designers like John Bates and Yves Saint Laurent designed micro-mini skirts and dresses. Inspired by the tennis or figure-skating uniforms, micro-minis became common as a mainstream fashion trend.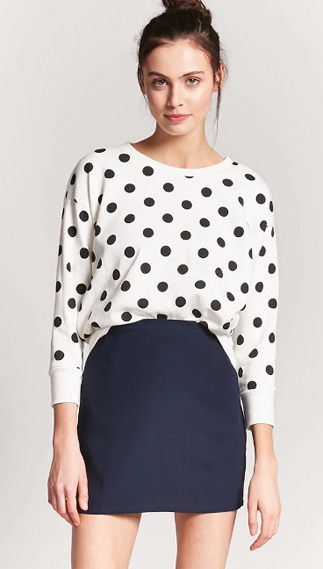 Mini (ADJ.) [mi-nee] A type of skirt, dress or silhouette that is above the knee but below the hips is called mini. Typically, mini skirts fall mid-thigh, whereas micro-minis fall in the upper thigh.
Modified A-Line silhouette (ADJ.) [mod-uh-fahyd ay lahyn] A modified version of the A-line silhouette, a modified A-line is fitted through the bodice and hips and gradually flares out to the hem forming an 'A' shape. Unlike the A-line, modified A-line silhouette doesn't have a well-defined waist line. Also see A-line. This is one of the types of silhouettes commonly seen in both casual wear and formal or wedding dresses.
New look (N./ ADJ.) [noo luk, nyoo luk] A new look is a type of silhouette that has a cinched-in waist and puffy, exaggerated hips. The name "new look" was first used in 1947 by then Editor-in-Chief of Harper's Bazaar, Carmel Snow, to describe a bar jacket silhouette that Christian Dior had in his first ever collection in the same year. In the 1940s and 50s, this became the most popular types of silhouettes, inspiring post-WWI ball gowns and evening gowns. In the 21st century, Raf Simons re-introduced the silhouette for modern gowns, tops and jackets in many of his collections. Since then, the cinched-in waistline with exaggerated hips became a popular trend in the late 2010s. Read more about the Fall 2018 fashion trend of new look waistline.
Noodle strap (N.) [nood-l strap] A narrow shoulder strap on a dress or top that is nearly as wide as it is thick, like a noodle is called a noodle strap. Also noodle strap top, noodle strap dress. Noodle straps gained popularity in the 1940s, when designers used them in gowns, evening dresses and even swimwear.
Off-the-shoulder (ADJ.) [awf th uh shohl-der] A type of silhouette whose sleeves or straps start below the shoulder-level is called off-the-shoulder. Also known as off-shoulder. Off-the-shoulder silhouette first came into fashion in the 16th century when tight bodice and wide, off-shoulder necklines were a part of fashionable Renaissance gowns. In the Hollywood era of the 1950s, women wore evening gowns with off-the-shoulder lapels. Finally, in the 1970s, the hippie culture introduced the peasant-style off-shoulder tops and maxi dresses, whose variations are common even today. Also see cold-shoulder.

Pagoda shoulder (N.) A type of shoulder silhouette where the shoulders follow a concave line, rising up at the outer corners is called pagoda shoulder. This shoulder silhouette takes its name after Chinese pagoda, whose shape it creates at the corners. Also see shoulder pad in types of surface techniques.
Peplum (ADJ.) [pep-luh m] A type of silhouette with a gathered and typically cinched-in waistline and a short flared or ruffled flap of fabric attached to it. Garments like tops, dresses and jackets use the peplum silhouette, and have a well-defined waistline. The origin of this type of silhouette dates back to ancient Greece, where women wore 'peplos' dresses, from where peplum derives its name. Gowns with peplum silhouette became very popular in the 1930s and '40s, when actresses like Jean Harlow and Bette Davis wore them. One of the most famous peplum looks was designed by Christian Dior in 1940s in his first ever collection (see New look silhouette). In recent times, Kate Middleton wore modern peplum suits on many occasions.
Sheath silhouette (N.) [sheeth] See sheath in Types of dresses. Also sheath gown.
Strapless (ADJ.) [strap-lis] A type of dress, top or silhouette that doesn't have sleeves or shoulder straps is called strapless. Also see off-the-shoulder. Strapless evening dresses and swimwear became famous in the 1940s, when glamorous actresses like Rita Hayworth wore them. Strapless dresses today are common everywhere from red carpets, weddings, beaches to nightclubs. However, these types of silhouettes are uncommon as casual day-wear.
Three dimensional silhouette  (N.) [three dih-men-shuh-nuhl si-loo-et, three dahy-] A silhouette that uses poufy ruffles, flouncy frills, big sculptural sleeves or such elements that go outside the normal silhouette to occupy extra space is called three dimensional or 3D silhouette. While royalty in ancient Egypt already used these types of silhouettes in their accessories, the renaissance dresses made them popular in garments as well. Those included quite poufy skirts, ruffles, flouncy sleeves and ruffs, again mostly worn by royalty. Due to their weight and impracticality, to this day, three dimensional silhouettes are not a part of everyday fashion. In the 21st century, these types of silhouettes are a part of runway collections, red carpet dresses, party dresses or tops. Read more about the 3D fashion trend and 3d couture dresses.
Trail (V/N.) [treyl] A long fabric that is attached to the back of a dress and sweeps the floor is known as a trail. Also train. Gowns with long trains are most commonly worn by brides on their wedding day, but are also common among celebrities for red carpet dresses.
Train (N.) [treyn] See trail.
Trumpet silhouette (ADJ.) [truhm-pit] Similar to the mermaid silhouette, a type of silhouette that is fitted through the bodice, waist and hips, but flares out at the thighs is called a trumpet gown or dress. Also see mermaid.
Waist cape (N.) [way-st kay-p] Waist cape is a silhouette wherein a front-open overskirt or two wide pieces of fabric are attached at the waist on trousers, a dress, skirt or gown at either side to give the illusion of a cape that starts at the waist. This is also known as butt cape. Also see cape.