Even something as basic as a top has many variations. To know the difference between each of the different types of tops, read our fashion glossary below.
Different Types of Tops & Women's Shirt Styles
Bandeau top (N.) [ban-doh top] A longer bandeau bra that can be worn as a top, a strapless top that is a band of fabric just to cover the breasts and upper-stomach area. Also see bandeau bra in types of lingerie and tube top.
Built-in bra top (N.) [bilt-in bra top] A top that has a structured and padded bust, shaped like a bra, sewn inside it is called a built-in bra top. It can be worn without having to wear an undergarment. Also see built-in bra top trend in trendy tops for Fall 2018.
Button-up shirt (N.) [buht-n-up shurt] Types of tops that button up in the front are referred to as button-up shirts.
Button-down shirt (N.) [buht-n-doun shurt] Shirts that have a concealed button placket are called button down shirts.

Choker top (N.) [choh-ker top] A new type of top that has a collar or strip of fabric going around the neck like a choker is called a choker top. Also see choker dress in types of dresses. Also see choker dress in types of dresses.
Corset top (N.) [kawr-sit] Inspired by corsets, tops that lace up at the waist are called corset tops.
Crop top (N.) [krop top] Also known as midriff tops, tops that are short enough to reveal the waist are called crop tops.
Extreme crop top (N.) [ik-streem krop top] A much shorter version of crop tops that reach the bust level or above are called extreme crop tops.
High-low (N.) [hahy-loh] Tops that have an asymmetrical hemline are called high-low tops. They're usually high in the front and low at the back.
Longline (N.) [lawng-lahyn] See maxi tops.
Maxi Top (N.) [mak-see top] Extra long tops that reach below the calf length are referred to as maxi tops. Also longline tops.
Peplum (N.) [pep-luhm] Tops with a short and gathered panel attached at the waistline are called peplum tops.
Pussy bow (N.) [pu–see boh] Also known as pussycat bow, pussy bow tops have a high neckline with a bow tied at the neck.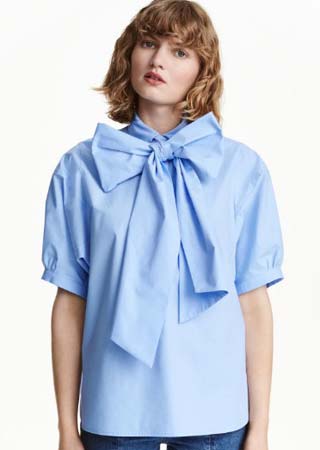 Shirt (N.) [shurt] A garment worn to cover the upper body, usually with sleeves, front-opening and buttons. Also see button-up shirt.
Tank (N.) [tangk] Tops that are fitted and have a U-neck and wide straps are called tank tops.
T-shirt (N.) [tee-shurt] T-shirts or tees are called so because they resemble the shape of the letter, T. T-shirts typically have short sleeves and a crew neck.
Tube (N.) [tyoob] Tube tops are a strapless and fitted type of top. Also see bandeau top.