Discover the different types of clothing styles, apparel terms and types of clothes in our definitive SlubWords fashion dictionary. The apparel glossary also has all different types of lingerie, trousers, outerwear and new trendy fashion terms from the industry are added daily!
SlubWords
Types of Clothes, Clothing Styles & Terms
Discover the different
Types of Clothes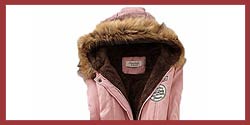 Newly added SlubWords in Types of Clothes
Cape gown (N.) [kay-p gaun] A gown that has a large piece of fabric either floor-length or less, attached at the neck or shoulders, falling at the back like a cape is called a cape gown. Also see gown, cape in types of silhouettes.
Read more about all types of dresses.
Built-in bra top (N.) [bilt-in bra top] A top that has a structured and padded bust, shaped like a bra, sewn inside it is called a built-in bra top. It can be worn without having to wear an undergarment. Also see built-in bra top trend in trendy tops for Fall 2018.
Read more about all types of tops.
Overskirt (N.) [oh-ver-skurt] A type of skirt or skirt-like layer of fabric worn or sewn over skirts and dresses or sewn over pants is called an overskirt.
Discover all types of skirts.
Suit jacket (N.) [soot jak-it] A formal jacket with lapels, sometimes nipped waist and shoulder pads that is paired with formal creased trousers to form a suit or business suit is called a suit jacket. Also see bar jacket, tuxedo jacket.
Discover all types of jackets and outerwear terms.
Track pants (N.) [trak] A type of pants that are heavy knitted and have a relaxed or baggy fit, meant for athletics or athleisure are known as track pants. They may be elasticated at the ankles (called joggers). They may be worn with sweatshirt to form a track suit. Also sweat pants.
Read more about all types of pants and jeans lingo.
Backless bra (N.) [bak-lis bra] A type of bra whose strap are designed to look invisible at the back is called a backless bra. It may have skin-color strap at the back, or may not have a strap that goes around the back at all, or its straps may go around the shoulders. Also see self-adhesive bra.
Read more about all types of lingerie, shapewear and sleepwear terminology.
Also in SlubWords: The Fashion Words Glossary
Contribute
Have new word suggestions? Know fashion words not already included in SlubWords? Please send us your additions and feedback at [email protected].
Or tweet us @shilpa1ahuja with your feedback or thoughts. Read about our team here and about ShilpaAhuja.com here.