From geode cakes to mirror glaze and pinata, check out the most amazing creative cakes for birthdays and weddings below!
Special occasions call for sweet & special memories. And what better way to do it than with cakes so stunning they should belong in a museum! Check out the most amazing creative wedding cakes that will make you doubt if they're actually edible or just a work of art!
Creative Wedding Cakes
Ditch boring, traditional, white wedding cakes for these one-of-a-kind, extravagant cakes!
1. Geode Cakes
These cool and creative cakes have got to be my absolute favorite cake trend! They're cakes with huge indents, filled with colorful sugar crystals to make it look like an actual geode in a rock! How beautiful?! You can choose what crystals should go into your creative wedding cake based on your color scheme or even your birthstone! Some popular geode cake ideas are topaz, opal, amethyst, emerald and agate.
2. Metallic, Foil and Glitter Cakes
Add a li'l bling to your wedding cake with a hand painted metallic accent, gold foil or glitter! Having just one tier of your wedding cake all glittery and keeping the rest plain and simple is an extremely popular wedding cake trend. And so are glitter ombre and gold & silver foil wedding cakes! These will also work perfectly for bridal showers or birthday parties!
3. Naked and Deconstructed Cakes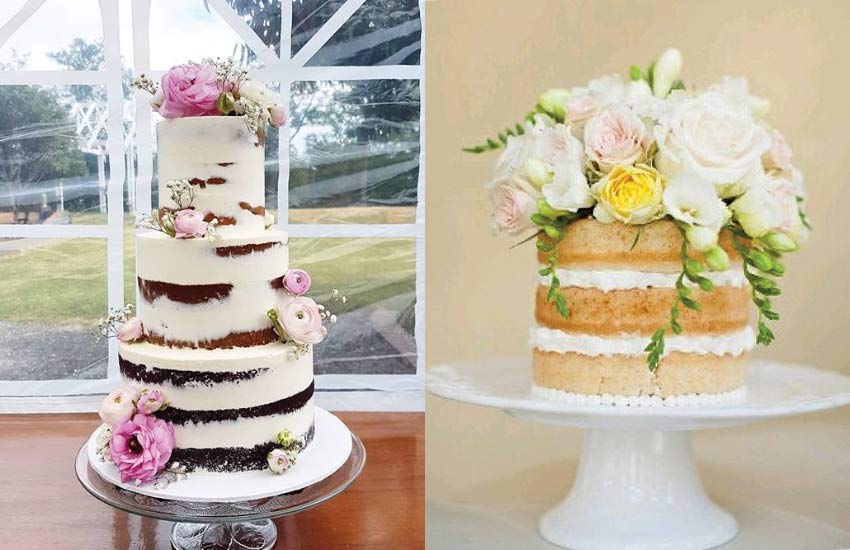 Unusual, quirky and different, these cakes would be perfect for a rustic or bohemian wedding! These specialty cakes and desserts don't have any frosting or icing on top and are quite literally naked! They look oh-so-lovely when dusted in icing sugar and topped with fresh flowers, leaves and fruits!
4. Hand Painted and Watercolor Cakes
From intricate florals to graphic illustrations, the painted cake trend is another one of my favorites! You could personalize your wedding cake with hand paintings of the place where you first met, your favorite quotes, flowers, or abstract designs! Another great idea for creative wedding cakes is to have splashes of watercolor all over it! Or you could get a watercolor painting of roses or just the two of you!
5. Bas Relief Cakes
Bas relief is a technique where textures are created by having motifs over the cake with an embossed effect. The motifs are usually kept the same color as the rest of the cake to make it look as if it was raised from the same surface. This method of cake decorating borrows inspiration from ancient sculptural techniques and would be perfect for a Victorian themed wedding.
6. Marbled Wedding Cakes
These edible art pieces have been all the rage in wedding cakes for quite some time now. Marbled cakes with gold leaf & gold paint and monochromatic marble effects are two of the most popular creative cake ideas for weddings. What would make these even cooler is to have a marbled effect on the inside of the cake as well!
7. Half and Half Cakes
Also known as split cakes, theses creative cakes typically have one half, which is traditional and white and the other is made to look like it's been peeled back to reveal what's underneath it! Great for couples who can't choose between two cake designs! Or the two halves can also be representations of the groom and bride, each half decorated with their favorite things!
Creative Birthday Cakes
Make birthdays all the more fun with unique and quirky cakes and desserts!
1. Candy-Filled/ Pinata Cakes
Pinata cakes are colorful and fun creative birthday cakes that have a hidden surprise inside! The surprise could be any type of candy from gummy bears and sprinkles to lollipops and toffees! Fill a cake with the b'day girl/boy's favorite candy and they wouldn't even know it's in there until they cut through it! These creative candies cakes are also popular at baby showers to reveal genders with blue or pink stuffed candy!
2. Mirror Glaze Cakes
They're called so 'cause you can actually see your reflection in them! These glossy, high-shine creative cakes are almost too pretty to eat! The sheen comes from a mixture of gelatin, sugar, water and food color that's poured over a frosted cake. Tie-dye, galaxy and marbling are some exceptionally beautiful variations of these creative cakes.
3. Food Shaped Cakes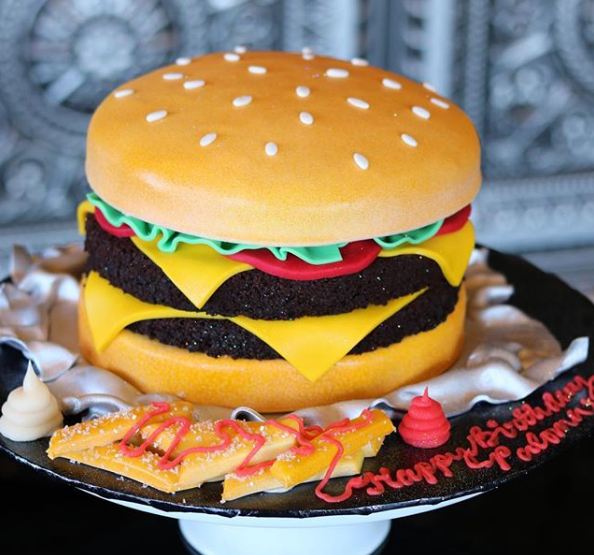 Know any foodies? This is what their birthday cake should look like! Cakes and desserts in the shapes of a burger, pizza, spaghetti & meatballs, tacos, sushi and the list goes on!
4. Dress Cake
These creative cakes are perfect for Sweet 16's and quinceaneras or for any fashionistas in your life! Dress cakes are also great for boutique openings, fashion store anniversaries or even just to celebrate a fashion-lover's birthday!
5. Chocolate Overload Cakes
These creative cake designs are for chocoholics who just can't get enough of chocolate! Like the name suggests, it's an overload of chocolate and more chocolate! Top an already rich choco cake with anything and everything chocolate! Cookies, macarons, chocolate bars, candy, sprinkles, donuts, choco chips, syrup drips and what not! Just remember, with these creative cakes, more is less!
6. Zombie Cake
Although these creative cakes are downright creepy, teenage boys would love nothing more than to cut through (and eat) a zombie's head on their birthday! A zombie coming out of a grave and zombie head spewing blood and organs from their mouth are popular creative cake ideas. Zombie cakes are also great for Halloween-themed birthday parties, weddings and even for celebrating scary movie nights!
7. Cake Pops
These creative easy birthday cakes can be made right at home! Yes, they're that simple! Check out Chocolate Dessert Ideas: 12 Quick and Easy Mouth-Watering Desserts, for the recipe. You can even go ahead and create a cake pop tower by arranging them on a tiered cake or like a croquembouche! Some fun ideas include cake pops in the shapes of animals, cartoons, flowers, painted & marbled cake pops and geode cake pops!
8. Sugar Glass Cakes
Molten and hardened sugar made to look like sharp shards of glass or ice look so very cool as decoration on creative cake designs! They're extremely popular on Frozen themed birthday cakes. They also work well in mid-winter birthday parties.
9. Dynamic/ Animated Cakes
These creative cakes are a real treat for the eyes. They're just like any regular cake when they're stationary but when they move, it's a breathtaking sight indeed! It's like watching a film! They'd also make for creative anniversary cakes. Or you could take it up as a birthday project to make one with your artist friends!
10. Hidden Pattern Cakes
Having hidden designs in cakes is a creative cake craft in which pretty patterns are revealed once the cake is cut into! Some of the popular patterns include animal prints, hearts and even cartoons!
11. Levitating Cakes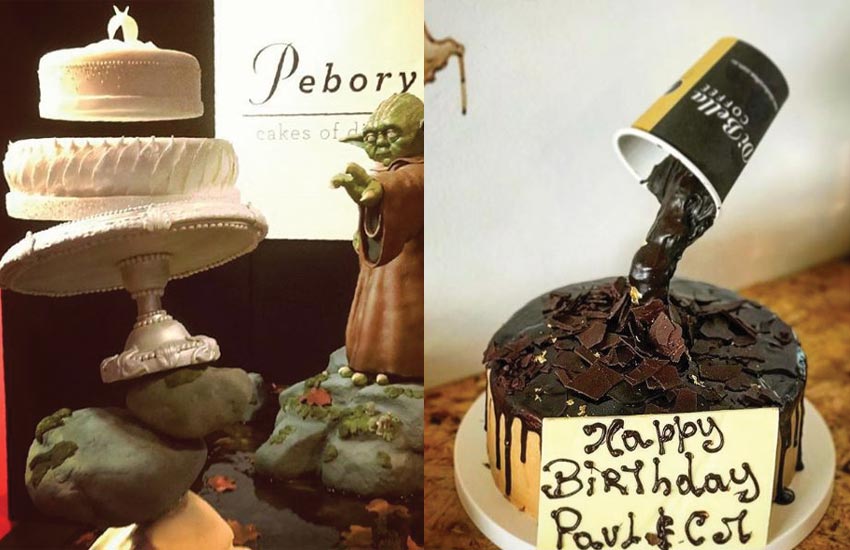 Great for weddings and birthdays alike, these creative cakes are made to float using magnets! Another variation of levitating cakes is using transparent wires as support to create a gravity-defying effect. They are very instagrammable as they look super awesome in pictures!
12. Light Up Cakes
These creative cake designs have tiny lights placed along the cake to illuminate and make it look all magical! These would be great for Christmas and new year parties as well. Similarly, projection cakes are just as cool, where patterns, phrases, animations and photos are projected on to the cake!
So those were some amazing creative cakes for birthdays and weddings! Which creative cakes and shapes were your favorite? Tell us by tweeting @shilpa1ahuja!
Image Credits: Instagram
Also read:
– 9 Spectacular Cake Art Trends to Try for Your Wedding or Birthday!
– Small Cakes: 5 Ultimate Recipes of Little Cakes You Have to Try
– The Chocolate Festival Guide: List of World's Best Chocolate Fests
– All About Gourmet Chocolate: Types, Flavors, Brands of Artisan Chocolates
– Chocolate Dessert Ideas: 12 Quick and Easy Mouth-Watering Desserts
Nishita is a Staff Writer/ Journalist at ShilpaAhuja.com. She is a graduate of National Institute of Fashion Technology and has a degree in leather design. A lover of all things fashion, she writes about everything from beauty, hair and lifestyle to fashion trends and how-to's. Her area of expertise is outfit ideas but being fresh out of college, she also loves writing about college fashion. Her new found love of baking is currently taking over her life, making her write about all things chocolate and easy recipes. With a flair for sketching and a great eye for detail, she's previously designed leather garments for brands like Diesel and Salsa. When she's not writing, she's busy reading extremely sappy Nicholas Spark's novels, sewing clothes and listening to some indie rock. Also super passionate about photography, she loves portraits and wildlife photography – a habit turned love that formed with the amount of traveling she did as a teenager. As a girl who grew up with books and movies like Pride & Prejudice, her love for period fashion is huge. And being curly haired, she's always on a constant hunt for solutions to problems that come with having ringlets and loves sharing them with people through her articles. For feedback and questions, email [email protected] or connect with her on twitter @ni95.