From Jennifer Lopez to Emily Ratajkowski, from celebs to models, here are the sexiest Snapchat users for you to add to your Snap friends list!
Hey everyone! Snapchat is everyone's favorite app those days and we are already loving the way it is! It's quite interesting with all the filters they keep updating during the holiday season. Right now, there is a huge competition for Snapchat from Instagram. But currently, Snapchat is a way ahead of its competition and many celebs' most favorite app to share the sexy photos for their fans.
Since there are loads of celebs and models on Snapchat, everyone can find their faves no matter what you're looking for. So here I have come up with a list of the sexiest Snapchat users for you to follow. From Victoria's Secret models to drool-worthy celebs, we've rounded up those you won't regret following! Let's take a look at our list of sexy Snapchat girls and boys!
1. Gigi Hadid (@Gigi Hadid)
Gigi Hadid is one of the top and most popular models. And she constantly changes her style and looks in different ways while traveling around the world. Plus she makes use of all the amazing Snapchat filters and keeps posting the behind-the-scenes pictures and videos from her shoots and fashion shows in her stories.

2. Kylie Jenner (@kylizzlemynizzl)

If you love drama, gossip, fashion and glam, add Kylie Jenner as your Snapchat friend! She is hot and no doubt to be followed by the raunchy-celeb-loving people on Snapchat. Hers is also one of the craziest and sexy Snapchat names! She uses her account to share selfies, daily style and also loads of other crazy stuff playing with the Snapchat filters. So add her to your list and check out the latest outfits, makeup and her behind the shoots scenes.
3. Bella Hadid (@babybells777)
Check out Bella Hadid's crazy selfie shots taken by using the snap filters. Gigi's sister and model is big on the runway and fashion scene, and she updates sexy pictures and videos of her and Gigi. She loves to share pictures in sheer tops or dresses at shoots and parties in her stories. Added bonus: she often posts mad vacation videos featuring fun with other hot models on Snapchat!
4. Bella Thorne (@Bella Thorne)
The Famous in Love star and ex Disney actor is pretty bold to share her sexy pictures with her fans. Make sure you follow Bella Thorne on Snapchat for her daily updates. She is just gorgeous! And posts all the latest sexy outfits, including bikinis, sheer tops and what not in her Snapchat stories. She's one of the hottest girls on Snapchat and has been in news for her oh-so-famous nude Snapchat stories recently from the set of Famous in Love, and her topless Snapchat pics! Also read: Famous in Love Season 2 Promo is Here: Plus, HUGE Spoilers!
5. Emily Ratajkowski (@emrata)
Of course, hers is one of the most well-known sexy snapchat girls usernames. Model Emily Ratajkowski loves to spend time taking care of her skin. Also, she goes all the way to impress in her bikini pics and sometimes even Snapchat nudes! If you are in search of sexy Snapchat profiles then I must say she is the one you guys need to follow! She is also a big supporter of women expressing their sexuality and her uncensored snaps and
Snapchat pics are proof!!
6. Jennifer Lopez (@jlobts)
Amongst all the hot Snapchat users, Jennifer Lopez is one of the most famous actresses. And also a great singer and a designer. She doesn't post crazy sexy pictures but yeah, she loves playing with Snapchat filters! Follow her and go through her crazy stories and looks.
7. Jessica Alba (@jessicamalba)
Celebs and models are very keen on their fitness. Jessica Alba is one of the hottest Snapchat girls who's also very fit. She keeps herself fit by going to the gym and posts all that in her stories along with her travel pics. I know it's fun seeing the stories of sexy Snapchat accounts, so check out her hot looks in bikinis and sometimes with funny Snapchat filters.
8. Rihanna (@rihanna)
Rihanna is often known as a queen of social media. Her sexy Snapchat stories always keep us in the know about what lipsticks and makeup are in trend. Also she loves to try different hairstyles with her outfits. Amongst all the sexiest Snapchat users, she is the most fond of playing with the Snapchat filters.
9. Kim Kardashian (@kimkardashian)
Kim Kardashian looks awesome and sexy. So hot she is! Her pictures are too. She spends sure that she spent some quality time with her kids playing with Snapchat filters and posts all that in her stories. Follow her to check out appealing pictures of sheer dresses, bikinis and even some nood snaps!
10. Selena Gomez (@selenagomez)
Add her to your friends list to view her updates on her daily life. She posts selfies with drama, pouts, and hang outs at cafes and parties. Also, she keeps sharing some of her recording shoot scenes too and tries filters on Snapchat with her friends and posts funny ones.
11. Kate Upton (@kateuptonsnap)
Kate Upton? She is the sexiest model I have ever seen. She is gorgeous and posts the best Snapchat nudes, bikini and photoshoot pictures. she also shares some of her backstage videos of her shows and shoots.
12. Khloe Kardashian (@khloekardashian)
One of the hottest Snapchat users, Khloe Kardashian posts a lot of pouty selfies! You can see her stories and updates on hair colors and learn how to pout for selfies from her as she loves to click pretty ones by using the Snapchat filters.
13. Jenna Jenovich (@jennajenovich)
By following the sexy Snapchat profile of Jenna Jenowich, you can check out the different sexy bikinis she wears in her daily life. From crop tops to short skirts, she is bold enough to share her sexiness with her fans! And she is one of the hottest Snapchat users. What's not to like?!
14. Justin Beiber (@rickthesizzler)
Justin Beiber is beloved by all his fans – no doubt about that! He posts his morning selfies and pictures with friends and his girlfriend. Also, he has shared the pictures of tattoos done on different parts of his body! So check out his Snapchat stories to keep a track of his hot body and latest tattoo styles!
Also read: Tattoos for Men: 50 Guy Tattoo Ideas for All Body Parts
15. Shay Mitchell (@officialshaym)
Do you wanna find out what new filters sexy Snapchat users are using? Go through Shay Mitchell's stories as she is really fond of these amazing filters I think! This Pretty Little Liars star tries almost all the filters and shares with her fans! She also posts loads of bikini selfies, fun with friends and videos of her gym sessions.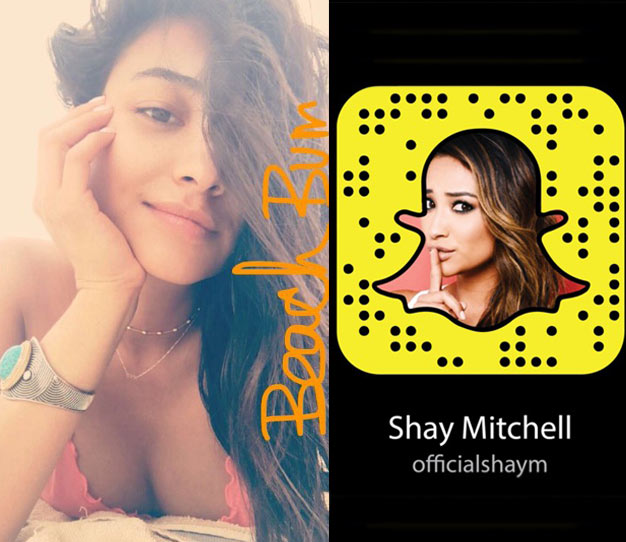 So those were the sexiest Snapchat users to follow. Which celeb or model you wanna follow? Who do you have on your list of sexy Snapchat usernames? Let us know by tweeting @shipa1ahuja!
Also read:
– What are Streaks on Snapchat? Find Out Why We Need Them in Our Life
– Snapchat Filters & Best Snapchat Effects That Drive Us Crazy
Pinky is a Staff Writer and Research Analyst at ShilpaAhuja.com, and an iNIFD graduate with a diploma in fashion design. Pinky's expertise lies in the latest wedding fashion trends and hair/makeup advice. Prior to taking up a career in fashion, Pinky graduated with a B.Com (C.S) from Ethiraj College. She is also an art and a movie buff, she loves to read a lot of online stuff, mostly fashion! The girl next door trying to juggle homemaking, blogging & wanderlust! Creating insights on beauty, hair & Indian fashion trends, one article at a time… Her hobbies include shopping (obviously!), hogging food at city's new restaurants & listening to Bollywood music.
Although Pinky is keen on taking the fitness route in 2018. For questions or discussions, email [email protected] or tweet her @coolbuddy13141