90s was an era of supermodels. The decade saw some of the most popular models in the industry. Let's find out all about 90s supermodels!
Hey gorgeous! We're doing a series on 90s fashion and everything awesome from the 1990s. And we can't talk about the glamour of that decade without mentioning the hot models from the 90s. They inspire everyone in the fashion world even today. Let's see what made them super!
What is a Supermodel?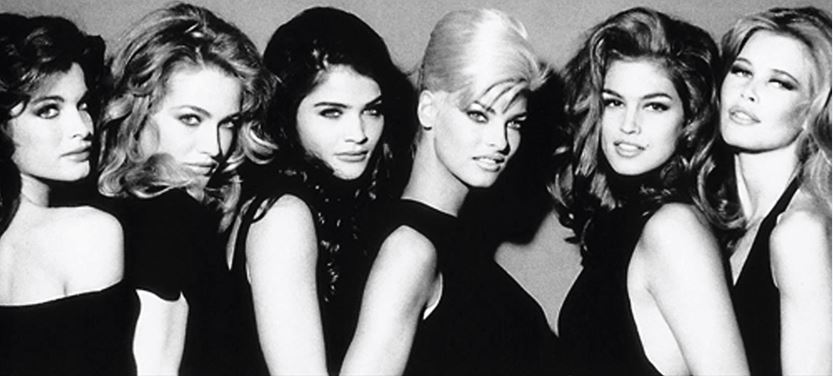 There are many criteria that are considered when we think of a supermodel definition. A supermodel is someone whose work and influence goes beyond the fashion industry. 90s supermodels weren't just into magazine editorials or runway modelling. With their professionalism, personality, unique personal style and work outside the fashion industry, they became household names. Very highly paid, these models were some of the most coveted in the industry, doing hundreds of magazine covers each.
They appeared in some of the most memorable ad campaigns and even music videos. George Michael's Freedom! '90 is one such music video that stars the big five – Cindy Crawford, Naomi Campbell, Tatjana Patitz, Linda Evangelista and Christy Turlington. The list of supermodels still continues to awe and inspire the industry with their work.
Just this season, Cindy, Naomi and Claudia walked for the Versace fashion show for Spring Summer 2018 ready-to-wear collection, along with Helena Christensen and Carla Bruni. The collection was designed by Gianni Versace's sister Donatella Versace, who designed a tribute collection. The models were Gianni Versace's muses in the 90s. Isn't it poetic to have them walk in the 90s iconic gold metal mesh dresses?! They still got it!

90s Supermodels: All You Need to Know About the Icons
1. Cindy Crawford
Cindy Crawford is one of the most influential and famous models of the world. From her early modelling days, she has been a role-model for beauty and charisma for women, a career aspiration for models and a fantasy for men. She walked the runways of the world's top designers like Chanel, Dolce & Gabbana, Christian Dior and Valentino, and appeared on countless magazines' covers including Vogue, Elle, Playboy – the list goes on and on.
She is most remembered for some of the ad campaigns she appeared in like Pepsi Superbowl commercial. Others included Versace, Calvin Klein, Oscar de la Renta, Revlon and countless more. Appeared in films and music videos for Jon Bon Jovi, Duran Duran and recently, Taylor Swift. BTW her red plunging neck gown from 63rd Academy Awards in 1991 has a Wikipedia page of its own. She also appeared in some TV shows and films and created her own fitness video series.
Cindy continues to do editorials and modelling even now, and recently walked the runway for Versace SS18 collection. Her carbon-copy daughter Kaia Gerber made her runway-debut in the same season and is on our teen style icons watch-list.
2. Linda Evangelista
Linda Evangelista is one of the top 90s supermodels. She came in slightly earlier than her other model counterparts of the decade, and began the era of 90s supermodel with her many many ad campains and more than 700 magazine covers including Rolling Stone, Vogue, W, Glamour and what not.
Hers is a unique face, and would yet be hard to recognize in so many of her campaigns and magazine shoots, since she was kinda like a hair chameleon. She rose to fame for her short hair in the late 80s, almost like a grown-out pixie. It began to be called "The Linda", and became one of the most popular hairstyles of the 90s. She subsequently sported many colors, lengths and styles of this cut. My favorite is her curly bob.
She was a muse for Karl Lagerfeld and Gianni Versace.
Pretty much a real-life Barbie doll, she was also popular for her line, "We don't wake up for less than $10,000 a day!"
3. Claudia Schiffer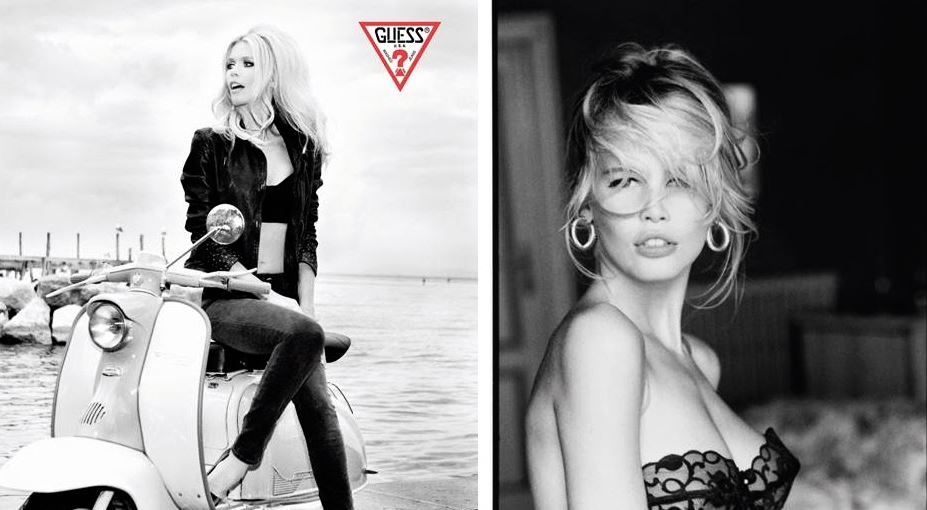 With her Brigitte Bardot like classy beauty and blonde hair, Claudia Schiffer was an instant bombshell in the 90s. She appeared on many magazines like Playboy, Vanity Fair, People and Time. She was also the face of Chanel and walked for the top fashion houses' runways. Schiffer appeared in countless advertising campaigns like Versace, Dom Pérignon, Bulgari, Louis Vuitton, L'Oréal and Pepsi, making her one of the most in-demand 90s supermodels.
She has also made appearances in Zoolander and Love Actually, and many TV shows like The Oprah Winfrey Show and Late Show with David Letterman.
Schiffer still continues her modelling career. She was in the 30th anniversary campaign of Guess in 2011, and she's been one of L'oreal's longest-standing brand ambassadors. Doubtlessly one of the most famous supermodels of the time.
4. Naomi Campbell
Supermodel, actress, singer – what wasn't she? Naomi Campbell led the 90s supermodels group, and along with Christy Turlington and Linda, formed the "Trinity" or the trio of the most coveted faces (and legs!) of the late 80s and 90s. Further in the 90s, she worked on many campaigns and mag shoots with the other 90s super models.
She was arguably the first most popular black model. While she faced racial discrimination in the industry, she also received accolades and fame, being the first black model to appear on Vogue France's cover in the late 80s.
Other than being one of the Freedom 90 models, she also appeared in other music videos like "Erotica" by Madonna. Also, she appeared in a hot white crop-top and mini-skirt set in the song "In the Closet" by Michael Jackson, which is where I first really noticed her to-die-for legs.
5. Christy Turlington
Appeared in international magazines and high fashion ad campaigns like Max Mara, Maybelline and Michael Kors, she was also one of the "Trinity"! She continues to do campaigns and covers and has been regarded as one of the top supermodels of the 90s.
5. Kate Moss
Kate Moss arrived in the late nineties, totally in a different league than the original supermodels. Because of her "anti-supermodel" look, non-curvilicious, waifish figure and heroin chic fashion, she was far from what was considered "glam" at the time. With her unique persona, she went on to do many high fashion campaigns like Givenchy, Calvin Klein, Levi's, YSL, Dior, Roberto Cavalli, etc. Although by the mid-2000s, she was dropped by many brands due to drug allegations.
Kate Moss has done acting cameos and appeared in music promotions. Her young romance with Johnny Depp also made her popular and so did her 90s grunge fashion. She inspired many with her carelessly styled hair and channeled her grunge look with pencil liner, leather jackets, ripped leggings and cropped jeans. Also, she made metallic slip dresses popular with her sheer one at a modelling agency party in 1993.
6. Stephanie Seymour
One of the most popular 90s swimsuit models, Stephanie Seymour appeared on the covers of Sports Illustrated, Vogue and Playboy magazines. She has been the face of Estee Lauder, and also co-founded a lingerie brand.
7. Tyra Banks
Ex-Victoria's Secret Angel and one of the top-earning models of the 90s, Tyra Banks was also the first African American model to do the cover of Sports Illustrated Swimsuit Issue and GQ. She has had a vast editorial and runway modelling career. Tyra is also a TV personality, actress and author, and had a guest-role in Gossip Girl, too! She even had her own talk show, The Tyra Banks Show. She's also appeared in many a music video, including Michael Jackson's "Black or White".
8. Eva Herzigova
Eva Herzigova was the one of the hottest 90s supermodels. She was also the original supermodel who made the Wonderbra popular with her "Hello, Boys" campaign. Along with her editorial and runway work, she was also in the Victoria's Secret catalog. She made guest appearances in films and still continues to do campaigns including her recent appearances in Dior and Armani ads. She was one of the top 10 supermodels.
9. Tatjana Patitz
In the early 90s, Tatjana Patitz was one of the big five – the most famous of the 90s supermodels. She was later replaced by Claudia S. Her shoots with photographer Peter Lindbergh were so great they ushered in the era of famous supermodels of the 90s. It was Peter Lindbergh's shoot of the big five 90s supermodels that landed them in the Freedom 90 music video!
10. Karen Mulder
Karen Mulder did many high fashion campaigns of Gianni Versace, Revlon, Ralph Lauren, Chanel and Hervé Léger. She was also one of the most famous models who posed for the Victoria's Secret catalog.
11. Amber Valletta
She was a part of multi-million dollar contracts with Elizabeth Arden and CK. She was also the ambassador for many fashion houses including Louis Vuitton, Prada, Gucci, etc. After the 90s, Amber Valletta became an actress, having major roles in films like The Spy Next Door, Hitch, Transporter 2.
12. Kristen McMenamy
Kristen McMenamy was the one of the first to make the look popular that we see often in the fashion industry these days. Androgynous, white, no eyebrows, hers was the kind of beauty one wouldn't consider classic by any means! And her look was totally different than the classic beauty of 90s supermodels. Yet, she appeared on all sorts of magazines and worked with top fashion brands. That's how she made her place amongst the most famous model names of the nineties.
Most of the 90s supermodels were involved in charity work, launched their own businesses and still continue to do modelling work. After the 90s, some of these models had a history of plastic surgeries, drug addiction, depression and even suicide attempt. Well, it's sad that the era of super models and real glamour came to an end. But yes, their legend lives on and always will!
And I know you all wanna watch this song again: check out the big five 90s supermodels in all their youthful glory!

So who's your favorite supermodel of the 1990s? Lemme know all your thoughts about the original supermodels by tweeting me @shilpa1ahuja!
Muaah 🙂
Also check out:
– 90s Actresses: Popular TV & Movie Actresses of the 90s We're Remembering
– 90s Fashion Trends: 90s Are Back with These 11 Throwback Styles
– 90s Lipstick Shades We're Loving Right Now
– Our Guide to 90s Jewelry and the Trends That Are Back!
– What to Wear to a 90s Party: Easy 90s Theme Party Outfits
– All About 90s Men's Fashion: A Sneak Peek into Hip-Hop, Rock and Punk!
Shilpa Ahuja the editor-in-chief of ShilpaAhuja.com, which she founded with the goal of inspiring confidence in the modern working woman through fashion. Other than defining the direction of the magazine, she also writes about fashion & beauty trend forecasts, industry analysis, and opinions.
Shilpa's work has been published in the University of Fashion blog and Jet Airways magazine. She is also an artist, illustrator and cartoonist. She is also the creator of Audrey O., a comic series that represents the lifestyle of millennial women. She enjoys creative writing and world travel. Her art has been exhibited at Harvard Graduate School of Design and the Aroma Hotel, Chandigarh and been published in Chandigarh Times.
Originally from Chandigarh, Shilpa also has a degree in architecture and has worked in interior project management. She is also the author of the book "Designing a Chinese Cultural Center in India". Shilpa has a Masters in Design Studies degree from Harvard University.
For feedback and questions, please email [email protected]