From denim looks to the grunge accessories and brown toned lipsticks, let's take a trip down memory lane and relive the best of 90s fashion!
I love 90s! It was hands down the most fun, fashionable and happening decade. Don't argue with me on that. Being a 90s kid, it's only natural that I have a special place in my heart for this decade. From the movies to music (the Backstreet Boys were truly the love of my life) to the clothing and accessories, everything was perfect. Although until mid 2000's, I didn't listen to 90s music and watch 90s films or wear 90s fashion trends, I was madly in love with everything that the decade had to offer!
90s was the time of icons of music, modelling and cinema. It set so many iconic trends that we're seeing back on the runway this year. And as much as I loved all of 90s, the decade also came up with some of the most absurd and ridiculous trends, which I hope to never see again!
Between the 90s fashion and pop culture, I think we can all agree the 90s was indeed special. So check out our ultimate 90s fashion guide below for a fashion flashback!
90s Fashion
90s fashion was all about the grunge look, denims, tattoo chokers, voluminous hair and brown lipsticks. This era set many trends that would be revived in the years to come. The
90s supermodels
and the pop culture at the time, influenced fashion greatly. The styles of 90s fashion icons like Kate Moss and Britney Spears are worn and loved to this day. And with 2017 reviving 90s fashion trends like the
slip dresses
, brown-toned lipsticks and classic blue jeans, we could not be happier!
90s Clothing
Every 90s kid knows how popular denim was. We all owned atleast one pair of denim dungarees. C'mon admit it! I hated them back then and I still hate them now but what can I say, I was only a couple of years old and my mom wanted me to dress in the latest trends. I remember watching the lead characters of Full House wearing and loving this 90s fashion trend episode after episode.
High-waisted jeans, which ranks at #4 on our list of latest jeans trends (yes, it's back in trend now!), was one of the most popular 90s fashion trends. I've been loving this trend a lot lately and wore it quite a lot back in the day too. From skirts to jeans and shorts, high-waist was the it-trend.
The most popular fit of 90s jeans were the straight cut and slim fit, like the ones Jennifer Anniston and Courtney Cox used to rock as Rachel and Monica in Friends. Wide leg mom jeans were another 90s fashion favorite.
A-line and fitted mini skirts were also big in 90s female fashion. Celebs usually wore them with stockings or tights. Cute!
The leather jacket trend from the 80s still carried on until mid 90s.
In terms of tops in 90s fashion, cropped tops and turtleneck ones were all the rage. Ribbed, knit turtlenecks were huge.
Denim shirts were worn either unbuttoned over a tee or buttoned and tucked into a high waisted skirt.
Button up shirts knotted at the waist was pioneered by Britney Spears in her 'Baby One More Time' music video. We also loved them on Cindy Crawford!
As much as women from the 90s loved denim, they also loved corduroy. Everything from corduroy jackets to skirts were a prominent part of the 90s woman's closet.
Halterneck dresses were a party favorite. So were sequinned and plain slip dresses. The underwear as outerwear trend that we millennials enjoy now, is all thanks to the 90s fashion trendsetters.
90s Accessories
If you had long hair in the 90s, you probably used one of these. Every high pony called for a scrunchie that matched the outfit. I remember having all types and sorts, from furry ones to metallic ones and thick ones to thin ones. They were so comfy, I was actually sad to see them go out of fashion.
The sturdy plastic headbands also known as Alice bands, in polka dot and striped prints and plain solid colored ones were a teen favorite in 90s fashion.
I've always loved 90s jewelry and still do and wear them to this day. Hoop earrings of all sizes and colors were worn casually and with evening wear. Everyone wore tattoo chokers, which are these stretchy plastic bands. Tattoo bracelets and anklets were also popular. I'm guilty of all of these.
Body piercings were made popular by Gwen Stefani. She also wore rhinestones/bindis around her eyebrows and temple along with nose rings. If this isn't cultural appropriation, I don't know what is. But the 90s was a time when fashion choices weren't judged.
It didn't matter where you went or what you did, but a mini bag was the bag of choice. Furry ones, embroidered ones and even sequinned ones.
Fanny packs (practical but ugly) were popular among 90s teen fashion.
And as for 90s fashion shoes, knee-high boots, chunky heels, mules, jelly shoes and kitten heels were the most loved. Combat boots were also popular amongst 90s grunge fashion lovers.
90s Prints and Color Combos
Plaid was super popular in 90s fashion clothing. Flannel shirts, skirts, scarves and blazers were all big.
Tie and dye. The 90s had a 70s revival! I'm not even gonna talk about this trend. Let's just pray it doesn't come back.
Floral prints were popular, too, they weren't seen too widely.
The early 90s wasn't afraid of color. Lots of celebs paired bright colors with each other and surprisingly, they actually looked good. TV shows like Fresh Prince of Bel Air and Saved by the Bell featured this hip hop 90s fashion trend. But late 90s celebs made muted tones more popular.
Matching sets that are super in this season were just as popular in the 90s too. Every outfit had a shoe and bag matched to perfection. This iconic 90s fashion trend was popularized by Cher from Clueless.
90s Hairstyles
90s hair was everything we now try to avoid. Big, voluminous, frizzy-looking hair was what all the it-girls sported. If only this was still a trend, I wouldn't have to spend hours taming my curly frizz. Just one of my many, many curly hair problems!
Crimping the hair was another big hair trend and I'm so thankful it's one of the very few 90s trends that haven't made a comeback. Britney Spears and Tyra Banks sported this look on multiple occasions. And even they couldn't pull it off. I'm sorry, it just looks so wrong.
You weren't considered cool in the 90s if you did not part your hair in a zig zag. Thanks to Mel B from the spice girls, this 90s hairstyle was what you had to waste hours on every morning.
Rachel Green's flipped bob hairstyle with layers was copied by women everywhere, whether they watched Friends or not. Audrey O is bringing back a longer, bouncier version of it!
And what was with the straight hair trend in the 90s? It was the most sought-after 90s hairsyle. And by straight I mean super, super straight. Straight as a stick.
Kate Moss's 90s style and out-of-bed wavy hair became the go-to style for grunge-lovers.

Read all about 90s hairstyles here: 90s Hairstyles: Hair Trends from the 90s We're Remembering
90s Makeup
Body and hair glitter was a big trend until the early 2000s. And I can't believe I used to own a roll-on tube of it. I always felt super duper cool doing it and I would go all out and put it everywhere. Seriously, everywhere. Looking back on photos now, it was clearly a terrible idea. This is another trend that I hope isn't revived. It needs to live in the 90s forever.
90s lipstick colors like the nude brown, chocolaty brown and brick red are making a serious comeback in 2017. Jennifer Anniston's ever-so-famous MAC lipstick that she wore in Friends was a 90s makeup favorite and still is.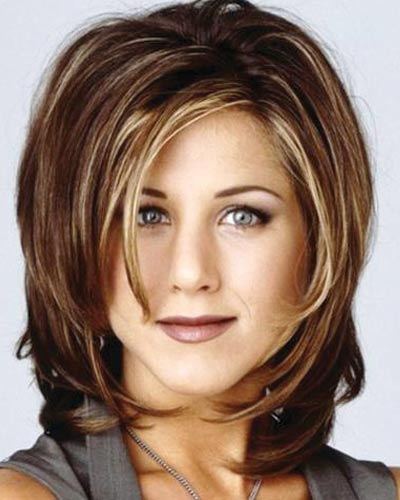 Extreme dark lined eyes that made you look like a raccoon was made super trendy by Avril Lavigne in the 90s.
Iconic 90s Movie Fashion
Fashion trends in the 90s were greatly influenced by film fashion. Cher Horowitz from Clueless, aka the most iconic 90s movie character, made everyone want to wear matching plaid sets everywhere they went. Her pleated skirts, knee-high socks and berets and the preppy school-girl look became prominent in 90s outfits soon after the release of the movie.
And how can we forget Vivian from Pretty Woman played by Julia Roberts. Her iconic blue and white mini dress with the PVC boots look is something people still dress up as for Halloween. Although that's her most famous look, I always loved the red off-shoulder gown she wore to the Opera.
This 90s fashion list would not be complete without the mention of Titanic. Anyone and everyone that was alive in the 90s watched this movie enough times to memorize the dialogues. Even though we remember the movie more for it's heart-breaking plot, the beaded black and red gown with white gloves that Rose wore in the iconic staircase scene were undeniably gorgeous. And don't even get me started on adorable 22 year old Leonardo DiCaprio. I could write a whole other article on how I was married to him in my head!
Also read: 1990s Movies: 36 Must-Watch Popular and Best 90s Movies!
90s TV Fashion
We've already mentioned how Jennifer Anistin's character, Rachel Green set trends in Friends, but we can't talk about 90s fashion without mentioning one of the most fashionable shows in television history – Sex and The City. Carrie Bradshaw's signature flowers, fur coats, chic jewelry and floral print dresses were reason enough to watch this show. She's also the reason I wanted to own a pair of Manolo Blahnik shoes all my teen years.
The iconic high-cut red one piece bathing suit that Pamela Anderson wore in Baywatch rose to popularity in the 90s when the show was aired. I haven't really watched this TV series but incredibly hot men in minimum clothing? Yes, please!
90s Celebrities Fashion
We have to give it to Drew Barrymore, she was undoubtedly the coolest celeb of the 90s. She rocked the 90s grunge fashion with dark makeup looks, chokers, stacked bracelets, Doc Martens and ripped jeans. She also starred in some of my favorite sleepover movies – Never Been Kissed, Ever After and The Wedding Singer.
Everyone's favorite girl band, The Spice Girls, were known for their eccentric fashion sense. All of them were incredibly fashionable and each girl had her own individual style (although, Posh Spice was my fave). Animal prints, platform shoes, hair and body glitter, leather pants and matching sets were what they usually wore. More often than not, they wore sequinned or metallic outfits onstage.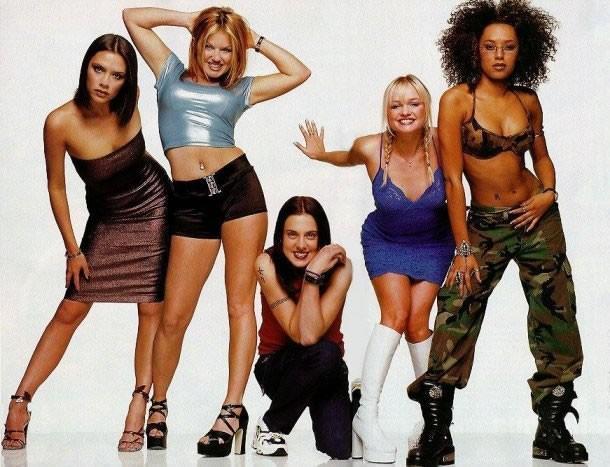 And the unforgettable moment when Justin Timberlake and Britney Spears showed up in their matching denim on denim outfits to the VMA's and the whole world went crazy over it. It wasn't even that good, TBH. Just too cheesy and weird.
Apart from her music, Madonna's fashion was widely influential. This pop culture icon's fashion sense was inspired by everything from punk to androgynous and Gothic. Lace and sheer dresses, bustiers, excessive layered chains, asymmetric earrings, hair of all colors, rings and fingerless lace gloves were a huge part of her wardrobe. But it's her (in)famous cone bra designed by Jean Paul Gaultier for her Blond Ambition World Tour that is still being talked about. We're already seeing it again in 2017!
90s Runway Fashion
Runway fashion in the 90s was all about the supermodels. Cindy Crawford, Claudia Schiffer, Naomi Campbell, Helena Christensen and Carla Bruni-Sarkozy will forever be known as the original 90s supermodels. From killer walks to incredible sense of style, they had it all. The big five recently reunited for the spectacular Versace Spring/Summer 2018 show as a tribute to Gianni Versace.
Stunning ad campaigns for Versace starred Madonna and Jennifer Aniston in exquisite 90s Versace pieces.
Early 90s Fashion vs. Late 90s Fashion
The early 90s had plenty of influences from the late 80s. Hip hop music had major impact on the clothing at the time. So, bold geometric prints in colors like bright orange, neon pink, electric blue, etc. were still going strong. Patterns like overlapped triangles and rectangles and zig zag lighting bolts were prominent.
Towards the mid 90s, due to the popularity of grunge and alternative rock music bands like Niravana and Pearl Jam, the grunge look became a part of mainstream 90s urban fashion. A typical grunge look consisted of flannel shirts, band t-shirts, ripped jeans or tights, oversized jackets, chokers and combat boots. Just like the clothes, makeup was dark and edgy as well.
However, towards the end of this decade, colors, styles and 90s fashion as a whole became mellowed down, contradictory to the bold and loud first half of the decade. Causal Chic became every woman's go to look – spaghetti crop tops, flared pants, hoodies and sneakers.
The 90s saw more brighter colors, as opposed to the dark colors that were the most prominent just a couple of years ago. And as for the makeup, light, natural looking makeup and pale glossy lips replaced the dark makeup trend brought about by the grunge subculture. As with the clothes, there was a change in the music scene too. Pop became the choice of music to listen to.
So that was our complete guide on 90s fashion. What are your favorite 90s fashion trends? Let us know by tweeting @shilpa1ahuja!
Also check out:
– Iconic 90s Fashion Trends That are Trendy Again!
– 90s Theme Party Outfits: Ideas to Try for Halloween or Decade Day
– Guide to 90s Men's Fashion: Hip-Hop, Rock, Punk and More Iconic 90s Trends
– 90s Grunge Fashion: How to Be Grunge
Nishita is a Staff Writer/ Journalist at ShilpaAhuja.com. She is a graduate of National Institute of Fashion Technology and has a degree in leather design. A lover of all things fashion, she writes about everything from beauty, hair and lifestyle to fashion trends and how-to's. Her area of expertise is outfit ideas but being fresh out of college, she also loves writing about college fashion. Her new found love of baking is currently taking over her life, making her write about all things chocolate and easy recipes. With a flair for sketching and a great eye for detail, she's previously designed leather garments for brands like Diesel and Salsa. When she's not writing, she's busy reading extremely sappy Nicholas Spark's novels, sewing clothes and listening to some indie rock. Also super passionate about photography, she loves portraits and wildlife photography – a habit turned love that formed with the amount of traveling she did as a teenager. As a girl who grew up with books and movies like Pride & Prejudice, her love for period fashion is huge. And being curly haired, she's always on a constant hunt for solutions to problems that come with having ringlets and loves sharing them with people through her articles. For feedback and questions, email [email protected] or connect with her on twitter @ni95.