Leather jackets, jeans and tee shirt look defines the 90s fashion perfectly! From hip-hop to punk to 90s rock, from Tom Cruise to Brad Pitt, here's your complete guide to 90s men's fashion!
Hey handsome! 90s fashion is something that all guys need to take inspiration from! Personally, I love the 90s (yeah, it's obvious as I'm a 90s kid)! From Leonardo DiCaprio to Tom Cruise to David Beckham, the men's celeb fashion was drool worthy! Like seriously where are the real stylish men in the millennial world today?! *gasps* Even, in the animated world, we had Dexter's Laboratory, Johnny Bravo and The Simpsons! Now, this is getting too nostalgic. Isn't it?
So, from evergreen movies like Titanic to the iconic music band Backstreet Boys to everyone's beloved sitcom, Friends, the 90s was indeed a special era. Of course, there were a few funny fashion moments that we don't wanna see again! So, as a part of our 90s series, let's find out all about the men's fashion and style!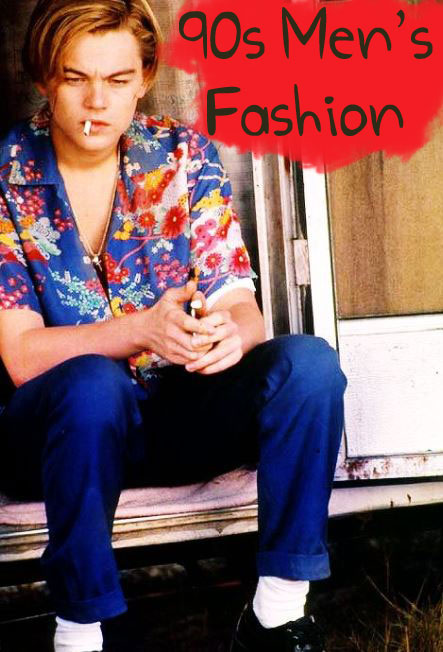 What is 90s Men's Fashion?
Leather jackets, jeans and tee shirt look defines the 90s men's fashion perfectly! 90s men's fashion had so many inspirations. 90s hip-hop fashion included baggy jeans and Reebok white sneakers. The 90s men's casual style was all about men's tank tops and Tom Cruise's aviator style sunglasses. This decade also included grunge looks and punk style with spikey hair and ripped jeans. Let's find out about all of them!
Neck-length hair and long hair were very popular too, as were floppy curtain hair. Fashion basics like white tees, denim shirts, leather jackets and straight-cut jeans were the trendy street wear for 90s men's fashion.
90s Style Fashion: Clothing
Bright colors were very trendy in 90s men's fashion. Plaids, checkered shirts and artsy prints were the highlights of the era, unlike the 80s bold prints! Overalls ruled 90s style. Who can forget Will Smith's look in the show, The Fresh Prince of Bel-Air?
Shoulder pads of the 70s and 80s gave way to turtlenecks! The Friends actors – David Schwimmer and Matt LeBlanc – made the turtlenecks iconic. Loose tracksuits paired with high top sneakers were a rage. Hope this trend never dies. Casual and easy! Mesh shirts, oversized shirts, denim jackets and metallic jackets too were a thing in the 90s style fashion.
90s Urban Fashion
1. Men's 90s Fashion Jeans
Jeans ruled the 90s style fashion! Baggy jeans and folded hems were a big part of the early 90s men's fashion. Denim on denim was a big trend too! In fact, you can wear them to a 90s themed party now! Also, classic blue high waist jeans were in vogue and they are back now!
2. Denim Jackets & Denim Shirts
Denim jackets were also a big part of the 90s fashion. This casual yet comfy jacket was perfect for any occasion. Movies like The Shawshank Redemption and Speed made oversized long denim shirts the highlights of the 90s urban fashion. The trend of denim shirts continued on from the late 1980s, which was even featured in one of Michael Jackson's hit music video, "The Way You Make Me Feel".
3. 90s Leather Jackets
90s fashion for men was all about looking like a rockstar! Leather jackets were a must have 90s male fashion trend, thanks to pop icons like George Michael, who started this trend in the late 80s with his hit music video "Faith" and Michael Jackson, whose supporting dancers sported them in "Bad"!
Also, the leather on leather look was popular. In fact, the king of pop, Michael Jackson, made the leather look quite popular with his stage performances! From military style jackets to plain jackets worn over plain white tee shirts, 90s pop culture was super stylish!
4. Hairstyles
The two most famous 90s hairstyles were tousled, made popular by Fight Club's Brad Pitt, and floppy hair, of Titanic's Leonardo DiCaprio. Tom Cruise also made short tousled haircut famous in Mission Impossible. The messy grunge hair look was at its peak and Johnny Depp's hairstyle was in vogue. Also, George Michael's voluminous upcombed hair is a classic 90s hairstyle.
5. Classic Black Suits
Men's suits trends have evolved over the time but the classic black suits were really in vogue back in the 90s. From Richard Gere to Will Smith in movies Pretty Woman and Men in Black, they have popularized the 90s style fashion!
Also read:
90s Hip Hop Fashion for Men
1. Accessories
The 90s rap fashion was all about baggy clothing with chunky jewelry. Jay Z wore the oversized necklace with a dollar that was popular in the 90s black men's fashion. The oversized rings and bracelets were fashionable. Also, the laceless and high top sneakers are back now. Wow, I'll make sure to get my man a pair as he's a hip hop fashion fan! The matching baseball caps were stylish, too.
2. Oversized Tee Shirts
The oversized tee shirts with text or graphics were the trademark of 90s hip hop fashion for guys. Also, check out Snoop Dogg's oversized shirt by Tommy Hilfiger! The slouchy hoodie trend was set by Eminem in the late 90s fashion!
3. Loose Tracksuit
Will Smith's look in the famous TV series, The Fresh Prince of Bel-Air, where he wore loose tracksuits became a cool 90s fashion trend. This refreshing style is making a comeback now.
90s Punk Fashion
The 90s punk fashion was all about overly done spikes. Check out Sean O'Pry in the movie SLC Punk where he sported the spiked hairstyle in neon green. Like really?! How did the youngsters back then think it's cool?!
The movie also popularized the mohawk haircut. In fact, its less-extreme version is trendy again! The 90s punk fashion for men also included spiked leather jackets.
90s Grunge Fashion for Men
1. 90s Grunge Jeans
Big rips on jeans were the highlights of the 1990s fashion trends for men. The rips were big enough for a puppy to sneak in! 90s grunge men's fashion also included pairing these jeans with sneakers or black tees and leather jackets.
2. 90s Grunge Hairstyles
The greasy, messy long hair or the the unwashed hair look was at its peak. The famous Johnny Depp and Kate Moss made it a couple thing by sporting the grunge hairstyle.
Also read:
3. The Unshaven Look
Like the messy hair, the unshaven grunge look was considered to be macho. I hope this 90s male fashion trend doesn't make a comeback!! So unpolished. Bleh! And again, Johnny Depp made the 90s grunge style famous! Brad Pitt also sported the unshaven look in the 90s.
4. Piercings
George Michael started the fad in the 80s, but piercings for men became an even cooler thing in the 90s. The ear piercings with tiny circular earrings were a common sight in the 90s!
90s Rock Fashion
The iconic rock bands set the 90s fashion trends for teenagers! From bedhead hair to logo tee shirts to leather jackets, they all made a statement. The long hairstyle or the unwashed hair look prevailed throughout the 90s. That's gross! Eww! Sorry, rock fashion fans out there. Spiked hair also became popular.
90s Summer & Winter Fashion
The 90s summer fashion for men was easy and casual. From Johnny Depp's bandanas to graphic tee shirts to mesh shirts, they were super stylish. The 90s summer fashion included loose jeans paired with half sleeved or sleeveless shirt, tight tank tops and the high top sneakers. Wide leg jeans were also still in, but not hugely popular. Hoodies and basic tees were in, too, just like rappers such as Kanye West still wear.
Winter fashion included combat boots, plaid suit, tee shirt and flannel shirts worn over blazers and leather jackets. 90s winter fashion saw oversized long coats, turtleneck sweaters and waistcoats! Tom Cruise brought back the head-to-toe black look with his Mission Impossible outfit, consisting of black leather jacket, matching tee and jeans. Personally, I love winter fashion and the 90s are a perfect inspiration for men.
90s Preppy Fashion
This decade also saw polished and clean 90s men's fashion. Of course, that's what preppy fashion is all about. We saw lots of refined fashion in the movie, The Talented Mr. Ripley. Loose trousers were paired with button-up shirt worn over a plain tee shirt.
Also, the classic black suits ruled the 90s in movies like Titanic, School Ties, Men in Black and Scent of a Woman! Leonardo's looks in Titanic are drool worthy, especially the ballroom dance outfit! Brad Pitt also made vests popular with his movie, A River Runs Through It.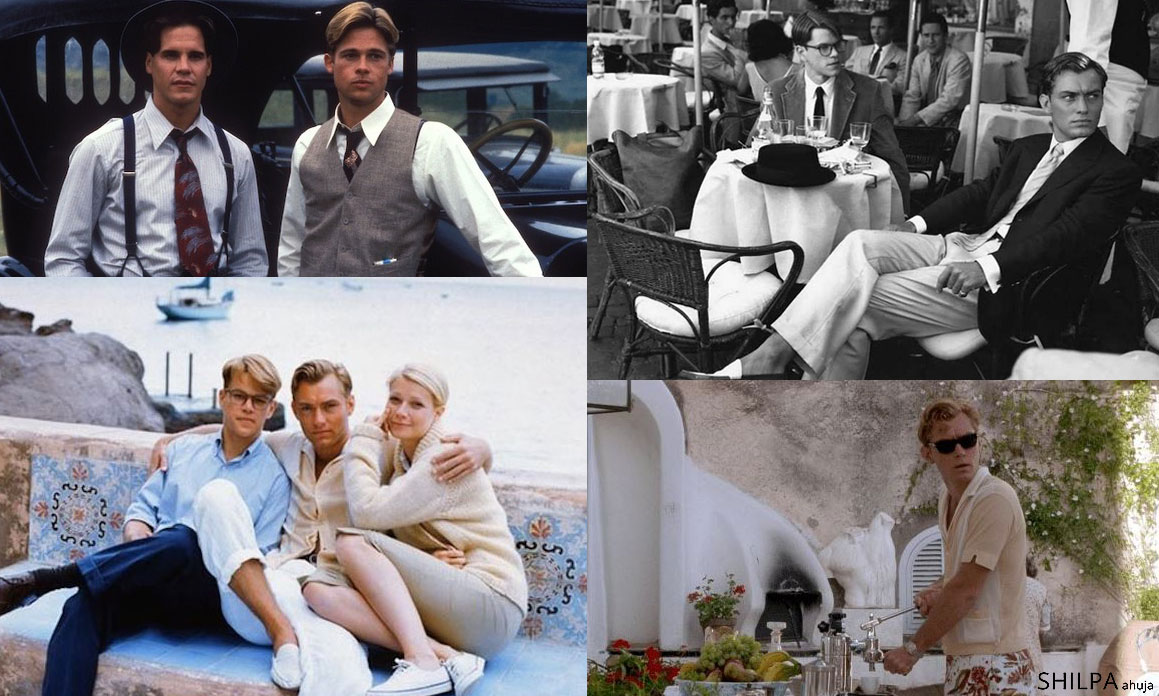 So, this was the complete guide to 90s men's fashion! Are you a 90s kid? Did you feel nostalgic? Which 90s street fashion trends are your favorite and least favorite? Let us know! Tweet us @shilpa1ahuja!
Also check out:
– The Most Popular 90s Actresses We're Remembering
– 90s Fashion Guide: All About 90s Women's Fashion
– 90s Fashion Trends: 90s Are Back with These 11 Throwback Styles
– Iconic 90s Jewelry Trends
– 90s Outfits & Ideas on What to Wear to a 90s Party
Sahana is a Senior Staff Writer at ShilpaAhuja.com. With an experience in fashion and lifestyle writing, Sahana is responsible for Indian and international fashion week coverage every year, and is developing an expertise in apparel trend forecasting. She also writes about health and fitness, having pursued yoga for 6 years now. She's not a gym person at all but is all for "running in the park" and is an amateur cyclist. Books and coffee are her other passions. She's also an amateur photographer. She's a hardcore Bollywood fan and she loves to cover the nostalgic topics on the same. From fashion trends to famous characters, she can make anyone love Bollywood! Her best article has been 90s Bollywood fashion, a readers' favorite so far! Prior to her experience with ShilpaAhuja.com, Sahana has written as a freelance author for online magazine, Mashup Corner, and interned at EventsHigh as a content writer. Her blogs on basic fashion, makeup, fitness and city's food joints that gave her a chance to experiment with her writing. She also has voiced her opinions about feminism and equal rights for men and women at PolkaCafe journals and after quitting her job, she decided to take up writing as her full time career.
Sahana is an engineering graduate and has worked in an MNC, Tesco, for more than a year as an Operations Support. It was her sheer love for fashion that made her quit the monotonous 9 to 5 job to pursue a career in the fashion industry. She's originally from Bangalore and is currently settled in Chennai (she's loving the city)! For any queries and discussions, contact her at [email protected] You can also tweet her at https://twitter.com/Sahana_17