Wanna check out the latest hair cut trends? Wanna give your face a quick lift? Here are our top picks – from short bobs to long waves- take your pick!
Ok, I've been on a hairstyle article spree. After writing about men's haircut trends and women's hairstyle and hair color trends, I'm ready to write yet another one. If you haven't already, check out these articles I've already written:
11 Latest Men's Haircut and Style Trends for 2015
Turbans and Bandanas : Spring Summer's Hottest Trend + Tutorial
20 Latest Women's Hairstyles for All Hair Types, Lengths | Casual, Office, Party
How to Choose a Hairstyle
So, here I am writing one more, an essential one. Latest hair cut trends for women. If you want a new haircut this season or are looking for a nice change that suits your face more, or want to just experiment with a new look, try some of these latest trends!  Let's start with the shortest and move on to longer hairstyles:
Women's Latest Hair Cut and Style Trends
Cropped and Wavy with Bangs
The latest cropped hair is neck-length and uneven at the sides. The waves and bangs are natural looking.
Check out this cropped hairstyle on Kristen Stewart, twice!
2. Straight Uneven Cropped with Uneven Bangs
This latest hair cut is great for girls who have naturally straight hair and want a low maintenance chic cropped hairstyle for summer. Long forehead covering bangs are in that fall to one side and are unevenly cut. The hair on the sides is also casually uneven.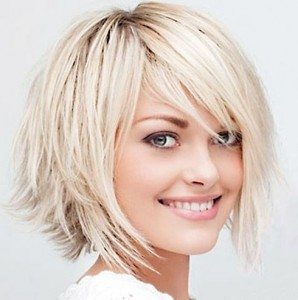 Check out this summery look on Emma Watson here:
Long Bob
The long bob is this summer's hottest addition to the latest hair cut trends. If you want a change but don't want to go too short, this one's for you.  Check out Keira Knightley with the bob:
And Margot Robbie of The Wolf of Wall Street fame with a long bob:
The Wavy Bob with Bangs
Once again, this latest hair cut is super in, and great for women who have naturally wavy hair and want a low-maintenance summer cut. It's also great if you want a casual beachy look for your straight hair, just blow dry them tightly with a curling iron and sleep in them. The morning will make them look like they are on a tropical vacation.
Check out Taylor Swift with the wavy bob and forehead-covering bangs:
And Emma Stone with these casual beachy waves in a long bob with unevenly cut side fringes. Super cool!
Advert:

Shilpa Ahuja the editor-in-chief of ShilpaAhuja.com, which she founded with the goal of inspiring confidence in the modern working woman through fashion. Other than defining the direction of the magazine, she also writes about fashion & beauty trend forecasts, industry analysis, and opinions.
Shilpa's work has been published in the University of Fashion blog and Jet Airways magazine. She is also an artist, illustrator and cartoonist. She is also the creator of Audrey O., a comic series that represents the lifestyle of millennial women. She enjoys creative writing and world travel. Her art has been exhibited at Harvard Graduate School of Design and the Aroma Hotel, Chandigarh and been published in Chandigarh Times.
Originally from Chandigarh, Shilpa also has a degree in architecture and has worked in interior project management. She is also the author of the book "Designing a Chinese Cultural Center in India". Shilpa has a Masters in Design Studies degree from Harvard University.
For feedback and questions, please email [email protected]