From extra broad to embellished to sleek belts, here are the women's fashion belt trends for 2017. Make a statement with the latest belt styles!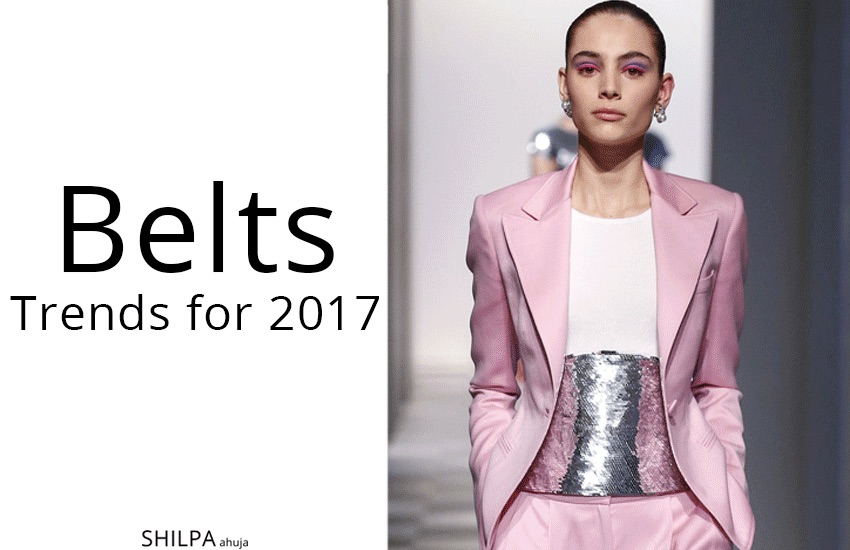 Hey beautiful! Add interest to your outfit by putting on belts to show off your perfect hour glass figure to add structure (or give the illusion of it!) We saw so many belts on the runways this season. So, to make your task of shopping easier, we tried to spot the latest trends in belts in Paris, Milan, London and New York fashion weeks. From belts matching the outfits to the contrasting ones, we saw many of women's fashion belt trends in the Fall Winter 2017 collections. Let's check them all out!
8 Women's Fashion Belt Trends for 2017
1. Skinny Belts
Skinny belts were seen in many of our favorite designer collections like Gucci, Versace, Dior, Michael Kors, etc. Skinny belts matching the outfit and contrasting ones, both types were seen on the runways. Perfect for both formal and casual wear.
2. Extra Broad Belts
Ditch your broad belts and go for the extra broad ones! Many designers came up with extra broad belts – double in width of regular belts in Fall Winter 2017 collections. We also saw corset belts in Oscar de la Renta and Balmain collections, so get that perfect hour glass figure. Extra broad leather, metallic and velvet belts were seen on the runways.
3. Velvet Belts
90s trend it is! Velvet belts were seen on the runways in the collections of Balmain, Fendi, etc. We saw skinny, broad and extra broad velvet belts in the Fall Winter 2017 collections. Velvet belts – both with and without buckles made their way in the fashion shows.
4. Logo Belts
The logo trend is still going strong. Logo dresses, shoes, jewelry and now belts added to the list. Extra broad, fringed, velvet and leather logo belts were seen in the runways this season. Show off your favorite brands! Logo all over the belt or just at the buckle – both are trendy!
5. Embellished Belts
Add a chic factor to your regular leather belts by adding embellishments. This season designers like Gucci and Dolce & Gabbana came up with minimalism, keeping just the buckle embellished. We also saw studded belts in the collections of Isabel Marant and Maison Margiela.
6. Patterned Belts
Instead of going for the plain belts, make space for patterned belts in your wardrobe. We saw printed fabric belts last season, but this season we are seeing patterns in leather and fur belts. Snakeskin, art and color blocking are some of the patterns we saw in the runways. I loved the patterned belt by Ralph Lauren – so easy to pull off with a cropped leather jacket.
7. Statement Belts
Complete the party look of the outfit by adding a statement belt to it. Extra broad with double buckles, fringe belt with logo and contrast colored buckle are some of the statement belt styles we saw in the FW17 collections.
8. Knotted Belts
Knotted belts or extra long were runway hits in Fall Winter 2017 collections. We are already seeing this look on celebs.
So, these are the women's fashion belt trends for 2017. I am in love with the trend of extra broad belts. Which belt trend are you looking forward to try? Do let us know in comments below!
Anusha Jain is a Staff Writer & SlubShop Manager at ShilpaAhuja.com. She has a diploma in Fashion Design from iNIFD and is originally from Andhra Pradesh. Before entering into the field of fashion, she got a Masters in Analytical Chemistry. Her love in fashion design, a passion in staying updated with the latest trends and zeal to do something creative paved her way to a career in fashion. Here, at Shilpaahuja.com, she works on bringing the latest in shopping ideas, fashion tips and beauty advice to SlubShop, the world's first purely trend-based affiliate store. Accessories are her expertise. Her work on SlubShop involves bringing the latest runway trends to the masses, and designing the UI/UX to make it look innovative and fresh. She is also a fitness and dieting aficionado, writing about bringing the latest in the world of wellness and health. When she's not writing she loves to travel, watch movies and also she is interested in photography, using herself as a muse. For feedback and questions, email [email protected] or connect with her on Twitter @Anushajain14.