Hey! Summer is over, but that doesn't mean we won't still be wearing sexy sunglasses this season. Wanna know what are the best sunglasses 2015 has in store for us? Check out the latest sunglasses trends for this Fall-Winter!
Best Sunglasses 2015: Latest and Hottest Trends
I've seen all types of sunglasses this season by major brands, but chosen just the best trends for you! Wanna know what those are?
Advert:

Best Sunglasses 2015 Trend #1: Cat-Eye
Cat-eye sunglasses are the hottest type right now. They're very retro, they look rich, bold and sexy! Are they right for your face-type? Cat-eye sunglasses look best on heart-shaped faces. They may also look good on round faces. We saw a mix of round and cat-eye on the runways too:
Here are my favorite selections for Fall 2015 in cat-eye sunglasses. Rose sunglasses by Dolce & Gabbana are perfect for pool parties.
Best Sunglasses 2015 Trend #2: Round
Round sunglasses have been doing rounds (pun intended) since Spring. And they're still very trendy. We've seen them on runways and in the movies. Check it out!!
And they'll still be very trendy this Fall. Here are the best picks in round sunglasses for Fall-Winter 2015:
Advert:

Best Sunglasses 2015 Trend #3: Embellished
Embellished sunglasses are becoming very hot, especially the crystal-embellished sunglasses. We saw them on runways like this one at Fendi RTW Fall 2015:
Other interesting types include subtle metal embellishments, printed and even 3d floral embellishments. Check them out :
Best Sunglasses 2015 Trend #4: Patterned Frames
So, so in right now. I'm loving this trend. Thick patterned frames look very cool and unique. And not just tortoise-skin or leopard prints. This season, printed frames include designer patterns like floral or lace.
They can make a subtle or a loud statement, depending on what you're going for! Frames can be either fully or partially patterned, or even printed on the inside.
Advert:

Best Sunglasses 2015 Trend #5: Mirrored
Mirrored sunglasses have been in fashion since Spring. They're still very trendy, and we saw lots on the runways in Fall-Winter 2015 collections.
Plus, Kendall Jenner was spotted a few days ago in street style with mirrored sunglasses: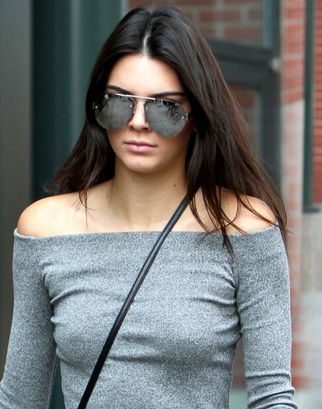 Check out our favorite ones!
Best Sunglasses 2015 Trend #6: Statement
Statement sunglasses with cut-outs, patterns and themes are also in trend this season. They are for you if you want a really bold statement.
I especially love the ones with intricate detailing like these Dolce and Gabbana mosaic sunglasses. Also check out other Dolce and Gabbana special collections! Wanna check out some of our favorites?
Advert:

#SlubAdvice
#slubadvice Our favorite Fall sunglasses trends are cat-eye & patterned frames. Loving Dolce & Gabbana black lace! pic.twitter.com/OEPAk7ihPH

— Shilpa Ahuja (@shilpa1ahuja) September 9, 2015
Shilpa Ahuja the editor-in-chief of ShilpaAhuja.com, which she founded with the goal of inspiring confidence in the modern working woman through fashion. Other than defining the direction of the magazine, she also writes about fashion & beauty trend forecasts, industry analysis, and opinions.
Shilpa's work has been published in the University of Fashion blog and Jet Airways magazine. She is also an artist, illustrator and cartoonist. She is also the creator of Audrey O., a comic series that represents the lifestyle of millennial women. She enjoys creative writing and world travel. Her art has been exhibited at Harvard Graduate School of Design and the Aroma Hotel, Chandigarh and been published in Chandigarh Times.
Originally from Chandigarh, Shilpa also has a degree in architecture and has worked in interior project management. She is also the author of the book "Designing a Chinese Cultural Center in India". Shilpa has a Masters in Design Studies degree from Harvard University.
For feedback and questions, please email [email protected].