From lone wolf to werewolf, from tribal to mandala, channel your inner wolf with these powerful wolf tattoo designs!
Wolf tattoos can only be described as one of the most powerful and meaningful tattoos one can get. There are not just many types of wolf tattoos, but each has its own deep meaning. There is one for everyone, and that's why it's no surprise that wolf tattoos are so popular. Read all about what a wolf symbolizes, the meanings of each type of tattoos of wolves and plenty of tattoo art and ideas right here! If you're considering getting a wolf tattoo or just a tattoo in general, you might just be convinced to get a wolf after reading this article.
Wolf Tattoo Meaning: What a Wolf Symbolizes
As vicious and feared a wolf may be, the wild animal stands for so much more than we realize. Wolves are incredibly loyal to their packs and make sure they always stick together no matter what the circumstances. To them, family always comes first and they'd go to any lengths to protect the pack. They also fight back until they get what they want and never ever back down. So, they represent loyalty, resilience, faithfulness, guidance, guardianship, power, strength and family. So, get yourself a wolf tattoo if you see yourself in a wolf, or just get one to remind yourself that you're a survivor, protector and a fighter.
Cool Wolf Symbols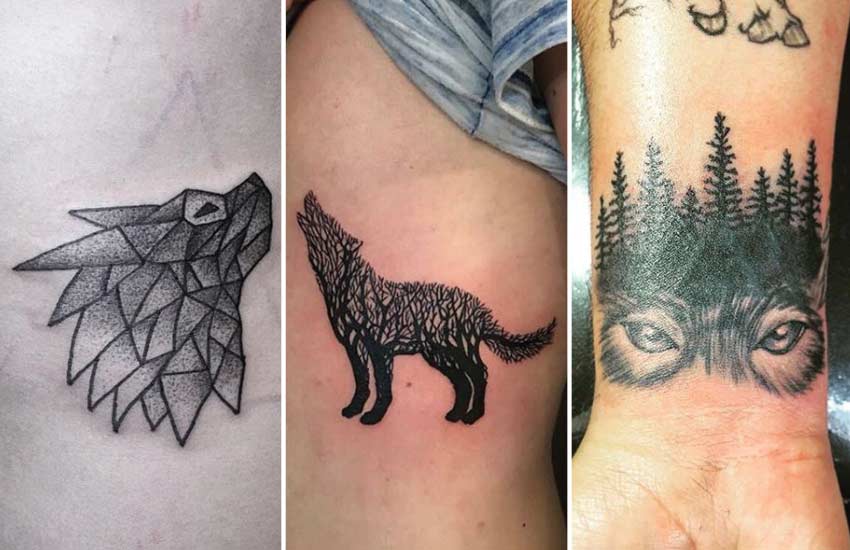 A fine-line tattoo of a wolf, its silhouette or even just a small wolf paw or a pair of wolf eyes are some cool wolf symbols to consider. This wild animal tattoo will look great on pretty much any body part.
Wolf Tattoo Designs
From Native american traditional wolf tattoos to modern bio-mechanical ones, check out some cool wolf tattoos below!
1. Lone Wolf
As loyal and faithful as wolves are, sometimes they may exclude a member from their pack, who becomes to be known as a lone wolf. This wolf then learns to live independently since he is no longer a part of a pack, which makes him stronger. Get one of these types of tattoos to show you're a fighter and can get through life on your own.
2. Traditional or Tribal Wolf Tattoo
The Native American warriors believed that wolves are connected to the spirits of their ancestors. So, getting a traditional wolf tattoo with tribal markings in order to harness the power and energy of their ancestors was common. These wolf tattoos helped to identify the members of a tribe as well as give them the strength and power to face any danger.
3. Werewolf Tattoo (Wolf and Moon Tattoo)
According to certain Native American and European myths, werewolves can only transform when there's a full moon. Wolves usually howl at the moon to get a message across to its pack and non-pack members. The howl lets the pack members know that they're being called to gather for a meeting and for the non-members, it's a warning signal to let them know that it's their territory. So get a cool tattoo of a wolf silhouette howling against the backdrop of a beautiful moon to represent power, transformation and strength.
4. Geometric Wolf Tattoo
A wolf face tattoo with one half of it in geometric shapes and other like a realistic wolf is a popular geometric wolf tattoo idea. Or get a realistic wolf with geometric shapes behind it.
5. Wolf Skull or Wolf Head Tattoo
A wolf skull is closely related to the afterlife in Native American cultures. Getting a wolf skull tattoo would mean that you're not afraid to face death and that you're calling upon the wolf to guide you. These would look great on the shoulder, chest or upper arm.
6. Wolf Mandala Tattoo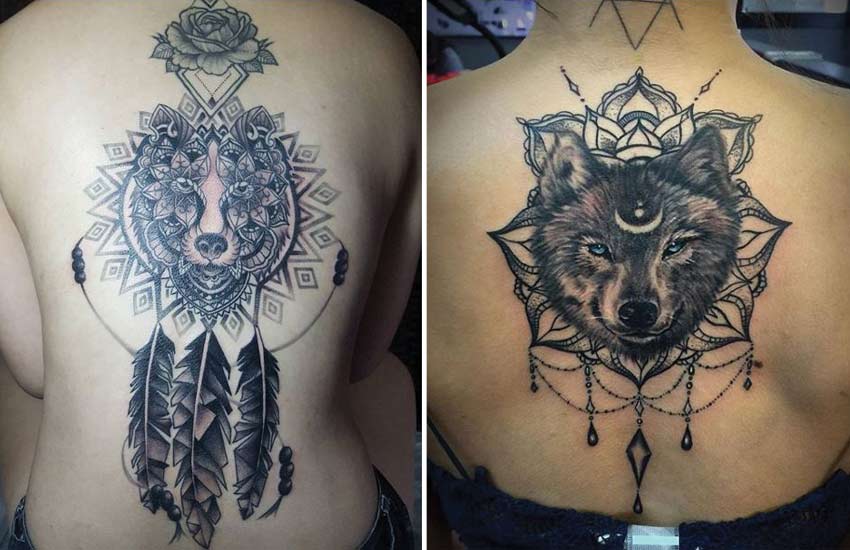 The mandala is a sacred symbol in Buddhism. This symmetric design represents the universe and how everyone and everything in it is connected. Get it along with a wolf tattoo to show how connected you are to your loved ones and the people around you.
7. Wolf Tattoo For Girls
Apart from the mandala wolf tattoo, watercolor, colorful, chandelier and tiny wolf tattoo designs on the shoulder and back are popular among girls. Get a she-wolf tattoo, which stands for compassion, responsibility, bravery and not to forget, ferocious!
8. Wolf Paw Tattoo
Paw prints represent movement, progression, change and transformation. It shows that you are strong, welcome change and can tackle anything that comes your way. These look adorable when they're small and on the finger, wrist or ankle. But of course, you can get a massive one on your chest or back too. You could also get paw tattoos with your "pack" of friends to show that you'll all stick together forever, just like wolves!
9. Small Wolf Tattoo
Get a small dot work, watercolor or fine-line wolf tattoo on your ankle, collarbone, wrist or the nape of the neck. A tiny paw on any part of the body would be cute too. These would also be great ideas for wolf tattoos for females.
10. Wolf Sleeve Tattoos
An awesome idea for wolf sleeve tattoos is to get a wolf with a backdrop of a dark forest along your entire arm. Or get a cool and scary-looking trash polka one.
11. Two Wolves Tattoo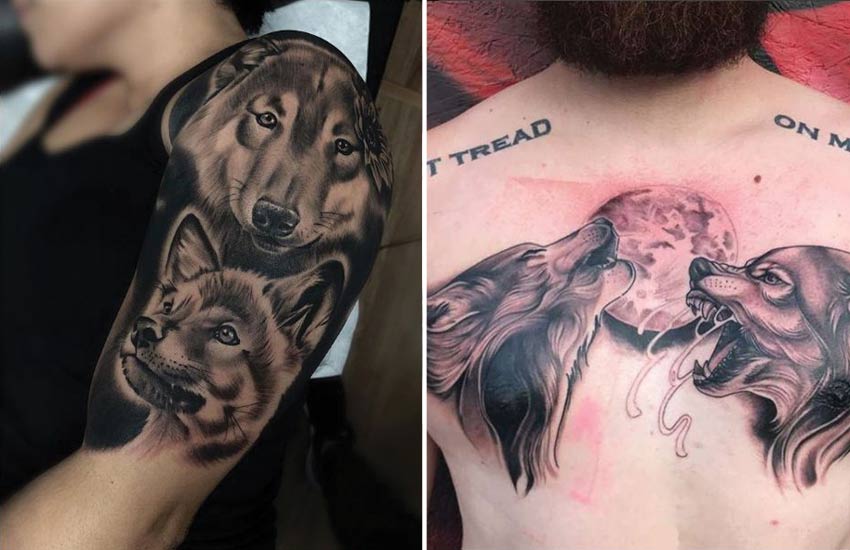 You could get two wolves to represent you and your partner, parent or child. Get them with your loved one as matching wolf tattoos. Or you could get a two wolves tattoo to represent the wolves inside you. I once read this anonymous short story called the Tale of Two Wolves. It was based on a legend that states that there are two wolves inside each of us. One represents kindness and bravery and the other, greed and fear. They're both battling each other constantly and whichever one you feed most, wins.
12. Japanese Wolf Tattoo
In Japanese folklore, wolves were called upon to protect humans and keep them safe from harm. Get yourself a Japanese wolf to show that you're a powerful protector just like the wolf. A traditional Japanese wolf with text or koi fish and cherry blossoms on the arm are great Japanese wolf tattoo designs.
13. Wolf Watercolor Tattoo
Galaxy watercolor effects look best on wolf tattoos. Similarly, monochrome splashes of water colors or dripping paint effects behind a wolf are some popular and cool feminine wolf tattoo ideas.
14. Black and Grey Wolf Tattoo
If bright colors are not really your thing, get a black and grey wolf tattoo. It looks just as great and is just as meaningful. Or you could also get a subtle white wolf tattoo.
15. Wolf and Raven Tattoo
In Native American myths, the wolf and raven are totems of great importance. The raven is celebrated for its wisdom and knowledge, and the wolf for its power and strength. Together, they were believed to be able to keep away all harm and evil forces with their combined strengths.
16. Scary or Snarling Wolf Tattoo
A snarling wolf tattoo is almost like telling people around you to not mess with you or else, they have to suffer your wrath. This scary wolf tattoo is a great way to keep the haters away!
17. Biomechanical Wolf Tattoo
These are great options for wolf tattoos for men. Biomechanical tattoos represent human anatomy in the form of mechanical gears, pistons and other machinery parts. Combine it with a wolf design and show everyone how every part of your body depicts the characteristics of a wolf.
So that was everything you need to know about wolf and werewolf symbols and their meanings. Which of these wild tattoos were your fave? Tell us by tweeting @shilpa1ahuja!
Image Credits: Instagram
Read next:
– 60 Cute Tattoo Ideas | Best Tattoo Designs for Women
– Tattoos for Men: 50 Guy Tattoo Ideas for All Body Parts
– Feather Tattoo: Meaning, Types, Designs, Ideas & Inspiration!
– 60 Lotus Tattoo Ideas: Lotus Flower Tattoo Meaning & Where to Get It
– Cherry Blossom Tattoo: Meaning, Designs, Ideas and Much More!
– Tattoo Styles: 16 Most Popular & Cool Tattoo Ideas
– Trash Polka Tattoo Ideas for All the Tattoo Lovers to Get Inspired!
– Tattoo Styles: 16 Most Popular & Cool Tattoo Ideas
– Tattoo Removal: Guide to Types of Processes, Cost & Pains Involved!
Nishita is a Staff Writer/ Journalist at ShilpaAhuja.com. She is a graduate of National Institute of Fashion Technology and has a degree in leather design. A lover of all things fashion, she writes about everything from beauty, hair and lifestyle to fashion trends and how-to's. Her area of expertise is outfit ideas but being fresh out of college, she also loves writing about college fashion. Her new found love of baking is currently taking over her life, making her write about all things chocolate and easy recipes. With a flair for sketching and a great eye for detail, she's previously designed leather garments for brands like Diesel and Salsa. When she's not writing, she's busy reading extremely sappy Nicholas Spark's novels, sewing clothes and listening to some indie rock. Also super passionate about photography, she loves portraits and wildlife photography – a habit turned love that formed with the amount of traveling she did as a teenager. As a girl who grew up with books and movies like Pride & Prejudice, her love for period fashion is huge. And being curly haired, she's always on a constant hunt for solutions to problems that come with having ringlets and loves sharing them with people through her articles. For feedback and questions, email [email protected] or connect with her on twitter @ni95.