From classic to trendy, warm to bold, here's the ULTIMATE list of 21 winter colors. Also, discover ideas on how to use them for your fashion, lifestyle & interior color palettes.
Hey gorgoeus! Although every year and season has its own palette of trendy colors that are forecast by Pantone or fashion color trend reports. However, no matter what year it is, there are certain seasonal colors that typically represent a particular season.
What Colors Represent Winter?
Typically, warm and deep color palettes are very commonly used to represent winter season. Warm shades include chocolate, mahogany, burgundy, olive green and burnt orange. And dark shades include deep blue, charcoal, crimson.
A warrm, dark color palette for winter is a result three reasons:
1. Winter imagery, such as snow, Christmas, hot cocoa and dark, cloudy skies.
2. Many decades of style choices for winter. Winter fashion collections of world's top fashion designers have included such colors year after year.
3. Similarly, other winter lifestyle collections of designer brands like home decor items, kitchen items, interior furnishings like carpets, curtains, paints, etc. have also shown similar trends over the years.
So let's take a look at these winter colors and palettes one by one. Plus, I'm also giving loads of ideas on how you can incorporate these winter shades into your life!
List of Winter Colors
1. Brick
Warm and earthy, brick is the perfect wintry mix of brown and red. It's a winter color we start seeing right from the fall season, as leaves begin to shift their shades from leaf green to a mix of greenish yellow and shades of red and brick. And then there's shades of it all over pavements before it first snows! So the early winter is perfect to adopt brick into your life and style!
Thankfully, brick makes the perfectly wearable shade of eyeshadow. Either go all out and do a brick smokey eye with glitter eyeliner, or just pair it with nude lips.
2. Deep Olive
Deep olive is one of my favorites when it comes to choosing warm colors. It's not too green, nor is it too brown. Very subtle, deep olive makes the perfect color to go for in velvet, as that brings all its shades in light. So go for a velvet skirt and pair it with tights or thigh-high boots!
3. Burgundy
A classic winter color, burgundy is a timeless shade that goes everywhere nicely. Whether it's hair highlights, burgundy nails or lipstick, this is one color you do not wanna miss in your beauty looks/ makeup in the winters! If not, you can go for a burgundy wallet since it's a great statement away from the clichéd black and brown ones. Even men can incorporate it in their accessories like wallets or ties.
4. Violet
The deepest purple is a cool shade, yet very wintery. If you wanna make a statement, violet is one of the chicest winter colors for nails. Furthermore, violet or amthyst are the perf colors to incorporate into your home accessories and decor since they're easy to match and stand out against a white or beige backdrop. Go for a crystal candlestand in violet or a cute violet planter.
5. Forest Green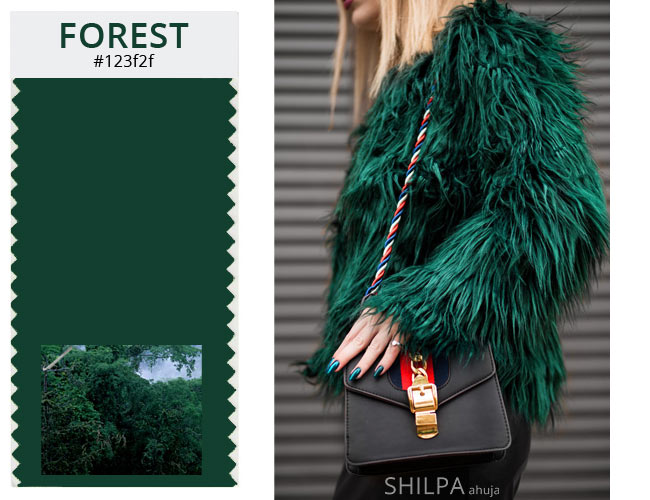 Forest green is such a lush deep green shade that it reminds us of the tropics, and that's what makes it a very chic winter color. Rock it in unexpected ways, my favorite being to get a faux fur jacket in forest green and make it your Christmas color!
6. Crimson
Crimson is a deep reddish shade with a slight purply tint that we love in winters! Since crimson is the color of my alma mater, Harvard, for me it's perpetually my go-to shade for hoodies and wool track pants, which remind me of university days! Of course, a knit crimson sweater would be the perf combo with deep denims for the winter.
7. Scarlet
Bright scarlet or deep red, whichever shade you choose, scarlet is the most winter-y color of them all – it reminds us of Christmas, after all!
Scarlet is the perf color to decorate your Christmas tree with. Shiny red baubles, ribbons and ornaments look so festive with white colored ones on the tree. If you're looking for one of the winter colors for your ugly Christmas sweater, scarlet is also the go-to color for that. And after Christmas, you can still rock scarlet in your wardrobe – my perfect pick are red Murano glass necklaces.
8. Winter White
When it's snowy outside, winter white cannot miss a spot in the list of winter colors. Whites are frequently a part of every major fashion designers' winter collection every year. It's a great addition to any clear winter color palette. And no matter how high-maintenance it looks, white is the classiest color to incorporate in your winter outfits. So go for a white puffer coat, or a white hat, or both!
9. Navy
Navy can really work both in the summer and winter, but navy color lapel jackets and tuxedos give very cozy and royal vibes. Another cool way is to go for this color for your phone cover, and get rid of those common black covers! A navy color phone cover will also form a great backdrop for your red nails!
10. Mahogany
These warm woody colors, rosewood and mahogany, are super wintery. This is because they give the vibes of a fireplace or a wood panelled lounge! But of course, we can't just build ourselves a whole interior setting. So the next best thing is to go for a rosewood planter for your desk.
11. Cinnamon
The best way to use cinnamon in the winter would totally be to have a cinnamon roll! But if not, another cool idea would be to get a warm rusty cinnamon coloured knit scarf and pair it with a beige coat.
12. Sapphire
Sapphire is one of my favorite shades in the whole color kingdom. This deep yet bright blue shade is perfect for just about anything, from nail polish to kitchenware to rugs or even fashion accessories. A sapphire colored velvet handbag would enliven up any outfit, and would be the perfect pairing for black outfits.
13. Wine
Too cold to have beer? It's wine time! That's why wine becomes such a warm winter color! Wine is very commonly a part of season color analysis for winter fashion collections. Wine colored dresses are perfect for new year's eve parties, or go for wine-shade nail art!
14. Stone Blue
Stone blue is a deep greyish cloudy blue color. It's a neutral version of blue, not to dark but deep enough to be considered wintery in a chic way. Since this juniper ash shade is the color of the sky what we get so commonly in winters.
Stone blue is the perfect color for getting an accent wall in your home, be it for your library or kitchen. It can be styled in both timeless or contemporary ways. And it makes a statement but never looks too distracting.
15. Teal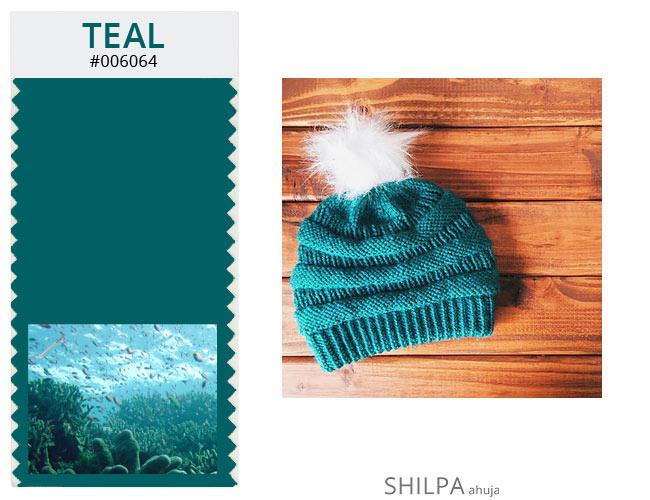 Deep teal and peacock are both great colors to use in the wintertime, and both are frequently seen in fashion collections of this season. A good way to use it is for dinner plates. Or even a rug. In your outfit, a bit of teal can bring a brightness that stands out against everyone's boring blacks and browns!
16. Frozen Cherry
This pale maroon shade is a great idea for bold hair highlights. And this is a part of many bright winter color palettes. If you like to go all out, go for a chair rug in frozen cherry color which will give a bright vibe in the murky weather.
17. Seaweed
Seaweed is a greenish brown color that is like deep khaki. It's a dull color, so using it in a shiny fabric like satin or velvet is a great idea. Seaweed is a relatively new color that we've recently started seeing in fashion. So make a statement with seaweed colored boots in velvet. Or gloves.
18. Cocoa
Who doesn't think of hot cocoa with marshmallows when it comes to winters! Or dark chocolate brownies. Yum! But food aside, this color can also be great to use in nail polish or lipstick even. Also, let's not forget cocoa soaps and body exfoliants!
19. Mustard
Mustard is a deep yellow shade, which can be an unexpected addition to one's outfit. Go for a mustard handbag. Or in your home, mustard colored candles would be a more subtle alternative to gold ones.
20. Tan
Tan, the word, reminds us of sun and summer. However, the shade is a deep beige, which is one of the classic warm winter colors. Tan colored boots and leather coats have been an important part of winter fashion collections for decades. So include this shade in your wardrobe with suede tan pumps, or a tan jacket.
Also read: Building a Neutral Wardrobe: A Complete Guide & 7 Easy Steps
21. Midnight Blue
Just the dark blue is a great color, just like sapphire, it's very easy to use this in your outfit. You can just as easily, use it in your home in the form of dinnerware, a coffee mug or pen stand.
Hope you liked our list of 21 winter colors. Are there any other winter colors you like? Let us know below. And if you recreated any color ideas from these, do tag us in your Instagram pics @shilpaahujadotcom!
Shilpa Ahuja the editor-in-chief of ShilpaAhuja.com, which she founded with the goal of inspiring confidence in the modern working woman through fashion. Other than defining the direction of the magazine, she also writes about fashion & beauty trend forecasts, industry analysis, and opinions.
Shilpa's work has been published in the University of Fashion blog and Jet Airways magazine. She is also an artist, illustrator and cartoonist. She is also the creator of Audrey O., a comic series that represents the lifestyle of millennial women. She enjoys creative writing and world travel. Her art has been exhibited at Harvard Graduate School of Design and the Aroma Hotel, Chandigarh and been published in Chandigarh Times.
Originally from Chandigarh, Shilpa also has a degree in architecture and has worked in interior project management. She is also the author of the book "Designing a Chinese Cultural Center in India". Shilpa has a Masters in Design Studies degree from Harvard University.
For feedback and questions, please email [email protected]