Wondering how to best accentuate your eyes? Here are the simple steps to determine what's your eye shape, and the COMPLETE guide on mastering eye makeup for your eye shape.
Women are like snowflakes – each one of us is unique (but yet beautiful)! Everyone of us has a different combination of body type, face shape, lip shape and even eye shape. Eyes are one of the first things that people notice about you. Just like your outfit, eye makeup can become a part of your personal style. So it's only essential to get to know your eye shape. And equally important to master the perfect makeup for it.
Wondering what's your eye shape? From almond to downturned to close-set to monolid, there are 10 different eye shapes. And there are different techniques of makeup that would suit each the best.
In fact, once you discover your eye shape, you can even use a cheat sheet to do your eye makeup in such a way that it mimics a different eye shape. So you can have a different look each time. Or discover and master your signature look. So, let's first find out what your eye shape is!
What's Your Eye Shape?
How to find out what's your eye shape? Here are the simple steps you gotta take:
Find a pic of yourself in which you're looking straight at the camera. If it's a selfie, make sure to not take it too close, since that may distort your eye's proportions.
Now, you can cross reference your eye shape with the chart below. Here's a complete chart of all different eye shapes we've made that will help you find out yours.
Narrow down to two or three that look similar to yours, then read about each below to understand their nuances.
And once you've seen what the differences between them are, you'll know what's your eye shape.

Almond Eyes
Almond eyes are shaped like almonds, obviously. They're oval with pointed ends, slightly elongated.
Round Eyes
In contrast to almond eyes, round eyes are not elongated. They're more, well, rounded, and have a nearly circular curve.
Monolid Eyes
This is a common eye shape among East Asians. This eye shape doesn't have a visible crease on the eyelid at all.
Hooded Eyes
Hooded eyes are the eye type that have an extra fold of skin on the outer edge of the eyelid, which hides the crease. Compared to monolids, hooded eyes may have a slight crease visible in the inner corners.
Upturned Eyes
If your lower lash line is curved upwards at the outer ends of the eyes, you've got upturned eyes.
Downturned Eyes
In contrast to upturned eyes, downturned eyes have the lower lash line almost like a straight line without any prominent upward curve.
Deep Set Eyes
If your eyes are set deeper into the face, you've got deep-set eyes. This type has eyes at a lower (slightly sunken) level as that of your brow bone.
Protruding Eyes
Exact opposites of deep set eyes, protruding eye type has them almost in level with the brow bone. Your eyelids don't go too in, but are almost vertical.
Close Set Eyes
Eyes that are set quite close to each other are called close set eyes.
Wide Set Eyes
Opposite of close set eyes, wide set eyes are more spaced apart at the bridge of the nose.
So now, do you know what's your eye shape? Keep reading to know how to do the perf eye makeup for your eye shape…
Best Eye Makeup for Your Eye Shape
It's not just important to know what's your eye shape, but also to know which of its features you'd like to accentuate and which you'd like to change. Or maybe, even what eye shape would you'd prefer it to mimic. Find out below our go-to eye makeup recommendations:
Almond Eyes
Almonds are considered a beautiful eye shape, so embrace it and avoid makeup that'll narrow them down.
Go for rounded liner with a wing to make the eyes appear bigger and more beautiful.
Avoid over-smudgy kohl or dark colors on your lower lashes, which will make your eyes appear narrower.
Try liner on the upper-lid only to make eyes seem bigger.
Try light-colored contact lenses to make eyes appear even bigger.
Avoid dark smokey eyes that will make your eyes appear smaller. Instead, try pastels or lighter colors like blue, pink, brown, purple, etc.
If you're going for smokey eye makeup, concentrate on the outer edges only, so as to avoid making your eyes seem narrow.
Round Eyes
You have lovely big eyes. So you can play with dark smokey eye makeup, too, when you're in the mood.
If you want a softer look, go for dark contact lenses.
Cat eyeliner will suit you since you have a naturally upturned lower lash line.
For simple party looks or day-wear, avoid overbearing eyeshadow looks. Accentuate your natural eye shape with simple eye makeup. Think neutral colors, winged liner and mascara without falsies.
Monolid Eyes
Since there's not much room to play up the eyelid, you can concentrate on lower lash line makeup to make a statement. Line the lower lashes with a deep eyeshadow color and an angled brush on the outer edges.
Go for metallic eyeshadow to play up your monolid. Rock your natural eye shape confidently!
Avoid eyeliner that's too thick, which will get lost within your invisible crease.
Instead, go for thin eyeliner on the lid, black or brown pencil liner on your lower-lash line and mascara to add depth.
Try a disjointed cat eye to give the illusion of a lid crease.
Go for hints of natural colors in the lower and outer edges of the eyelid, like peach, light brown or coppery-brown, to give the illusion of a natural crease.
Hooded Eyes
Hooded eyes look beautiful naturally, so avoid excessive eyeshadow.
Instead, go for light colors like blush, rose, peach or rust and mascara.
Add a touch of highlighter in the inner corners and just below the lower lash line to make the eyes appear bigger.
Hooded eyes tend to be narrower, so avoid black smokey look. Instead, go for browns, burgundy and purples.
If you have to do smokey, concentrate on outer edges only.
Go for lash-elongating mascara to make the eyes appear bigger.
If you wanna make your eyes appear even bigger, go for white pencil liner on the lower lash line. But never get it on the lashes.
Upturned Eyes
Upturned is a really lovely eye shape, so you can get away even with just liner!
Play up the upturned lower lash line with winged eyeliner, which will mimic your natural eyelashes and make them appear longer.
For added drama, you can even add a soft, slant line on the lower lash line to mimic the eyelashes' shadow.
If you're going for falsies, add individual ones on the outer lashes to accentuate your natural eye shape.
You can play up the upturned lower-lash line by adding a half liner there, joining it with your winged liner for a half-cat-eye look.
Downturned Eyes
Play up your lower lash lines with a slightly smokey makeup on their outer edges to mimic upturned eyes.
Go for disjointed winged eyeliner to give the illusion of upturned, big eyes.
Read more in our article: Makeup for Downturned Eyes: Eyeliner Steps, Eyeshadow Tips & More
Deep Set Eyes
Deep set eyes are considered quite beautiful. However, they can be tricky to do the right makeup for, especially for pictures!
Shadows under your eyes are a given; be it a party with top-lighting or on a sunny day. So avoid black smokey eye makeup unless you're going for a studio shoot.
Instead, try lighter, natural colors like pinks, peaches and creams.
Go for metallic eyeshadow to reflect light and avoid those harsh shadows.
Thick eyeliner can play up the eye shape and make them stand out more.
Go for highlighter on the inner corners of the eyes to make them look more awake.
Protruding Eyes
Try smokey eye makeup in dark colors to to make mimic the deep set eyes. Go for colors like burgundy, chocolate, black, steel grey and navy.
When doing smokey eye makeup, concentrate on upper lid more. Overdoing the eyeshadow below the eyes will make them seem unbalanced.
Try floral shades of eyeshadow to soften up your look, like blush, rose or coral.
Avoid white liner pencil on the lower waterline, which will make the eyes seem to protrude out even more.
Close Set Eyes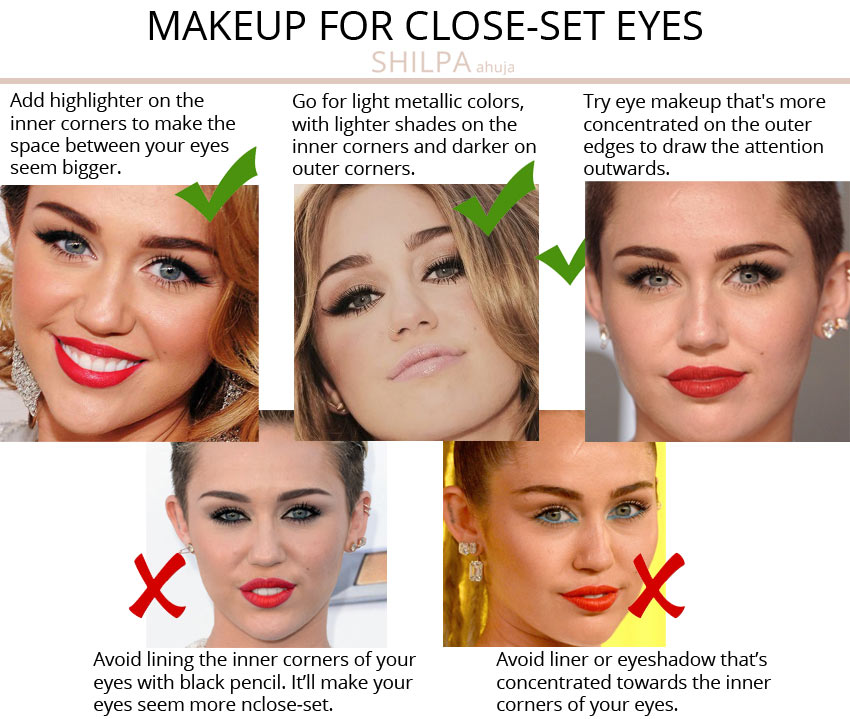 Close or wide set eyes are definitely both okay; however, you can use makeup to give the illusion of lesser or more space between your eyes.
Add highlighter or shimmery cream-colored eyeshadow on the inner corners to make the space between your eyes seem bigger.
Try eye makeup that's more concentrated on the outer edges to draw the attention outwards. Examples are smokey eye makeup on the outer edges, cat eyeliner, or outer edge lash extensions.
Wide Set Eyes
Go for eyeshadow along the inner lids to balance out the wide setting.
You can also go for eyeshadow that's worn in a gradient across the whole eyelid, to make your eyes appear bolder.
Other than that, play up your eyes with mascara or cat eyeliner to mimic really any shape you want.
Finally, know that no matter what anyone says, no single eye shape is more beautiful than the others. They're all great and if celebrities are any example, any eye shape can be made to look gorgeous with the right makeup.
And just because I have given ideas to mimic bigger eyes or play down certain features, doesn't mean that having a certain eye shape is a problem. If you aren't exactly happy with your eyes, perhaps the eye shape isn't the problem, but your makeup technique is. So just try something new based on the above guidelines, do lots of experiments! Eye makeup is as much about guidelines as it is about personal preference. So you'll soon master the right eye makeup for your eye shape.
So what's your eye shape and have you been doing your eye makeup wrong or right? If you tried some of these tips, don't forget to tag me in your pic on Instagram @shilpaahujadotcom! Looking forward to seeing your lovely looks!
Muaah 🙂
Shilpa Ahuja the editor-in-chief of ShilpaAhuja.com, which she founded with the goal of inspiring confidence in the modern working woman through fashion. Other than defining the direction of the magazine, she also writes about fashion & beauty trend forecasts, industry analysis, and opinions.
Shilpa's work has been published in the University of Fashion blog and Jet Airways magazine. She is also an artist, illustrator and cartoonist. She is also the creator of Audrey O., a comic series that represents the lifestyle of millennial women. She enjoys creative writing and world travel. Her art has been exhibited at Harvard Graduate School of Design and the Aroma Hotel, Chandigarh and been published in Chandigarh Times.
Originally from Chandigarh, Shilpa also has a degree in architecture and has worked in interior project management. She is also the author of the book "Designing a Chinese Cultural Center in India". Shilpa has a Masters in Design Studies degree from Harvard University.
For feedback and questions, please email [email protected]