Wanna know what's in my bag when I'm on vacation? I talk about everything fun to make you jealous if you're reading this in your office!
Before I begin, let's all acknowledge the fact that I'm currently in Goa on vacation, and let's also take a moment to appreciate that feeling of having sand between your toes, seeing infinite cloudy skies, and wavy sea that stretches until the eye can see. The feeling of nostalgia when you visit the spots you visited with your college friends once, and the newness of visiting those you're just exploring for the first time! The relaxation of stretching out on a beach lounger and closing your eyes to soak in the sun and the moment alike!
Let's also take a moment of silence for all those of you who are currently not on vacation and are reading this in your office. But I'll make you feel better by talking about fun stuff like what to pack in your handbag when you're actually on vacation! Not helping? Well, maybe this will:
Let's not be fooled into thinking that I'm actually traveling with the Diorever bag. In fact I took this picture a few months ago while doing my DiorSplit sunglasses shoot. And I am actually traveling with a Victoria's Secret tote bag that cost just a fraction of what this Diorever bag actually is! So, those reading this in the office, does that make you feel any better?
Maybe I have one more thing that can make you feel good – I'm not actually writing this while traveling. I wrote this while sitting in the office, just like you are right now, and then scheduled it for today's date so it would get published when I'm actually traveling to Goa. I did this because, a) of course, I could easily write this without actually traveling, and b) because, I'm my own boss, so I had the liberty and responsibility to plan ahead and write this article before I went for vacation, and also c) because I wanted to enjoy my Goan vacation and I can't bother myself to write this while I'm actually on vacation and lastly d) because it sometimes seems to me that you always just look at the images and never read the articles, so I'm just gonna write all this to fill space. Muhahaha >:)
So essentially, I'm writing this article now, sitting in office, just like you are now, so you can think that I'm actually traveling now, which I actually am, when you are reading this now.
And now that we're over and done with the obligatory (and for you, rather annoying) introductory paragraphs, let's return to the topic at hand – what's in my bag when I'm on vacation:
What's in My Bag
The Essentials: My phone, wallet and keys are the essentials that I can't afford to forget!
The Sunnies: When I'm traveling to topical destinations or during summer vacations, I always have a pair of sunglasses and sometimes, a travel-sized bottle of sunblock.
The Moisture: During the cold months my skin tends to get extra dry, and it's great to carry some moisturizer. Even otherwise, air travel tends to make it really dry, so a small lotion pack and lip-balm is always a great idea.
The Entertainment: Thankfully, we're in the age where we have all our music in our phones. Sometimes I carry a pair of earphones and/or a book with it too!
The Comfort: I like my hair all tied up when I travel, so a plain black and comfy hair-tie or two is a must for me, with a wide-toothed comb or a hair-claw. I also get cold, especially in overnight flights, so I love carrying a sweater or scarf!
The Luxuries: If I'm going to a meeting right after the journey, or meeting people, I like to carry an eyeliner, a lipstick or tinted lip-balm and maybe a pearl necklace or studs.
The Food: I'm not much of a flight-eater, so if it's a long flight, I love carrying a dark chocolate bar!
The Work: My blog is just an extension of myself, so I do write even when I'm on the go (although the introduction of this article seems to suggest otherwise!)
So that's it for what's in my bag! What do you like to carry in your bag when you travel? Do you pack light or heavy for the handbag? Lemme know! Comment below!
Muaah! XOXO
Also check out: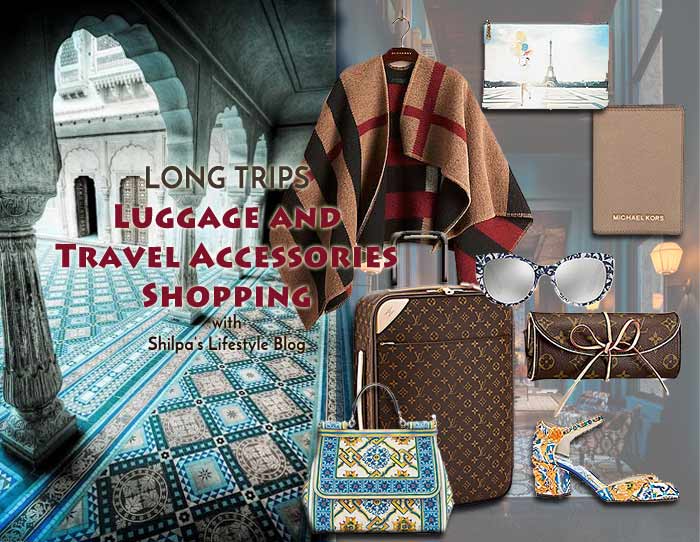 Shilpa Ahuja the editor-in-chief of ShilpaAhuja.com, which she founded with the goal of inspiring confidence in the modern working woman through fashion. Other than defining the direction of the magazine, she also writes about fashion & beauty trend forecasts, industry analysis, and opinions.
Shilpa's work has been published in the University of Fashion blog and Jet Airways magazine. She is also an artist, illustrator and cartoonist. She is also the creator of Audrey O., a comic series that represents the lifestyle of millennial women. She enjoys creative writing and world travel. Her art has been exhibited at Harvard Graduate School of Design and the Aroma Hotel, Chandigarh and been published in Chandigarh Times.
Originally from Chandigarh, Shilpa also has a degree in architecture and has worked in interior project management. She is also the author of the book "Designing a Chinese Cultural Center in India". Shilpa has a Masters in Design Studies degree from Harvard University.
For feedback and questions, please email [email protected]