What does a curvy body type mean? From the 5 different types of curvy body shapes to hip shapes and how to dress for them, here's your complete guide to curves!
Have you ever felt that whatever fashion you see on runway models, celebs and your stylish friends somehow never seems to work on you? Well, you're not alone. A curvy body type is considered very attractive, and yet sometimes tricky to dress for.
You probably already know that there 4 different body types – pear, rectangle, strawberry, hourglass. However, there are also other female body shapes that are slight variations of these. A curvy body has its own set of body types with unique measurements and different ways to style them. The first step to curvy fashion is to understand what does a curvy body type mean. So let's discover everything about the curvy body shape here.
What Does a Curvy Body Type Mean?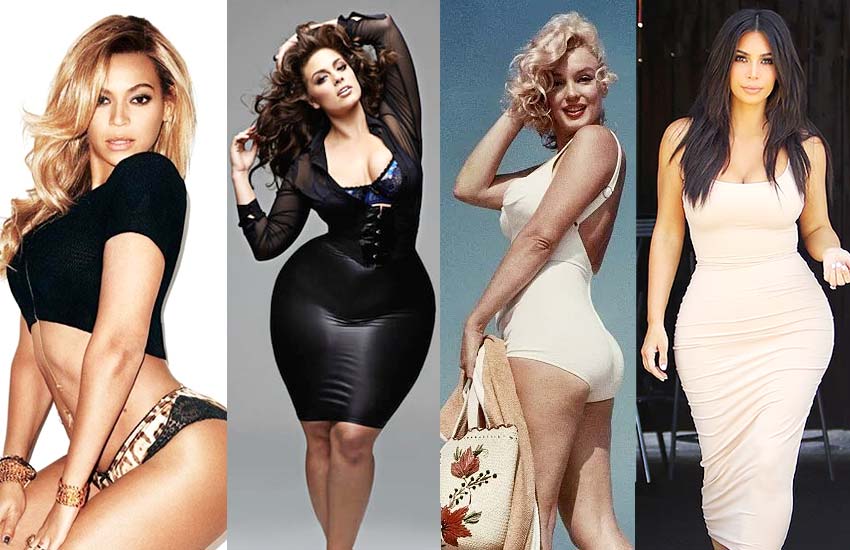 A curvy body type is the one in which the woman's hips and breasts are well-defined. It's also called a full-figure. Lots of celebrities like Beyoncé, Jennifer Lopez, Ashley Graham, Kim Kardashian, etc. have a curvy body type. Even Marilyn Monroe was curvylicious. Still, curvy women are not as commonly represented in media as the skinny ones these days.
However, a woman with curves is the epitome of femininity and fertility, which makes the curvy body type coveted and attractive. In fact, skinny women (like myself) love to do body-training and workouts especially designed to make our hips fuller.
Curvy vs. Skinny
If you're asking, "What does a curvy body type mean?" you can understand it best here:
Skinny and curvy both are natural female body types, and that's why both are equally good. In a skinny body type, the ratio between the measurements of waist and hips/breasts is less. Whereas, it is more in a curvy body type. Skinny body type is more straight, with a less defined hip-line. Whereas, the curvy body type has more curves, as the name suggests.
What are Considered Curvy Body Type Measurements?
Still asking, 'What does a curvy body type mean'? You'll understand it best when you compare it to skinny body shape.
Basically, curvy body type measurements are larger than skinny ones. They include a bigger ratio between the hips, waist or chest. There are no specific measurements that define a curvy body type, as all female bodies are unique. However, some examples include 42-38-46, 36-34-42 or 34-24-38, where the numbers represent "breast-waist-hip" measurements.
Generally, hip measurements of 36 inches or less are considered skinny body types, whereas curvy ones have usually 37 or more (inches). Similarly, skinny women have bust measurements of 34 or less, but that may also be true some curvy body shapes (see below).
You can find out how to check your own body type and how to take measurements here: How to Find Your Body Type and How to Dress for it.
Different Types of Curvy Female Body Shapes
Curvy body type isn't limited to just one shape. In fact, depending on which of your body parts is more prominent, you can fall into one of 5 curvy body shapes – 'mango', 'spoon', 'pear', 'curvy hourglass' figure or 'strawberry'.
1. Mango Body Type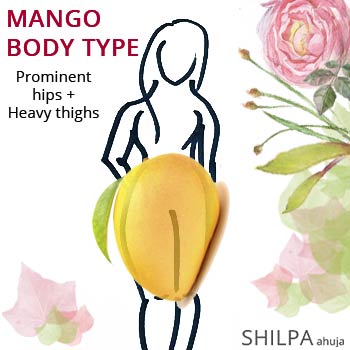 If you have full hips as well as thighs, you have a mango body type. Just like the tip of the mango, the mango body shape has a curved-V at the bottom, created by thighs. For the mango shaped women, hips and thighs are their most prominent parts.
2. Spoon Body Shape
This one is similar to the pear shape. A spoon body type is the one in which the waist is well defined, whereas the body is curvy with full hips, somewhat resembling figure 8.
Compared to pear shaped body type, spoon body shape has a prominent waist as well has hips. Whereas the pear shaped body has more prominent hips only.
Here is the general rule of thumb for spoon body shape – your hip measurement is the largest one among waist, hip and bust measurements. Also, your hip size is at least 5 inches more than your bust size, and if your waist size is at least 5 inches less than your hip and bust size, then you are spoon shaped.
Also read: How to Dress for Spoon Body Type: Clothing and Fashion Tips
3. Pear Body Shape
Pear is one of the most common female body shapes. Pear shaped women's bust and waist dimensions are nearly equal, however their hip measurements are much larger. Also, if you have very full hips and a less defined waist and breasts, your body type is pear.
Pear body shape is tricky to dress for, since a lot of dress silhouettes make the hips look too prominent, making your figure look unbalanced. However, you can find a full guide to dressing for your body type here: How to Dress for Pear Shaped Body Type.
4. Curvy Hourglass Body Type
This figure type has nearly equal measurements for the hips and chest, whereas the waist-dimension is much lesser (at least 5 inches lesser), resulting in an hourglass shape. These are total curvy body goals and if you have this shape naturally, you're very lucky! If not, you can still try waist-defining outfits to mimic this body type.
5. Strawberry Body Type
If you have a bigger chest measurement compared to hips and waist, you have a strawberry body type. This body shape is comparatively rare, and very few celebs have it. However, you'll find it easier to dress, since your hips or tummy won't be too prominent in most dress types.
"Am I Curvy or Fat?"
That really depends on your percentage of body fat. All body types have some body fat, and fat is not an entirely bad thing. However, too much of everything is bad, including fat. Women tend to get fat accumulated in the hips, waist/ love handles and tummy. So if you have love handles, tummy tires or bulging hips outside of your panty-lines, you may have more fat in your body.
However, just because you have more fat than you'd like, doesn't mean that you're not naturally curvy. In fact, curvy women do have a tendency to put on fat easily. If your diet contains more saturated or trans fats compared to your daily workout, you probably need to work on that fat. Try toning exercises with dumbbells, leg raises, crunches and planks, and you'll know your true body shape once the flab goes away! Yay!
Also read: Six Pack Exercise | My Simple Guide to 6 Pack Abs in 6 Weeks
How to Dress for Curvy Body
Now that you know what does a curvy body type mean, the next thing to master is how to dress for your body shape. Curvy is definitely a little 'extra' body type, made more complex by so many curvy body shapes! So it requires lots of practice to understand what suits you. Lots of brands have curvy body fit clothes, so do experiment with that next time you're out shopping. Here are some basic fashion style tips for each curvy body type with pictures:
I've written much in detail about how to dress each curvy body type in my other article, so check it out here: How to Dress a Curvy Body According to Your Body Type
Types of Hips
Just like body types, there are also different types of hips. For curvaceous women, hip shape is one of the things that help them define their body type, too. The 3 hip-shapes include round, triangular and straight – simple enough. They say hip shapes, but honestly, these are more like shape of where your hip meets your thigh – on the side. Anyway, knowing your hip shape can also help you identify why something may look different on you than on a celeb/model. Here are the types of hips and how you can find out yours: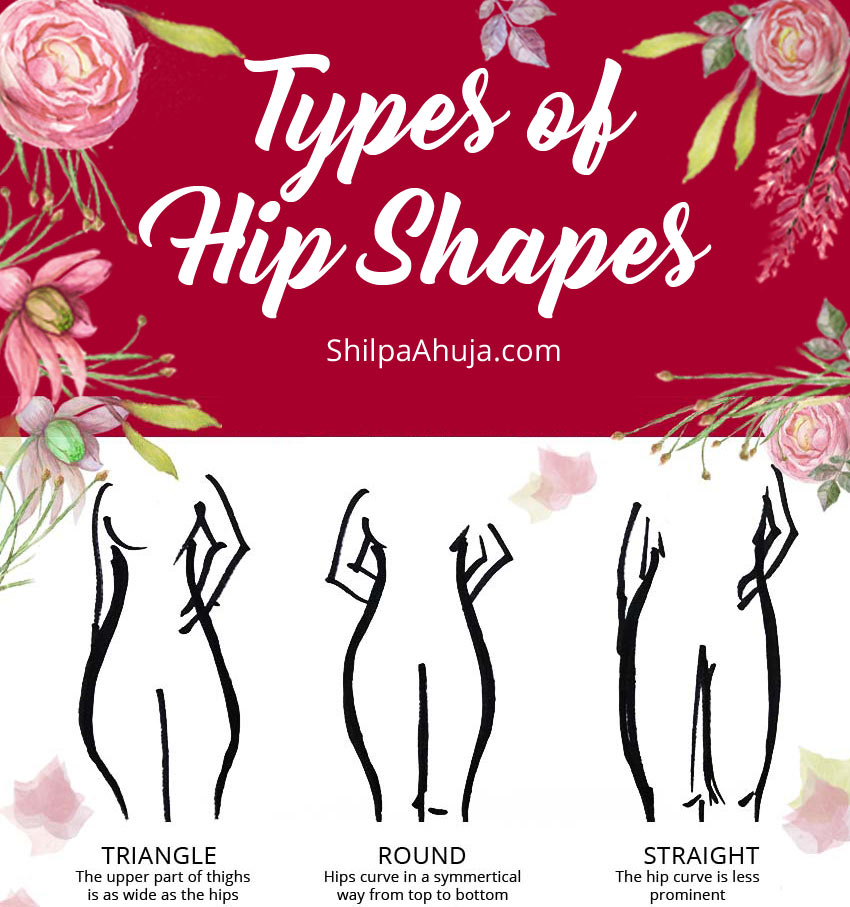 So I hope you found my guide to different types of curvy body shapes helpful. Have you, too, been asking, "What does a curvy body type mean?" If so, I hope you now know everything about this beautiful body shape. What's your body type? Lemme know below or tweet @shilpa1ahuja.
I'll be writing more about these body shapes in detail and how to dress for them, so stay tuned! In the meanwhile, if you have any specific questions, feel free to ask away on our Ask Shilpa page.
Muaah!
Shilpa Ahuja the editor-in-chief of ShilpaAhuja.com, which she founded with the goal of inspiring confidence in the modern working woman through fashion. Other than defining the direction of the magazine, she also writes about fashion & beauty trend forecasts, industry analysis, and opinions.
Shilpa's work has been published in the University of Fashion blog and Jet Airways magazine. She is also an artist, illustrator and cartoonist. She is also the creator of Audrey O., a comic series that represents the lifestyle of millennial women. She enjoys creative writing and world travel. Her art has been exhibited at Harvard Graduate School of Design and the Aroma Hotel, Chandigarh and been published in Chandigarh Times.
Originally from Chandigarh, Shilpa also has a degree in architecture and has worked in interior project management. She is also the author of the book "Designing a Chinese Cultural Center in India". Shilpa has a Masters in Design Studies degree from Harvard University.
For feedback and questions, please email [email protected]