From O.P.I to Essie, from traditional reds to glittery golds, here are our picks for the latest wedding nail designs for your perfect wedding day!
Hey bride to-be! The special day you've eagerly been waiting for is right ahead and we know you're seeking perfection in every bit of it. Right from your elegant lehenga to the jewelry, from honeymoon planning to skin care, the bride-to be aspires things to fall in place. A bride is of course the showstopper on her wedding and and it's a great idea to pay attention to details so you don't miss out on anything.
That's why today we've looked up and selected the best bridal nails and wedding nail art ideas for you! If you're looking for unique wedding nail designs, keep reading. Here are the top bridal nail designs to match your every mood.
Bridal Nails #1: Rosy Pink
Many colors may come and go, but pink is one of the everlasting bridal favorites. Add a touch of shimmery silver or glittery gold to the rose pink for a gorgeous set of statement bridal nails.
Nail Designs For Wedding #2: Glitter Galaxy
Looking for something glitzy to match your glamorous bridal dress? The glittery french mani is very trendy, and so are confetti and embellished nails. You can also try a deep nail color to match your dress, and use glitter to create nail art on the middle or ring finger, and then paint the little finger in the glitter gold!
Wedding Nail Designs #3: Dive Into The Blue
How about nails being your "something blue" on the special day? Indulge your long slender nails in the various tones of blue. If your bridal outfit has blue overtones or embellishments, this would be a great idea! From indigo blue to turquoise blue, this hue can really stand out and look stunning with your wedding dress. I am loving the blue bow nail art by O.P.I.
Wedding Nail Designs #4: Sexy Red
Indian weddings are impossible to imagine without the touch of red, whether it is in the decor or on the bride herself!! Red is not just a timeless tradition, but also an all time favorite color for Indian weddings. My favorite here is the pearls over red nail art that's been re-pinned tens of thousands of times on Pinterest! Also read: Best Burgundy Nails: 45 Nail Designs for Different Shapes
Bridal Nail Designs #5: Antique Bronze & Soft Pastels
Other than gold, bronze finds a place in most of the Indian wedding outfits and hence a part of the nails too. Break all the rules when it comes to metallics like bronze. Try it with a nude or pastel tone add on a few glitzy art elements like rhinestones or geometric shapes. Personally, I'd love to try the traditional design by Nails Magazine.
Wedding Nail Designs #6: Romantic Floral
Have floral motifs or bold floral threadwork on your bridal outfit? Match the embroidery with your nails. Be bold and try these unique nail art designs.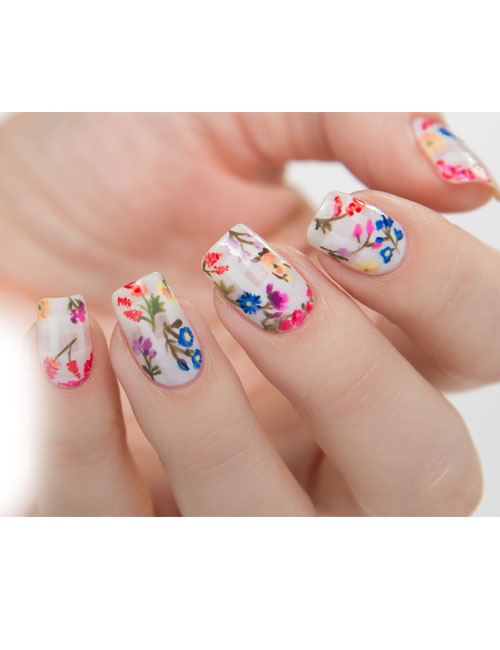 Hope you liked this bridal nails edit and the ideas were useful in choosing the right wedding nail designs. If you try any of these on your D-day, do share the pics on Insta and tag us at @shilpaahujadotcom. We would love to check out your beautiful nails!
Anusha Jain is a Staff Writer & SlubShop Manager at ShilpaAhuja.com. She has a diploma in Fashion Design from iNIFD and is originally from Andhra Pradesh. Before entering into the field of fashion, she got a Masters in Analytical Chemistry. Her love in fashion design, a passion in staying updated with the latest trends and zeal to do something creative paved her way to a career in fashion. Here, at Shilpaahuja.com, she works on bringing the latest in shopping ideas, fashion tips and beauty advice to SlubShop, the world's first purely trend-based affiliate store. Accessories are her expertise. Her work on SlubShop involves bringing the latest runway trends to the masses, and designing the UI/UX to make it look innovative and fresh. She is also a fitness and dieting aficionado, writing about bringing the latest in the world of wellness and health. When she's not writing she loves to travel, watch movies and also she is interested in photography, using herself as a muse. For feedback and questions, email [email protected] or connect with her on Twitter @Anushajain14.