Donatella Versace brings up the concept of micro prints in the latest Versace Spring 2019 collection. View the gallery and read our review here!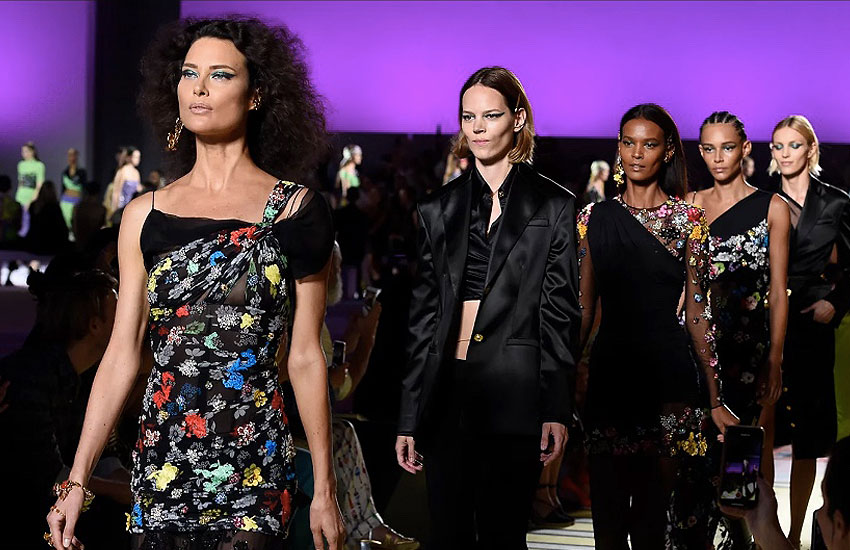 Versace Spring 2019 collection started with models wearing stripes and micro prints. "The Versace woman of today – she possesses restrained control, so she is both confident and vulnerable at the same time," stated a description on the official page of Versace. The collection represents women who are never afraid of anything and are super bold.
The fashion house describes the Versace woman saying, "She's eclectic and refined at the same time. Her boldness overstated with textured printing, her flawlessness captivated by effortless layering." This also makes it clear that prints and layering were prominent in the collection.
Bella Hadid walked the runway in a draped leather one-shoulder mini dress. While pencil skirts, blazers and cocktail dresses in euphoric colors were also seen. From skirts to jackets to dresses, most of them had tiny floral prints on them that gave the spring-like feel.
Also read: Fashion Print Trends for 2019: Spring Prints & Patterns are Back!
The floral and printed stockings paired with floral dresses and skirts were too busy, and I personally found the combination jarring. In fact, floral stockings paired with plain skirts would have been a better option so that they look bolder and stand out.
We also saw patterned, studded and box bags matching the outfits. Following the theme of floral prints, floral pins and studs were spotted on the models. Floral accessories were something that looked interesting.
This collection comes right before the news that Michael Kors is in talks to buy the house of Versace. Will we still see the high standards of design that are the company's tradition? Well, we have to wait until next season for that and see what time unfolds.

Versace Spring 2019 Collection: Gallery
Image Credits: Versace
Anusha Jain is a Staff Writer & SlubShop Manager at ShilpaAhuja.com. She has a diploma in Fashion Design from iNIFD and is originally from Andhra Pradesh. Before entering into the field of fashion, she got a Masters in Analytical Chemistry. Her love in fashion design, a passion in staying updated with the latest trends and zeal to do something creative paved her way to a career in fashion. Here, at Shilpaahuja.com, she works on bringing the latest in shopping ideas, fashion tips and beauty advice to SlubShop, the world's first purely trend-based affiliate store. Accessories are her expertise. Her work on SlubShop involves bringing the latest runway trends to the masses, and designing the UI/UX to make it look innovative and fresh. She is also a fitness and dieting aficionado, writing about bringing the latest in the world of wellness and health. When she's not writing she loves to travel, watch movies and also she is interested in photography, using herself as a muse. For feedback and questions, email [email protected] or connect with her on Twitter @Anushajain14.