Discover the latest Versace Fall Winter 2017 menswear collection. Read our review, and view our favorite looks from the collection.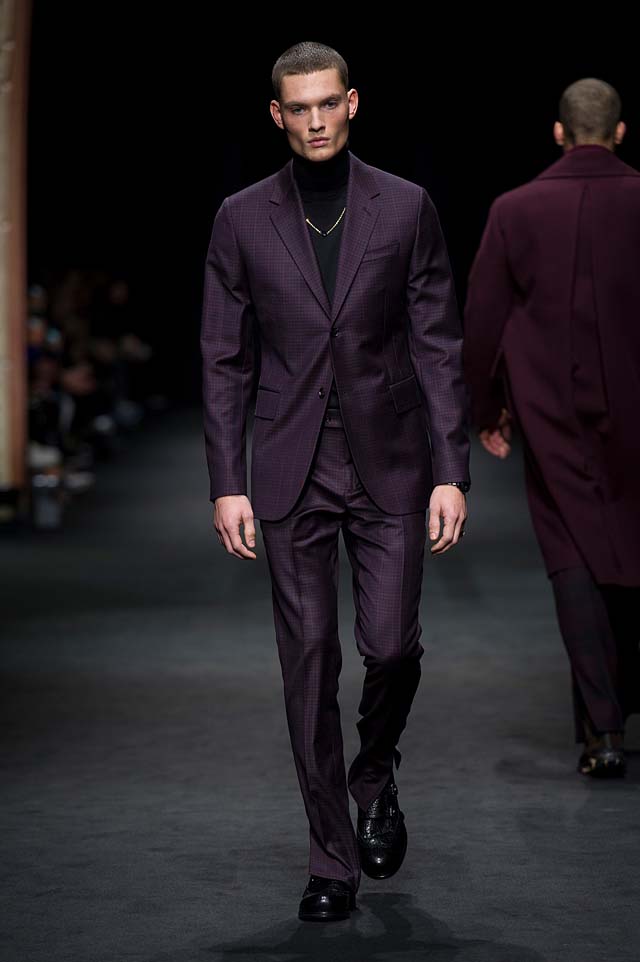 Versace's Fall Winter 2017 menswear collection was a combo of formal and casual wear. The first half of the show was about the formal office-ready winter look. The silhouettes got more casual as the show progressed. "This is a collection about the different tribes of Versace men, and the powerful positivity that can happen when men from different places, different cultures join together." said Donatella Versace in the fashion show description. Indeed, the collection looks different and makes formal wear more interesting!
The show started with wool coats, down jackets and suits and gradually moved to interesting prints and patterns. Unlike the previous collection, well-tailored coats were cinched in with belts to give a more structured look. Also, there were slits at the hems of the pants.
Suits took a more transition turn this season with checks and were paired with solid colored or graphic shirts. Accessories like duffle bags, gloves and sunglasses were eye-catchy!
Most of what we saw was in wintery shades of black and grey. Though, more colors could have been incorporated in the collection. Hints of crimson, beige and violet peeked through.
We saw the bags in different colors and printed too! Hints of red were used in accessories to break the monotony of winter shades – black and grey. Bold red was seen in a coat, trouser or gloves. The combination of a solid colored coat with checkered detail trouser made a bold statement.
There was red in a few looks that were really vibrant compared to rest of the wintery shades. There were different types of outerwear in checkered red and black combo like a coat, bomber jackets and a parka. I loved the pairing of the checkered bomber jacket with the solid colored sweater.
There were classy handmade paintings incorporated on the jackets and hoodies which really gave a statement look.
Personally, I loved this look: A leather jacket is worn over a formal one, paired with leather pants and sneakers in a bold way. Luxury logos are back in trend both in menswear and womenswear. This look also has rings worn over the gloves, which is a cool way to sport the accessory!