Why is the perception of beauty so tied to skin color? Here's how to stop caring about the world's definition of beauty and make your own.
The other day I was talking to my bestie about my idea for starting a #SoWhat blog article series, which will be about how to live with our insecurities and love ourselves despite those. In fact, because of those. And the same week I encountered an Instagram account by a couple of South Asian girls who use the handle #UnFairAndLovely to post images of dark and brown-skinned women. Beautiful women. And I wanted this to be the topic for my first post in this #SoWhat series.
What makes beautiful women stop believing in their own beauty? Is it because of bullies? Judgemental people? Let me tell you a thing about bullies. They are insecure. And to boost self-confidence, they pick one physical or personality trait about you that makes you insecure. Or that they think would make you insecure. And then they tell you about it over and over again, until you really start believing what they're saying, and in turn, stop believing in yourself. And that boosts their confidence. Bullies are not just a high-school thing – no, they're everywhere. And those traits they usually pick to bully about – those are god-gifted things – things you can't change about yourself, like height, weight, family background, and yes – skin tone.
"We all judge. That's our hobby. Some people do arts and crafts. We judge," said Carrie Bradshaw in an episode of Sex and the City. Somewhere deep within us all, lies an innate habit of judging. We judge people by looks more than deeds. Some do it more than others, some train themselves not to do it, and some are even proud to do it. And yes, some perception of beauty has come to be tied with white or 'fair' skin tone. However, none of that truly matters in defining one's true worth. Because that's tied to what you think of yourself.
2015 was the year Mattel toys finally introduced Barbie in different body types – the tall, the curvy, the classic and the petite. And seven different skin tones. It was also the year Apple added racially diverse emojis in its OS X with five different skin tones. And last week, Christian Louboutin released nude flats for all skin tones with sublimely beautiful pictures of tulle-skirt-clad ballerinas of all skin tones – porcelain to deep chocolate brown – wearing the matching 'nude' flats in its campaign titled, 'A Nude for Every Woman'.
But despite all this, it's hard to change the perception of beauty once and for all in relation to 'fair' skin tone. Especially considering this perception is older than 'Snow White' herself.
I met Shahnaz Husain at Harvard Business School once, during a talk over her herbal cosmetics brand and entrepreneurship motivation. She said she was a believer of beauty regardless of skin tone. Why then, asked one of the students in the audience, did her cosmetics line have a fairness cream? And her reply went something like, "Well, I personally feel that to have beautiful, healthy skin, one doesn't need to have a 'fair' complexion. But people want it, so we make it." It's a business, after all.
So I guess the real issue is not people judging people, but people judging themselves. It may be tied to you having been bullied for your skin tone as a kid, or you having had to listen to your mother telling you not to go out in the sun because you'll get dark. But it's ultimately you who has to decide that yes, so what if you're brown-skinned. #SoWhat! You're still gorgeous. Because I don't know about you, but I certainly think you're really beautiful. So does my nephew.
They had this viral video floating around the internet about kids connecting beauty with white skin tone. The kids were shown two dolls, and asked which one they thought was prettier. They all picked the whiter ones. I didn't exactly believe all kids think this way. So I showed the 'Body Positives' Barbie image to my 7-year old nephew and asked him which Barbie he liked the best and the worst. The image had six of them – the classic hourglass body type in olive skin-tone, two white curvy Barbies, a petite brown Barbie (that's me!), one white skinned and one beige-skinned tall Barbie – all with different hair and eye colors.
"This one," he said pointing his finger at the curvy white Barbie. "And this one, too," he pointed at the dark-skinned hourglass-bodied Barbie. "Why," I asked him. "She's pretty," he said. "And I don't like this one at all," he pointed at the tall white one. "Why not?" I asked again. "Because… I don't know!" And he ran off to play. 'Enough Barbie talk. Such a girl you are!' he must have thought!
So there you go. It's really you who's overthinking your looks and skin-tone. No one else. You can't stop people from judging you, but you can stop judging you. So, beautiful, if I were you, I'd stop caring, find a pair of those Louboutin flats to match my skin-tone, and walk out in the sun feeling gorgeous!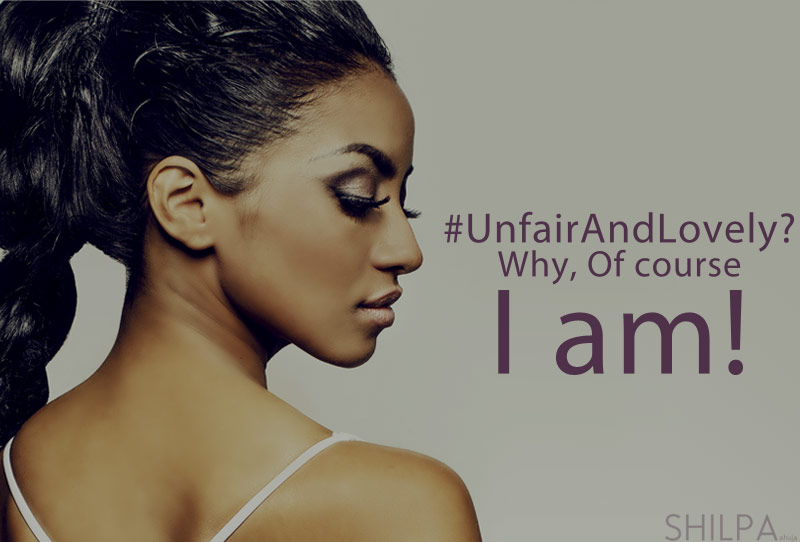 Brave enough to feel perfect the way you are? Share this image with your friends on social media, set it as your wallpaper, Instagram it, or send it to and tag your friends who you think are beautiful.
Downloads:
Keep it stylish! XOXO :*
Photo Credit for brown girl: Paul Hill
Also, read:
– Ethnic But Not Behenji: How Beyond Gallery is Changing Ethnic Wear
– Bella Hadid Surgery: How Fashion Industry Promotes Body Image Issues
Shilpa Ahuja the editor-in-chief of ShilpaAhuja.com, which she founded with the goal of inspiring confidence in the modern working woman through fashion. Other than defining the direction of the magazine, she also writes about fashion & beauty trend forecasts, industry analysis, and opinions.
Shilpa's work has been published in the University of Fashion blog and Jet Airways magazine. She is also an artist, illustrator and cartoonist. She is also the creator of Audrey O., a comic series that represents the lifestyle of millennial women. She enjoys creative writing and world travel. Her art has been exhibited at Harvard Graduate School of Design and the Aroma Hotel, Chandigarh and been published in Chandigarh Times.
Originally from Chandigarh, Shilpa also has a degree in architecture and has worked in interior project management. She is also the author of the book "Designing a Chinese Cultural Center in India". Shilpa has a Masters in Design Studies degree from Harvard University.
For feedback and questions, please email [email protected]