From high-glamour matte to under-stated sheer to classic creamy lipsticks, here is our edit on different types of lipsticks every beauty-lover needs to know about. Plus lipstick options in each kind, which go from daytime to nighttime looks and will offer you the most gorgeous pout ever.
Different Types of Lipsticks & Our Favorite Picks
A single swipe of lipstick makes our lips look damn beautiful. But you need to know when and how to wear different types of lipsticks. While in the pursuit of finding the ideal shade, we forget to get a handle on a number of factors, like its texture, lipstick types, and their performance. To get your act and look together, here's my pick of the eight most important types of lipsticks, along with tips and my favorite brands.
1. Matte
Matte lipsticks are one of the most popular types of lipsticks trending today. It gives the opposite result of gloss, but few understand how they actually work. So let me start by defining a matte lipstick. This type of lipstick is shine-free, leaving behind a smooth texture and a deep pigment upon application. You can pick up a matte shade whilst headed for a brunch or an art gallery show.
Many brands have launched a number of matte lipsticks in so many different shades. I especially love the Stila Cosmetics Stay All Day Liquid Lipstick. And I have to tell you this, I have shelled out a lot for lipsticks that don't deliver, but this one surpassed everything. It doesn't leave a dry effect on my lips as most matte lip colors do; its texture is super creamy. It includes classic true red and berry hued colors, which I'm sure a lot of you usually opt for. One coat of this lipstick and you're good to go.
Stila Stay All Day Liquid Lipstick, Patina (Dusty Rose)
Or if you want to add classic retro matte shades to your collection, then I highly recommend M.A.C Retro Matte Lipstick. This is already popular with my friends too. Whenever I ask them which matte lipstick they're wearing, they all seem to have the same answer, and I don't blame them.
The texture is so rich, and it comes in universally flattering shades. This lipstick doesn't crease, crack, and fade throughout the day. Believe me, while wearing this matte lipstick I've eaten half of the fast food items, and the color didn't budge. That makes it a great choice for parties and weddings. Maybe try one of the shades yourself and report back to me?
M.A.C Mac Retro Matte Liquid Lipcolor Dance With Me
2. Cream
While I love matte lipsticks for their long-staying power, I am also fond of sheer lipstick's cousin. No prizes for guessing – cream lipstick it is. Creamy or crème lipstick, as its name suggests, provides a rich texture with a glossy effect. These types of lipsticks are nourishing and mostly come with ingredients like aloe and Vitamin E. They blend well with work wear, and also work for a weekend getaway.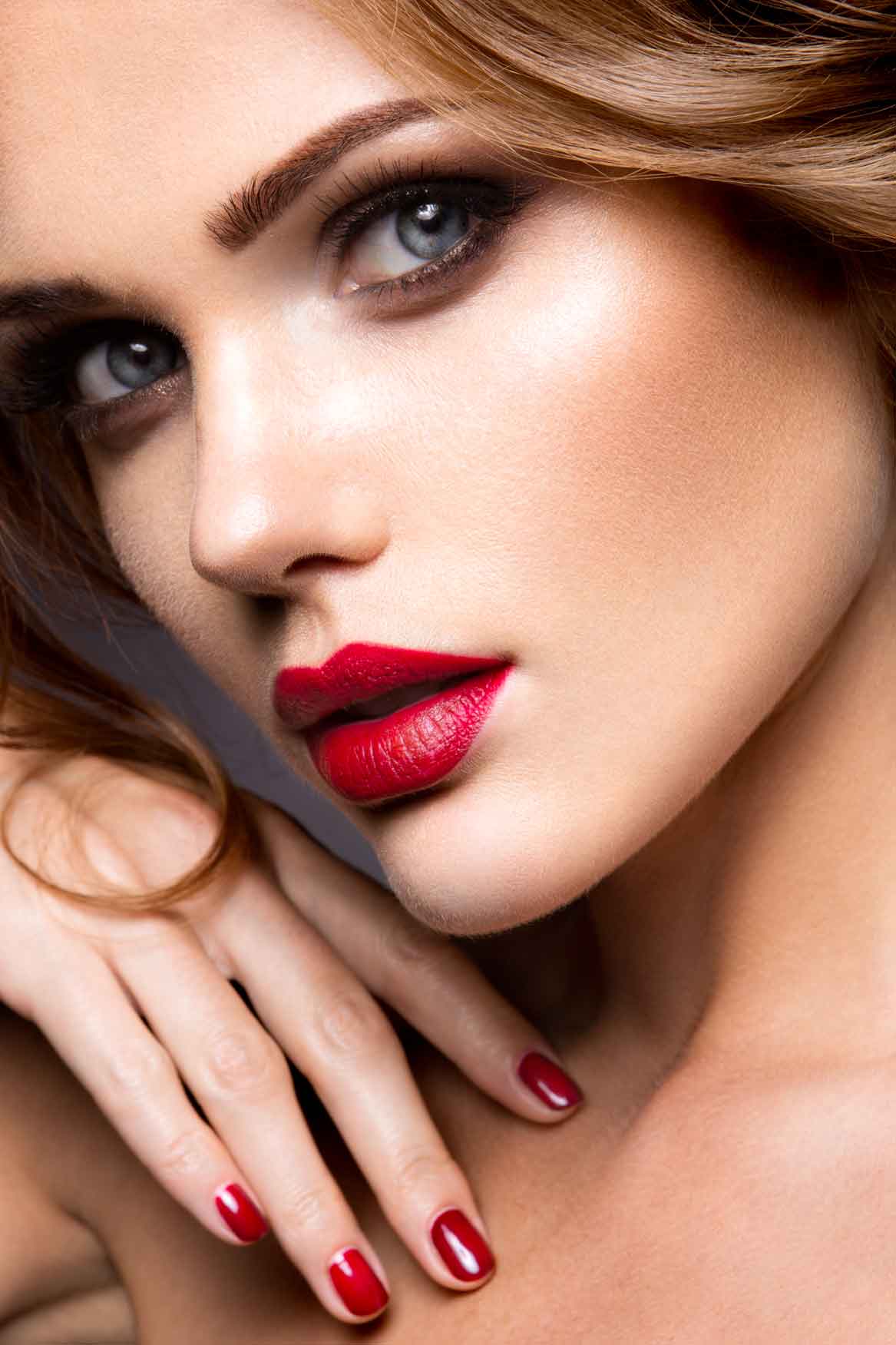 Here are few creamy lipsticks I've tried and vouch for. With these ones, you can expect to get smooth lips with rich color pay-off without the sticky feeling. L'Oreal Paris' classic Color Riche formula has stunning shades. It highly nourishes my pucker and leaves a high shine finish too.
L'Oreal Paris Color Riche Moist Matte Lipstick, 263 Pure Garnet
Another cult favorite of mine is the Lakmé Absolute Argan Oil Lip Color, which is infused with Moroccan argan oil. This classic formula never lets me go wrong whenever I am in the mood to create a bold pout. I absolutely love its beautiful gold casing too and I happen to carry it with me wherever I go.
Lakme Absolute Matte Ultimate Lip Color with Argan Oil, Red Extreme
3. Stain
Close to a matte lipstick formulation are stain lip products. Stains provide a deep pigment with minimal shine. These types of lipsticks have long-lasting benefits that make them a great choice whenever you are going for work, and then to drinks or dinner afterward. As a whole, lip stains create a powerful impact while being low-maintenance. A stain lipstick also creates a bright hue that can be easily blended by itself for a deep pigment or with a nude gloss for a softer finish.
They aren't called lip stains for nothing. This is one reason I absolutely love lip stains as they are all for the long haul. Here is how I usually use this product. I dab a little of the stain on the center of my lips, purse them together, and I have the finished look. Doing this step prevents the color to travel to my teeth, and I don't have to worry about checking on my lips after meals.
One of my favorite lip stains is the one by Tonymoly Liptone Get it Tint collection. I love its lightweight texture and also for its delicate, feminine shades. If you know me at all, you know I literally won't shut up about this lip stain. Good is an understatement for this one.
[TONYMOLY] Liptone Get It Tint Water Bar
Also if I am staining my lips with a formula, I basically expect it to be tattooed over my lips. I mean (literally). For that reason, I love Holika Holika Holi Pop Jelly Tint for its long-lasting effects while its jelly texture keeps my lips super nourished. When in the mood for bright colors, you can definitely give their range of vibrant stains a try.
[Holika Holika] Holi Pop Jelly Tint
4. Gloss
Perhaps one of the high-impact lipsticks is gloss. While this formula is often related with retro trends, a high-shine glossy finish is always welcome during warmer months. Gloss that comes in subtle shades adds on a youthful glow as it isn't deeply pigmented. You can try types of lipsticks when you wish to recreate a fresh, dewy look.
Other than that, wear it for parties, night events, and events where you don't mind the attention being drawn towards you. Of course, you can even add on a layer of lipgloss if you wanna make your pout even shinier.
Sometimes when I want just a dash of color on my lips, I opt for Urban Decay Hi-fi Shine Ultra Cushion Lip Gloss. The formula visibly plumps my lips and makes them look ultra hydrated.
5. Sheer
Sheer lipstick is one of the classic lip formula choices for daily wear. This product has a higher oil concentration than other types of lipsticks as it does not dry out. Many brands have even introduced sheer formulas with moisturizing powers. When applied well, sheer lipsticks blend with every look including daytime and nighttime looks. They provide a subtle hint of color and shine.
I highly recommend Tom Ford Lip Color Sheer that leaves behind a sheer and selfie-ready look in just a single swipe. I blend it with different lip effects for a playful finish.
6. Frosty or Pearly Lipsticks
The beauty industry has a way to recycle throwback or outdated looks from the past and pass them off as trending. So, here we are reviewing on shimmery or pearly lipsticks because they're suddenly back in trend. At the moment shimmer or pearly lipsticks are one of the most popular lipstick types available.
The newer lot of frosted lipsticks offer a light reflectivity, as they feature fine pearl particles for a smooth application. Frosty lipsticks enhance your natural lip color and leave a light shimmer. When deciding upon which frost is ideal for you, we suggest you to stick with those with warmer tones.
With that thought, here is one of my all-time favorite pearl, frosted lip colors. I am referencing towards NYX Cosmetics Wicked Lippe and Maybelline Color Sensational Lipcolor because both these shimmery lip colors are surprisingly satisfying and not too loud with their sheen. To steal a line from the movie How to Lose a Guy in 10 Days, frost yourself (pun intended).
Maybeline New York Color Sensational The Buffs Lip Color Blushing Beige
7. Liquid Lipstick
A type of lipstick that has made it big in a span of few years is liquid lipsticks. Fast forward to present, these liquid formulas are the most advanced and how. Wait, there's more! They have a whole range of vegan formulas that allow you to literally have your own cake and eat it too (if you know what I mean). You can possibly get any color you wish for in the liquid selections. In case you are changing your mind for liquid lipstick, I tell you its worth it based on experience.
If you are searching for a high end liquid lipstick or an affordable drugstore option, you are in luck. There are endless options for every product preference, skin tone, and budget. A product that I discovered and that I believe is the best-kept secret of Sephora is their Cream Lip Stain Liquid Lipstick. It comes in an astonishing range of 90 shades – yes, ninety. Y'all they comfortably glide on lips without drying down and still keep my lips soft.
SEPHORA Cream Lip Stain Liquid Lipstick – COLOR: 94 Cherry Moon
Another company that gives me more reason to love their products is Pixi. Their range of liquid lipsticks is commendable and similar in achieving great results with their range of glow tonics. The formula is lightweight, dries down easily and doesn't smudge.
Girl Crush : Pixie Cosmetics Matte Velvety Liquid Lipstick (Girl Crush)
8. Long-Wearing or Transfer-Resistant
Last but not the least, a long-wear lipstick is an essential in every beauty purse. Nobody likes the idea of reapplying. We just want a formula that stays on from 9 am to 6 pm without fading or transferring. Finding a transfer-resistant lipstick is definitely a struggle. But we will tell you how to find your true match. So whether you are looking for a lip product that doesn't fade off after eating, last through work timings, or is simply kiss-proof for special date nights. These are the foolproof formulas I love and swear by.
I love the thin lippie of bareMinerals Bare Pro Longwear Lipstick that makes my application process simpler. Plus its super nourished formula smoothly glides on my lips and stays on for hours without feathering.
Or, try the Marc Jacobs Le Marc Liquid Lip Crayon in How Rouge that helps me create a kissable pucker in a single swipe. I usually wear this during daytime as the color just won't budge.
So whether it's a neutral gloss, or a retro matte red, or a liquid lipstick in delicate pink, a gorgeous lipstick always packs a beauty punch. Swipe it on once and it will instantly lift your mood.
Do you love our edition of types of lipsticks? Let us know by tweeting us @shilpa1ahuja. And show us your fave lip shade on Insta by tagging us @shilpaahujadotcom. We'll be sure to double tap your gorgeous pout!
Limawapangla Aier is a Staff Writer overseeing #content pertaining to latest news, fashion, beauty, and red carpet dressing. Prior to ShilpaAhuja.com, Lima started her career as a B2B writer which helped her quickly understand the business lingo and channel work around SEO articles for different writing spheres like financial services, education, marketing/advertising, software technology, and healthcare. Surely this experience fostered awareness around business writing, but it was her sweet spot for fashion and keen eye for trends that made her transition into fashion writing. The intersection of the business writing skills to working on current fashion gave her the added bonus to be adaptable for handling a number of client's style.
She did Bachelors and Masters in English from North Eastern Hill University. In addition, she obtained a Diploma in Creative Writing. Originally from Dimapur, Nagaland, Lima loves staying up to date in current culture news, be it movies, music, or social media. When she isn't staring at an accessible screen, you can find her spending way too much napping or trying new beauty products.
She can be contacted at [email protected]