Wondering what style of lehenga will suit your body type? From flared to straight to anarkali, here are the 11 types of lehenga skirts every girl should know about.
Lehenga cholis are such an iconic attire. Along with sarees, lehengas are a part of the defining tenets of Indian wear that have lasted for centuries and still retain their popularity. You can wear a lehenga skirt both with a choli or with kameez, called lehenga suits, for a multitude of occasions – and they always end up wowing.
There are numerous Indian outfits a woman can wear  – ranging from lehenga suits, to sarees, shararas, palazzos, and so on. If you want to experiment with your look, it's a great idea to know about the different types of lehenga patterns or silhouettes so you can understand what works on you and what does not.
However, the skirts, which are an integral part of the ensembles, suffer from some misinterpretation to some extent. Where the terminology is concerned, there's often a confusion as to what to call what style. This is a common problem, as many women might be unsure of the best lehenga skirt they should wear to suit their body type or the type of look they want to create.
Therefore, today we're focusing on general types of lehenga skirts that any woman can wear for any occasion, such as a family gathering or festival, or when attending a wedding. For Indian brides that are looking for bridal lehenga suits, or shopping for their trousseau, here's a must-read guide. Whether you're a desi girl looking for a new silhouette for your next family function, or you are not Indian but have developed an interest in these outfits, here's all you need to know about lehenga skirts.
Types of Lehenga Skirts for Different Body Types
Before talking about lehenga skirts, it is important to talk of body types because they have a close relationship. Not every silhouette or style works well for everyone, so it is important to have an understanding of different styles when you make adjustments to the suit or go out shopping for one.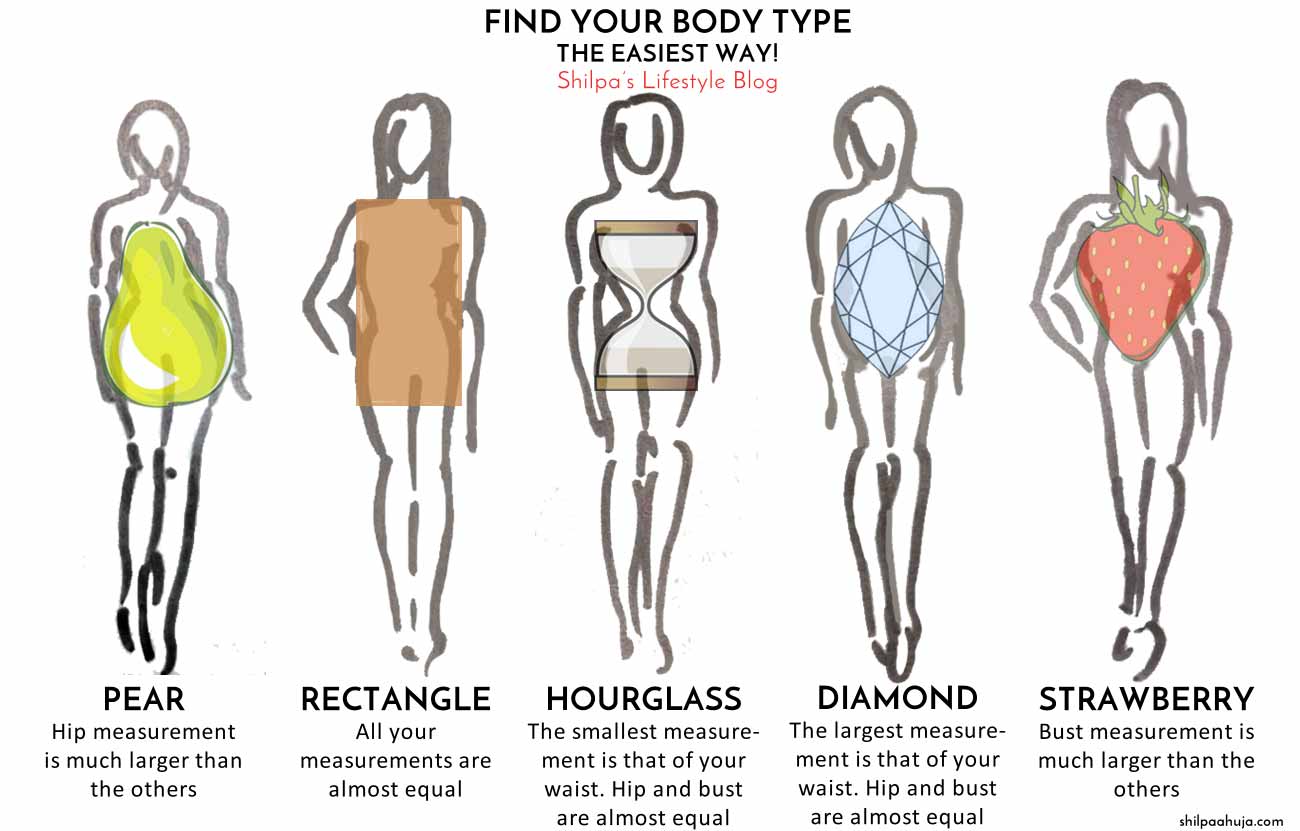 Hourglass – has slightly rounded shoulders, a well-defined waistline and bust, naturally rounded bottom, and shapely legs.
Apple – has round shoulders, undefined waist, large bust, smaller arms and legs (though they are quite shapely), and smaller hips. This body shape is also called diamond, if the waist measurement is your largest.
Rectangle – has about equal proportions of their bust, hips and waist, undefined waistline, overall slender body with usually broad shoulders.
Pear – has a smaller upper body but a larger lower body, with their hip measurement the largest amost hip-bust-waist.
Inverted triangle or strawberry – has narrow hips, but a larger bust and shoulders. They also sometimes have a fuller midsection.
You can learn more about these body shapes here: How to Find Your Body Type and How to Dress for it
If you have a curvy body, you can learn about different curvy body types here: What Does a Curvy Body Type Mean? A "Full" Guide to Curves!
If you are planning on going to an occasion and want to wear a lehenga suit, the skirt you pick is very important to your overall appearance – so choose one that fits your body shape well. Read on to know what suits you.
Types of Lehenga Skirts
1. A-Line Skirt
An A-lime skirt is the type of lehenga in which the skirt is cinched at the waist with a belt or waist-band, and then flares out at the bottom in an A-shape. This style of lehenga doesn't have pleats at the belt area, and just flares out to a simple curved hemline at the bottom.
Lehenga suits or skirts in this style are really common – chances are, you have heard of it before or have worn it before. It was quite popular in the 1970s and 1980s before disappearing from the mainstream, but is now coming back with a bang because fresh cuts, embellishments and simple fabrics can give this style of skirt a really modern look.
If you are choosing a lehenga suit with this skirt, note that it suits almost all body types. It works best for a pear-shape and hourglass-shaped women, since it cinches at the waist and flares as it goes to the lower half. It also suits petite girls. If you're apple shaped, you can try an A-line skirt with a built-in wide-belt, since it'll help you define your waistline.
2. Flared A-Line Lehenga Skirt
This is the most classic style of lehenga skirt, yet is the most beautiful. If you are a fan of pleats and volume in your skirts, this is the perfect style. Flared A-line skirts are those that are cinched and pleated at the waist, and then flare out as they go down.
Since the skirt itself has a nice flare and can form a nearly a whole circle at the hemline, the fabrics that are used to make it are mostly the ones with very fluid movement. This silhouette works well for women with a rectangle, strawberry, apple, hourglass or pear-shaped body. If you have a very small waist or are petite, it may overwhelm your frame. So petite women wanting to go for this style should opt for lightweight fabrics without inner lining or can-can.
3. Modified A-Line Lehenga
Modified lehenga is the type of silhouette in which the lehenga is cinched at the waist and fitted till the hips, and then flares out as it goes down without any belt. This silhouette is a great idea for women who are in good shape, since it highlights the small waist and shapely hips. This style is mostly worn with cholis, but you can also wear it with a kameez as lehenga suit.
This silhouette will work best for hourglass women, as it'll bring out their balanced frame. Apple shaped women should avoid these types of lehenga skirts as they'll highlight their problem areas.
4. Circular Lehenga
Circular lehenga is a type of flared skirt in which the bottom hemline forms a full circle. This is the most voluminous style of lehenga skirts, and works well for women who like their ensembles to be very classic and flared. You can also try this silhouette with a long train, especially if you're going for a bridal lehenga.
Circular lehengas work well for rectangular body types since they add a softness and an illusion of curves. They'll also work well for strawberry and pear-shaped women. Petite women should avoid this style as it'll be too overpowering for their small frame.
5. Mermaid Style Skirt
In a mermaid style skirt, the lehenga hugs the hips and thighs tightly and then flares at the knees, rather than flaring from the waist. It's also called fish-cut lehenga. This style will turn the lehenga suit from a traditional to a modern look, and is a great idea for your cousin's wedding, your own engagement or a cocktail party.
It also accentuates the curves, so it is best suited for hourglass body types. If you're pear-shaped and want to highlight your butt, then you can also go for this style. Avoid it though if you are apple shaped, since it'll not be able to bring much structure around your mid-section. This style also won't work as well on rectangular body types, since it'll highlight a lack of curves.
6. Trumpet Skirt
A trumpet skirt is similar to a mermaid skirt, but flares out at the thighs, instead of at the knees. If you are a fan of wearing something that does not look like a 'typical' lehenga skirt, then this is a good style to try. This is also a great silhouette for lehenga suits, since it'll work superbly with a thigh-long kameez.
This style is a good idea if you want to highlight your waist and hips, but not your thighs. One thing that makes this silhouette quite different is that it retains a wide flare that sets it out as lehenga, and yet gives a modern, gown-like feel at the top.
If you choose to wear a trumpet-style lehenga, you can pair it with a kurta, especially a short one. Such types of lehenga skirts also work well for all body types, except rectangle and apple shapes, since they'll not add the much-needed structure at their waistline.
7. Straight Cut Skirt
As the name suggests, a streight cut lehenga is the type of skirt that does not have pleats, and goes in an almost straight silhouette from the waist down. This type of lehenga only flares as much as to allow for free movement – looking like a more straight version of the mermaid style! Traditionally, lehengas were preferred for their flare. However, nowadays, many Indian fashion designers are designing straight-cuts lehengas in their collections.
This is quite simple in its cut, and is great for the women that prefer simplicity in their look. It also works well since it does not have pleats or too much fluff in the design, and works for multiple body types.
However, the women that wear it best are apple and hourglass shapes. Rectangle shaped women who want a tomboy-ish look without any flare can also go for it. Avoid this style if you are pear shaped, or curvy petite, since it'll make you look stumpy.
8. Kalidar Lehenga Skirt
If you are petite, you might be frustrated because it seems that you do not have many options to explore, but this style is great for you. It also works for pear and hourglass types.
The style has pizza-slice-shaped vertical panels, which are stitched all along the flare of the lehenga. The panels therefore resemble petals of a flower, giving them the name "kalis" meaning flower-buds. Since there are plenty of panels, the flare is also quite large and it increases the elegance of the whole appearance. Such types of lehenga skirts will also suit all other body types. Apple and pear shaped women should go for a belted silhouette to make their waistline well-defined.
9. Saree-Style Draped Skirt
This draws plenty of inspiration from the South Indian method of draping a dupatta around the waist and over the shoulder, and is also called langa voni or pavadai. In a saree-style draped skirt, the lehenga is sometimes front-pleated like a saree, but is actually a skirt, to be worn separately with a choli, or sewn to a dupatta and choli as a one-piece saree-gown.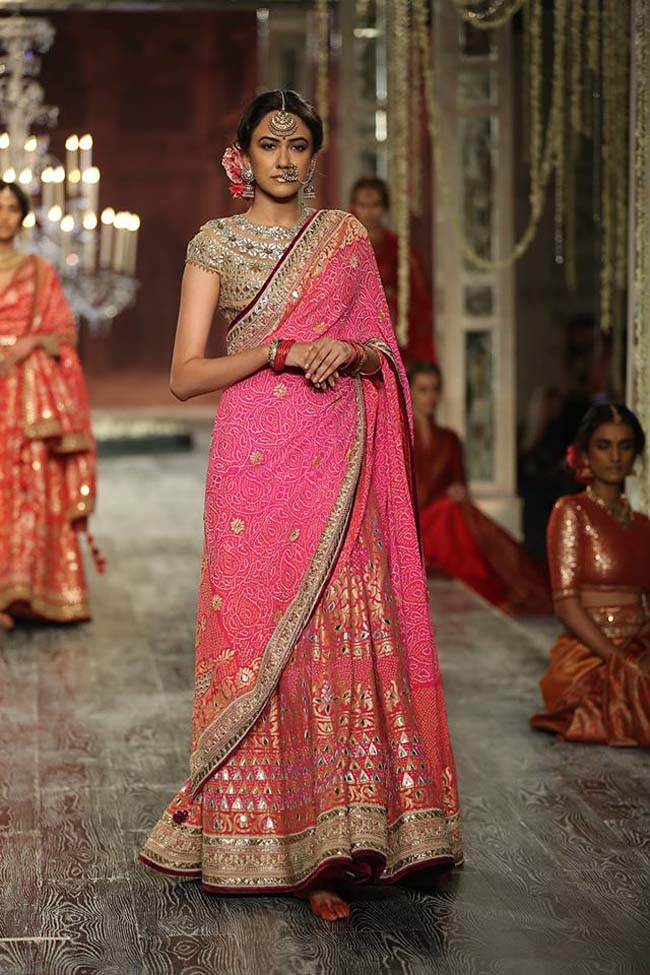 These types of lehenga skirts are getting increasing in popularity quite quickly in fashion circles, because they are unique and give an modern look. It even gives you a chance to get the classy elegance of wearing a lehenga and saree at the same time.
It will work best for apple, rectangle, inverted triangle and pear-shaped women, but not curvy-petite as it makes the body look overwhelmed with the fullness of the fabric. However, skinny petites may be able to wear saree-style lehenga in a lightweight fabric.
10. Overskirt
An overskirt is a type of lehenga skirt that has a long piece of fabric or half-skirt sewn to the sides and back of it, resulting in a layered look. The overskirt lehenga is inspired by the overskirt gowns in the west, making it an Indo-western piece of garment. It can look great on your engagement or your brother's wedding. You can also wear it with a peplum kurti.
Overskirt looks great on strawberry shaped women, since it balances the heavy busy by adding more volume to the lower half. Pear shaped and curvy petite women should avoid this style since it'll make their butt look even heavier. It'll also suit skinny petites, rectangle and hourglass shaped women.
11. Tiered Lehenga
A tiered skirt is one which is constructed with tiers or layers along the length. The tiers make a lehenga look like a skirt or multiple skirts worn over longer skirts. These types of lehenga skirts are also inspired by tiered gowns in the west, making them an elegant Indo-western garment. Great idea for brides and fashion events.
Tiered lehengas will suit strawberry body shapes the best, just like overskirt, they add a lot of weight on the lower half, balancing out a heavy bust. They'll also work for rectangle, apple, hourglass and pear shaped women. Petite women can wear tiered lehengas in lighter fabrics to keep the silhouette balanced.
So I hope our guide to types of lehenga skirts or different body types was helpful. Which silhouette suits your body shape? Let us know below!
Read next:
– Indian Gown Styles: Different Types of Indian Gown Designs
– How to Dress for Pear Shaped Body Type
Shrutika Potwar is an SEO analyst and a part-time blogger with an experience of two years in the IT sector. She loves to blog about fashion, lifestyle and technology in spare time. She is working at Stylecaret, a fashion e-commerce portal in India, and is a guest author at ShilpaAhuja.com. Shrutika writes about ethnic wear, fashion advice and Indian casual & wedding wear.