Post the Covid hiatus, it's time to put our best fashion foot forward. Here's a list of types of fashion aesthetics so you can confidently find your own!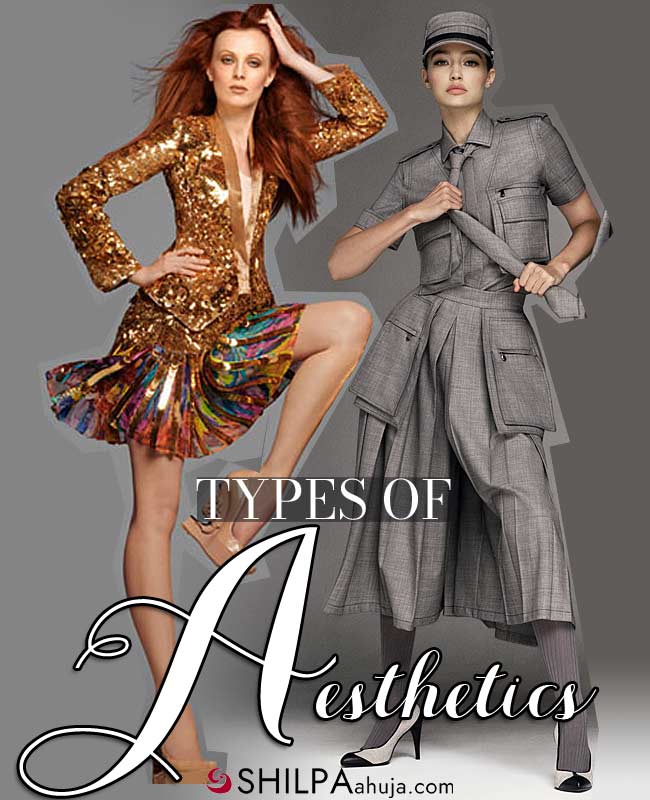 A decade ago, there were only a handful types of fashion aesthetics to talk about. However, the recent surge of social media has led to the development of an overwhelming number of aesthetics. From paying homage to vintage trends to the blending of contemporary with classics, there is something for everyone. We put our stalking skills to use and compiled a list of different types of aesthetics for you to try and experiment with.
30 Most Popular Types of Fashion Aesthetics
1. Grunge
This style, popularized in 80s, takes its roots from the time's musical bands like Nirvana and Pearl Jam who dominated the world of grunge. Most of the mainstream artists weren't necessarily wealthy and hence this fashion movement was all about counter-culture and anti-consumerism. This style slowly and steadily progressed into the modern fashion scene.
To truly embody this style, try oversized denim jackets or hoodies, flannel shirts, chokers, combat boots, ripped jeans and a musical band tee. Another noteworthy incident has to be that of Marc Jacobs who in 1993 debuted a grunge inspired collection at Perry Ellis. This furthermore resulted in him being fired from the brand. In fact, in the year 2018, like a true visionary, he reissued the same collection with the original prints and fabrics to prove that he was way ahead of his time. Truly an iconic move!
2. Dark Academia
This subculture essentially is about celebrating literature, writing and knowledge and draws its inspiration from 1940s gothic elements. The aesthetic focuses on muted, earthy tones of blacks, browns and greys. It is like the professor look, but way more chic! Layering is also an essential aspect of this style.
If you are ready to embrace this trend then add solid, dark-colored turtlenecks, tweed pants, over-sized checked coats, sweaters, fine cardigans and Oxford shoes into your wardrobe. If all this rings a bell and reminds you of the fan favorite Harry Potter series, you are on the right track. So, dive deep into this fashion aesthetic and make all your Pinterest dreams come true!
3. Light Academia
On the contrary to dark academia, this draws inspiration from classical design instead of gothic. It is about romanticization of studying and letter writing. The style is cute, soft, feminine, metrosexual and delicate. It consists of hues and shades of whites, beiges, gold, crème, pastel mints and pale blues. Fabric choices are cashmere, linen, cotton, silk, lace and wool.
To look like a master of this style, simply invest in light colored button-ups, blouses, corduroy jackets, trench coats, cigarette pants and miniskirts. If this sounds like it's right up your alley, then give the world of light academia a chance!
4. Scene Core
Scene is a movement that was introduced in the 2000s and gained popularity in the mid-2000s. It is generally associated with glam punk as Scene core is characterized by bright neon colors, hair bows, tight clothing, fingerless net gloves, spiky and dyed hair, fishnet or stripped tights and racoon eyeliners. This aesthetic is bold, fun and definitely not for the faint hearted. Layering of prints, patterns and colors is key to this fashion aesthetic.
5. Art Hoe
This, of all the types of fashion aesthetics, is a personal favorite. It is one of those perfect examples where social movement meets fashion. This movement was created to control harmful stereotypes around people of color and help create a safe space for them to express themselves without going unnoticed. This swiftly also became an aesthetic and as the name suggests, the aesthetic primarily revolves around art. Yellow is the best color to fill your wardrobe with but orange, red, blue and green also work. Overalls, mom jeans, graphic tees, quirky prints, striped shirts, artsy socks, colored Converse and if have the skill to paint on your garments yourself, even better!
6. Hippie/ Boho
Originated in the late 60s, the bohemian aesthetic is all about peace, love, freedom and a flowy wardrobe. Even with the presence of multiple types of fashion aesthetics, this is one of my personal favorite as it shares its origin with a movement which was about rejecting the average, mainstream life and doing what the heart wants.
There typically is no restriction on the color palette, so brighter the better. Bell-bottoms, long skirts, tank tops, bandannas, tie-die, flats, fringe, florals, big and eye-catchy prints are popular in the aesthetic. Browns, burnt orange, basically any color that reflects liberation of the youth is loved.
7. E-girl/ boy
This youth subculture that emerged in the year 2010 is derived from 'electronic girl/boy' because of its connection with the internet. It reflects the lifestyle of an active internet user who are influenced by anime or video gaming. Unlike most other aesthetics, this is a unique blend of emo, cosplay, goth and rave.
Elements that are relevant to this aesthetic include over-sized shirts, platform boots, fishnet tights, edgy metal chokers, plaid skirts, mesh clothing, silver jewelry, belt chains and dyed hair, typically restricted to the two-front sections of the hair. Transforming into a e-girl or e-boy doesn't necessarily need you to champion gaming, all you need is room for experimenting.
8. Soft Girl
The core focus of this fashion aesthetic is on delicate, romantic, muted and soft colors. Tints of pinks, purples, powder blue, sage green, white and butter yellow are often used.
Flashy prints are a big no. Instead polka dots, florals, stripes, mini hearts, butterflies and plaids are used. Slip dresses, cami tops, crewnecks, cardigans, mom jeans are all made for the soft girl aesthetic. Accessories to include are pearl necklaces, scrunchie, cute hairclips and bucket hats. It basically gives me flashbacks of my childhood in the spring, playing in garden with my friends, fresh breeze and tons of food.
9. Minimalist
Among the various types of fashion aesthetics that exist, this has to be the most practical and achievable! If you like simple, clean look and believe that less is more, this fashion aesthetic is probably your style. Generally, blacks, whites, greys and neutral colors are preferred. Sharp, structural silhouettes, minimal accessories and basic makeup are used.
However, the presence of an overwhelming number of aesthetics begs the need to spice things up. That is when you get to play with proportions, cuts, symmetry, layers and androgynous garments to create something that is interesting yet balanced. If you think practicality and fashion should go hand in hand, try this style out, you'll love it despite the simple colors!
Also check out: How to Create a Capsule Wardrobe
10. Maximalist
Unlike minimalist, the mantra here is more is more. Ditch your basic white tee and high waisted pants, a new phenomenon is here. Elements used her includes, loud colors, big prints, embellishments, ruffles, crazy patterns and loads of layers. If you are ready to step out of your comfort zone and leave a mark, try mixing various prints, combine different colors and go over board with accessories. But here comes the tricky part, to avoid looking like a disaster, one should always aim to create a look that is balanced and cohesive. If you can do that then congratulations, you've mastered this aesthetic!
Also read: Bold Fashion & How to Dress It
11. Dystopian/ Post Apocalyptic
Who would want to look shabby in a dystopian society? Not us! This aesthetic has been seen in movies and TV shows like Mad Max and Dune. Dystopian fashion is about being creative and use aesthetically ripped cardigans, washed out scarves and other functional pieces.
However, this flourishing aesthetic is about innovation and exploration. Unconventional silhouettes, structured and bold designs and numerous layers are what the designers and wearers are currently focusing on. The color palette is generally dull but its avant garde nature will certainly draw all eyes on it. Honestly, post an apocalypse, you'll find me in my pj's enjoying the fact that I'm alive but if you are someone looking to ditch the traditional garments and be a part of this creative moment, I definitely can get behind it!
12. Kid Core
The Tik-Tok obsessed generation seems to have a profound admiration for nostalgia. To break this subculture down, it essentially centers around bright colors, bold graphics, cartoons, playful prints and patterns. Its purpose is to revive nostalgia and emphasize on creativity and individualism. The style is widely popular among Gen-Z as it helps them express themselves, break the barriers that the society has forced on them and reconnect to the inner child in them. Rainbow colored tees, butterfly clips, princess printed tops, bright cardigans, striped crewnecks and cow print pants are some of the dominant elements of this aesthetic. If you are ready to infuse fun, carefree energy into your life and bring back some childhood memories sooner or later, then this aesthetic is perfect!
13. Cottage Core
Imagine wearing a flared dress, lying in a field of tulips and dreaming about all things pretty. Sounds like a delight, right? That is pretty much what this wholesome aesthetic is all about. This Gen-Z loved subculture began roughly during the 1780s when a French queen gave up her royalty for a simpler life but it gained popularity yet again during the pandemic when the homebound youth dressed-up to escape the trauma of the real world.
If you're looking to update your wardrobe according to this type of fashion aesthetic then certainly get midi or maxi flowy ruffled dresses, floral skirts, puffy sleeved blouses and straw hats. Delicate accessories and flats are a must!
14. Fairy Kei
Quick question, can we have a discussion about fashion without mentioning Japan? You already know the answer, obviously not! This aesthetic popularized in Japan includes pastel color palette or neon tinted colors and brings back the 80s pop fashion. Motifs of shooting stars, rainbows, cats, hearts, teddy bear, unicorns' and sky are prominent. Fairy Core aesthetic looks like its straight out of a fantasy world and we love it! Generally light and relaxed fabrics are preferred while tight fitted clothes are discouraged. Popular items include sweatshirts, t-shirts, tulle skirts and over-sized jackets. Accessorize, in fact overdo it! Additionally, a lot of times plastic and soft toys are sewn onto the clothes, necklaces or belts.
15. VSCO Girl
Do you recollect the time when handmade friendship bracelets, scrunchies, sea-shell necklaces, coiled wire hair elastics, flat sandals, metal straw, denim jackets, oversized shirts and Crocs were a big thing because the girls on VSCO, a photo editing app, loved the basic, effortless look? Yes, this is one of those types of fashion aesthetics that was born and grew on social media. This style is back and I, for one, am happy about it. Minimal makeup with some lip gloss, sunscreen, mascara and loose beachy waves add to this equation. This is more about the lifestyle they adopt aiming to save the world from plastic. However, people are divided into those who appreciate their concerns and those who believe that the VSCO girls don't really care about the environment. Regardless, this aesthetic in terms of fashion is a hit!
16. Indie
Indie refers to independent record label back in the 80s and is associated with bands like The Smith and Mary Chain and their lifestyle. However, over the years the lifestyle attached to it gained popularity and stuck around while its actual meaning failed to last. One of the post prominent features of this aesthetic is the love for handmade and vintage goods. Those butterfly and cow printed pants you see on the internet belong to this category.
It is indeed the perfect blend of the old, retro and the hippy culture. Vibrant colors, jumpers, checked or leopard print pants, resin or polymer clay jewelry, quirky socks, hunky boots, beanies and edgy liners are ideal. Whether it is your everyday look or party wear, we promise this aesthetic will make everyone's head turn.
17. Skater Girl
A style that traces back to the 40s has made its way back to the mainstream fashion scene yet again. This is all about comfortable streetwear and focuses on over-sized garments. To understand this style's wardrobe, think of what a skater girl would wear and you will find all the answers. To involve yourself in the skate fashion culture, try over-sized T-shirts, hoodies, figure-hugging biker shorts, mom jeans, ill-fitted caps, distressed jeans and the ultimate skater girl Converse. Comfortable, a form of self-expression and freedom, this style is a must try for all! So, grab your skateboard and get ready to roll!
18. Y2K
Given that Tik-Tok undoubtedly is the ultimate source of fashion inspiration, the Gen-Z crowd revived the early Y2K fashion, an abbreviation for 2000s style.
On one hand, the youth is going bold and trying midriff-baring jeans, teeny-tiny shirts, translucent apparel, body hugging garments and on the other, some play it safe with wide-legged jeans, bandannas, tennis skirts, butterfly clips, lace crop tops, cardigans and cutesy jewelry. Regardless of what your comfort zone is, there is something for all. All you need is some courage to add more colors, metallics and dazzle into your wardrobe. Come prepared for all the nostalgia and feels!
19. Vintage
Dead trends always find a way to come back with a modern twist. The return of Y2K is the biggest testimony for that statement. The fashion world constantly introduces new designs but nothing beats a classic pleated skirt, flared pant or the neck scarves. The beauty of retro style is unmatched and generally overlooked. Closet essentials for this would include polka dotted A-line dresses, bell bottom jeans, plaid skirts, peep-toe shoes, pearl jewelry, frills, corsets, lace, ruffles and knee length floral skirts. This when compared to other types of fashion aesthetics is definitely a game changer and can make you look like a million bucks if done right, so what are you waiting for?
20. Emo
This subculture is an abbreviation for emotional punk music from the 2000s. It aims to express emotions of pain, anxiety, heartbreak and other struggles, which is why darker hues especially black is an essential color. Baby tees, skinny jeans, chunky boots, leather jackets, dark eye makeup, edgy belts, oversized hoodies, striped slacks and tank tops will amp up your emo looks. However, colors are not off-limits, one can use pops of colors when needed. If you ready to experiment with this aspect of fashion then find what works the best for you and you will indeed be turning heads.
21. Femboy
The slang is a combination of the term 'feminine' and 'boy' suggesting a unique style that allows men to explore and celebrate their feminine side. It overthrows the gender stereotypes associated with fashion and allows men to wear clothes that are traditionally considered feminine. Although the style dates back to the 90s where only "weak men" wore skirts but it has currently become a phenomenon, all thanks to the members of the queer community who are leaving no stones unturned to redefine masculinity. To embody the aesthetic wear slip dresses, tennis miniskirts, mesh shirts or a crop top. Bonus point if you can try out painting your nails, winged liners or maybe colored hairclips. And did I mention it's not just for queer guys anymore?
22. Punk
Punk was one of those types of subcultures that was beyond fashion and its aesthetics. It was a movement whose history dates back to the 70s and is relevant even today. Its essence was individualism, they did not believe in fitting in and rebelled against those in power. This aesthetic over years has evolved into various subdivisions like horror punk, cowpunk and Celtic punk to name a few. Rest assured, there is something for everyone and their personal style.
To celebrate the spirit of freedom, opt for leather garments, fishnet vests, spikey hair, painted nails, chunky boots, chains attached to pants, patchwork and plaids. Darker hues are preferable but don't shy away from mixing colors and creating something rather new! We might not be in 70s, however there are way too many causes to fight for and spread message about and that's why this style is embraced!
Read more: Punk Fashion: Dressing Styles, Accessories, Hair Types
23. Cyber Punk
This subculture is a whole lifestyle on its own. It reflects a futuristic society that is ruled by technology and takes its inspiration from punk. This aesthetic is bold, edgy and one must be prepared to be unapologetic about their choices. In simpler words, science fiction heavily influences the people following the trend.
The most apparent aspect of this subculture is its color palette which generally consists of darker hues but may even include beiges or metallics. To take your cyberpunk ensemble up a notch, go for LED visor glasses, edgy asymmetric tops or jackets and minimal but futuristic dresses. Sleeveless tanks or shirts, cargo pants, slim fit pants, trench coat, leather jacket and boots preferably in black is essential for this aesthetic.
24. Twee
If you are asking yourself, "What is twee aesthetic?" Let me simplify it for you. It was a style that originated in the 80's, however was popularized in the early 2000s and it is now making an unexpected return from the dead. It revolves around intellectual and nerd culture and is girly and feminine. Remember Jess from 'New Girl'? Her style is the epitome of the twee aesthetic. Peter-pan collars, fit-and-flare dresses, A-line skirts, berets, polka dots, ballet flats, satchel bags and wide-rimmed glasses are the classics of this style. It is giving me all the timeless feels!!
25. Barbie Core
Celebs every once in a while, get hooked to one or many types of fashion aesthetics and unquestionably a current favorite of celebs from Paris Hilton to Megan Fox is Barbie core which has a chokehold on fashionistas and is seen everywhere. The images of Margot Robbie in hot pink ensembles from the sets of her new Barbie movie has left everyone in awe. Unsurprisingly the aesthetic takes its inspiration from the Barbie doll- thin, blonde and pretty in pink.
To embrace this trend, opt for velvet track suits in pink or purple, high heels, fitted mini dresses, belly chains, crop tops, low rise mini skirts and thigh high boots. At this instant, this core is gracing red carpets, runways and even music videos. Say goodbye to your boring clothes and get ready to channel your inner Barbie this season!
26. Normcore
I know what you are thinking, Normcore? That cannot possibly be a real aesthetic. Well, it is. In a world of trends and fad this style is defined by simple, normal looking clothes. The need to look distinctive is tossed out the window and similar sense of style is accepted and embraced by all. Instead of looking to stand out, people wear what's comfortable, familiar and personal-everything that blends in. This style is subjective and one can wear what feels the most normal to them, however some of the staples include white tee, stonewashed high-waisted blue jeans, baseball caps, chunky white sneakers, fleece jacket, white button-down shirts and flat sandals. I'm sure most of us have been dressing up in this aesthetic without even realizing.
27. Baddie
This is that 'boss babe' looks you find on your Insta-grid. It is an aesthetic that is essentially made for social media and heavily associated with influencers and celebrities. The essence of this look is sexy, confident and leaves you in awe. Honestly, this aesthetic is way easier to achieve than you think.
All you need is some optimism to channel your inner diva. Bodysuits, cut out dresses, bodycon mini dress, high-waisted everything, large hoops and chunky gold jewelry are all prominent elements of this distinctive style. To look extra lavishing opt for full and clean brows, carved cheekbones and jawline, gloss, long lashes and well styled hair. The extravagant ensembles in 'Sex and the City' and 'The Devil Wears Prada' are children to this aesthetic.
28. Glam Rock
Glam rock is one among the many types of fashion aesthetics that gained popularity in the 70s, all thanks to artists, especially from rock and male-centric bands, who wore flashy ensembles that were considered feminine. This subculture grew out of goth and punk but what makes it unique is its rejection of darker colors. This aesthetic is distinctive because of the use of colors and androgyny style. However, its core was still about rebellion against authority and individuality.
Wardrobe staples here are metallic or glittery clothes, flared pants, silk tops and shirts, velvet pantsuits and tights. Freddie Mercury from Queen and David Bowie are some of the personalities who embodied this aesthetic.
29. Cosplay
Cosplay, also called role play, refers to the use of fashion and accessories in order to look like a replica of a character. It spread like wild fire in 90s in Japan where people dressed up as their favorite characters from comic, video games, anime, cartoons and television stories at science friction conventions. If you are a fan of 'The Big Bang Theory', I'm sure you've seen the actors dress up as characters of Justice League, Harry Potter and Star Wars to name a few. Altogether, cosplay is now a common occurrence at fan conventions and there is no common element to shop for as this aesthetic depends on one character and its appearance.
However, this fashion aesthetic has become common for everyday ensembles. Instead of dressing up as a particular character, you can channel a pop culture or video-game inspired style to create your own look and avatar daily!
30. Hip Hop
Finally our last subculture developed from its music counterpart back in late 1970s. Ever since rappers and singers have used this style to create an identity for themselves. This aesthetic is pretty versatile and serves people with different styles. Its chic and makes you look bougie. During the initial phase oversized jackets, tracksuits, dripping gold jewelry and tracksuits were the trademark. The style since then has evolved and now, crop tops to t shirts, joggers to denims are all a part of hip hop fashion. Bucket hats, big hoops, oversized sunglasses and baseball caps are other must-have accessories! And not to forget, chunky gold hip hop jewelry!
Hopefully, this article helped you find your personal aesthetic to express your inner creative. Besides we would love to witness you grace the world of fashion and break the barriers of what the society thinks is 'cool' or 'fashionable'. What is your favorite aesthetic that you'd love to try? Let us know in the comment section below or tag us in your pictures on Instagram using @shilpaahujadotcom.
Read Next:
Types Of Fashion Subcultures : A Complete Guide
Cultural Appropriation in Fashion
How to Dress according to Your Personality
Further Reading:
Do you need to stick to one particular aesthetic? Audrey O's latest NFT collection explores the idea of experimentation and aesthetic-blending, so check out our discussion on that!
Yashaswini Reddy is a Fashion Journalist at ShilpaAhuja.com. She is currently pursuing her bachelor's degree in Fashion and Apparel Design from JD Institute of Fashion Technology, Bengaluru. She is constantly working towards broadening her horizons in the field of fashion and lifestyle. She is a strong believer in slow fashion and values mindful and a sustainable wardrobe. When she's idle, you'll find her binge watching shows, listening to music, indulging in art or catching up with friends.