From see-through bags by Balmain to classy straw bags by Chanel, check out the trending handbags from Spring Summer 2019 collections. Don't miss out on #5.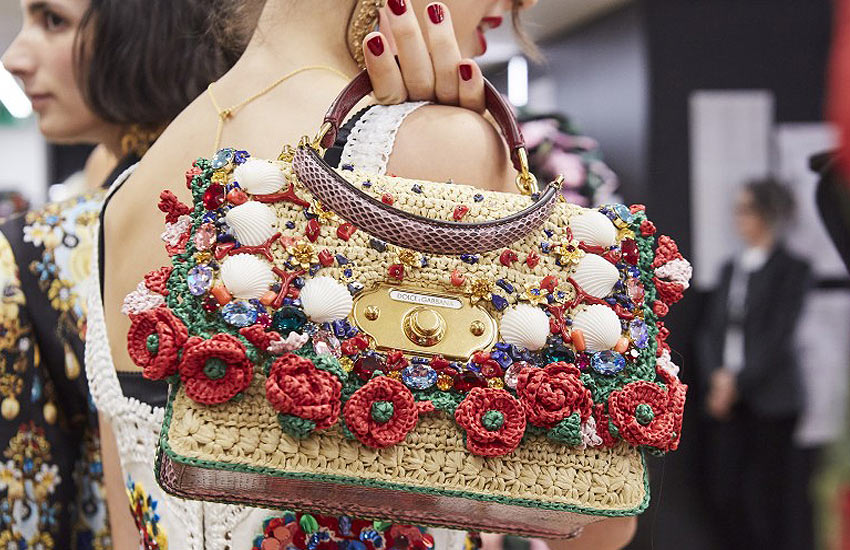 Hey there! Handbags are an important accessory that not only carry all our much-needed things but also help to create a style statement. There's a quote, "Handbags speak louder than words." And the more the trendier, the louder they are! Any look is incomplete without accessories and a handbag is the best amongst them.
Like every season, we went through all the SS19 runway collections and analyzed the upcoming trending handbags. We saw many trends like chunky chain link bags, fringe handbags and double bags. Sadly, they couldn't all make it to our list as the competition was tough. And after all scoring and analyzing we've shortlisted the best 9 handbag trends!
9 Most Popular Trending Handbags for Spring Summer 2019
1. Bucket Bags
Bucket bags are back! We've been seeing them almost every season. So, it is high time to invest in a bucket bag now! Both small and big bucket bags were seen in the collections of Moschino, Fendi, Alexander McQueen, etc. Straw bucket bags by Alberta Ferretti are perfect for beach parties and picnics.
2. Handheld Bags
Handheld bags were super trendy in Fall 2018 collections and even celebs like Gigi Hadid and Kim Kardashian have been rocking them. We saw them again in the Spring 2019 collections. They fulfilled our trend analysis requirements so here they are in the list of trending handbags.
Personally, I'm not a handheld bag fan as one hand is engaged in holding the bag. Slim handheld bags are good to use to an extent but the oversized ones like the yellow one in Dries Van Noten are super hard to carry.
3. Transparent Bags
From tote to clutch to cross body bags, go for transparent or see-through bags this season. I'm loving the transparent applique bag by Balmain. Accessorize your little black dress with it and look party ready. Transparent bags are a good choice if you don't want to carry too much, as lots of stuff can make them look messy. Clear plexi is also one of the hottest trends in shoes for Spring 2019.
4. Round Bags
Both big and small round bags are going to be trendy in Spring 2019 collections. Circular bags by Oscar de la Renta and Chanel are so small that you might need a microscope to look at them. Only the designers know what can be carried in them. Hope they are atleast able to hold our phones and credit card! Well, we have to wait for that until they hit the stores.
5. Fanny Pack Bags
Fanny packs or belt bags that seemed to be lost in the previous seasons are back in the SS19 collections. From mini to micro, we're seeing both types of fanny packs. Belt bags are great as they set your hands free! Tan and white colored bum bags are trending this season.
6. Short Strap Bags
The popularity of short strap slings bags is not gonna fade anytime soon. Bags that end just above the waist or even smaller are trendy this season. From sleek to broad straps, pick your choice as both are ruling the runways.
In trending handbags for Fall 2018, short strap sling bags were the #1 trend but this season they've been replaced by bucket bags. Although, last season we predicted them to be trendy in 2019 and here they are!
7. Micro Bags
It's hard for designers to get over the trend of micro bags and we're seeing them every season. Both top handle and side handle micro bags are trendy. Go for either small strap or long. And if you don't want a strap at all, you can go for a micro fanny pack. Cool, isn't?
8. Box Bags
From large square shaped box bag by Oscar de la Renta to mini embellished ones by Elie Saab, box bags are creating waves this season. Both micro and mini ones are trendy. Box bags especially in neutral colors are very trendy, since head-to-toe neutrals are one of the top color trends for 2019.
9. Woven Bags
Woven bags look traditional and classy. Very long woven bags are trendy this season. If you want to try something trendy in this vintage style then go for longer ones. I'm loving the long strapped one by Alberta Ferretti. These will go perfectly with khaki, which is also one of the top fashion trends for SS19.
So, these are the trending handbags for 2019. Which trend did you like and most and which trend you think should've been on our list? Do let us know your thoughts by commenting below or by tweeting @shilpa1ahuja.
Also read:
– Sunglasses Trends for Spring Summer 2019
– Fashion Makeup Looks & Hairstyles from Spring Summer 2019 Collections
Anusha Jain is a Staff Writer & SlubShop Manager at ShilpaAhuja.com. She has a diploma in Fashion Design from iNIFD and is originally from Andhra Pradesh. Before entering into the field of fashion, she got a Masters in Analytical Chemistry. Her love in fashion design, a passion in staying updated with the latest trends and zeal to do something creative paved her way to a career in fashion. Here, at Shilpaahuja.com, she works on bringing the latest in shopping ideas, fashion tips and beauty advice to SlubShop, the world's first purely trend-based affiliate store. Accessories are her expertise. Her work on SlubShop involves bringing the latest runway trends to the masses, and designing the UI/UX to make it look innovative and fresh. She is also a fitness and dieting aficionado, writing about bringing the latest in the world of wellness and health. When she's not writing she loves to travel, watch movies and also she is interested in photography, using herself as a muse. For feedback and questions, email [email protected] or connect with her on Twitter @Anushajain14.