Here are the latest winter lip colors selected from the runways. From black to red lipsticks, check out the hot lipstick trends for Winter 2017!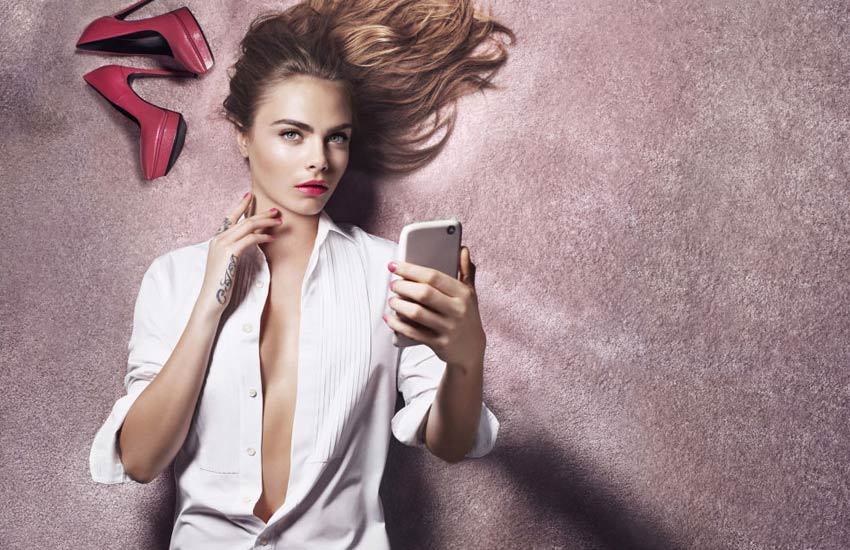 Hey gorgeous! Lipsticks are the final touch to any outfit. So its always important to know the top trends coming up this season. And if you're having a tough time choosing what colors to pick, then here you go! With loads of bold, nudes, pastels – here are all the trendy shades for you to try this winter season.
This season, it's all about the new colors you haven't tried before! Here are the top lip colors for winter 2017 selected from the runways. We've also selected the best shades from the Winter 2017 collections of top makeup brands.
Latest Winter Lip Colors for Winter 2017
Latest Lipstick Trends #1: (Almost) Black Lipstick
Black lipstick makes a much bolder statement than the average dark and edgy eyeshadow. It's not easy to pull it off, because it's a strong look. Not everyone will prefer to wear this. We are seeing this on runways and surely, it's for those who wanna experiment with makeup! Try the deepest shade of purple or burgundy if you're too scared to try black.
Lipstick Color #2: Nude
If you wanna tone down your winter lip colors from the bold reds, try the basic nudes and go natural! Nude shades are very trendy this winter. It's a great option for office and formal parties. We saw this trend on runways of Chanel and Dolce & Gabbana.
Glitter lips are the most glam makeup trend that all celebs are trying this season. It is the newest trend to obsess over this winter. And if you want to make a statement without being too glittery, then you can add glitter at the center. Wear it to the weddings or formal parties.
Winter Trends #4: Red Lipstick
Who's for a bold, breathtaking color? Red lipsticks are always great, but are super hot this season. I personally love this trend. Pair it with whites, blacks and lots of bright outfits. Great option for a night-out, parties or just hanging out with friends.
Latest Lipstick Trends #5: Metallic Lipstick
Metallic lipstick is a bold statement. It's for the real fashionistas, so you don't want to miss out on wearing one of these when you're going to fashion shows and glamorous parties. I am in love with the shimmery bronze color by M.A.C.
Best Winter Lipstick Trend #6: Two Tone Lipstick
Two-toned lips have been in trend since Summer 2016. Combining bold and trendy shades is a fun way of experimenting on your lips. It just needs some mix up, creativity and confidence to pull off!
Lipstick 2017 #7: Purple Lips
This trend is very classy and a must-try this season. Wear it to weddings, parties and even night-outs. Purple lipsticks are a hot new trend that started with awkward blue-ish tones, but have finally found their way into deep eggplants. I personally would love to wear the Dior one!
Winter Lipstick #8: Pop Pastel
Pastel colored lipstick can be very subtle when you put it on! But yet these pop shades can create a fun statement. These pastel colors don't pop out much on clothes, but they give a different and special look when worn on lips. Pastel jungle green, lemon yellow and light purple are all trendy. Pick any of for your friend's party or if you're going to a tropical vacation.
Winter Lipstick #9: Burgundy
If you are in search of super dark yet classy lip trend this season, then burgundy would be the most flattering hue of them all. From copper violet to auburn, there are so many different shades of burgundy. Try them all when you go shopping, and find one that makes you feel most confident. Wear them to weddings and dinner dates.
Are you also eager to try the new trends and winter lip colors for 2017? If yes, lemme know! Comment below!
Pinky is a Staff Writer and Research Analyst at ShilpaAhuja.com, and an iNIFD graduate with a diploma in fashion design. Pinky's expertise lies in the latest wedding fashion trends and hair/makeup advice. Prior to taking up a career in fashion, Pinky graduated with a B.Com (C.S) from Ethiraj College. She is also an art and a movie buff, she loves to read a lot of online stuff, mostly fashion! The girl next door trying to juggle homemaking, blogging & wanderlust! Creating insights on beauty, hair & Indian fashion trends, one article at a time… Her hobbies include shopping (obviously!), hogging food at city's new restaurants & listening to Bollywood music.
Although Pinky is keen on taking the fitness route in 2018. For questions or discussions, email [email protected] or tweet her @coolbuddy13141