Hey gorgeous! Wanna know what colors to wear this season? I have gone through all the runway collections for Fall/Winter 2016, both ready-to-wear and couture. And I have selected the top 10 fall fashion color trends for casual and party outfits.
We've already seen the fashion must-haves for Fall 2016, but now we wanna make sure whatever shopping we're doing fits in with the color palette of the season! From midnight blue to cinnamon, let's take a look at all 10 fashion color trends . So let's check them out!
Fashion Color Trends: Top 10 for Fall/Winter 2016-17
Head-to-Toe Black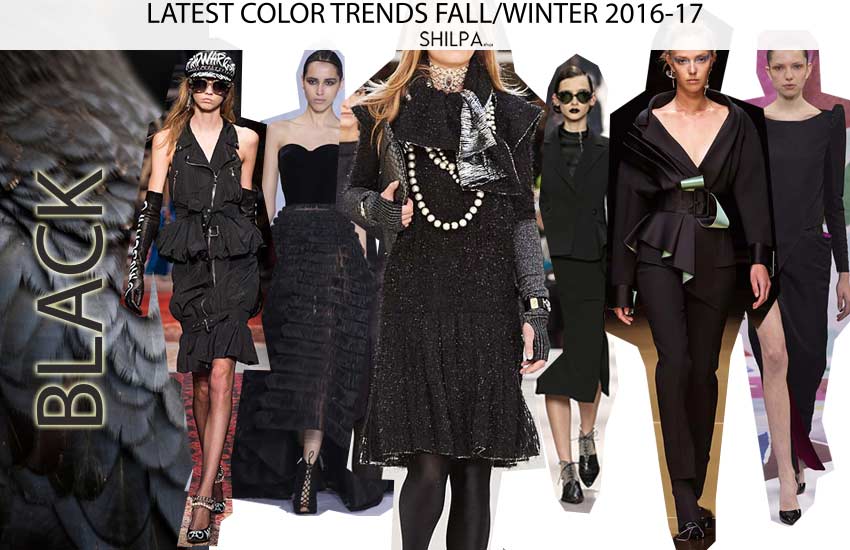 It wouldn't be winter without the mention of the forever fashion favorite tone – black. This season, we saw so many head-to-toe black outfits on the runways that I've lost count. And I'm not complaining, because runway or not, winter or not, I'll wear black any day! Just add hints of white, pastel or an accessory to contrast!
Midnight Blue
Amongst the darker hues, midnight blue is a fashion favorite this season. We saw it mostly in party gowns, including in the collections of Chanel, Marc Jacobs and Roberto Cavalli. But it would make for great monochromatic or winter casual outfits too, like pairing a midnight blue overcoat or shrug with your casual outfit. Shades of navy and deep cobalt were also seen.
Berries
Berry shades including deep cherry, jazzberry, burgundy colors are very wintry. These warm tones can brighten up any winter outfit! So I'm all for wearing them this year – in overcoats, dresses, skirts or co-ord sets ! We saw these in collections of Versace, Chanel, Dior, Oscar de la Renta and Zuhair Murad.
Cinnamon and Caramel
Spice brown is one fashion color that's a huge hit this Fall 2016. We saw all variations on the runway – tan in Dior and Dolce & Gabbana, rich caramel in Jean Paul Gaultier and cinnamon in Prada and Fendi. Pair a rich caramel skirt with a black sweater, or put on a beige cape coat over a cinnamon brown dress.
Petal Pink
Petal pink is the topmost amongst pastel fashion color trends. We saw warm peach, pale pink, baby pink and blush in the collections of Chanel, Versace, Elie Saab and Dolce & Gabbana. Try this at parties in the festive season, and it'll set you apart from the black and red wearing guests!
Beige & Ecru
Just like cinnamon brown, sand and beige are also in vogue this fall. Try neutral monochromatic outfits, beige overcoats and neutrals paired with metallics this season! Wear monochromatic sand outfit, or pair it with bright colored boots. Or even pair your ecru business suit with black pumps and bag!
50 Shades of Grey
Oh grey – the subtle dryness I never like to wear, especially in bleak winters. But in Fall 2016 collections, we saw literally every shade of grey from Marc Jacobs' slate grey to Valentino's cloud grey, from Oscar de la Renta's silvery flint to Chanel's dove shade. So if you're feeling like donning something subtle, wear a grey dress or culottes. Works great for work-wear!
I'ma blue fan, so I'm loving the idea of wearing this usually summery color in the winters! Powder blue and shades were seen in the ollections of Ralph & Russo, Oscar de la Renta, Dolce & Gabbana, Versace and Fendi. This year, try sky blue, hydrangea, snowflake and baby blue and pair them with deep shades like charcoal or oxford blue.
Bronze
We have been seen lots of metallic shades in Fall/Winter 2016 collections, like silver, copper, bronze and gold. Out of these, pale gold and bronze have really stolen the show. Wear bronze not just to parties, but even casually with accents, accessories and individual pieces. We saw this hot fall fashion color in the collections of Diane von Furstenberg, Chanel, Valentino, Roberto Cavalli and more!
So what did you think of these beautiful fashion color trends for Fall/Winter 2016-17? Which is the color you're looking most forward to wearing this season? Comment below! Lemme know!
Muaah XOXO 🙂
You may also like:
Shilpa Ahuja the editor-in-chief of ShilpaAhuja.com, which she founded with the goal of inspiring confidence in the modern working woman through fashion. Other than defining the direction of the magazine, she also writes about fashion & beauty trend forecasts, industry analysis, and opinions.
Shilpa's work has been published in the University of Fashion blog and Jet Airways magazine. She is also an artist, illustrator and cartoonist. She is also the creator of Audrey O., a comic series that represents the lifestyle of millennial women. She enjoys creative writing and world travel. Her art has been exhibited at Harvard Graduate School of Design and the Aroma Hotel, Chandigarh and been published in Chandigarh Times.
Originally from Chandigarh, Shilpa also has a degree in architecture and has worked in interior project management. She is also the author of the book "Designing a Chinese Cultural Center in India". Shilpa has a Masters in Design Studies degree from Harvard University.
For feedback and questions, please email [email protected]