Stuck in a boring rut? With our list of the most random, coolest and funniest websites, you'll never run out of fun things to do on the internet when bored!
Have nothing to do and bored out of your mind? We've all been there. And of course, the first thing we turn to are our phones and computers. The internet is a weird and wonderful place. And as much as going out is fun and healthier for the body and mind, procrastinators like myself will disagree. There are tons of fun (and really weird) things to explore online. So here's what to do when your bored on the internet!
Things to Do on the Internet When Bored
From funny and outlandish to creepy and bizarre, we've got the go-to list for things to do on the internet when bored. Keep reading to know what the best things to see on the internet are.
Funny Websites
Here are some of the funniest websites that will for sure cure your boredom!
This is one the weirdest but great websites that takes you to other random, unimaginable, crazy sites. It's quite entertaining though, I have to admit. It takes you to the most unexpected of places each time!
2.
Giphy
Ever saw a movie or tv show or even a video where you thought a scene was so iconic it needs to be turned into a meme? Well, you can make your own memes and gifs on this cool website. Or of course, see all other memes the people of the internet have created. Who doesn't love memes?!
3. Funny vines on Youtube
Vines are hilarious 6 second videos that will brighten up even the most gloomiest of days. And YouTube is anyway one of the good websites where you can kill time without even realizing it.
4. News of Future
Wanna see what the headlines will be many, many years from now? Head to this funny website.
5. Did Thanos Kill Me
If you've wondered whether you were killed or spared by Thanos when he wiped out half the universe, this random website is for you.
6. Lamebook
This is one of the funniest web pages and you could spend hours together here. It's a collection of the most ridiculous and hilarious posts on Facebook.
Cool Websites
Here are the coolest things to do on the internet when bored!
1. Geo Guessr
This is probably one of the most fun things on the internet. It's a site that transports you to a different part of the world using google street view. With the help of clues such as the architecture, street signs, etc, you need to guess where you are!
2. Hogwarts is Here
Missing the Harry Potter magic? Then this great internet site is for you. You can take actual witchcraft and wizardry lessons and assignments and become a student of Hogwarts! Also check out: How Big of a Harry Potter Fan Are You Really?
3. Wattpad
Wattpad has got to be my all-time favorite website, regardless of what my mood is. It's a place where you can either write your own book and get millions of people to read them or read books by other amateur writers.
4. Rainy Mood
Listening to the sound of rain can be very relaxing and peaceful. But rain isn't something you can get whenever you want. So try this interesting website for a realistic experience.

5. Cuteness
All the adorableness in the world crammed into one great website. A good way for pet lovers to waste time when they're bored at home or work!
6. Zoom Quilt
One of the most mind-blowing and entertaining internet sites, it has a picture that zooms in endlessly. I can seriously spend hours on it, just staring at the screen. Hands down, one of my favorite things to do on the internet when bored.

7. @hotdudesreading on Instagram
This just might be the best thing on the internet. This social media account is my go-to place when I'm in need of some eye candy. Also, the captions are always extremely hilarious.
Great Websites
As much as funny websites crack us up and weird websites entertain us, visiting good and useful sites that can actually help in our everyday lives are great things to do when bored.
Create your own relaxing background noise. Choose anything from thunderstorms, to waves and crackling fire or a combination of them all! Great for anxiety or stress relief as well.
2. Super Cook
Deciding what to cook is always a struggle. This cool website lets you type in all the ingredients you have in your fridge or just the ones you'd like to work with and provides suggestions and recipes.
3. YouTube Time Machine
Type in your favorite year and find every YouTube video ever from that time. Nostalgic and fun!
Not only is this one of the fun internet sites, it's also great for planning trips or making bucket lists. Like the name suggests, you get to scribble and write anything over any place on a map.
5. Dear Photograph
Dear Photograph is one of the most amazing websites to visit when bored. It consists of pictures of people holding photographs, which were taken at that exact spot years ago, along with an inspiring description. And the best part is, you could submit your own as well!
Weird Web Pages
Check out some random weird websites below when you're bored on the internet.
One of the weirdest shopping websites ever for things you never imagined could exist.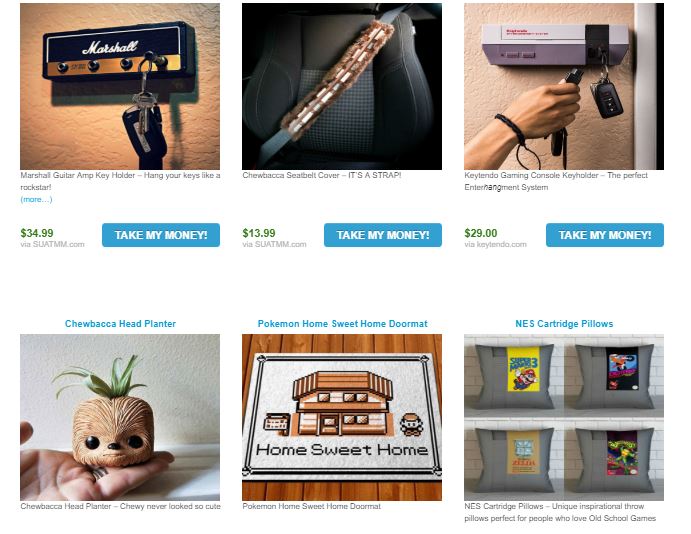 2. Anomalies Unlimited
This is one of the best websites to visit if you love reading weird and creepy conspiracy theories.
3. Patience is a Virtue
This is another one of the pointless and weird websites on our list. The site is just a page that keeps loading infinitely. No one's had the patience to wait around for it to load and see if there's actually something good at the end. So maybe you could be the first!
4. Zombie Passions
A dating site for zombies and zombie lovers.
Random Websites
Random internet sites that exist for no reason whatsoever are the place to go when bored! So here are some random things to do on the internet when bored.
1. Snap Bubbles
A fan of popping bubble wrap? Play this virtual bubble popping game for the ultimate satisfaction.
2. My Animal Weight
Ever wondered how many gorillas or how many ants would be equal to your weight? Of course not! But find it out here anyway!
3. Will Robots Take My Job?
Head over to this bizarre and random website to know what percentage the chances of your job will be over by AI in the future is. Beware though, the power of artificial intelligence may surprise you!
4. Hacker Typer
Type absolutely anything you want once you're on this random site and it'll show up in green text with a black background. Have fun feeling like a spy!
Things to Do When You're Bored with Friends
Firstly, you might wanna find new friends if you're that bored around your own friends. Just kidding, sometimes we run out of things to do and boredom kicks in even when there's company. So here are the best things to do online with friends!
1. Quiz Up
This is a two-player quiz game with various topics and categories to choose from. And you can play it with your friend or just connect to someone random in any part of the world. I highly recommend this game for anyone looking for fun things to do online when bored.
2. Play real-time video games like Counter Strike or Fortnite.
Have a fun online karaoke party with your besties!
So those were all the fun things to do on the internet when bored! What are your favorite things to do online? Do you have any other fun websites recommendations? Tell us by tweeting @shilpa1ahuja!
Also, read:
– You May Have Social Media Addiction and Not Know About It!
– Snapchat Filters & Best Snapchat Effects That Drive Us Crazy
– 201 Popular Hashtags to Use for Getting More Likes on Instagram
– Get Free Instagram Likes (and Followers) with These 25 Pro Tips
– 250 Fitness Hashtags: Bodybuilding, Gym Selfies, Running, Health & More
– Here's Why Miss Universe Title is Ridiculous!!
– How to Watch Horror Movies Without Getting Scared
– Hilarious Memes Every Girl Can Relate To
– – Fashion Designer Games for Girls That'll Bring Out the Creative in You
Nishita is a Staff Writer/ Journalist at ShilpaAhuja.com. She is a graduate of National Institute of Fashion Technology and has a degree in leather design. A lover of all things fashion, she writes about everything from beauty, hair and lifestyle to fashion trends and how-to's. Her area of expertise is outfit ideas but being fresh out of college, she also loves writing about college fashion. Her new found love of baking is currently taking over her life, making her write about all things chocolate and easy recipes. With a flair for sketching and a great eye for detail, she's previously designed leather garments for brands like Diesel and Salsa. When she's not writing, she's busy reading extremely sappy Nicholas Spark's novels, sewing clothes and listening to some indie rock. Also super passionate about photography, she loves portraits and wildlife photography – a habit turned love that formed with the amount of traveling she did as a teenager. As a girl who grew up with books and movies like Pride & Prejudice, her love for period fashion is huge. And being curly haired, she's always on a constant hunt for solutions to problems that come with having ringlets and loves sharing them with people through her articles. For feedback and questions, email [email protected] or connect with her on twitter @ni95.