From clothes to accessories, from makeup to lingerie, here is the ULTIMATE honeymoon packing list and advice on how and what to pack for your honeymoon!

Hey gorgeous! If you're planning your honeymoon, congratulations! Honeymoon packing and planning adds to the happy madness that is weddings, as if wedding planning weren't already a stressful affair! But don't worry! While you concentrate on getting your pre-wedding beauty sleep and taking care of your skin, we are making a honeymoon packing list for you!
What to Pack for Your Honeymoon!
The general rule of thumb from personal experience? Pack what you feel most comfortable in. It'll help you look and feel great – which will let you enjoy the most, AND your husband will love that too! As it is with traveling in general, my best bet is to carry low-maintenance outfits that don't need ironing, such as bright or dark colors in fabrics like lycra blends or georgette. It's also a good idea to plan for sick days, fatigue or in my case, even allergies. So do carry a pair of comfy trousers or jeans and tees along with your sexy lace dresses!
Needless to say, what you pack in your suitcase or how much you pack entirely depends on where you're going, how you're traveling and for how many days. Obviously, the packing list for, say, Alaska will be much different than that for Hawaii. Or Paris. So yes, weather consideration apart, I'll try to keep it at a more tropical holiday level, and try to make it as generic as possible!
Clothes – Dresses and Outfits
Dresses: Some good ideas are maxi dresses and mini-dresses, pleated or flared skirts. Try fun styles like babydoll dresses with feminine elements like floral print or lace trimmings. If you wanna make it sexier, try a backless dress or bandage dress. Little black dressesare always a great choice! Avoid crochet dresses because the links tend to get stuck with sharp, pointy parts of luggage or travel accessories.
Check out: Romantic Honeymoon Look: Red Skirt Outfit with Ruby Crystal Necklace
Outfits: Depends on what you most commonly wear: shorts or skinny jeans, perhaps with tops or tees. Also pack swimsuits (for beaches) or outerwear like jackets or overcoats (for cold weather destinations)!
Travel Outfit: A comfortable pair of trousers or jeans always works great for travel-time. Air travel tends to get cold, especially if it's overnight, so carry a scarf, jacket or cape! Pair it with a cute handbag and flats!

Clothes – Lingerie & Sleepwear
Bath & Lingerie: Don't forget to carry a beautiful bridal bathrobe, and sexy sets of matching bras and panties in all your favorite colors! If you're packing any sheer dresses, be sure to pack matching lingerie sets. Also: it's always a good idea to pack at least one strapless bra, especially if you're packing strapless or strappy dresses!
Sleepwear: Nightwear needs to be sexy yet comfy. Lace and cotton are my favorites! Babydolls, chemises, sleepshirts and tee/short sets are great options! If you tend to get cold at night, pack at least one pair of pajamas, just in case!
Accessories
Handbag: It's a good idea to carry a large or medium-sized shoulder bag or cross-body bag for travel, in which you can store all your paraphernalia and wallet. But also make sure you carry a small handbag for those short car-rides or walks. And/or maybe a lightweight clutch or evening bag for your romantic dinner dates!
Shoes: It's best to invest in a good-quality yet cute looking pair of flats that you can walk in. Because you'll be walking a lot. If hiking or site-seeing is planned, carry walking shoes or loafers. But if you're going to a tropical destination, carry beach-friendly flip-flops. Also carry night slippers, and a pair of comfy pumps or evening shoes if you plan on going to dinner dates or any formal place like concert/opera/casino.
Belts: Just carry skinny or broad belts, depending on what goes with your packed outfits or dresses. Be sure to pack them in rolls, stacked together so they don't bend or deform.
Jewelry: Pack jewelry to go with your clothes. Carry what you're most comfortable in. It should ideally be lightweight so you can wear it for long hours while walking or traveling. Pendant necklaces or bracelets are good ideas. A statement necklace or two can't hurt.
Makeup & Beauty Products
Lips & Eyes: It's best to pack light, so try to carry makeup that matches more than one outfit. Lipsticks to match your dresses are a must-have. Also a natural-pink lipgloss that you can wear when you don't know what else to. And perhaps matching lip pencils. For the eyes, pack a long-wear eyeliner and/or mascara, and perhaps a smokey eye kit. Pack makeup that comes off easily, because your face will be tired after all the bridal makeup and wedding stress. And don't forget makeup remover and cotton balls!
Face: Blush, face powder, foundation and bronzer – any or all of these depending on how much you like to wear (for your honeymoon pictures!)
Nails: Pack quick-dry nail polish. And nail polish remover. Colors like red, white and gold are great options because they'll go with more than one outfit so you won't have to put it on every morning. Comes in handy if you wanna stay in bed an hour extra! 😉
Lip & Skin Care: Air travel tends to make skin dry, so carry lipbalm and a travel pack of lotion in your handbag. And maybe some extra moisturizer.
Hair Care: Carry travel-kits for your shampoo and conditioner or transfer them into tiny leak-proof bottles. Add a hairbrush and a shampoo comb.
Sunscreen: It's a must if you're going to any sunny place!
Toiletries: Same goes for your bodywash and facewash – carry in tiny leak-proof bottles.
Hair Remover or Razor: Is a great idea if you're wearing sleeveless tops or mini-dresses!
Fragrance

Perfume: We all remember experiences or memories when we smell something peculiar. And men do memorize honeymoon fragrance! So whether it's floral or woody-musk, bold or light – make sure you pick something you want both of you to associate with the honeymoon in the years to come. In fact, choose your bodywash and lotion carefully too, so that their fragrance blends with your perfume nicely!
All this honeymoon packing talk is making me smile, and feel all happy! Happy for you! 😀 So I hope you have a great time at your honeymoon, and return with everlasting happy memories.
So where are you planning to go for your honeymoon? Comment below! Lemme know! MUAAH 🙂 XOXO
Choosing a new suitcase or travel accessories? Check out How to Select the Travel Accessories + Luggage Shopping.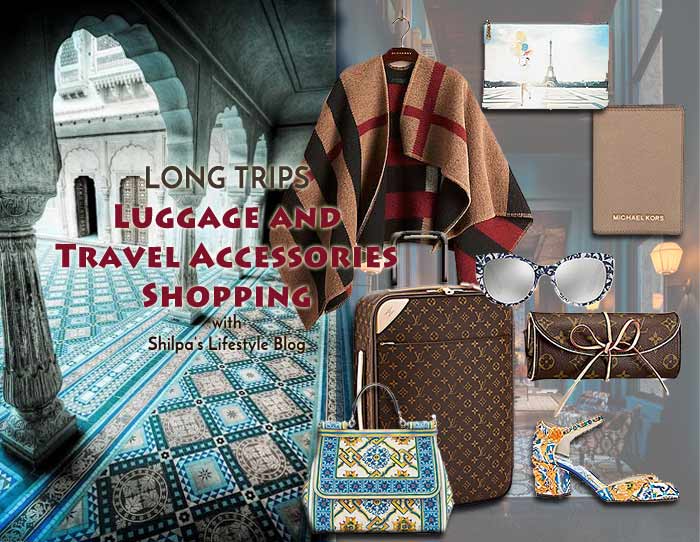 Read next:
What to Wear in Goa | Dressing Tips + Packing List + Outfit Ideas
Shilpa Ahuja the editor-in-chief of ShilpaAhuja.com, which she founded with the goal of inspiring confidence in the modern working woman through fashion. Other than defining the direction of the magazine, she also writes about fashion & beauty trend forecasts, industry analysis, and opinions.
Shilpa's work has been published in the University of Fashion blog and Jet Airways magazine. She is also an artist, illustrator and cartoonist. She is also the creator of Audrey O., a comic series that represents the lifestyle of millennial women. She enjoys creative writing and world travel. Her art has been exhibited at Harvard Graduate School of Design and the Aroma Hotel, Chandigarh and been published in Chandigarh Times.
Originally from Chandigarh, Shilpa also has a degree in architecture and has worked in interior project management. She is also the author of the book "Designing a Chinese Cultural Center in India". Shilpa has a Masters in Design Studies degree from Harvard University.
For feedback and questions, please email [email protected]