Take a look at 8 ideas for stylish fall outfits which you can create easily by combining the hottest Fall 2017 trends with your everyday looks!
Hey there! 😀 Just because it's fall and the colder months have set in, it doesn't mean you have to compromise on style with plain, dull sweaters and cardigans. Sure, it's practical but also super boring and no one wants that!
So, I've rounded up 8 ways you can incorporate the hottest Fall/Winter 2017 trends into your fall wardrobe to create stylish fall outfits that will make you look runway-ready!
Let's take a look at our fall fashion style guide:
Ideas for Stylish Fall Outfits
1. Feathers
Feathers are so bold and over-the-top, they can't possibly work for everyday, right? Wrong! They definitely can, if styled right. Because fashion is all about experimentation and breaking rules! For a brunch date, try a feather sling bag that complements your dress. And for the office, go for kitten heel pumps with minimal fur detailing. You could also try a handbag with feather accents instead. In terms of a casual outing, just a simple cardigan or jacket with a feather trim can jazz up your entire outfit! For a night-out or party, you can get away with any amount of feathers. So, go all out and opt for either a top or dress made entirely out of feathers.
2. Transparent Shoes
This trend is one that I've personally been loving. From celebs to my own friends, everyone's wearing it! Pairing them with your everyday looks is an easy way to create stylish fall fashion outfits. Transparent ballet flats are great for brunch. Teamed up with a pair of stockings and a mini skirt, they would look super cute. For the work place, look for cap-toed clear shoes in a neutral color. They would look super chic with a pencil skirt or dress. Transparent booties with a clear heel are such statement shoes, they can completely transform your casual wear. In terms of a night time look, opt for a pair of glam embellished ones.
3. Mismatched Earrings
I'm a true believer in the fact that an accessory can either make or break your entire outfit. Here are a few ideas to rock this current fashion trend. If you're going to a brunch or day date, opt for a pair of stud and ear cuff mismatched earrings. When it comes to the office, go for a pair of earrings that don't have a drastic mismatch. Casual wear-wise, try asymmetrical ones. And of course, for a party you can pick the most bold pair and rock it. Mix textures, colors and even materials!
4. Embellished Headbands
Adorn your hair with this popular Fall/Winter 2017 fashion trend. For a brunch look, opt for a floral one with rhinestones. Keep it simple for work with a thin pearl headband. And try a broad, chunky embellished one for casual wear. For a night out look, go for a sparkly, beaded one that matches your outfit.
5. Boyfriend Shoes
Try this latest fall fashion trend to accessorize your stylish fall outfits. Loafers are the go-to and most easy to pull off boyfriend shoes. Wear it to your next brunch date with a chic matching outfit. Oxfords make you look like you mean business in a work setting. Pair them with a sophisticated pant suit. A pair of brogues is a wardrobe must-have, they work well with almost any outfit. For a party, opt for a pair of embellished or studded boyfriend shoes.
6. Cropped Sweaters
They are the perfect way to keep warm and stylish in fall! Fuzzy cropped sweaters in pastel tones along with a pair of fitted trousers are a great idea for stylish fall outfits for brunch. Button-up sweaters look chic when worn over a pencil dress for office. For a more relaxed casual wear look, try a cropped sweater with rolled up sleeves. And for a night of partying, embellished sweaters are a good option.
7. Velvet
This popular fall fashion trend not only looks stunning but also being a thicker fabric, it keeps you warm. Even something as basic as a plain tee looks gorgeous when it's velvet. Wear it to brunch, tucked into your favorite skirt or trousers. In terms of formal wear, a pair of dark colored velvet pumps are ideal if matched with your work outfit. Try an embroidered velvet bomber jacket for your next casual outing and for a night out, go for a full sleeved velvet dress.
8. Embellished Jeans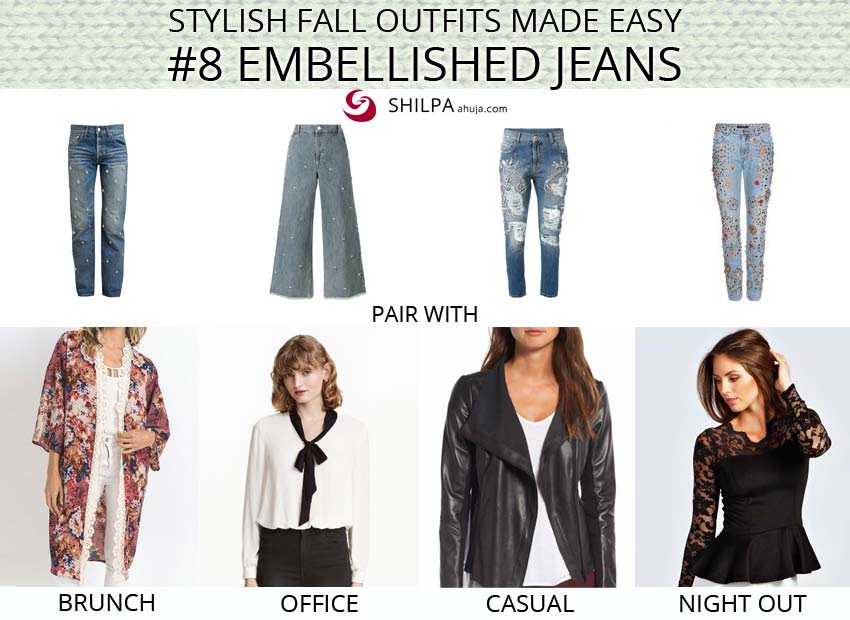 Every girl needs a pair of embellished jeans in her wardrobe, and they're perfect for mix and match style. It's an easy way to create stylish fall outfits by simply pairing them with a regular top or shirt from your closet. Rhinestone embellished jeans along with a cropped sweater or cardigan over it is great for a day date. This trend can also be worn to office as a casual Friday outfit as long as the embellishment is subtle. Go for a ripped and distressed pair for a casual look and sparkle under the lights at a night club with a pair that's too embellished to be worn anywhere else!
So, those were the latest fashion trends and ideas for fall outfits. What do you think of them and have you already tried any of these? Let us know @shilpa1ahuja 🙂
Nishita is a Staff Writer/ Journalist at ShilpaAhuja.com. She is a graduate of National Institute of Fashion Technology and has a degree in leather design. A lover of all things fashion, she writes about everything from beauty, hair and lifestyle to fashion trends and how-to's. Her area of expertise is outfit ideas but being fresh out of college, she also loves writing about college fashion. Her new found love of baking is currently taking over her life, making her write about all things chocolate and easy recipes. With a flair for sketching and a great eye for detail, she's previously designed leather garments for brands like Diesel and Salsa. When she's not writing, she's busy reading extremely sappy Nicholas Spark's novels, sewing clothes and listening to some indie rock. Also super passionate about photography, she loves portraits and wildlife photography – a habit turned love that formed with the amount of traveling she did as a teenager. As a girl who grew up with books and movies like Pride & Prejudice, her love for period fashion is huge. And being curly haired, she's always on a constant hunt for solutions to problems that come with having ringlets and loves sharing them with people through her articles. For feedback and questions, email [email protected] or connect with her on twitter @ni95.