From brights to pastels, discover the Spring 2019 color trends straight from the runways. Find out what new shades to add to your wardrobe with our fashion color forecast for SS19.
Hey gorgeous! Everyone who loves fashion loves colors. I adore them! There's so much to play with, each shade creates a different look. Some colors bring out the best features of the wearer. Colors are kind of the most important thing in fashion, maybe even more than silhouettes! Colors, in fact, can make a dress memorable, too! So it's no surprise that I love doing color trend analysis every year. Out of all the fashion trends forecasts we do, colors are what I love to forecast the most! It never seems like work – it's always just fun.
This year, there was a whole array of shades we saw in the Spring Summer 2019 runways. Head to toe black is the designers' favorite year after year, so I'm not even including it in the list. All you need to know is that black is the new black! Other than that, Spring 2019 color trends are about pink! The color families that won the runways were pink, blue and red.
Anyway, let's look at all the trendy shades in detail, so you can fill your closet with the hottest Spring 2019 color trends.
Spring 2019 Color Trends: Fashion Colors SS19 Forecast
1. Bright Multicolors
If there's one thing all designers can agree on, other than the fact that black is a top fashion color, it's that wearing multicolored outfits is totally a chic thing in Spring Summer 2019. We saw pastels too, but it were the bright technicolor palettes that won the war. So be bold and try a dress that's a mix of many bright colors; it's one of the top fashion trends for 2019. The more the merrier. I don't even know if I can pull this off myself, but I'll definitely try it!
2. White with Accents
No big deal – we all love wearing white. Like who's ever worried about spilling wine on a dress, am I right! LOL! Anyway, 2019 is all about adding a (shy) pop of color on white. So go for a different color with your shoes, bags, belts or even eyeshadow to add an accent on white.
3. Coral Red
Pantone has declared "Living Coral" the color of the year for 2019. However, fashion designers were all about coral red on the SS19 runways. This pale red shade is one of the top Spring 2019 color trends, and is a great way to rock red in a lighter, more summer-y way! Pair it with other warm shades like orange, peach, burgundy or magenta to really make a bold, runway-inspired statement.
4. Canary Yellow
Lemon yellow is also trendy. But bright, canary yellow is really one of the top Spring 2019 color trends in our fashion forecast. Yellow is a very summery color, and what better way to show your love for this season than by donning some bright yellow? If it's too bright for you, go for yellow sandals, scarf or earrings. Yellow and multicolored shoes are also one of the trending footwear trends for Spring Summer 2019.
5. Silver
Gold and silver are both hot this year, but silver takes the crown in the Spring 2019 color trends. Everything from pale cloudy silver, to robotic silver to pewter-y silver is trendy, so make it your go-to nightclub fashion color for SS19!
6. Persian Blue
It seems like 2019 is all about the bright colors. While we did see sky and baby blues on the Spring 2019 runways, Persian blue was spotted in many more designer collections. This bright, electric blue is a great way to make a statement, and blue is my favorite color so I'm all for it! Go for a Persian blue dress, coat or hat.
7. Powder Pink
It was a tough call between magenta and powder pink, but the latter made it to this list of Spring 2019 color trends. Similar shades like blush, porcelain and pinky nude are all worth trying this spring, and they're even trending as the top nail colors for 2019. I feel this is a great pastel color to try, and it'll make the perfect alternative to nudes that've been dominating the runways in the past few years. Go for a head-to-toe powder pink outfit, or just add a powder pink accent over a white outfit.
Also read: Building a Neutral Wardrobe: A Complete Guide & 7 Easy Steps
8. Bright Orange
Looking for another bright color to rock in the spring-summer season? Bright orange is your color. We saw shades of tangerine, grapefruit and bright orange on the Spring 2019 runways, and they're perfect to try in combination with metallics or white.
9. Tulip Red
Tulip red makes a comeback this season as one of the top Spring 2019 color trends. Afterall, bold red never really goes out of fashion. So rock that red dress to your parties and dates. 2019 is leaning towards the bright, orange-y red, so go for the warm shades.
10. Sacramento Green
Even before I got Sacramento green as one of the hottest Spring 2019 color trends in my forecast, I already listed this beautiful new shade in my article 21 Winter Colors from Classic to Trendy & How to Use Them earlier this month. It's a brilliant, chic, new color and I already have a few pieces of it in my wardrobe in similar shades. However, I'd love new additions in this exact color. Either way, the perf way to rock this green in your outfit is to pair it up with lighter or darker tones of green and create your own palette.
11. Khaki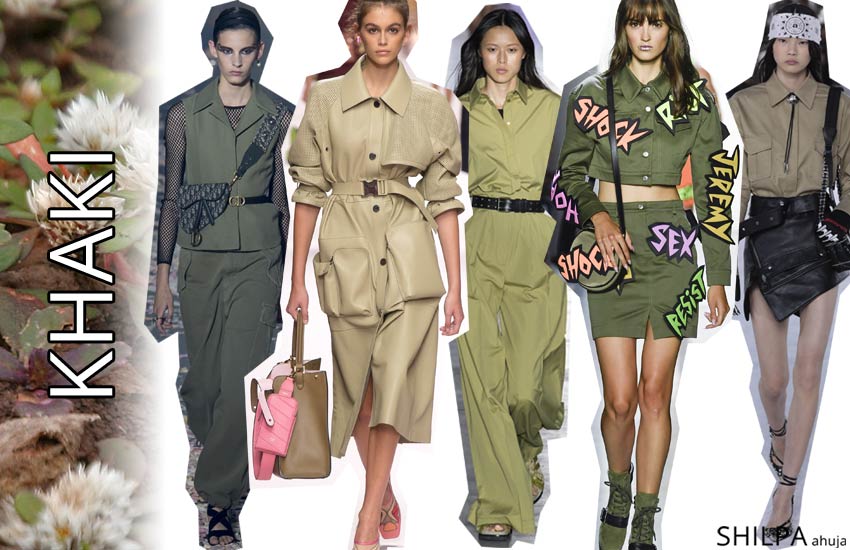 Both light and deep khaki shades are very trendy this season, and we saw loads on the SS19 runways. Khaki dresses, jumpsuits, rompers and coats – all are worth a try. Or go for khaki accessories, like boots or bags. Even try seaweed – khaki's yellowish cousin – while you're at it. What's your pick?
So I hope you enjoyed my forecast report for Spring 2019 color trends. Which new color are you gonna add to your wardrobe this season? Lemme know by commenting below or tweet me @shilpa1ahuja!
Muaah 🙂
Also read:
– New Dress Styles & Top 11 Dress Trends for Spring Summer 2019
– Trending Handbags for Spring 2019 You Need in Your Closet
Shilpa Ahuja the editor-in-chief of ShilpaAhuja.com, which she founded with the goal of inspiring confidence in the modern working woman through fashion. Other than defining the direction of the magazine, she also writes about fashion & beauty trend forecasts, industry analysis, and opinions.
Shilpa's work has been published in the University of Fashion blog and Jet Airways magazine. She is also an artist, illustrator and cartoonist. She is also the creator of Audrey O., a comic series that represents the lifestyle of millennial women. She enjoys creative writing and world travel. Her art has been exhibited at Harvard Graduate School of Design and the Aroma Hotel, Chandigarh and been published in Chandigarh Times.
Originally from Chandigarh, Shilpa also has a degree in architecture and has worked in interior project management. She is also the author of the book "Designing a Chinese Cultural Center in India". Shilpa has a Masters in Design Studies degree from Harvard University.
For feedback and questions, please email [email protected]