From adorable reindeer to beautiful snowflakes, get into the festive mood with the latest snow nail art! Check out the cute snow nails below!
Hey gorgeous! Nail art is both fun to look at and do as well. Not only that, it can also count as an accessory. Whether you wanna show off your holiday spirit right before Christmas or just need an excuse to be creative on the weekend, or even if you wanna hang out at a nail salon with your bestie, nail art is the perfect idea! From complementing your outfit to enhancing it, a nail art can do so much to your look.
Whether you experience snow in winter or not, here's 20 snow nail art ideas to get into the wintry holiday spirit! While all these snow nails are sure to perk up your festive mood just by looking at them, we've tried to include something for the lazy (beginner) gals and nail art pros alike!
We saw so many different types of snow nail art amongst the Instagram pics of the nail art pros. Some like itheir snow nails glittery, some did it colorful, some kept it minimal. There are so many ways you can depict snow. From snowflakes, to snow-covered tree-tops to snowed-on nail tips, the options are limitless.
If you're not a pro, or just looking for a minimal winter nail art design, go for white dots on a dark or blue background to make snow. If you want an intricate design, take a thin brush and draw snowflakes with sides, circles and all. You can keep them geometric or curvy. You can make it dreamy, Christmas-y or light pastel-shaded. Let's check out all the ideas!
20 Best Snow Nail Art Designs
Party Nail Art Designs
If quirky and fun is your sense of style, then why not let it show in your nails too? This colorful Christmas nail art has a glittery rainbow nail base and black snowflakes over it. Also, it's a great idea if you can't choose one single color!
If you prefer subtle snow nail art, this french mani with snowflakes on the tips is what you're looking for. It's wintery without it being too obvious or loud. Plus, it can even be worn to a work party.
For someone that likes to go all in when getting into the Christmas spirit, this is the festive nail art you should be wearing! A reindeer on the ring finger and good old snowflakes on the rest! Say what you want, but these snow nails make me believe that Santa is real! All in all, this would be a great snow nail art idea for a Christmas Eve girl's night out!
For anyone that's lucky enough to have a snow themed wedding, this snow nail design is what you need to consider. It's chic and simple with a deep red nail polish color and a gradient and snowflake on one nail as an accent. This would also be perf for a New Year's eve date night. Try some ideas from this one: Best Burgundy Nails: 45 Nail Designs for Different Shapes
If you think red is a little too bold for you check out these white snow nails. And it's just as chic and wintry! Also, pointed nails are very in now! Also, this snow nail art would be great for winter brides or bridesmaids.
It's never too early to spread the Christmas cheer! So, do it with this stunning snow themed shimmery Xmas nail art in festive colors.
Glam night outs call for glam nail art designs to match. Go for a mismatch of nail color, design and finish. Try a glossy color on one nail, shimmery on the other, a snowflake design on one and some crystal rhinestones to jazz it up.
Not everyone likes to walk into parties all decked up, so try this holographic snow nail art design for a toned down look.
Casual Nail Art Designs
Multi-colored snow nails because winters are too dreary and gloomy! Especially when you wanna brighten up that black down jacket!
Here's one with a snowman on each ring finger nail and tiny dots on the others for a snowy effect. Who wouldn't want little snowmen on their nails?! Especially when we're making snowmen for real!! And snow nails don't have to be intricately drawn either. You can get away with just a few white dots here and there too!
It's tricky to don a winter nail art design for the office but this nude one with tiny gold specks and snowflakes is something you can easily get away with.
A french manicure with adorable teddy bears and barely-there snowflakes. How cute? I wouldn't be able to stop looking at my nails if I had this one.
Who wouldn't be happy with an adorable gingerbread house on their nails? And the tips are painted to look like a snow covered ground! I love it. Excuse me while I go make some hot cocoa.
If a winter wonderland nail design is what you're after, this is something you should try – Scandinavian Christmas patterns and a snow man! You can also try other nail designs like pine trees, candy canes and fairy lights.
For all those who like to keep it winter themed without making it look Christmasy, go for two accent nails with snow covered pine trees and solid colors on the others! It's just so beautiful!
Here's another non-festive snowstorm nail art for girls who have the time and patience to create intricate and detailed nail designs. It may actually be the perfect thing to do when you're stuck at home during a snowstorm!
And here are some simpler ones that anyone can create at home easily.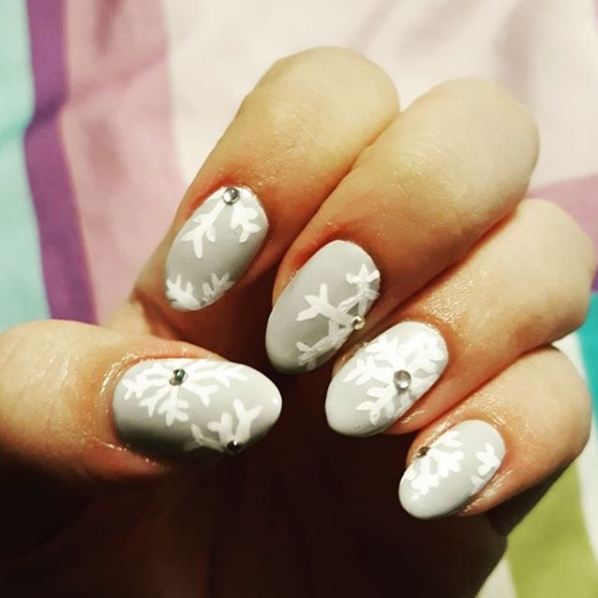 So, those were the latest snow nail art designs and ideas that everyone should be rocking this winter. Which one will you be trying out? Do let us know by tweeting @shilpa1ahuja! Or show us your snow nails by tagging us on Insta @shilpaahujadotcom! And #KeepItStylish in the holiday season! 😀
Image Credits: Instagram (refer individual handles above)
Also read:
– Acrylic Nail Ideas: 45 Best Acrylic Nail Designs for Every Mood
Nishita is a Staff Writer/ Journalist at ShilpaAhuja.com. She is a graduate of National Institute of Fashion Technology and has a degree in leather design. A lover of all things fashion, she writes about everything from beauty, hair and lifestyle to fashion trends and how-to's. Her area of expertise is outfit ideas but being fresh out of college, she also loves writing about college fashion. Her new found love of baking is currently taking over her life, making her write about all things chocolate and easy recipes. With a flair for sketching and a great eye for detail, she's previously designed leather garments for brands like Diesel and Salsa. When she's not writing, she's busy reading extremely sappy Nicholas Spark's novels, sewing clothes and listening to some indie rock. Also super passionate about photography, she loves portraits and wildlife photography – a habit turned love that formed with the amount of traveling she did as a teenager. As a girl who grew up with books and movies like Pride & Prejudice, her love for period fashion is huge. And being curly haired, she's always on a constant hunt for solutions to problems that come with having ringlets and loves sharing them with people through her articles. For feedback and questions, email [email protected] or connect with her on twitter @ni95.