Ball gown (N.) [bawl goun] A type of gown with a fitted bodice that flares out at the natural waistline to form a full skirt. Ball gowns may also use inner layers of poufy fabric like tulle to give the full structure. Ball gown gets its name from ball, a formal dance evening to which it is traditionally worn. In modern context, ball gowns may be worn to weddings, black tie-events or other formal occasions.
Bodycon (N.) [bod-ee-kon] A tight fitted, second skin-like dress is referred to as bodycon dress.
Flapper (N.) [flap-er] A vintage-style dress popular during the 1920s with lots of beading, embellishments and fringes is called flapper dress.
Gown (N.) [goun] A long formal dress that is fitted at the bodice and typically flares out at the bottom, sometimes with a full skirt. Gowns are usually worn at formal occasions like weddings or black-tie events. Also read: Types of Gowns
LBD (N.) (Abbreviation: Little Black Dress) A term used to refer to any dress that is short and black in color.


Maxi dress (N.) [mak-see dres] A type of dress that reaches the ankles is called maxi dress. It may be worn casually, as opposed to a gown.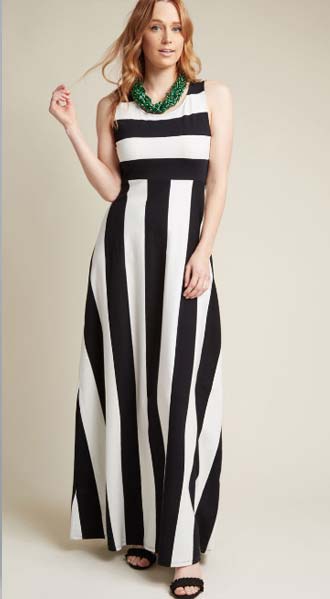 Midi dress (N.) [mid-dee dres] Midi dresses are types of dresses, which end at the calf length.
Sheath (N.) [sheeth] An A-line dress type similar to shift but with a defined waistline is known as sheath dress.
Shift (N.) [shift] A 60s straight silhouette dress that doesn't have any cinching at the waist is called shift dress.
Shirt dress (N.) [shurt dres] A new dress trend inspired by shirts, which has a collar and a button placket is called shirt dress.
Slip dress (N.) [slip dres] A 90s inspired strappy dress that resembles an underslip is called slip dress.
T-shirt dress (N.) [tee-shurt] Inspired by tees, t-shirt dresses resemble a longer version of a t-shirt.