It can be tricky, but given the right outfit, you really CAN look a lot slimmer! Here are the MUST-HAVE slimming clothes & accessories every curvy girl must own.
Hey sexy! Summer is over and you can finally hide your extra calories behind those layers! I know it can be hard to look slim. That's why I've been getting lots of requests to write tips on how to choose and style slimming clothes. And yes, they do work, if styled correctly!
And how do I know that? Because I've seen girls do it, and I've done it for my own friends! The good news is that slimming clothes work a lot easier with layers. I'm gonna write a few posts over the next few weeks on fashion tips for curvy women. Let's start with the MUST-HAVE essential items every curvy girl must own. Whether you're hip-heavy or bust-heavy, these 15 items will be great additions to your wardrobe if you want to look a size or two smaller!

15 Slimming Clothes & Accessories Every Curvy Woman MUST-HAVE
Body Shaper
Celebs and their stylists are always raving about these. And if you wanna look slimmer from outside, what's underneath counts the most. Get a nice body shaper or spanx that's high-waisted and covers the thighs, so that it instantly reshapes your stomach, hips and thighs.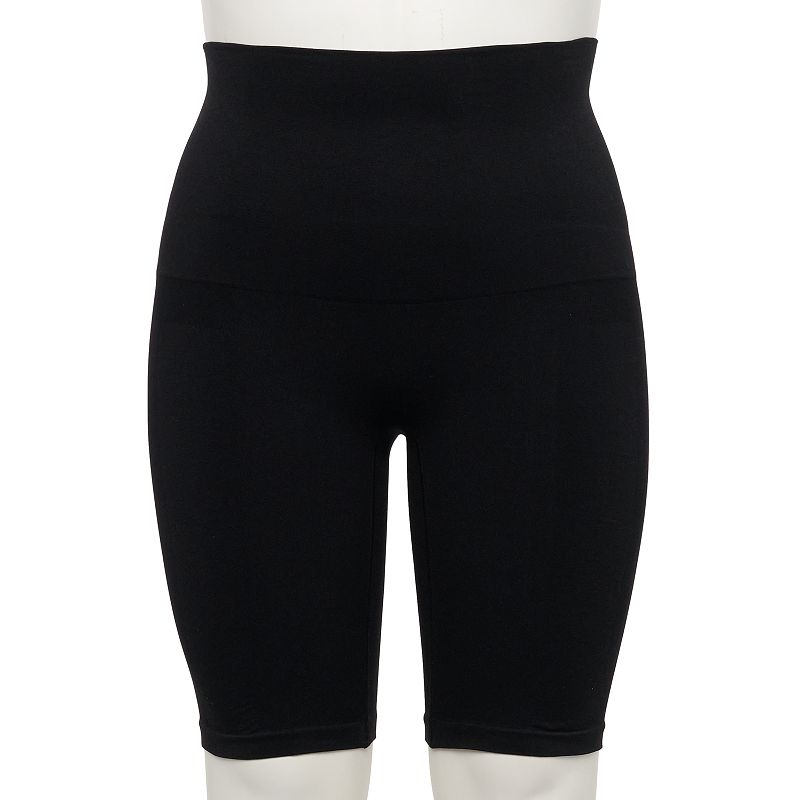 Lunaire Shapewear High-Waist Thigh Slimmer 3254HL – Women's Plus Size, Size: 3X (Black)
Empire Waist Dress
The first step to choosing the right dress is to know your body type. If you don't know what yours is, check this out: How to Find Your Body Type and How to Dress for It. Long story short, if you have extra belly-flab or heavy hips, empire waist dresses do wonders! They bring attention to the bust, balancing out the hips and hiding the belly! They look cute, too!
Sleeveless Cross-Back Knit Navy Gown
Black Dress with Ruched Middle
Black dresses instantly add a slimming effect. Get one with an interesting neckline so that the attention is driven away from the problem areas. Also try to find a nice dress that is structured but not too full or stiff. It should ideally have a ruched middle so that the detail hides the extra flab on the stomach (it really works)!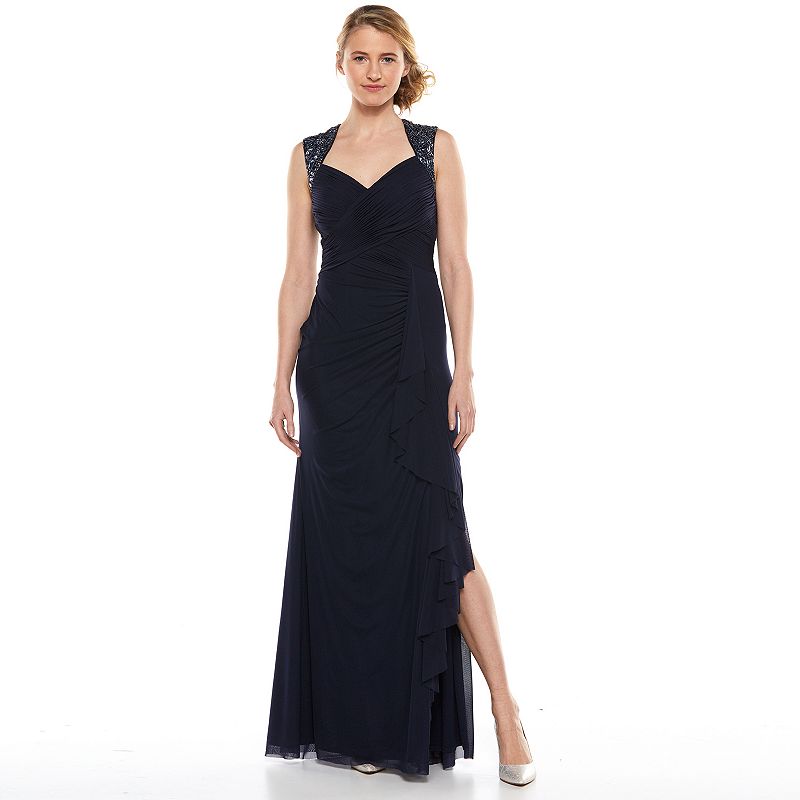 Beaded Ruched Evening Gown, Blue
Dark Colored Wide Belt
Wide belts suit curvy girls more than they suit thinner girls. So avoid skinny belts. Get a 2-3 inch wide belt in a dark color like chocolate or black that can help cinch your waist when you're wearing cardigans and dresses and act as a shaper! Make sure the belt is not too thick.
Suede Round Buckle Belt – Navy Blue
Shrug or Bolero
If you have heavy arms or extra fat near your underarms, a shrug or bolero will instantly help hide that. Choose one in a light-weight fabric so it doesn't look stiff.
Semi-sheer Poncho Top or Caftan Sweater
Caftan tops look great on curvy girls because they help hide the belly-fat and look super-trendy! Get one with a V-neck or embellished neckline, in a floaty, airy fabric. For the Fall, you can also go for a caftan-shaped sweater. Ideally, it should be long enough to fall below your hips. Add a nice belt for cinching in your waist!
Hacienda Montaecristo Rocio Fringed Kaftan with Leather Belt – white
Structured Medium-Sized Top-Handle Bag
Avoid slouchy extra-large bags that look oversized. Instead, use a medium-sized bag to add structure. Instead of a shoulder bag that adds heaviness in the middle of your body, use a top-handle bag tha you can carry in your hands or on your arm because that'll add the weight on the lower part of your body, balancing it all out.
Alexander McQueen Embellished Leather Shoulder Bag – black
Cowl-Neck Top
Cowl-neck tops look flattering on stomach-heavy women. They help take the viewer's attention away from your belly up to your neck.
Long or Fringe Earrings
Again, long earrings steer the attention to your face. They also help slim your face, and make it look less round. Go for chandelier or fringe earrings.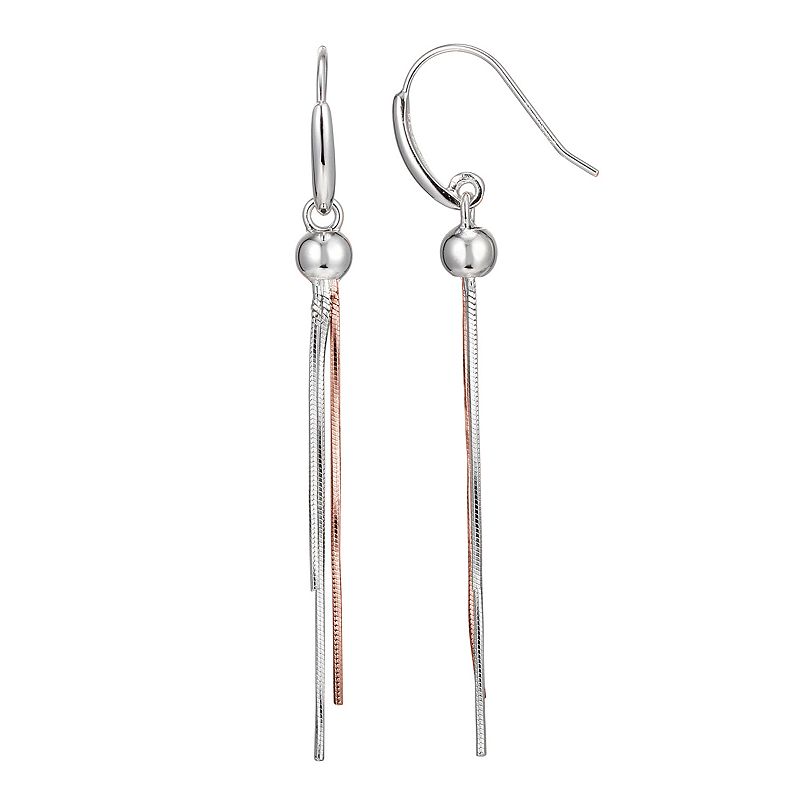 18k Rose Gold Over Silver & Sterling Silver Fringe Drop Earrings, Women's, Pink
Monochromatic Outfit
If you select your top in the same color family as your pants or skirt, it will give the illusion of a slimmer figure. Dress in shades of navy or black. If you want to go lighter, try all-white or tan outfits. Tonal colors help to appear slimmer. Add a bright belt in dusty purple, olive green or hydrangea – scarf or shoes if you want a pop of color. If you're looking for different shades of the same color, make sure your bottoms are darker shade than your top or shirt.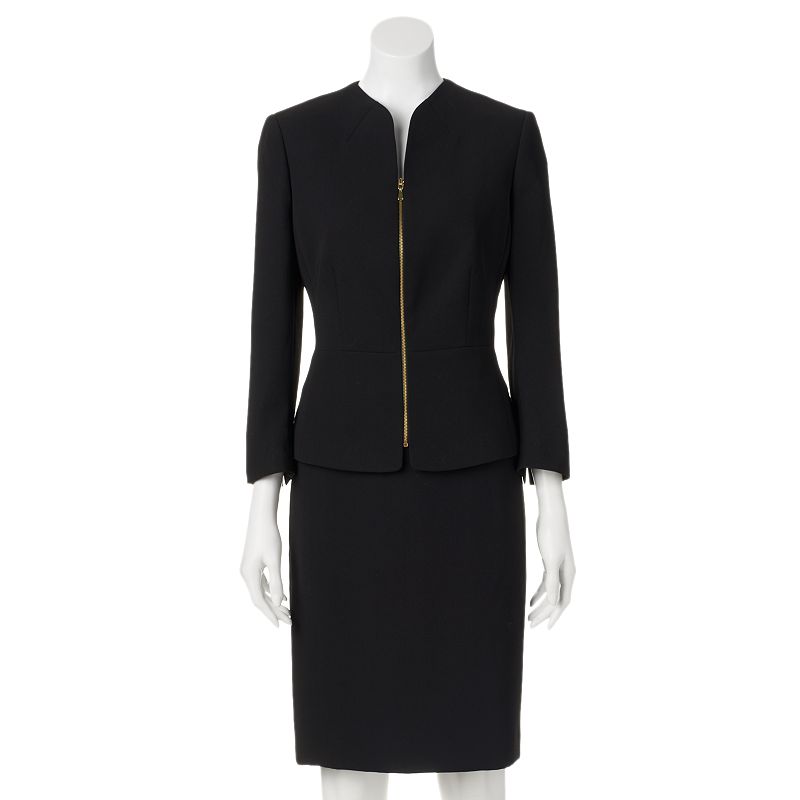 Studio Tahari-Levine Co. Solid Suit Jacket & Skirt Set, Black
Hip-Length Straight-Cut Jacket
For pear-shaped women, jackets shouldn't be too short or cropped because they make the hips stand out too much. It can be either formal or casual. Ideally, your jackets should hit below the waist, in the middle of your hips. That will help them appear smaller than they are. Also, your jacket should not be tapered because that will make you look hip-heavy. Opt for straight cuts instead.
Just Cavalli Sequin Embellished Blazer – black
Long Belted Cardigans
These are my favorite on curvy and heavy women. Long cardigans will make your torso seem elongated and will balance the way you look from behind, hiding the extra flab in your hips. Add a cool belt. Wear over an A-shaped dress or a straight-cut skirt.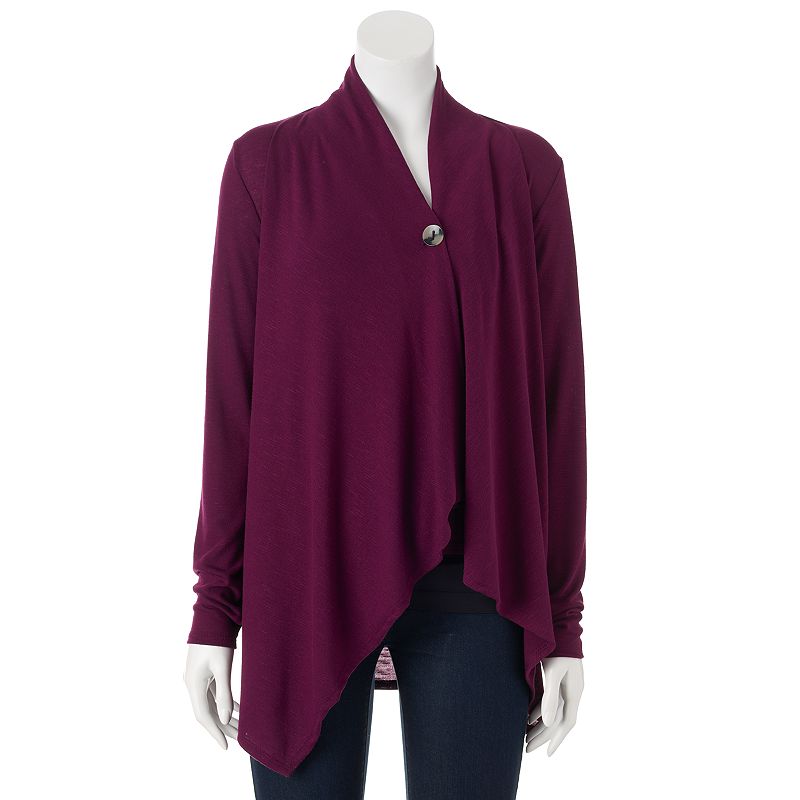 AB Studio Solid Wrap Cardigan – Women's, Size: LRG AV/REG (Purple)
Suede Skinny Belt – Burgundy
Long Chain Necklace
Will elongate your torso and make you look trendier. Go for a nice iridescent bead necklace or statement necklace to divert attention away from your problem parts.

Loganberry Bead Long Necklace
Thicker Heels that Match Your Skin Tone
Avoid lace-booties because they make the legs shorter and stockier, and completely avoid chunky sneakers because they will add heaviness to your feet. Instead, if you're bare-legged, opt for chunky heels like pumps or peep-toes to match your skin-tone to help elongate your legs and add a slimming effect. If you're wearing jeans or leggings, wear slim calf-length boots in a dark color. Avoid ankle straps because they will cut off the visual line.
Salvatore Ferragamo Patent Leather Platform Pumps – rose
Dark Mid-Rise Jeans
Avoid too high or too low jeans because they will highlight your belly. Go for mid-rise jeans instead that go up to just below your belly-button. It will help you be aware of your posture, too. Choose a dark color for slimming effect. Another good alternative is a pair of leggings, which you can wear with long tops!
Seven for all Mankind Roxanne Skinny Jeans – blue
So, did you like this list of slimming clothes? What items do you have out of these in your closet and what do you plan to shop? Also, what's your slimming tip? Lemme know below!
Read next:
– Do's and Don'ts on How to Look Slimmer
– Juice Cleanse is the Most Useless Way to Lose Weight: Says Nutritionist
– Waist Trainer Decoded with Myths & Facts: Is It Really Helpful?
Shilpa Ahuja the editor-in-chief of ShilpaAhuja.com, which she founded with the goal of inspiring confidence in the modern working woman through fashion. Other than defining the direction of the magazine, she also writes about fashion & beauty trend forecasts, industry analysis, and opinions.
Shilpa's work has been published in the University of Fashion blog and Jet Airways magazine. She is also an artist, illustrator and cartoonist. She is also the creator of Audrey O., a comic series that represents the lifestyle of millennial women. She enjoys creative writing and world travel. Her art has been exhibited at Harvard Graduate School of Design and the Aroma Hotel, Chandigarh and been published in Chandigarh Times.
Originally from Chandigarh, Shilpa also has a degree in architecture and has worked in interior project management. She is also the author of the book "Designing a Chinese Cultural Center in India". Shilpa has a Masters in Design Studies degree from Harvard University.
For feedback and questions, please email [email protected]