From running errands to meeting your new guy to going shopping, here are 25 Selena Gomez winter street style looks that'll give you outfit inspo for every occasion!
Hey gorgeous! We all have those times when we can dress easily. Some people find dressing for office easy (me, me!) while others love dressing up casually. But how to put together outfits is one of the most common questions I get from our readers and my friends alike. And that's where I usually give the advice – look at celebs who dress simply.
Now Selena Gomez isn't one of those celebs who dress to make a statement every time. She's definitely no show-stopper, and she doesn't set fashion trends. But all the same, her street style is very wearable IRL. Like some of her outfits can straightaway be rocked by peeps like you and me. Putting together a cute sweater with jeans – she's got it!
Selena Gomez has a very casual way of dressing – she can take college-like outfits to streets and give them a celeb touch. Or sometimes not! So today I picked out our 25 favorite Selena Gomez street style outfits ever, which are giving us serious goals!
Let's check them all out…
25 Selena Gomez Winter Street Style for Outfit Inspiration
1. Sweater+Skinny for Running Errands
Who wants to look ugly when you're going out for your weekly grocery shopping trip? At the risk of running into your crush in an embarrassing outfit? Uh-uh, not us! We have contingencies, we have back-up options. For outfits. That's where this cute outfit comes in that'll be like, oh you know, this is how cute I look even when I step out to buy veggies and go to the laundromat. What, oh this ol' thing? Pshh, I just threw it on!
A simple solid neutral-colored bomber jacket or sweat jacket worn over skinny jeans and sneakers is a great idea for fall or early winter, depending on where you are. It also works for a breakfast out with friends.
2. Grunge + Bedhead for Drinks
Selena Gomez winter street style can work for women with so many different types of personal style. I personally love grunge and head-to-toe black looks, especially in the winter. I love to wear them with a pop of color like a magenta lip or red earrings. But yeah, a grunge look is a great idea for going out at night to meet friends. Or with a new guy you may or may not have a chance at becoming an item with. A sexy outfit is obviously attractive and grunge hair adds an effortless touch.
Go for a sexy biker leather jacket or leather overcoat and pair it with skinny black jeans and heeled booties. Then throw on an infinity scarf or just a long warm one. Tuck your hair inside the scarf for an even more carefree bedhead. If you want to add more color, wear a burgundy scarf or a wine-colored sweater underneath. Go for matching nails.
3. Menswear Inspired Pieces for University
Now we're not saying men have better chance at graduating university. But we gotta admit, menswear items are on an average, more polished than womenswear, especially for casual fashion. So when you're in the mood to dress in smart casuals, or make a good impression over team-mates or your professor, go for a well-put-together outfit like this.
Go for black boy jeans and a pinstripe overcoat. Or a lapel jacket over white tee or button-up shirt. Add a structured handbag or laptop bag with aviator sunglasses. Complete the look with a ponytail, mascara and black loafers.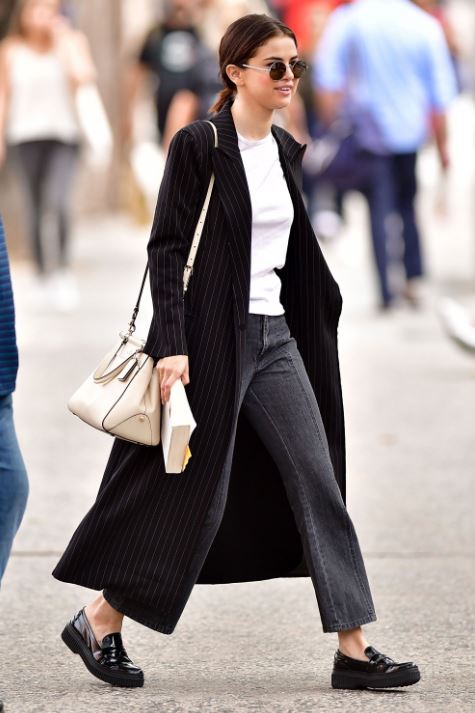 4. Tailored Pieces for University/ Casual Office
Here's a very similar version of kind of a look that you can make more casual or more formal. For a slightly more formal touch, add a white shirt underneath the overcoat.
For a slightly more casual touch, loose the ponytail and just add blue denims instead of black. If you want to make this outfit look more glam, add shimmery lip gloss and mirror sunglasses.
5. Light Pastels for Brunch
Winter brunches are wonderful, aren't they? Early mornings are for sleeping in and late mornings are the only time you can go out before sun sets and it's blanket time again. That is, if it's weekend. So go for a cozy over-sized sweater in a pretty pastel shade like lavender, biscuit or ash. Wear it over white or cream trousers and nude heels.
For makeup, wear matching eyeshadow or a very light smokey eye, and nude lips. Then wear a low ponytail or a high bun with some loose strands of hair. Perfect for fall. In the winter, you can wear this outfit with nude-colored coat and brown boots.
6. Sexy Pieces & Crop Top for Lunch Date
If it's early fall or light winters when you can still bare some skin and not shiver, this is a perfect outfit for a date. Impress your boyfriend with your gym-bod! A sexy crop top is a great idea over high-waist jeans and crop leather or suede jacket. Go for a black or brown one if you want to play it safe. Just add nude pumps and a bracelet and you're good to go!
7. Peplum Sweater for Lunch with Friends
Selena Gomez winter street style is all about comfort. Something good-looking yet comfortable – that's what you need when you're going out with friends for lunch or breakfast. A long sweater that's well-fitted or shapely just adds a touch of elegance. Go for flat boots with skinny jeans if you're gonna be walking a lot. And just light pink lip gloss and a soft scarf.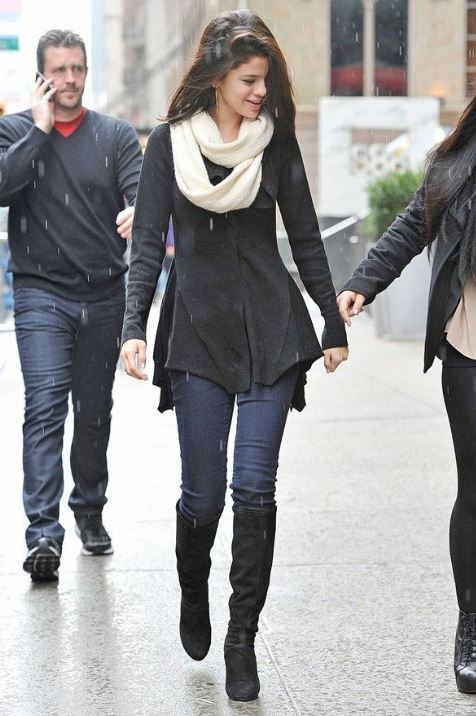 8. Athleisure + Statement Stockings for College
Are you the kind who loves kinda tomboy-ish, kinda chic looks for college? Then go for something like this. Athleisure looks can easily be given some glam touches without looking too girly. Go for a camo puff jacket over a bright-colored skirt or sweater dress.
Just add a pair of sexy stockings or statement pantyhose with sneakers to complete the sporty look. If you want to make it more glam, then wear it with wavy hair and red lip balm with kohl eyes. This isn't one of the Selena Gomez winter street style, it's actually a photo-shoot from her Adidas Neo campaigns.
9. Athleisure + Denim Jacket for Checking Out a New Cafe
Love, love-love athleisure outfits when I'm just hitting the streets with my friends, like, for no particular reason. So something like a pair of track pants with a bomber jacket is a great idea in the winter. Accessorize with a cool ring or beanie. Add a nude lip, smudged eyeliner and your fave pair of walking shoes.
10. Heels + Mini Sweater Dress for Friday at the Office
Sweater dresses are a must-have for any winter wardrobe, and you need a good one that's well-fitted and not too loose. It's the perf idea for a casual day at work. On a chillier day, add a lapel jacket or wool overcoat. Or wear it over a skinny sweater. Add a cute scarf and black pumps or booties over plain tights. And an elegant sling bag. This is one of the Selena Gomez winter street style that looks like it actually is fully wearable IRL.
11. Silk + Sherling for Family Time
If you're meeting your siblings, relatives or parents, it calls for something a bit more polished (to show them you're doing well!). So a combination of an expensive-looking fabric and a soft fuzzy one is a great combination in keeping things nice yet comfy. Go for a silk skirt or satin dress. And pair it with a matching coat to create a monochrome outfit.
Monochromes give a clean, sophisticated look, and also work well for evening dates. Add matching heeled boots or choose a pair in the same color family.
12. Long Sweater Top + Shorts for Concert/ College Party
Your college hosting a well-renowned band for the annual day? Or is there a beer party at the school? Then go for something that makes you look super chilled out. A chunky necklace gives the perf spring festival vibe – right in the winter.
Wear it over a neutral-colored sweater to keep things from becoming too extra. Add a pair of shorts over pantyhose and boots. Go for a pair of round mirror sunglasses for daytime, or a smokey eye for a night-time look.
13. Track Pants + Matching Tee for Shopping
A weekly shopping trip is the time to unwind and relax. So a comfortable outfit is always preferable over something too extra and glam. So skip heels and go for flat booties. Wear a comfy pairing like khaki track pants over matching sweater, tucked in. And add a long pendant chain to accessorize it.
Go for a super-cute top knot and a bright lip color that'll keep things interesting all afternoon.  If you want to make your outfit create more of a statement, add a spiked belt or an embellished tote.
14. Leather Coat + Mini Dress for Work Party/ University Dinner
Selena Gomez winter street style is sometimes more extra than it needs to be. But a party or dinner with colleagues is a good occasion to bring out your semi-formals and semi-glam pieces. Pick out a dress you maybe won't wear everyday, and pair it with a leather coat or wool overcoat. Add a cute belt and loose curls.
15. Long Sleeveless Coat for Brunch Date
Frankly, I hate sleeveless coats 'cause my arms always get too cold. So if you're like that, just go for a regular ol' coat. Or wear it over a skinny sweater. Go for a chic one that has over-sized collars or contrast lapel. A statement coat in one of the classic winter colors would be a great idea for a brunch date. Pair it with semi-sheer tights and heels. Add a pink lip and mascara, then flutter your eyes at your date so he looks at you all afternoon!
16. Sweater Dress + Cute Booties for First Date
Heading out for your first date with a sexy new someone? A mini-sweater dress is an outfit guaranteed to make you look cute. Wear it with a high-bun to look oh-so effortless (I didn't dress up for you!) and add a pair of high heeled boots to add some glam factor too!
17. Camo Shirt Dress + Combat Booties for Walking the Dog/ Meeting Friends
Your everyday tasks like getting tea with friends or whatever are always done best in a comfy attire. Go for something you can wear again and again – like a go-to. This camo+combat pairing is a good idea to consider.
18. Oversized Shirt+ Crop Biker Jacket for Drive Around Town
Honestly, the shirt Selena Gomez wears here is more like a summer outfit (at home) than winter. I'd hate for myself to freeze to death. So go for a oversized shirt or shirt-dress over jeggings or skinny pants. Add a crop biker jacket in black or brown suede to create a simple, neutral outfit that would work for kinda anything.
19. Overcoat+ Skinny Jeans for Meeting His Family
Here's a great street style outfit idea that would be great for anything from office to classroom to picking up your husband at the airport to driving uptown to meet his fam. A studded black overcoat worn over matching turtleneck sweater and dark denims is a fail-safe combo.
20. Leather Jacket + Drop Earrings for NightClub/ Drinks Date
Leather jackets are perfect for light winters or fall season. Wear over a light sweater or tee for a night out with your boyfriend or friends. To glam things up, add a red lip and a black smokey eye. Accessorize with heeled boots and drop earrings. Selena Gomez winter street style is mostly casual – but this one's more sexy. It would also work well for a house party or drinks date.
21. Long Scarf + Pumps for Outdoor Meeting
Meetings are an inevitable part of any working woman's life, and quick ones leave you on the street more than at the meeting itself. So go for an outfit that is layered, so you can quickly remove your overcoat indoors and put it back on, etc. A long scarf in a nice color is a great way to make things look well-put together even when you're on the run. Wear pumps for work meetings, or flats if you're going to be walking too much.
22. Sweater +Scarf Over Denim Jacket for Ice Cream Outing
Or fro-yo. Or hot chocolate. Sweet outings call for sweet outfits. And layering is a must when you're going to be having something too hot or too cold. So layer up with a denim jacket and a scarf. Then add another longer sweater or overcoat over it. Accessorize with mirror sunglasses and knee-high boots. Cute! This is one of the Selena Gomez winter street style that you can easily get inspired by to create your own look.
23. Sweater+ Jeggings for Coffee/ Hot Chocolate with Friend
Here's another similar outfit, but with much less layering and color. Wear something like this if color is your enemy.
24. Winter Mini+Infinity Scarf for College
This is one of the Selena Gomez winter street style looks that can work well in fall, actually! A wool mini-skirt is a great idea for college. So just pair it with a sweater, tucked inside it. And add a crop jacket or long overcoat. Wear it over patterned tights or sheer pantyhose. And accessorize with a cross-body bag and ankle-high sneakers.
25. Trousers + Shawl while Going for a Walk
Going for a walk by the river with your best friend/mum? Go for a cute fringed shawl or poncho. They work well for hiding winter tummy and/or easily looking good in selfies!
So what did you think of these ideas? And which look out of all these Selena Gomez winter street style outfits did you like the best? Lemme know below!
Read next:
– Inspiration of the Week: Best Street Style of Selena Gomez Ever
– Fall Fashion Outfits: 7 NEW Street Style Guidelines to Master
– 15 Winter Fashion Tips by Instagram's Most Stylish Influencers
Shilpa Ahuja the editor-in-chief of ShilpaAhuja.com, which she founded with the goal of inspiring confidence in the modern working woman through fashion. Other than defining the direction of the magazine, she also writes about fashion & beauty trend forecasts, industry analysis, and opinions.
Shilpa's work has been published in the University of Fashion blog and Jet Airways magazine. She is also an artist, illustrator and cartoonist. She is also the creator of Audrey O., a comic series that represents the lifestyle of millennial women. She enjoys creative writing and world travel. Her art has been exhibited at Harvard Graduate School of Design and the Aroma Hotel, Chandigarh and been published in Chandigarh Times.
Originally from Chandigarh, Shilpa also has a degree in architecture and has worked in interior project management. She is also the author of the book "Designing a Chinese Cultural Center in India". Shilpa has a Masters in Design Studies degree from Harvard University.
For feedback and questions, please email [email protected]