Is the art of saree draping slowly dying? Despite the love for sarees Indian women have, here's why and how we may not be able to pass on this tradition to the next generations.
Slowly and very quietly – while none of us are realizing – the era of saree draping may be coming to an end. Sarees have always been a traditional garment Indian women are known for and proud of. But is being proud of a tradition enough to preserve it?
The Long-Standing Tradition of Saree
Sarees might be the oldest Indian garment, with their roots dating back to the Indus Valley civilization. Ancient Indian fashion was all about draping, as sewing techniques and tools weren't developed yet. And so the convention developed – of all sorts of saree draping becoming the mark of different states of India. The Bengali draping, the Gujrati draping, the pattu saree, the short saree and the ethnic south Indian drape.

However, as the silk route began a trade of goods and cultures alike, and the British started ruling over our nation, Indian fashion slowly started getting infused with western styles. And in the post-independence era, there's been no stopping Indian women from wearing the mode du jour, including trousers, skirts and dresses. In fact, modernity in Indian fashion even started making the western garments more coveted than the saree, at least in urban India.
But no matter how old, young, conservative or "modern" we are, we Indian women all love sarees. But do we really?
The Harsh Reality of Modern-Urban Street Style
If we believe the common fashion adage that the designers are the trendsetters, we would reach the logical conclusion that sarees are an important part of every wardrobe and trousseau, since the designer collections are filled with sarees every season. Beautiful, intricately designed, traditional sarees. They're also filling the racks of countless garment stores and silk stores across every part of every city.
However, every urban Indian woman knows that draped sarees are just reserved for special occasions – Diwali, weddings, first dinner with the in-laws' extended family and maybe, a college farewell. That is, if your college is old-fashioned enough. The rest of formal wear consist of gowns, salwaar suits, business suits and the increasingly common alternative – the pre-draped saree.
Sarees are strictly a bridal dress code for women in many parts of India. For many women, their wedding is probably the only time they'll ever don the nine-yard-long-garment in their lives. Casual sarees, while common among the older generation, are becoming more and more nonexistent among younger urban women.
What's even sadder is that some associate casual sarees only with hotel staff and air-hostesses. While these work dress codes do keep the Indian tradition alive, this mindset does a huge injustice to Indian women everywhere.
Most urban Indian women who are millennials or Gen Z, don't even know how to drape a saree. That's not surprising since saree draping tutorials on YouTube have tens of millions of views each. "How to wear saree," is one of the most searched keywords on YouTube and keywords related to "how to tie a saree" and "saree draping for beginners" have over 7.5 million monthly searches on Google.
How a Generation Shift Marked a Decline in Saree Draping
Sarees were the traditional dress code in most parts of pre-independence India. In the rural areas and for middle aged and old urban women, especially in West Bengal, Orissa, Bihar and southern Indian states like Tamil Nadu and Kerala, saree is still the everyday garment. In other parts of India, the common everyday garment is salwaar suits for urban middle aged and older women, or what I'll call "mom life". Sarees are still common as the preferred formal wear.
However, there is a clear shift in current everyday dress code when you look at the younger generations. No study is needed to show that for office, daily lounge wear and street wear, jeans, skirts, dresses and trousers are the norm. Indian fashion as a whole is on the decline.
Here are the reasons why the saree draping is losing its relevance and prevalence:
1. The High-Income Group Problem
This is what every eastern country knows – western trends are coveted. They are first adopted by the high-income groups, whether it's food, home decor or fashion. Then they trickle down to mid to low income groups in urban regions and then maybe the rural.
For many of the wealthy woman in India, sarees represent the "old-fashioned" and common garment that can only be worn if there's at least something "extra" or unique about it – like a fur trim, a fringe border or an off-the-shoulder blouse. And yet that leaves the question – why would you wear it when you could wear Cinderella's ball gown or the poufiest lehenga that takes up extra space and sets you apart in the crowd?
2. Work Dress Code
While women still make up a lesser percentage of the total workforce, our generation has seen a major increase in working women in urban regions. Workplaces play a huge role in what women wear on an everyday basis. While a lot of modern workplaces have smart casual or business formal dress codes, these days even corporates are embracing casual dressing including jeans and t-shirts.
3. The Bollywood Influence
There's always the influence from Bollywood when it comes to defining fashion trends in India. The characters shown in Indian cinema wore sarees on an everyday basis up until the 70s and 80s. However, that changed in the 90s, as dresses, jeans and skirts became more acceptable.
Today, while the average actress does rock a saree during her public appearances from time to time, every "girl-next-door" character onscreen who represents the cool-modern-urban-Indian-women wears jeans or if you're targeting the mid to low income group, salwaar suits.
Also check out: Indian Bollywood Fashion Through Decades: 1960s to Present
3. The Pre-Draped Saree
Take a look at any couture collection of any designer in India – Gaurav Gupta, Manish Malhotra, Varun Bahl, and you'll find pre-stitched sarees galore. It's the Indo-western fusion problem. Everything traditional needs to be served with a touch of the west if you want it to sell to the not-so-humble Indians. The pani-puris become the gourmet French cheese-filled shots, and the saree becomes a pre-stitched 'saree-gown'.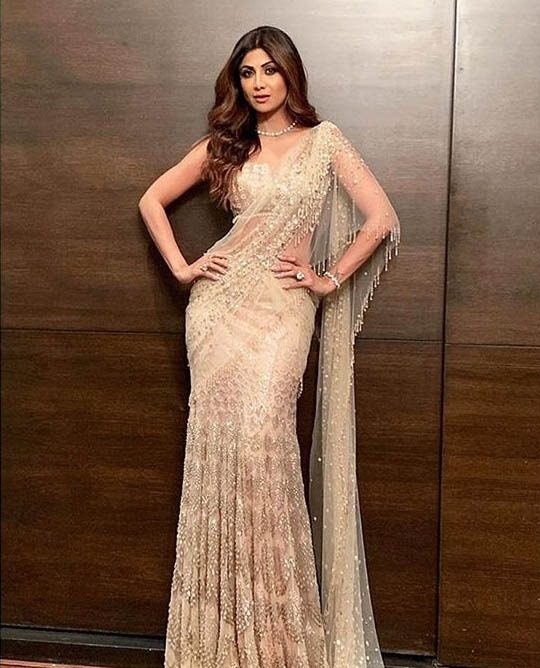 Every celeb from Shilpa Shetty to Deepika Padukone is wearing it. The trend started gaining popularity in the middle of 2010s decade and it has since penetrated the wardrobe of countless average urban women. In fact, I dared to wear a "real" saree to my cousin's wedding earlier last year and I was one of the handful who weren't wearing a pre-stitched saree. Boy, was I feeling out of touch!
4. The Metropolitan Street Style & Social Media Influence
There's always the blogger influence in the age of social media. If you analyze the Instagram feeds of the top Indian fashion bloggers, you'll realize it's filled with non-saree outfit images. The media the younger generations are consuming is non-saree-esque. Western and fusion wear is the norm, and not just online.
Head over to any college campus, the fashion week or shopping mall. None of the It-girls or let me call them, offline fashion influencers, in their right minds would ever wear a saree. Before we're realizing it, sarees are becoming foreign, even to us Indian girls.
Also read: Ethnic But Not Behenji: Changing the Perception of Ethnic Wear
5. Sarees are Too Time-Consuming
Sarees take much longer to drape than other outfits. Period. If you're draping a saree for a party, it may take anywhere between ten minutes to half an hour to drape a saree, as opposed to roughly a minute that it takes to put on a dress or suit. One may argue that this is lesser than the time it takes to put on a full face of makeup, but we're talking about the everyday life of an average woman here.
The modern Indian woman has too many things to fill up her time with (cough, social media) to justify that kind of time on dressing up, especially on an everyday basis. The life of women is filled up with too many hobbies, social media time, raising competitive kids, even for non-working women.
6. Sarees are Too High-Maintenance
First of all, let's talk about the peeing rights one has to give up during saree-time, the pleats just don't fall as well once you ruffle them. Secondly, the petticoat practically tightens your stomach to a bad, blood-clot-generating degree. Thirdly, no matter how well-practiced you are, there'll always be times when the pallu just doesn't fall symmetrically enough. Plus there'll be the effort of walking while worrying about it all coming off, or stepping on the pleats. That's an art in itself!
Last but not the least, sarees need a good half an hour of slow ironing, or double ironing charges at the laundry before every wear. And how can we forget that sarees aren't machine-washable. Most need dry-cleaning or hand-laundering. And did I mention the three pieces that need to be hung properly in separate hangers so you don't lose, wrinkle or worse, ruin the fabric?
7. So Many Options
For many Indian women in the 70s and before, the saree was one of the only formal wear option that was available. Today, we can find all sorts of womenswear garment styles in an average store, and designer collections feature so many to choose from too – shararas, skirts, palazzo, pants, shorts and dresses.
The availability makes it easy for the Indian woman to choose something else that is low-maintenance and looks just as classy. Also, the choices help different types of women wear what best reflects their unique personality.
A Bleak Future
May be in ten years, when Gen Z will be all adults, millennial parents won't even bother passing on the saree draping art to our children. The saree industry will shrink to a non-existent size, especially for casual, everyday wear. And the reason is clear – it's an impractical garment that we only love seeing on other women. And we can wear it as a novelty or exotic garment ourselves – so long as someone helps drape it for us.
Is the culture of not-draping-sarees just a fad? Or an evolution? We thought sarees were timeless. Will sarees become like Sanskrit, only worn and mastered by professionals and preserved in sacred texts and social-media-books? Only time will tell.
It's not like we're not trying to preserve the culture. Women like me love wearing sarees, for the time we can tolerate the high-maintenance problem or the no-peeing. We include them in our wedding trousseau and considering (at least, considering) them for formal parties.
Personally, I learned to drape a saree before my wedding, and practiced different types of fabrics. However, I obviously forgot the art soon enough because of lack of practice or necessity. Saree draping is the women's equivalent of tying a tie. You'll only really know how to do it properly if you've had to do it daily; and daily style and workplaces play a huge role in it.
Preserving the Art/Technique of Saree Draping
I have stats to prove that Indian women do wear sarees. Our saree trend analysis articles and saree quotes articles are two of the most read in the entire website, garnering lacs of views monthly! Thanks, guys, they help me pay (some of) my rent! This means saree draping is something we definitely should preserve.
However, I also have stats to prove women only wear sarees for special occasions. But as I mentioned before, we don't need studies to prove this. You probably already know this. And this is what may lead to the bleak future I talked about above.
Some Ideas
Now, how do we change that? Well, simple ideas off the top of my head include:
Have at least one casual saree in your wardrobe. Wear it on your birthday, anniversary or special dinner with your boss or something. I have one that honestly, I've never worn. But I'll try my best to…
If you're in the HR department or own a startup, host a saree day at your office bimonthly.
If you're the Indian cultural representative at a foreign university (I know I was), host a saree day to teach your foreign classmates about this beautiful (and time consuming, possibly impractical) technique.
Dine with your mum-in-law and her friends in sarees and take selfies!
Make your next slumber party a saree party.
Let me make the hashtag #SareeSunday a thing. It can also be #SundaySareeSelfie. Please devote the mid-half-hour of your next Sunday afternoon to wear a saree and post a selfie with this hashtag on Instagram. Tag me @shilpaahujadotcom, and I'll double-tap it! Here are tons of saree captions to include!!
So that was my awfully long commentary on the evolution of the art of saree draping that's slowly dying. We're approaching the end of an era. Is it an era we want to end? You decide!
Read next:
Indian Fashion Industry: Evolution, Trends, Influencers, Stats & Future
Types of Silk Fabric: Bharatsthali Redefines Silk Saree Fashion
Shilpa Ahuja the editor-in-chief of ShilpaAhuja.com, which she founded with the goal of inspiring confidence in the modern working woman through fashion. Other than defining the direction of the magazine, she also writes about fashion & beauty trend forecasts, industry analysis, and opinions.
Shilpa's work has been published in the University of Fashion blog and Jet Airways magazine. She is also an artist, illustrator and cartoonist. She is also the creator of Audrey O., a comic series that represents the lifestyle of millennial women. She enjoys creative writing and world travel. Her art has been exhibited at Harvard Graduate School of Design and the Aroma Hotel, Chandigarh and been published in Chandigarh Times.
Originally from Chandigarh, Shilpa also has a degree in architecture and has worked in interior project management. She is also the author of the book "Designing a Chinese Cultural Center in India". Shilpa has a Masters in Design Studies degree from Harvard University.
For feedback and questions, please email [email protected]