Will it be Veronica with her sophisticated sense of style or Cheryl's dark and edgy fashion looks? Find out in our intense Riverdale fashion feud below!
Hello there! Ever since Shilpa told me about Riverdale, I've become a devoted binge-watcher, Bughead enthusiast and Grundy hater (thanks a ton for killing her, Riverdale script writer). And I'm sure it's not just me that waits desperately for every Wednesday when the new episode is cast which is extremely torturous and agonizing. UGH!!
If you're not already watching this awesome TV series, it's time to get out of the rock you're living under. It's a crime/drama TV series based on the Archies comics with an extremely gripping plot, ridiculously hot actors (someone please tell me where can I get myself a Jughead) and fashion incredible enough to give Blair and Serena competition. I think the costume designer for the show did an amazing job at putting together the outfits for all the characters in a way that stays true to the comics but also modern enough to appeal to us millennials.
Also read: ULTIMATE Riverdale Trivia Quiz: Are You a ShilpaAhuja-Approved Fan?
From Betty's sweet, girl-next-door looks to Veronica's polished ones and Cheryl's high maintenance style, the Riverdale fashion really brings the characters to life. And as much as I love them all, I just can't seem to decide who has the better closet – Veronica or Cheryl. So, a fashion war is essential!
Veronica, played by Camila Mendes, is the prim and proper new girl in town while Cheryl, played by Madelaine Petsch is the blue-blooded stylista with envy-worthy red lips! I've rounded up some of their best and iconic looks and rated them on grounds of originality, coordination and creativity. Read on to find out who wins the battle as the two go head to head in our heated Riverdale fashion face-off. May the best Riverdale vixen win!
Riverdale Fashion: Veronica Lodge vs Cheryl Blossom

1. When Homecoming Dresses Went to War
I love Cheryl's crimson red prom dress that matches her signature lipstick. With the choker detail in the front, high-slit skirt and caged cutouts in the back, it's undeniably stunning. And Polly may be sedated and all that but the school dance is surely more important!
Score: 4/5
Veronica went for a sequinned black midi-length dress with a cropped fur jacket. She's also carrying a mini bag which was all over the runways this season. She sure knows her fashion trends!
Score: 4/5
2. Baby Shower Outfits
Cheryl decided to ditch her signature red clothes for a black and pink high-low outfit to Polly's baby shower for a softer edge.
Score: 3/5
Veronica's wearing her trademark Chanel style tweed dress (again). You can tell she really loves tweed!
Score: 3/5
3. Jason's Funeral Looks
Cheryl sure knows how to make theatrical entrances. You'd think her brother's funeral is one occasion where she'd cool it with her antics, but no. She showed up in an all-white bridal dress (which made everyone go berzerk!) with a cropped cardigan, red belt, lacey gloves and fascinator. This was certainly a badass and memorable scene from Riverdale.
Score: 4/5
Veronica stuck to the rules by wearing a simple black lace dress. It's nice and pretty but not a memorable one if you compare it with her competitor's outfit.
Score: 3/5
4. Fur Jackets
Wearing fur to school is honestly a bit over-the-top. Unless of course, you're Cheryl Blossom.
Score: 5/5
Veronica's fur jacket outfit in the season finale looks stunning especially against the backdrop of the snow. But you already wore it to homecoming. Give us something new, Veronica. So, I think it's safe to say that Cheryl definitely wore this look better.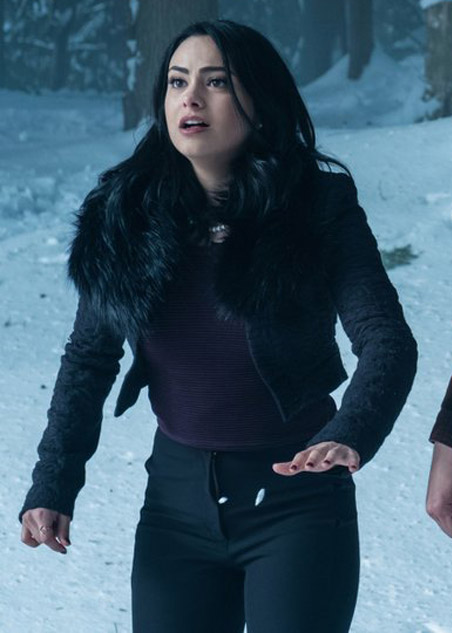 Score: 4/5
5. Battle of the Capes
When I saw this all I could think was I NEED THIS IN MY CLOSET RIGHT NOW!! It's not just any cape, no. It's high-low and hooded and oh-so-fabulous! She's wearing it over a short dress even though it's snowing 'cause she's a Blossom and fashion always comes before practicality and comfort. Hands down, one of my favorite Riverdale fashion looks!
Score: 5/5
Veronica made her grand entrance on the show wearing this hooded black cape over a black dress and pearls (obviously). It sure is great but fades in comparison to Cheryl's.
Score: 3/5
Almost There!
At this stage of the duel, Cheryl is in the lead with 21 points! And at 17 points, Veronica isn't all that far behind. Which way will it go? Keep reading…..
6. Edgy Chokers Vs. Pretty Pearls
By now, we all know how much these two ladies love to accessorize. From iconic cherry and spider brooches to cool chokers, Cheryl is undoubtedly the jewelry queen.
Score: 5/5
Veronica loves her dainty pearls given to her by her dad but once in a while she swaps them for a choker giving Cheryl serious competition. How mysterious and creepy is that man though? The only reason I'm okay with him still being alive is his unbelievably husky voice.
Sorry, got distracted by Hiram's hotness for a moment there. Can you really blame me though? Anyway, getting back to our ongoing Riverdale fashion face-off, I think I'm gonna give them an equal score.
Score: 5/5
7. Loungewear
We shouldn't even be so surprised that Cheryl would go to bed in a long overflowing sleep gown. Of course, she wouldn't be caught dead wearing something that wasn't super dramatic even when she's just lounging at home.
Score: 4/5
Veronica makes sure to look super sophisticated even when she's about to hit the bed. A blue satin cami and shorts are her go-to sleepwear. Extra points for practicality 'cause who the hell wears a fancy gown to bed?
Score: 4/5
8. Embellished Collars
I knew Veronica loved wearing collared dresses but Cheryl took everyone by surprise by donning an LBD with burgundy flower applique on the collar. I like it but it seems like a Veronica Lodge rip-off to me.
Score: 3/5
Veronica's rhinestone embellished collar dress outshines Cheryl's by a mile. Purple and pretty, it screams Veronica Lodge. And kudos for getting rid of Hiram's necklace.
Score: 4/5
9. On-Stage Looks
While performing with Josie and the Pussycats, Cheryl wore the Pop's uniform along with high-heeled thigh-high boots. You can always count on her to dress up even the most basic of outfits.
Score: 5/5
Veronica sang and danced in a stunning outfit giving Cheryl a run for her money. She's wearing a cheetah print leotard with some tights, cat ears and tail. 
Score: 5/5
10. Who Wore Tartan Better?
Cheryl wore quite a few tartan outfits in the first season of Riverdale but this one's my favorite by far – red turtleneck and tartan skater skirt
Score: 5/5
Veronica always manages to pull of anything she has on. She is without a doubt a tartan goddess in this chic skater dress.
Score: 3/5
With that, we come to the end of our Riverdale fashion face-off! And the winner is, drumroll please………Cheryl Blossom! With a total score of 43/50 and leading Veronica by 5 whole points, she's clearly the Riverdale fashion queen. I'm sorry Veronica but Cheryl has a better wardrobe. She may be a full-fledged psychopath but she's a super stylish one at that. Better luck next time, V!
So, who's side are you on? Team Blossom or Team Lodge? Let us know by tweeting @shilpa1ahuja!
Read next:
– Riverdale Season 3 Trivia Quiz: Only True Fans Can Score 17/20 or More
– Winter Fashion: Best Gossip Girl Outfits of Blair and Serena
Nishita is a Staff Writer/ Journalist at ShilpaAhuja.com. She is a graduate of National Institute of Fashion Technology and has a degree in leather design. A lover of all things fashion, she writes about everything from beauty, hair and lifestyle to fashion trends and how-to's. Her area of expertise is outfit ideas but being fresh out of college, she also loves writing about college fashion. Her new found love of baking is currently taking over her life, making her write about all things chocolate and easy recipes. With a flair for sketching and a great eye for detail, she's previously designed leather garments for brands like Diesel and Salsa. When she's not writing, she's busy reading extremely sappy Nicholas Spark's novels, sewing clothes and listening to some indie rock. Also super passionate about photography, she loves portraits and wildlife photography – a habit turned love that formed with the amount of traveling she did as a teenager. As a girl who grew up with books and movies like Pride & Prejudice, her love for period fashion is huge. And being curly haired, she's always on a constant hunt for solutions to problems that come with having ringlets and loves sharing them with people through her articles. For feedback and questions, email [email protected] or connect with her on twitter @ni95.