From sassy to funny to bad girl quotes, here are 50 original red lipstick quotes for Instagram by Shilpa Ahuja for every mood and occasion!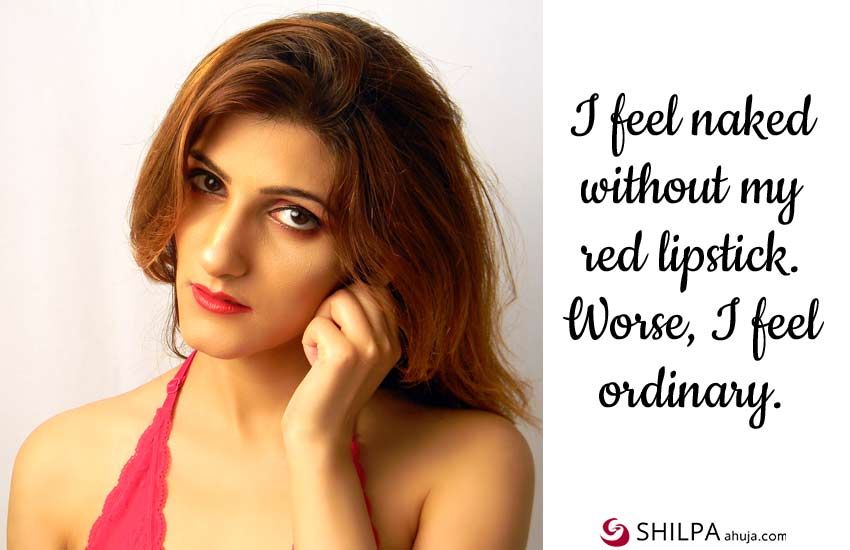 Red lipstick is the most attractive shade of lipstick, because red is a daring choice of color, which grabs eyeballs. It's also attractive because it increases the sex appeal of the wearer. Celebrities that are considered sexy like Marilyn Monroe, Rihanna or Angelina Jolie have worn red lipstick as their signature look.
So if you love wearing a red lipstick, and need some quotes that capture the beauty of red lipstick, I have written these captions for your pictures. They'll help you say what your red lips stand for, so choose one of these red lipstick quotes for your latest IG pic, and impress your followers.
P.S. Recently, I've noticed many websites stealing my quotes for their articles without my permission. I appreciate you – the reader who chooses to support us and our fight for original content. As always, these are all my original quotes, it takes me weeks to think them up and capture your mood and your dress. So if you give me credits, saying, "Quote by Shilpa Ahuja @shilpaahujadotcom", I'll 'like' your pic!
Sassy Red Lipstick Quotes
Of course, wearing a red lipstick itself suggests you have attitude. And if you want your followers to know that, here I have written some cool and audacious quotes. These sassy quotes for IG will tell the world how feisty you are, so you have something to post with your sexy red lipstick selfies when you don't know what to write!
If you want more people to discover your post, also add some related hashtags to go with your sassy red lipstick quotes for IG! Here are some tags you can use: #redlips?? #redlipstick?? #redlipsdontcare #redlipgloss
A red lipstick isn't complicated. A girl in red lipstick is. – Shilpa Ahuja
Girls in red lipstick don't need to play hard to get. – Shilpa Ahuja
Who needs the art of conversation when you got red lips to do the talking for you? – Shilpa Ahuja
I feel naked without my red lipstick. Worse, I feel ordinary. – Shilpa Ahuja
There's a shade of red lipstick for every girl. But not every girl can rock red lipstick. – Shilpa Ahuja
Red lipstick is so hot it should be banned. – Shilpa Ahuja
Who needs a boyfriend to compliment you when you have a red lipstick to complement you? – Shilpa Ahuja
I use my charm to win hearts. Then I use my red lipstick to rule them. – Shilpa Ahuja
Sarcastic Red Lipstick Captions for Instagram
Is your way of saying things the sarcastic way? But sometimes it doesn't get communicated in the proper way when written down.
Well, fear not, 'cause these sarcastic red lipstick quotes capture your satirical attitude in the perfect way. They're quirky, not rude – sometimes mocking, but never taunting! And I'm sure if you're directing them at someone in particular, they'll surely get the hint!
I like my lipstick red and my exes dead. – Shilpa Ahuja
There comes a point in every woman's life when she should start wearing red lipstick and stop giving a damn. – Shilpa Ahuja
Any man will do but the lipstick needs to be red. – Shilpa Ahuja
I read that if you don't wear red lipstick for a year, you run the risk of being called nice. – Shilpa Ahuja
I'm not cute. I'm not adorable. I'm a girl in a red lipstick. – Shilpa Ahuja
I may not be the girl who can light up an oven. I'm one who can wear red lipstick and create fire. – Shilpa Ahuja
Red Lipstick Quotes for Bad Girls
Red is the color of sensuality and passion. It can take you from 1 to 10 in the swipe of a lipstick, and it's not for the good girls, is it!? So if you're someone who can't care less about pleasing the world, who never follows the rules and who doesn't mind being not-nice, here are some quotes for you.
I've written these captions to help you show to the world that you're bad and you're not afraid to admit that!
No nice girl ever knew the power of a red lipstick. – Shilpa Ahuja
Lipsticks are red and eyeshadow is black. I may not know how to keep a guy but I know how to get him back! – Shilpa Ahuja
You can either try to please everyone. Or wear some red lipstick and have some fun. – Shilpa Ahuja
A pink lipstick is the one you take home to your mom. A red lipstick is the one you flirt with. – Shilpa Ahuja
Pink lipstick is pretty. Nude lipstick is sexy. Red lipstick is trouble. – Shilpa Ahuja
Most girls need a special occasion to wear a red lipstick. But for bad girls like us? It's a lifestyle. – Shilpa Ahuja
Bad girls don't follow rules. Bad girls rule the world. Bad girls wear red lipstick. – Shilpa Ahuja
Women in red lipstick don't care. Others care too much. Which one would you rather be? – Shilpa Ahuja
Eyes up here. Stop staring at my red lipstick. – Shilpa Ahuja
My lipstick is red and my makeup smokey. Because no iconic girl was ever low key. – Shilpa Ahuja
Pink lipstick hides my badness. Red lipstick shows it off to the world. It gets me. – Shilpa Ahuja
I'd rather wear red lipstick and be judged than wear a plain face and be admired. – Shilpa Ahuja
Girls, keep your boyfriends locked up. Here I come wearing my red lipstick. – Shilpa Ahuja
I may not know how to make a sandwich. But I know how to wear a red lipstick without a snitch. – Shilpa Ahuja
Girls who have a black heart wear red lipsticks. – Shilpa Ahuja
Red Lipstick Quotes for Instagram
Well, not everything needs humor, sass or sarcasm. Sometimes things are just what they are – a simple, nice quote. So if that's what you're looking for, you're in the right place. Here are some red lipstick quotes for Instagram that can be used for any occasion. From sexy party pics to makeup selfies to red lip themed OOTDs, take your pick!
Also use some hashtags to be discovered more, like #redaesthetic #redmood #makeuplook #redlipsmakeup #redlipstickmonster
It takes an hour to do good makeup. And half if you wear red lipstick. – Shilpa Ahuja
Red wine, red roses and red lipsticks. My 3 favorite R's! – Shilpa Ahuja
As much as I love other makeup products, red lipstick is just my soulmate. – Shilpa Ahuja
I'll try every shade once. But I'll always come back to the red lipstick. – Shilpa Ahuja
The only thing better than a red lipstick is an even redder lipstick. – Shilpa Ahuja
Red lipstick never goes out of style. Red lipstick is style. – Shilpa Ahuja
The world is my battlefield and a red lipstick is my sword. – Shilpa Ahuja
Coral, neon, brick, wine are all okay. But when you're late for a party, only the simple red lipstick comes to the rescue. – Shilpa Ahuja
Wear red lipstick once, it's an occasion. Wear it twice, it's your signature style. – Shilpa Ahuja
Everything's okay when I wear red lipstick. – Shilpa Ahuja
Woman with Red Lipstick Quotes
A woman who wears red lipstick can't be ignored, and you know the big power of this small beauty product. So here are some quotes that represent you – the bold, fearless girl that you are!
What does red lipstick symbolize? Well, it stands for sensuality. In some societies, red lips have symbolized sexually amoral or evil women for centuries. However, in the modern world, they symbolize sexual independence, confidence and glamour. For some people, they are still not the choice of a respectable, nice girl. However, these days, many young women like experimenting with their makeup looks and finding an identity that makes them feel confident. Indeed, a red lip can show that to the world!
Red lipsticks are usually considered a bold choice, some say too bold. Some even believe that not every girl can pull them off. But worn the right way, a red lipstick is extremely classy. Audrey Hepburn and Princess Diana have pulled it off with a lot of elegance. So in fact, a red lipstick can be for everyone.
You can also use some popular hashtags to let new people discover your post, like #redlips #redlipsmakeup #redlipsticks #redlips??
God created woman, and said, I can do better. Then he created woman in red lipstick. – Shilpa Ahuja
Girls who wear pink lipstick may know how to live happily ever after. But girls who wear red lipstick know how to live. – Shilpa Ahuja
I may feel like a dork on most days, but in red lipstick, I feel like I'm on the cover of a magazine! – Shilpa Ahuja
Armed with my red lipstick and high heels, I feel like I can win every battle. – Shilpa Ahuja
Makeup is not about using 50 products. It's about finding the right shade of red lipstick. – Shilpa Ahuja
Funny Red Lipstick Quotes
Want your selfie caption to showcase your humor but it's somehow just not coming across today? Don't worry, I got you! Some days are just like that, and that's when I come to your rescue. Here I have written many red lipstick quotes to choose from, which will certainly make your followers and fans chuckle! Just copy & paste and you're good to go!
My taste in men may suck. But I know how to pick the right shade of red lipstick like a pro. – Shilpa Ahuja
Ooh ooh, aah aah, red lipstick and smokey eyes. I'm gonna take you to paradise. – Shilpa Ahuja
Red lipsticks: Ooh, so deadly. – Shilpa Ahuja
Adulting is hard. Red lipstick makes it easy. – Shilpa Ahuja
Other girls: Take hours to wear makeup, concealer, eyeshadow, lashes and all. Me: red lipstick and done. – Shilpa Ahuja
A night out in red lipstick can heal broken hearts better than ice-cream can. – Shilpa Ahuja
Gonna judge me? You're very welcome! – Shilpa Ahuja
Hope these red lipstick quotes were helpful. If you used one of these red lip captions, feel free to credit me. As always, I'd love to see your beautiful pics, so tag me on Instagram @shilpaahujadotcom to share them with me.
Kisses <3
Read next:
– 51 Red Dress Quotes for Instagram from Thoughtful to Badass
– 51 Makeup Quotes for Instagram for All Beauty Lovers
Shilpa Ahuja the editor-in-chief of ShilpaAhuja.com, which she founded with the goal of inspiring confidence in the modern working woman through fashion. Other than defining the direction of the magazine, she also writes about fashion & beauty trend forecasts, industry analysis, and opinions.
Shilpa's work has been published in the University of Fashion blog and Jet Airways magazine. She is also an artist, illustrator and cartoonist. She is also the creator of Audrey O., a comic series that represents the lifestyle of millennial women. She enjoys creative writing and world travel. Her art has been exhibited at Harvard Graduate School of Design and the Aroma Hotel, Chandigarh and been published in Chandigarh Times.
Originally from Chandigarh, Shilpa also has a degree in architecture and has worked in interior project management. She is also the author of the book "Designing a Chinese Cultural Center in India". Shilpa has a Masters in Design Studies degree from Harvard University.
For feedback and questions, please email [email protected]