Wanna know how to rock red lipstick like a pro? From finding the best shade for your skin-tone to creating fool-proof red lip looks, here's your complete list of red lipstick makeup rules!
Hey gorgeous! If there's any lip color that can simultaneously speak of the confidence, seductive power yet beauty of a woman, it's red. As a teen, I never wore dark lipsticks, especially red. The first red lipstick I ever bought was a beautiful Dior Addict bright red, but as luck would have it, it was stolen almost immediately! It was Vegas, after all! Fast forward seven years, I now have countless shades of red lipstick, and I love wearing them for shoots, parties, dates and sometimes even just like that!
There are so many red lipstick shades that you'll see if you check out pictures of makeup with red lipstick. Some shades come and go in fashion every season. But red lipstick never goes out of style. So if you wanna master the art of wearing this iconic color, keep reading. Inspired by celebs, with our own experiences and learned from makeup artists, here's your complete list of rules to rock red lips like a pro.
Red Lipstick Makeup Rules
You all know how much we hate making rules at ShilpaAhuja.com. But red lipstick is one of those fashion things that just requires at least a few rules, otherwise it can be a disaster. And I've learned this the hard way.
So let's start with the rules every fashionista should live by…
1. Choose the perfect red lipstick for your skin-tone.
So obviously, rule #1 is to find the right shade(s) for yourself. Whether you're going for red lips makeup for dark skin or selecting the best red lipstick for fair skin.
Generally, warmer shades like orangey red, coral, brick, ruby, wine and burgundy-red suit girls with warm skin-tones, or those with yellow undertones. On the other hand, if you have a cool skin-tone with blue undertones, go for cool shades like crimson, rose, raspberry and candy red. However, any shade may go with your skintone, since we all have unique ones, so try before you buy.
2. Never skip concealer when wearing a full or rich red lipstick shade.
Red is a bright color, and we all have some redness in our skin, which is brought to spotlight with true red lipstick. When we wear red lips, all our flaws magically start showing even more, so never skip concealer with red lip makeup. This has to be done before you wear your red lipstick. Make sure to especially do point-concealing, and do it around your nose and mouth, where most women have discoloration. Even wear concealer around your lips for a flawless effect.
3. Never skip lip-liner when wearing red lipstick.
This is the most important one out of all the red lipstick makeup rules. Red lips, and any dark lip-colored lips for that mater, just tend to look smudgy (unless you're going for the smudgy look, see the image below). So it's very important to shape and create an outline before you layer it on. Lip-liners also help them stay on for longer and give a pro look. You can find an easy dark/red lips tutorial here.
4. Don't smile when putting on lip-liner on the bottom lip. Instead, open your mouth and stretch the lips.
The wrong shaping of lips can ruin the whole red lipstick makeup. So you want to avoid crude lines and uneven curves that don't match the shape of your lips.  Smiling changes the shape of our lips, so avoid trusting on smiles when wearing lip-liner on the bottom lip. Instead, the trick is to stretch your lips to the max by slightly opening your mouth around the corners.
5. Line your lips in layers, making sure you match the shape of your lips perfectly.
One of the red lipstick makeup rules is to not try to line your lips all in one go. Start at the cupid's bow, line just the W. Then curve your lips (see above) and line the bottom. Finally, go over the corners by opening your mouth fully (see below). Keep closing your mouth from time to time to make sure you're getting the right shape.
6. Go slightly over your natural lip line in the front, and slightly inside the corners of your lips.
Red lips can make your pout seem unshapely if not lined properly. That's because it tends to overflow at the corners. The trick to avoid that faux-pas is to start lining them in the middle. Go slightly over your natural line both on the upper and lower lip. As you reach the corners though, go slightly inside your natural lip line. This will create the illusion of fuller lips, but without creating any extra overflow at the corners.
7. Avoid shading inside the lips unless you want it on your teeth.
Red and dark lipsticks tend to get on the teeth very easily. So only shade at the front of your lips. And lighten them as you reach inside, creating a gradient.
But you also wanna make sure that you don't shade your lips too less. The trick I use is to form a kiss with your lips, then shade it with a lip-liner first. That way you'll make sure no visible part of the lips is left uncolored.
8. Remove the excess by kissing a napkin, then layer it on if necessary.
The thing we hate about red lipsticks is how messy it gets on our glasses when we're drinking. The trick to avoiding those lip stains is to always pat off the excess product by kissing a paper towel. Layer it on and repeat. This will make your lips fuller since you'll have multiple layers of lipstick, but they'll also last longer since you've already removed the excess. Here's how it'll look when the excess is kissed off: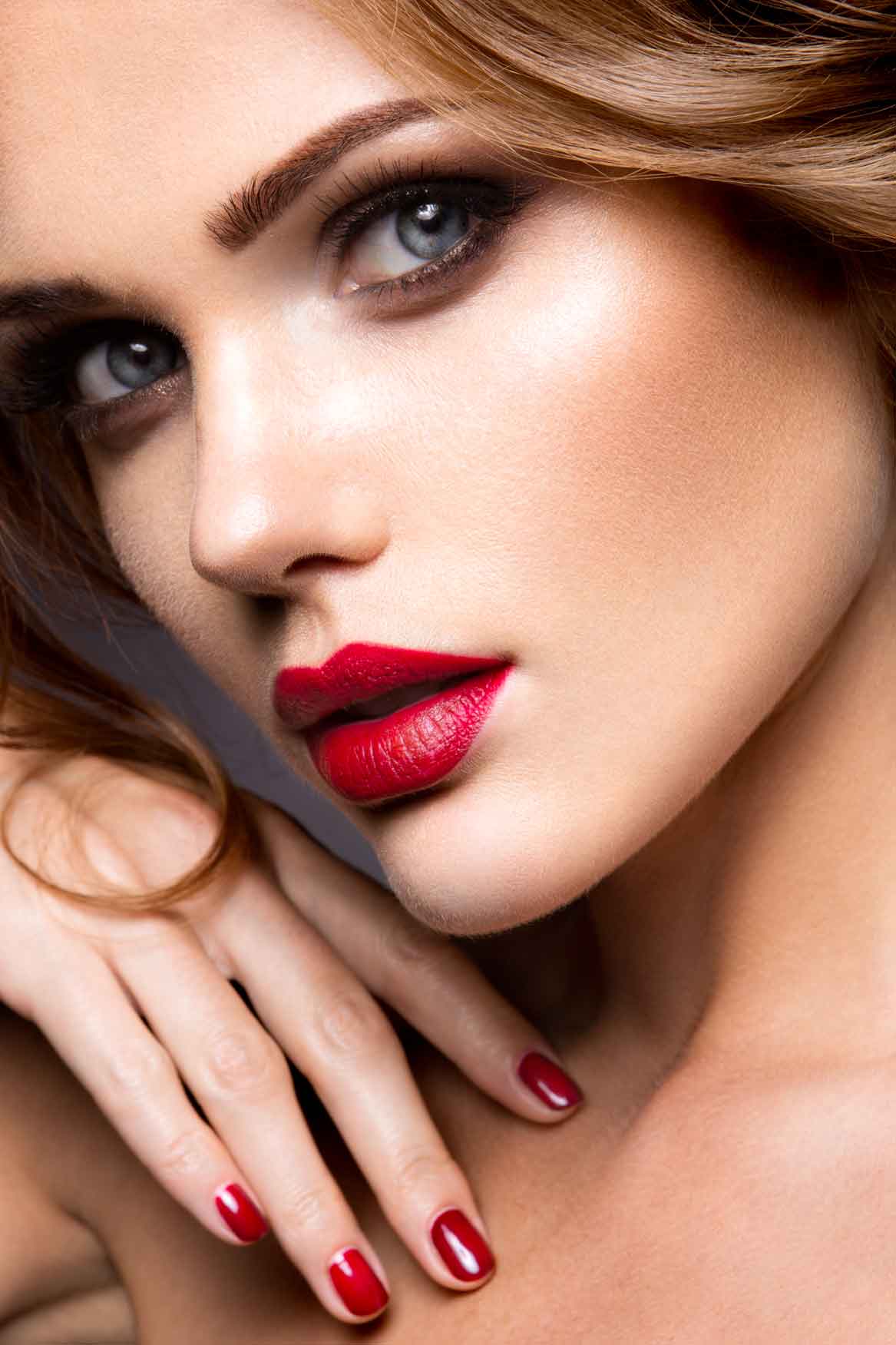 9. Never skip blush when wearing red lipstick.
Red lipsticks are very bold and grab all the attention. So if you skip blush, it'll make your face seem drained of all color. Blush may be obvious when going for smokey eye red lip combo. However, even when wearing natural makeup with red lipstick, you still need at least a hint of blush.
10. Select your blush and eyeshadow in the same undertones.
If you're wearing a red lipstick in a warm tone, go for warm-toned blush and eyeshadow. Ditto for cool tones. Otherwise it'll create a clashed, disconnected makeup looks. For example, if you're wearing candy red lipstick with rose-colored blush, go for blue or rose eyeshadow. Similarly, if you're wearing wine colored lipstick with brown eyeshadow, go for bronzed pink blush.
Here's another good example:
11. Never touch up the edges of a red lipstick without lip liner, especially if it's glossy.
Of course, you'll want some touching up to do if you're at a party for long hours. But if you go over the edges with just lipstick, you risk creating a smudged, shapeless look. Ugh!
For example, if you have this kinda glossy look, don't forget to carry your lip-liner for those touch-ups, too.
12. Match your red lipstick shade to your nails or any other red in your outfit as much as possible.
Red lips can be the perfect part of a red dress makeup. However, if you're pairing red lips with red nails, dress or accessories, be sure to match their shades, at least their undertones. Otherwise, it may clash badly. Keep your whole outfit in mind when planning a red lip look.
So I hope you found these red lipstick makeup rules helpful. Which out of these red lipstick makeup rules were you already following? And what new one did you learn today? Lemme know below! And I'd love to see your own red lip looks. So tag me on your Instagram pics @shilpaahujadotcom, and I'll be sure to double-tap them!
Muaah!
Read next:
50 Red Lipstick Quotes for Instagram to Slay Your Followers
Shilpa Ahuja the editor-in-chief of ShilpaAhuja.com, which she founded with the goal of inspiring confidence in the modern working woman through fashion. Other than defining the direction of the magazine, she also writes about fashion & beauty trend forecasts, industry analysis, and opinions.
Shilpa's work has been published in the University of Fashion blog and Jet Airways magazine. She is also an artist, illustrator and cartoonist. She is also the creator of Audrey O., a comic series that represents the lifestyle of millennial women. She enjoys creative writing and world travel. Her art has been exhibited at Harvard Graduate School of Design and the Aroma Hotel, Chandigarh and been published in Chandigarh Times.
Originally from Chandigarh, Shilpa also has a degree in architecture and has worked in interior project management. She is also the author of the book "Designing a Chinese Cultural Center in India". Shilpa has a Masters in Design Studies degree from Harvard University.
For feedback and questions, please email [email protected]