Here are our picks for the top red carpet hairstyles from Golden Globes 2016 – from Lady Gaga to JLo to Jennifer Lawrence, from casual waves to fancy buns!
Hey sexy! Looking for some latest party hairstyle ideas for Winter 2016? Well, here are some great red carpet hairstyles for inspiration!! The celebs at Golden Globe Awards 2016 donned gorgeous hair and we'd love to try them at the next party. Let's start from the best:
Top Red Carpet Hairstyles at Golden Globes 2016
Wavy with Center Part
I love celebs with buns at red carpet events, but at the Golden Globes this year, my top favorite hairstyle was the slightly messy ombre wavy hair with a center part. It's a thing!
Wavy with Side Part
We also saw and loved some versions of the wavy hair – like this Kate Winslet's wavy bob with a deep side part:
And the gorgeous Ana de la Reguera with her slightly wavy ends:
Buns
Buns are of course great at parties and formal galas. This year, we saw no hair accessories on buns, and just light hair-extension-less buns with a side part. My favorite was Jennifer Lawrence's twisted bun: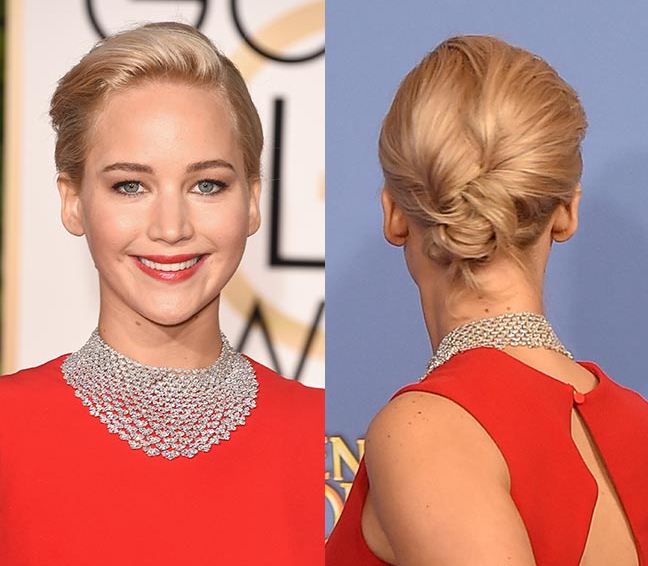 And Kate Bosworth's classic bun:
Braided Goddess
I like braided hairstyles even on casual days, especially on those bad hair days, when I need to do something with my hair! This year, try the side-and-front braided headband like Maria Menounos.
Or this lovely braided hairclip like Olivia Palermo:
I'm not a big fan of the high braid like Rooney Mara's here. But I put it here anyway! I used to make this hairstyle in my early college days when the weather was too hot! But yeah, it's definitely not red carpet material!
Badass
Badass hairstyles are very trendy in 2016! Are you bold enough to sport it? Think mohawk fades and top braids and side braids like Keke Palmer here.
Retro Blonde
Lady Gaga sported a retro Marilyn Monroe-like hairstyle with a white-blonde long bob with curly waves. I like this classy change on her!
Straight
When you don't know what else to do with your hair, straighten them.
And then if you still want to do something more, give them an outward curl at the ends. Although then don't come to me for praises. Because I don't likey.
So, which red carpet hairstyles did you like the most at Golden Globes? Lemme know! Comment below! 🙂
Shilpa Ahuja the editor-in-chief of ShilpaAhuja.com, which she founded with the goal of inspiring confidence in the modern working woman through fashion. Other than defining the direction of the magazine, she also writes about fashion & beauty trend forecasts, industry analysis, and opinions.
Shilpa's work has been published in the University of Fashion blog and Jet Airways magazine. She is also an artist, illustrator and cartoonist. She is also the creator of Audrey O., a comic series that represents the lifestyle of millennial women. She enjoys creative writing and world travel. Her art has been exhibited at Harvard Graduate School of Design and the Aroma Hotel, Chandigarh and been published in Chandigarh Times.
Originally from Chandigarh, Shilpa also has a degree in architecture and has worked in interior project management. She is also the author of the book "Designing a Chinese Cultural Center in India". Shilpa has a Masters in Design Studies degree from Harvard University.
For feedback and questions, please email [email protected]