From fruity to spicy, there are a large variety of perfume notes. Here's all you need to know about them, plus tips on how to choose right one.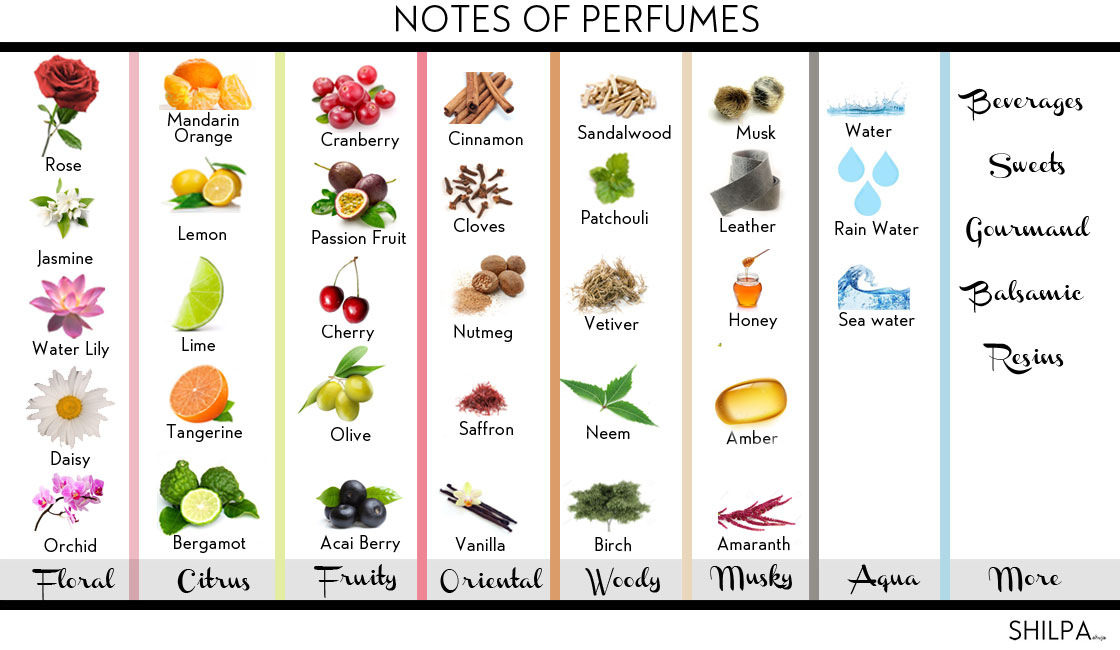 Hey beautiful! I wrote recently about types of perfumes and choosing the right perfume. Perfumes are also categorized by notes.
Fragrance notes are to perfumes what fabric is to a piece of clothing. They make the perfume and give its uniqueness. Basically, all perfumes are blended with three notes – top or head notes, middle or heart notes and base notes.
Top notes are the opening notes for a perfume and these are smelled immediately on its application. They are short-lived and evaporate easily within a period of 5-30 minutes.
Middle notes also known as heart notes as they are the main notes of the perfume. Their fragrance persists for nearly 1-2 hours.
Base notes or the bottom notes emerge when middle notes start to fade. The base and middle notes together give the perfume its main fragrance.
These notes fall into various fragrance families, which include floral, woody, fruity, oriental, musky, citrus and aqua. Do you go fruity and floral or opt for something muskier? Let's look at each fragrance family in detail.
 #1: Floral Perfume Notes
We all like to feel fresh and floral fragrances do just that. A few examples of floral fragrances are jasmine, lily, rose and orchids. The best part is that they contain perfect balance of aromas which makes the wearer feel fresh. So, choose a perfume with floral notes on a busy day or when you are going on a date.
 #2: Citrus Perfume Notes
If you are planning for a mediterranean vacation or looking to beat the city heat, try out these perfumes. A few examples of citrus notes are lemon, mandarin orange and tangerine. There's something refreshing about these citrus notes that would just keep you crisp all day long.
 #3: Fruity Perfume Notes
Fruity perfume notes are fresh and invigorating fragrances, which include peaches, oranges, passion fruit and many more. These mostly make up the top notes of the perfume and hence evaporate easily. So, these can be used for casual outings. My favorite one is this category is the Bright Crystal by Versace.
 #4: Oriental Perfume Notes
Fragrances belonging to this family include spicy notes like clove, vanilla, nutmeg, cinnamon, etc. These usually tend to be heavy and strong. These can be used for a date or when you want to switch it up with an unusual scent.
 #5: Woody Perfume Notes
Woody perfume notes are sensual and very popular within the heart of the perfume. These include patchouli, amber and sandalwood. These are best complemented with citrus and aromatic fragrances. Use woody scents when you want to feel sensual.
 #6: Musky Perfume Notes
Musky perfume notes add a subtle touch of sensuality. So use them for your honeymoon or such personal moments. These commonly include amber, musk and leather. They basically form the base notes in a perfume. My personal choice is Daisy Dream by Marc Jacobs.
#7: Aqua Perfume Notes
I am sure many people out there love the fragrance of rain water or wet beach sands. These aquatic elements mesmerize us with their fragrance. The same notes are used in the perfumes as well, which would make you fall in love with the natural fragrances!
Apart from these, there are other notes like beverages, sweets, gourmands and resins. If you wanna know more about these notes check out Fragrantica.
I hope all this info would help you choose the best perfume for any occasion or match your personality. Do let me know which is your special scent and which are your favorite notes?
Anusha Jain is a Staff Writer & SlubShop Manager at ShilpaAhuja.com. She has a diploma in Fashion Design from iNIFD and is originally from Andhra Pradesh. Before entering into the field of fashion, she got a Masters in Analytical Chemistry. Her love in fashion design, a passion in staying updated with the latest trends and zeal to do something creative paved her way to a career in fashion. Here, at Shilpaahuja.com, she works on bringing the latest in shopping ideas, fashion tips and beauty advice to SlubShop, the world's first purely trend-based affiliate store. Accessories are her expertise. Her work on SlubShop involves bringing the latest runway trends to the masses, and designing the UI/UX to make it look innovative and fresh. She is also a fitness and dieting aficionado, writing about bringing the latest in the world of wellness and health. When she's not writing she loves to travel, watch movies and also she is interested in photography, using herself as a muse. For feedback and questions, email [email protected] or connect with her on Twitter @Anushajain14.