Outerwear need not be plain and boring. Discover the latest outerwear trends for FW17 and create a statement with these cool couture designs!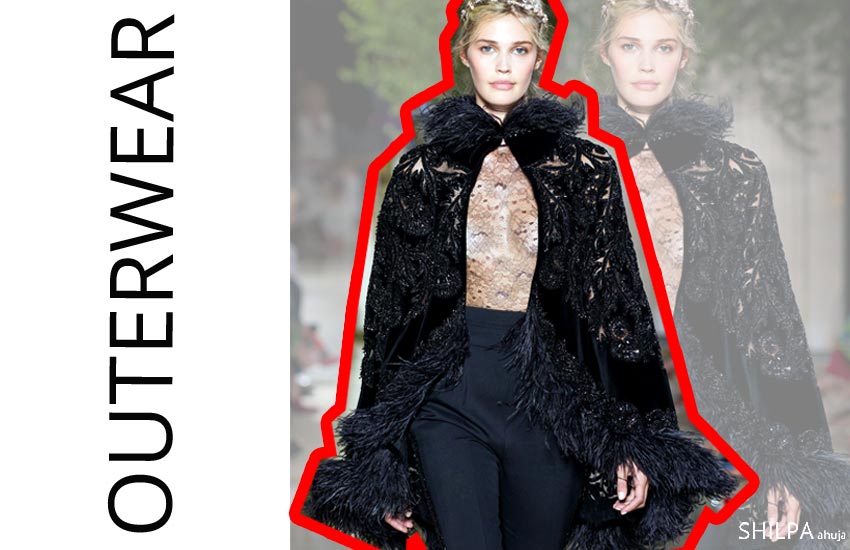 Hey beautiful! Outerwear is an essential wardrobe staple. We saw an amazing variety outerwear in the Fall Winter 2017 couture collections. There were different structures, embellishments, shapes, types and fabrics. From sexy jackets to coats to quilted down jackets, we've rounded up the most stylish outerwear fashion for the upcoming Fall season. After, analyzing every top designers' collections and going through all the coats and jackets, we have picked 9 latest outerwear trends for fall 2017. Let's check them out!
Outerwear Trends for FW17
1. Shoulder Pads
The 70s shoulder pads are making a comeback and we're going to be seeing a lot of them this winter, too! Shoulder pads give an illusion of broader and well-defined shoulders. We saw them on coats and jackets in couture collections of Versace and many more.
2. Half Sleeved Jackets
Fashion is unpredictable! Outerwear are meant to protect you from the bone-chilling weather, especially your arms. And you wear gloves to protect your hands. But this year, its as if the designers are giving you a chance to show off your long and sexy gloves with half sleeved outerwear! We saw elbow length, asymmetric and quilted half sleeved jackets and coats in latest outerwear trends.
3. Bar Jackets
Bar jackets are very in and they are perfect for formal parties or wherever you wanna look powerful and polished. We saw peplum, military inspired, ombré and matching jackets paired with flared and matching skirts in the couture collections of Dior and many more in trendy outerwear fashion.
4. Double Breasted Jackets
Double breasted jackets are basic and timeless in outerwear fashion. But this year we saw a set of experimental looks like a puffed sleeved, kimono inspired, asymmetric high-low, peplum, military inspired and ombré double-breasted jackets.
5. Capes
We've already seen capes as a part of the dresses and gowns in Fall Winter RTW 2017 collections – mostly too dramatic and unwearable as everyday street fashion. In couture collections, we are seeing them as outerwear. And we saw different types of capes and changed my perception – they're very fashionable and practical, too. We saw printed, plain, artsy, and embellished capes. There were full, knee and hip length ones. I loved the feather trimming cape by Zuhair Murad.
6. Appliqué
Appliqué is beautiful this year and we saw it on sleeves, pockets, neckline and all over the outerwear, especially by Fendi. Floral appliqué were used in most of the looks and the look by Ralph & Russo used feather and crystal chains as appliqué.
7. Belted Jackets
Outerwear with belts are nothing new like trench coats. But in Fall 2017, to create a statement, belts will play a bigger role. I'll definitely try this trend as belts are super cool and define the waistline. We saw velvet belts, embellished and broad belts in latest outerwear trends.
8. Art Prints
From traditional hand painted to pop art, this trend brings liveliness in the gloomy weather. We saw the hip and knee length jackets with artsy patterns on the front. We also saw a long coat with leaf motifs by Valentino, which led to a long and meaningful discussion between Shilpa and me to understand whether it's a coat or a cape (or poncho top)! That was tough because designers create these confusing silhouettes! We have a few more looks like this to show you guys, so stay tuned!
9. Oversized Collars
Oversized collars are still a strong trend and they're getting bigger! We spotted long oversized collars, going down to the bottom of the coats in latest outerwear trends. In a few looks, the collars were in contrast color. I loved this quilted jacket by Viktor & Rolf.
So, these were the latest outerwear trends for Fall Winter 2017 from couture collections. Which was your favorite outerwear fashion? Let us know!
Also check out: Trendy Winter Coats for Women for 2018