From classic square nails to bold pointed ones, check out our ultimate nail shape chart to find out the best nail design for you!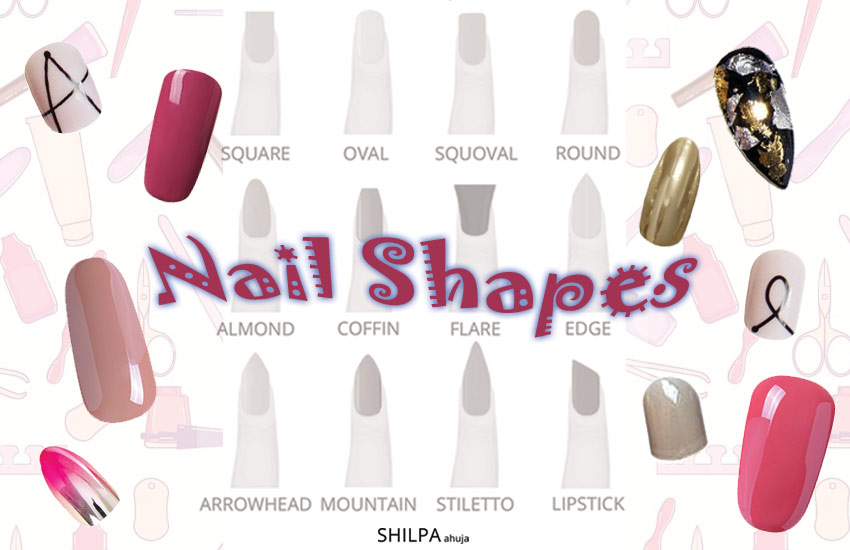 Well-manicured nails are sometimes the perfect accessory. With the right nail polish and nail art, they can look oh-so-stunning! But before painting the nails, there's always the hard decision of what shape to choose. There are many different nail shapes and designs out there – flare, arrow, almond, lipstick, ballerina and what not! Feeling overwhelmed already? Don't worry, our nail shape chart will help you out!
Nail Shape Chart
Find out what the different nail shape names are and the nail design that suits you best in our handy nail shape chart below!

Different Nail Shapes
Among all the different nail designs out there, choosing the one that's best for your lifestyle, finger type and nail bed shape isn't all that easy. There are three categories you can pick from – round/oval, squared and pointy. The first one's great for anyone with larger fingers and nail beds. They elongate the hands and make them look slender than they actually are. Square nails are ideal for thin and long fingers and pointed ones are for anyone who just wants to look badass! They're also the most high-maintenance as they tend to crack easily. No more can-opening for you! Read on to know more about each of the different nail shapes in detail!
Not all of these nail shapes can be created on your own nails, as they won't be able to withstand all the shaping. So, acrylic extensions or press-on nails are better options.
Round & Oval Nail Shapes
These classic and universally flattering nail shapes are for the girls who use their hands a lot. They're perfect because they're not so prone to breakage unlike other nail shape types. All of these maintain the natural shape of the nail so there isn't much filing required, which makes them great for brittle nails. These curved nail designs are also very office-appropriate! You can also shape these nails at home without much effort.
1. Round Nails
Round nail designs are great for those with short nails or for those whose nails don't grow or start chipping once they grow. It's straight at the edges, like a square nail, and follows the natural curved shape of the nail at the tip. It's the most basic type of nail shape out there and is perfect for everyday, as not much maintenance is required.
2. Oval Shaped Nails
Yet another nail shape that short nailed women can pull off. How it's different from a round nail is that the sides are also curved in oval. It suits all nail lengths and beds. Oval shape nail designs also make your fingers look long and slender!
3. Almond Shaped Nails
Feminine and fun, an almond nail is exactly what the name suggests. It's shaped like an almond. It's a bit similar to oval nails but gets narrower at the tip and ends in a pointy curve. It also gives the illusion of slimmer fingers, making it perfect for anyone with huge or short fingers. Almond shaped nails are also my personal favorite among all the designs in our nail shape chart!
4. Squoval Nails or Square Round Nails
If you want to take square nails a step further, then try squoval nail designs! A mashup of square and oval shapes, it's a square nail but with rounded edges. And it's easier to maintain than a regular square nail because of its curvy edges.
Pointy Nail Designs
These nail shapes are dramatic and statement-making but also accident-prone and high-maintenance. Creating pointy nail shapes require really long nails, so these aren't for anyone with weak or brittle nails. However, you can get acrylic versions of these shapes, so anyone can have them!
1. Ballerina Nail Shape or Coffin Shaped Nails
This type of pointy nail design is called so because it resembles the shape of a ballerina slipper and a coffin. It tapers at the end and has a flat tip. Coffin nails are great for anyone with naturally sturdy nails and narrow nail beds.
2. Mountain Peak Nails
Not as pointy as stiletto nails but also not as rounded as almond nails, they're the perfect in-between! If you're after something that will stand out but isn't as impractical as a stiletto nail, mountain peak nail designs are perfect. You can also try cute color blocking designs on them by painting just the mountains in a different color than the rest of the nail!
3. Stiletto Shaped Nails
An extreme and pointed version of mountain peak nails, this glam shape isn't easy to create at home by yourself. Getting it done at a salon is a better option. Also, make sure to have long nails before you go to get this done. Or just opt for acrylics instead. It's most certainly striking but not a practical choice. Stiletto shaped nails would be good for special occasions though.
4. Edge Nails
These three-dimensional nail shapes are pointed and have a ridge-like spine running down the center of the nail. If these still aren't edgy enough for you, try blade nails, a more extreme and pointy version of edge nail designs! These unconventional nail designs would be stunning (and creepy!) at a Halloween party.
5. Lipstick Nails
Lipstick nail shapes are unique and asymmetric with the top shaped like a diagonal slant. They resemble the shape of a lipstick and their edges are usually sharp. These nail shapes are quite out there and definitely not for everyday but would be undeniably striking at parties. Or they would be a cool thing to try at your next sleepover or girl's mani-day!
6. Arrow Nails
An arrow or arrowhead nail shape is quite literally shaped like an arrow. While stiletto nails are curved at the sides, these are straight and angular and then lead to a sharp point, resembling a pen nib. Natural nails may not be able to withstand the filing required to shape these nails, so go for press-ons instead.
Types of Squared Nails
I really like squared nails 'cause when they chip (which they will) you can file the ends down to a round, oval shape or even squoval nail shape! So you won't have to feel too bad about it!
1. Square Nails
Traditional square nails have always been a popular choice for women. Straight and flat at the top and sharp at the corners, these nails look extra chic with french tips. They look great on long slender fingers, but not so awesome on women with chubby fingers. Try this nail shape for weddings, parties and dates.
2. Flare Nails
Also known as duck bill nails due to it's shape, flare nail shapes are probably the weirdest looking design in our nail shape chart. They look best when kept quite short and the flare is not too wide. Again, it's not for someone with larger fingers or nail beds.
How to Shape Nails
Shaping nails can be done either at home or a nail salon. Rounded, oval, almond, square and squoval nail designs can be achieved at home quite easily. But the pointy ones are best when done by a professional and not on your natural nails. Of course, you can do it yourself, but you'll need patience and practice!
I, personally love to file my nails in an almond or round shape, 'cause I find them the easiest to do! But if it's at a nail salon, I usually ask for a square nail as they're very chic and are suitable for almost any occasion!
The tools that can be used to shape nails are, nail clippers, metal filers, glass or crystal files and emery boards. Metal ones are good to shape acrylic and gel nails while glass ones are better for natural nails, as they aren't as coarse as the others. They also give the most precision and prevent peeling or chipping of nails. And they can also be filed in a to and fro motion, which is not advised in the case of a metal file and emery board.
Once you choose your nail design based on our nail shape chart above, trim your nails down to the height you prefer and then begin filing it into the shape of your choice. Always make sure to hold the filer at an angle and don't go back and forth unless you're using a glass file. Once you achieve the desired nail length and shape, use a buffer to smooth and polish any imperfections. This also makes the nails more shiny and easier to apply nail paint. Just be careful not to overdo it or it might damage the nails. Next, clean the residue from under the nails, apply a cuticle oil if needed and then paint your nails!
How to Shape Toenails
Toe nails are much thicker and stronger than finger nails, which makes them harder to work with. One trick that I always swear by, is to soak the feet in warm water with a few drops of lemon for about ten minutes. This softens the nails and makes it easier for you to clip and shape them the way you want. The nail shapes best suited for toenails are square, round and squoval.
So that was our nail shape chart and different nail designs you can try out. Which nail shape do you like the best? Let us know by tweeting @shilpa1ahuja!
Image Credits: Instagram
Also read:
– Fashion Nails: All the Latest Nail Art, Color and Shape Trends!
– Summer Nail Colors: 9 Prettiest Nail Polish Colors to Celebrate the Sunny Season!
– Best Burgundy Nails: 45 Nail Designs for Different Shapes & Shopping Ideas
– How to Make Nail Spa at Home for Luxury Nails & Pro Mani Pedis
– 50 Toe Nail Designs | Pedicure Ideas for Every Season, Color & Mood
– Classy Nails: 10 Best Shades & 40 Classy Nail Designs You Need to Try
Nishita is a Staff Writer/ Journalist at ShilpaAhuja.com. She is a graduate of National Institute of Fashion Technology and has a degree in leather design. A lover of all things fashion, she writes about everything from beauty, hair and lifestyle to fashion trends and how-to's. Her area of expertise is outfit ideas but being fresh out of college, she also loves writing about college fashion. Her new found love of baking is currently taking over her life, making her write about all things chocolate and easy recipes. With a flair for sketching and a great eye for detail, she's previously designed leather garments for brands like Diesel and Salsa. When she's not writing, she's busy reading extremely sappy Nicholas Spark's novels, sewing clothes and listening to some indie rock. Also super passionate about photography, she loves portraits and wildlife photography – a habit turned love that formed with the amount of traveling she did as a teenager. As a girl who grew up with books and movies like Pride & Prejudice, her love for period fashion is huge. And being curly haired, she's always on a constant hunt for solutions to problems that come with having ringlets and loves sharing them with people through her articles. For feedback and questions, email [email protected] or connect with her on twitter @ni95.