Moschino Fall 2016 Winter 2017 women's fashion collection was Gothic, over-the-top and really creative! See the gallery of all the outfits, read our review and discover our favorite looks.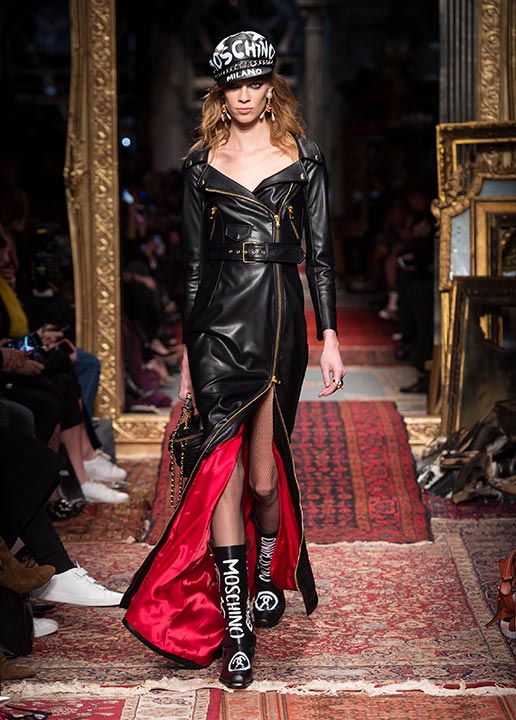 Moschino Fall 2016-17 fashion show had the power to transport the viewer to a haunted, fantasy world. The collection was dark – not in a solemn or bleak way – but in a mysterious, sinister kind of way. It was glamorous and unabashedly kinky.
The runway was decorated with Victorian elements – chandeliers strewn over a broken piano that lay over Arabian rugs, which lay all over the floor, next to carved wood frames and a gold ornate doorway – from which the models walked in one by one. The first half of the show had lots of black leather, coupled with brights like red, fuchsia, purple and yellow. The makeup was well suited – deep, dark eye makeup and black eyeshadow.
The silhouettes were not as much about structure as they were about show and exaggeration – as it always is at the house of Moschino! The fashion show started with a vampire-like black dress – but in leather, with a red inner-lining. Another look had tight leather pants paired with a corset-inspired cape-top, a satin gown was covered with a black moto-jacket – with a floor-touching cape. Oversized accents adorned the dresses – like bows and knots. The fabrics included satin, velvet, fur, denim, leather and tulle.
The kinky-factor was brought on by many things – short-shorts, chains, leather, over-the-knee boots, off-shoulder tops and bralettes, chain and leather chokers and fishnet stockings and veils. Moschino does not stand for a hide-in-the-corner-damsel, but for a woman of free will – who wants to wear cigarette earrings and over-the-elbow gloves with ripped jeans.
The second half of the show was even edgier – and my favorite. Skeleton dresses and Victorian frill-dresses made me feel like an animated Vampire movie came to life.
The last few looks stood out for their burntness – burnt edges, cut-outs and charred hemlines – with sheer tulle and skin peeping through here and there. The fashion house has come to make originality and execution its signature as much as the use of unexpected themes. My favorites amongst the burnt dresses (or robe-brûlée, as they would say en français!) were the finale prom-dress, whose sharp-edged neckline made it even more vampire-like, and a tux with crop pants and burnt hems, plus a burnt hat:
My favorite look was the most over-the-top dress with a Chandelier around it:

Accessories
Accessories included pearl necklaces, chain chokers and layered necklaces, box back-packs, chain handbags, fingerless and high gloves, logo caps and veils. Belts were interesting – with motorcycle motifs and multi-layer buckles.

Moschino Fall 2016 Winter 2017 Women's Fashion Show: Gallery
Moschino Fall 2016 Winter 2017 Women's Fashion Show: Video

Image Credit: Moschino.com
Shilpa Ahuja the editor-in-chief of ShilpaAhuja.com, which she founded with the goal of inspiring confidence in the modern working woman through fashion. Other than defining the direction of the magazine, she also writes about fashion & beauty trend forecasts, industry analysis, and opinions.
Shilpa's work has been published in the University of Fashion blog and Jet Airways magazine. She is also an artist, illustrator and cartoonist. She is also the creator of Audrey O., a comic series that represents the lifestyle of millennial women. She enjoys creative writing and world travel. Her art has been exhibited at Harvard Graduate School of Design and the Aroma Hotel, Chandigarh and been published in Chandigarh Times.
Originally from Chandigarh, Shilpa also has a degree in architecture and has worked in interior project management. She is also the author of the book "Designing a Chinese Cultural Center in India". Shilpa has a Masters in Design Studies degree from Harvard University.
For feedback and questions, please email [email protected]