From dinner dates to night outs with your buddies, here are 5 men's casual outfit ideas to look your very best in casual clothing!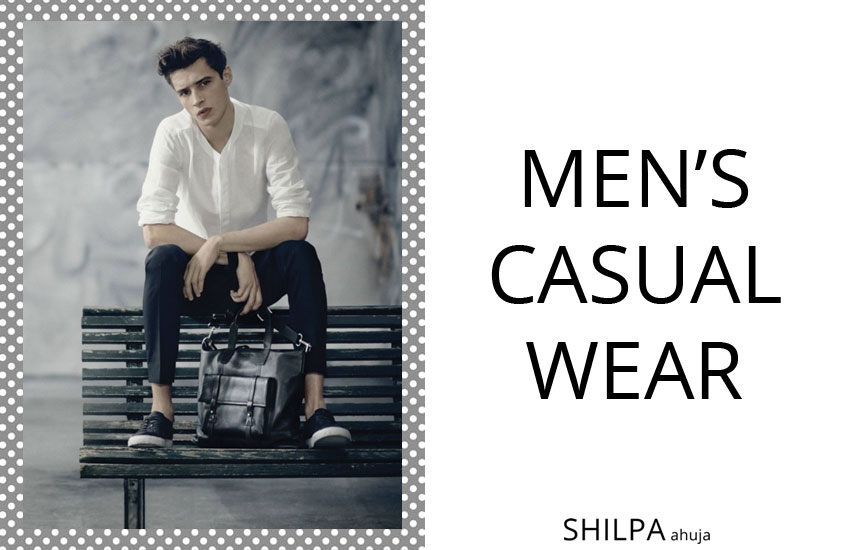 Hey there handsome! 😀 Fall is just around the corner and it's time to revamp your wardrobe! As far as men's casual clothing is concerned, there's tons of new trends to try out this season! From printed tees to white sneakers, from denim on denim to pattern on pattern, there's plenty to choose from! These trends were spotted on the runways of Spring/Summer 2018 menswear fashion collections.
Stuck in a fashion rut? Need some thing to wear to you next date? Or are you just looking for some style inspiration? Either way, I'm here to help!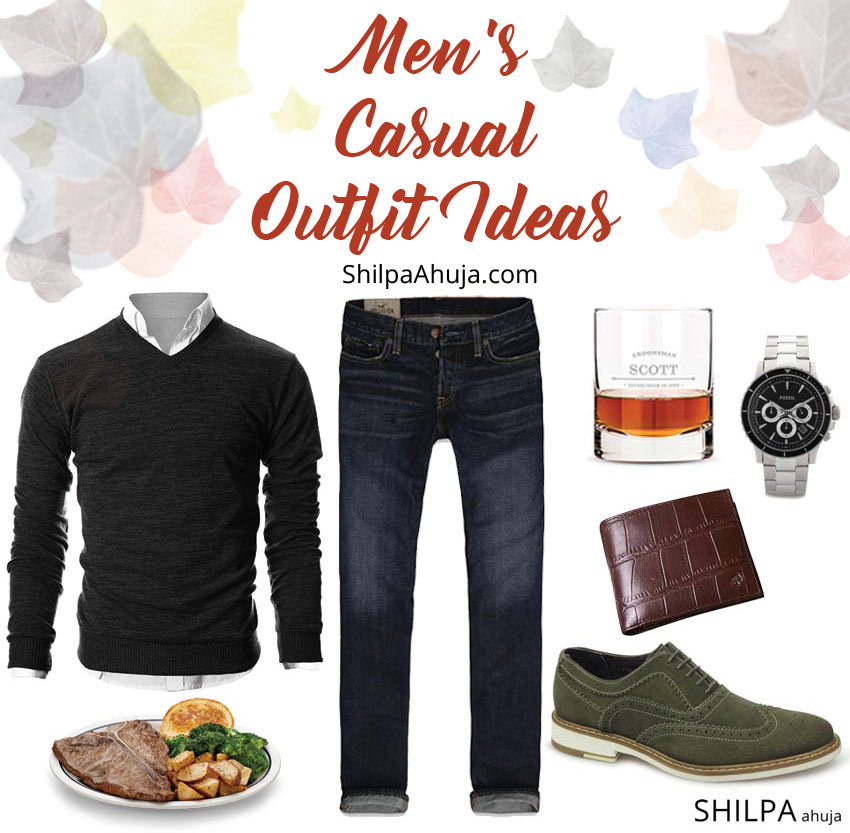 No matter what the occasion, here are my ideas for men's casual outfits, all inspired by next season's men's trends forecast.
5 Men's Casual Outfit Ideas
1. Casual Biker Look for a Night Out
A leather jacket is an essential for every man's wardrobe. Very few fashion items are as effortless and versatile as a biker jacket. It can transform even the most plain and boring outfits. Pair it with a basic round neck tee and dark wash denims. Opt for a pair of matching sneakers and accessorize with a neutral toned watch. With this sexy and badass outfit, you're sure to make heads turn!
2. Laid-Back Look for Travel
Wanna look like you've made an effort without really doing so? Here's how you can do it! Athleisure has taken the world by storm lately and I'm not surprised. It's super comfy and super cool! Matching lounge wear sets are totally in at the moment for men's fashion. Sport a pair of jogger pants with a bomber jacket or hoodie and white sneakers which is another one this season's top trends and you'll be trendy in no time!
3. Sophisticated Look for a Brunch Date
Surprise your girl with this hot and polished date outfit and thank me later! Nothing says sophisticated like a pair of well-fitted chinos. Strike the balance between casual and dressy by pairing it with an elegant crisp white button-up shirt. To accessorize, opt for club master or most trendy square sunglasses and a matching wallet. Up your style game with a smart watch and chic loafers to complete the look! This outfit is also ideal for a semi-formal party or casual Friday at the office.
4. Timeless Look for a Casual Outing
Whether it's a shopping trip or just a casual daytime outing, make a style statement wherever you go! A denim jacket is a go-to item in terms of men's casual clothing. It's bound to look great no matter how you style it. However, here's one way to do it! Keep it casual by wearing it over a striped or printed tee and jeans in a contrasting color. You can also go for a matching color if you wanna give the denim-on-denim trend a try. Slide into a pair of slip-on shoes and you're good to go!
5. Sexy Look for a Dinner Date
Looking sharp has never been easier! Just wear a V-neck sweater over a button up shirt and classic blue jeans. You don't always have to keep the color palette monochrome, add a dash of color to the outfit with earthy, warm toned shoes. Brogues are a men's casual wear staple, they work well on anyone and are appropriate for almost any occasion. Build up the style factor with an elegant watch and a wallet that compliments it and you've got yourself the perfect date night outfit!
So, those were some of the men's casual outfit ideas to stay trendy while keeping it casual with menswear. Hope these men's fashion ideas helped you. Let us know if they did and what you think about them by tweeting us @shilpa1ahuja. 🙂
Also check out: Men's Shoe Styles | Different Types of Shoes for Men: Casual and Formal
90s Men's Fashion: The Iconic 90s Trends & More
Men's Grooming Trends: Latest Beard and Hairstyles for 2017!
– Dior Men 2018 Collection Combines Polished with Sassy
Nishita is a Staff Writer/ Journalist at ShilpaAhuja.com. She is a graduate of National Institute of Fashion Technology and has a degree in leather design. A lover of all things fashion, she writes about everything from beauty, hair and lifestyle to fashion trends and how-to's. Her area of expertise is outfit ideas but being fresh out of college, she also loves writing about college fashion. Her new found love of baking is currently taking over her life, making her write about all things chocolate and easy recipes. With a flair for sketching and a great eye for detail, she's previously designed leather garments for brands like Diesel and Salsa. When she's not writing, she's busy reading extremely sappy Nicholas Spark's novels, sewing clothes and listening to some indie rock. Also super passionate about photography, she loves portraits and wildlife photography – a habit turned love that formed with the amount of traveling she did as a teenager. As a girl who grew up with books and movies like Pride & Prejudice, her love for period fashion is huge. And being curly haired, she's always on a constant hunt for solutions to problems that come with having ringlets and loves sharing them with people through her articles. For feedback and questions, email [email protected] or connect with her on twitter @ni95.