Forget the traditional clichéd mehndi, and welcome modern designs! From dot work to finger glove art, the latest mehndi designs are giving us serious goals to get them done asap! Check out the trendy mehndi designs here!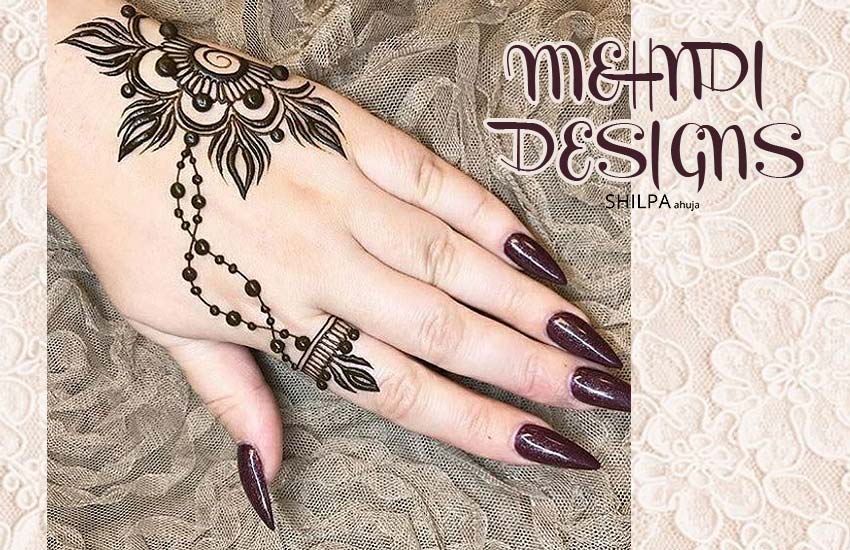 Hey beautiful! Mehndi is something that enhances the appeal of Indian festivities. Be it any festival or ceremony, it's hard to find a single hand without mehndi. Indian women are crazy about mehndi and it has been popular since forever. While people get easily bored with the similar type of designs, here's a list of different and trendy mehndi designs that will make heads turn!
So, let's get started with the latest mehndi designs!
17 Latest Mehndi Designs
1. Jewelry Inspired
Get the traditional look of mehndi in a unique way this season! Bracelet designs, finger rings and palm cuffs are a few jewelry inspired designs that are trending this season! Get the shape of your favorite jewelry and skip the actual piece of jewelry! Without mehndi and jewelry, an Indian ethnic wear is incomplete so combine the two and have just one!
2. Half and Half
This is a stunning mehndi design and looks lovely too! In half and half trend, on only half of the hand mehndi is applied. The mehndi is applied either vertically or horizontally. Perfect design if don't want to overdo and keep it minimal!
3. Side of the Hand
Now, this is the trend I'm liking the most! Give a modern twist to the traditional designs. In this trend, mehndi is applied just on the edge of the hand, leaving the rest of it untouched. In this trend, either go for floral or paisley patterns! Perfect for the ones looking for simple mehndi designs.
4. Just Fingers
An interesting mehndi trend which takes no time to apply and also looks great! In this design, you see mehndi just on the fingers and nowhere else. This may look like an undone mehndi design but it's something unique and you should give a try if you like out-of-the-box statement designs! Dots, loops and small geometric patterns are a few ideas for this mehndi trend.
5. Cut-Out
It is not necessary to always fill in the flowers or paisley pattern with stripes or dots, try leaving them empty and this will pave the way for a new mehndi design. To make it look more appealing, try to have dark and bold borders.
You can go for small cut-outs by drawing just the borders of leaves. Or go for a large cut out that has U or V-shaped border spread across the whole hand.
6. Subtle
For people who are allergic to mehndi and still love it on their hands, this mehndi design is for you! Just a simple plain design like a rose or small mandala or mixed pattern of line and dots. You can either have them on the fingers or just on one finger and the rest on the back of the hand.
7. Climbers
Here's another one for those who don't like too intricate designs. You can just have a simple climber design or climbers within a design of your choice. Go for inturned climbers! Minimal designs that are done neatly look the best with just curves and leaves.
8. Roses
Rose mehndi designs are on our trend list in the latest Arabic designs for this year. They are super popular in bridal mehndi designs and also work well for simple designs. A big and bold one or a cluster of roses is a good option if you're into these beautiful flowers!
9. Dot Work
I'm not much a fan of this trend because it may take a long time and also the color will not be bright enough! In mehndi, the bolder the design the better the color! But yes you can combine this trend with filled in areas to mix light and dark.
10. Finger Glove
Just as the finger glove covers the finger, this mehndi design is similar to that! You can either get it done on a single finger and keep it simple. Or get intricate jaali designs on all the fingers and leave rest of the hand without doing anything. Jalli work and lace designs work perfectly on single fingers.
11. Negative Space
Bring out the beauty of traditional mehndi designs with this unique trend! Earlier, filling in the whole space was a trend but now leaving spaces in between patterns is trendy! You can go for a completely filled in design where only the pattern is left as negative space.
12. White Mehndi
If you don't want the traditional red color of henna and want something unique, then white mehndi is a perfect choice! It is also an exciting option for darker skin tones. Also, it is little expensive than the red mehndi. White mehndi is also perf for boho looks and summer music festivals.
13. Necklace
Skip the necklace for your upcoming occasion and instead get a mehndi design done. Sound interesting, right? In this way, you can even save on the jewelry or get it done to complement your necklace. The mehndi designs for this wedding season are pretty helpful as they serve the purpose of pieces of jewelry.
14. Lamps & Chandelier
This mehndi design may be perfect for Diwali. You can have a simple lamp or chandelier design and rock your special occasion!
15. Stripes
Stripes are one of the simple and easy mehndi designs. This is simplistic and looks great even casually. If you like looking for a simple mehndi design, then go for the stripes. Stripes with lines and dots are a good option!
16. Mixed Print
From tiny flowers to lines to leaf motifs to geometric patterns, you can have a mix of them in this style of mehndi design! Also, try repetitive asymmetric designs that start on end hand and continue to the other, to resemble a print.
17. Yin & Yang
Yin and Yang is a popular Chinese symbol. It is pretty simple and looks lovely! In this trend, half of the hand is completely filled in, and the other half is left undone, with a curvy line in between, where you can even draw a climber or rose.
18. Hearts
Whether it's your anniversary or Valentine's Day, celebrate your love with bold and passionate heart designs!
So, these are the latest and best mehndi designs! Which trend are you liking the most? Do let us know by tweeting @shilpa1ahuja. Also, we would love to see if you have tries any of these designs. Do share the pics by tagging us @shilpaahujadotcom.
Anusha Jain is a Staff Writer & SlubShop Manager at ShilpaAhuja.com. She has a diploma in Fashion Design from iNIFD and is originally from Andhra Pradesh. Before entering into the field of fashion, she got a Masters in Analytical Chemistry. Her love in fashion design, a passion in staying updated with the latest trends and zeal to do something creative paved her way to a career in fashion. Here, at Shilpaahuja.com, she works on bringing the latest in shopping ideas, fashion tips and beauty advice to SlubShop, the world's first purely trend-based affiliate store. Accessories are her expertise. Her work on SlubShop involves bringing the latest runway trends to the masses, and designing the UI/UX to make it look innovative and fresh. She is also a fitness and dieting aficionado, writing about bringing the latest in the world of wellness and health. When she's not writing she loves to travel, watch movies and also she is interested in photography, using herself as a muse. For feedback and questions, email [email protected] or connect with her on Twitter @Anushajain14.