From Kurt Cobain and Johnny Depp to Jared Leto and Chris Hemsworth, check out the best male actors with long hair below!
Sometimes, if not all the time, the hairstyles and looks that celebs don become more popular than their movies or work. Here are 18 such male actors with long hair that's both stylish and iconic. If you're looking for some good haircuts for men with long hair, this list might give you some inspiration. So let's take a look at some of the best male actors with long hair!
Male Actors with Long Hair
Chris Hemsworth Long Hair
I think we can all agree on the fact that no one could have played a better Thor than Chris Hemsworth. And if there's anything I love more than the movie itself, it's his messy yet gorgeous blond long locks. And I was almost sad to see it cut off in Thor: Ragnarok. I say almost 'cause the short style on him is just as sexy!
Also read: Men's Grooming Trends: Latest Beard and Hairstyles!
Troy Polamalu Hair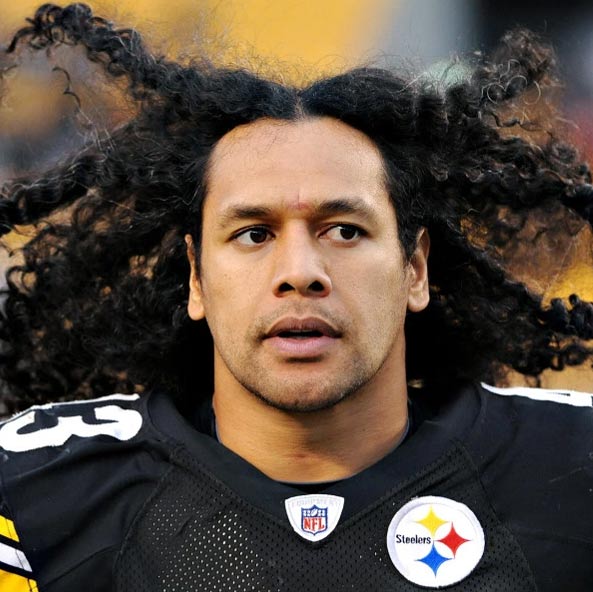 One of the many famous men with curly hair, Troy is an ex-NFL player. He may not be an actor per se but he has voiced for movies like Moana. Despite being a popular and talented sports personality, his voluminous and wild long hair is what he's best known for. You know the hair is important when there's a whole separate section on his Wikipedia page dedicated to just his hair! And not only is his hair insured, but it also holds the Guinness world record for the highest insured hair.
Gaspard Ulliel Hair
Model and actor, Gaspard's effortless and unique bedhead style shoulder length hair looked so good on him that I always hoped he'd never cut it off. But unfortunately for all of us, he did. However, he manages to pull off any hairdo so I guess we can't really complain.
Jared Leto Hairstyle
You can't have a list of male actors with long hair and not include Jared Leto. He's had long straight hair ever since the 90s when Thirty Seconds to Mars were popular. He's also very experimental with his long locks. From rocking a red ombre to introducing the man braid, he's done it all! If you're looking for long length hairstyles for men, I'd recommend checking out his cool hairdos.
Jeff Bridges Haircut
You might know him as the bald man that betrayed Tony Stark in Iron Man. But he's also very well known for his long salt and pepper bro flow hairstyle, which he grew out some time later and is still rocking.
Tom Cruise Long Hairstyle
Although, this actor never had hair as long as some of the others on this list of best celebrity hairstyles, it's still memorable. The actor grew out his hair for his 2003 movie, The Last Samurai. This one was, in fact one of the best men's straight long hairstyles. But sadly, soon after the release of the movie, he chopped off his long hair and switched to short silvery grey hair for the movie, Collateral.
Daniel Radcliffe Long Hairstyle
Daniel grew out his hair for the first time ever for the movie, Victor Frankenstein and I'm quite indecisive on whether I like his long hairstyle. This floppy and long hairstyle ending at the chin is by no means a bad hairdo. But the potterhead in me can't see him as anything other than short-haired Harry Potter.
Keanu Reeves Long Hair
Another one of the male actors who sports a bro flow hairdo is the Matrix star, Keanu Reeves. Give John Wick and 47 Ronin a watch to see the long hair in all its glory.
Russell Brand Hairstyle
Actor, comedian and ex-husband of Katy Perry, Russell's hair was always referred to as the worst male celeb hairstyle. What with the unruly and untamed bedhead hair he used to sport. He always looked like he'd literally just rolled out of bed and showed up on the red carpet. Having said that, I don't think it's all that bad. On him, atleast. He has a weird and quirky personality and his long hair matches that perfectly.
Jake Gyllenhaal Long Hair
No one, I repeat, no one can rock a man bun like Jake can. His messy bun always looks like he puts zero effort into it but it's oh-so-hot! He may not have the long hair anymore but there's always movies like Prince of Persia and Everest, which you can watch to admire his long locks.
Ashton Kutcher Long Hair
I can't be the only one who doesn't like this actor's tucked-behind-the-ears surfer hairstyle. It's not really a bad hairstyle but it just doesn't look right on him. Brad Pitt had the same hairdo and damn, did he pull it off with ease. It also bothers me how Ashton never parts his hair evenly. Sorry, Ashton but you should just stick to short hair.
Also read: Hot Hollywood Actors | Top 25 Sexiest Actors in Hollywood
Kurt Cobain Long Hair
Kurt Cobain's hair will forever be as iconic as his music. His dirty blond center parted hair was super popular during the grunge era. And it's still one of the most popular men's rugged hairstyles. I could go on and on about him but let's just say he and his hair are legendary and stop at that.
River Phoenix Hair
This 80s film star is yet another one of the popular male actors with long hair. With messy shoulder length blond hair similar to that of Kurt Cobain, his skater boy look was loved by all. His early and tragic death caused by drug overdose in the 90s came as a shock to everyone but come 2018, his famous hair is still talked about.
Ben Barnes Hair
Never have I ever seen anyone who looks amazing no matter what type of long hair style they sport. This actor's tried all sorts of lengths and types and I don't know how or why but he manages to look like a Greek god every single time.
Christian Bale Long Hair
Here's another one of the famous long hair men in Hollywood. The Batman actor's very experimental with his hair and is constantly providing inspiration for long hairstyles for men.
Johnny Depp Long Hair
From his 90s grunge style phase and Willy Wonka days to some of his recent movies like Alice Through the Looking Glass, the actor's tried so many unique and cool long hairstyles. So many that we could write a whole other article on it. But of recent, he's had shorter styles and all I can do is hope he brings back the long locks soon.
Brad Pitt Hairstyle
One of the most famous men's haircuts of all time would have to be Brad Pitt's shaggy blond long hair. And whether he wears it loose or tied into a pony, he always looks dashing!
Also check out: Ooooh, Wow! 16 Hollywood Actors with Hottest Abs
David Beckham Long Hair
David Beckham is easily one of the most famous men with long hair. He never sported the long hairdo in any of the movies he's acted in but on the field, he always rocked it. In so many different ways, from cornrows and man buns to double ponytails!
So that was all about male actors with long hair. What did you think about these famous men's haircuts and hairstyles? Tell us by tweeting @shipa1ahuja!
You may also like:
– Beard Styles for 2018 Inspired by Latest Bollywood Actor Beards
– Hollywood Actor Beards – The Good, The Bad and The Ugly
– 90s Hairstyles: Most Popular 1990s Hair Trends to Try This Year
Nishita is a Staff Writer/ Journalist at ShilpaAhuja.com. She is a graduate of National Institute of Fashion Technology and has a degree in leather design. A lover of all things fashion, she writes about everything from beauty, hair and lifestyle to fashion trends and how-to's. Her area of expertise is outfit ideas but being fresh out of college, she also loves writing about college fashion. Her new found love of baking is currently taking over her life, making her write about all things chocolate and easy recipes. With a flair for sketching and a great eye for detail, she's previously designed leather garments for brands like Diesel and Salsa. When she's not writing, she's busy reading extremely sappy Nicholas Spark's novels, sewing clothes and listening to some indie rock. Also super passionate about photography, she loves portraits and wildlife photography – a habit turned love that formed with the amount of traveling she did as a teenager. As a girl who grew up with books and movies like Pride & Prejudice, her love for period fashion is huge. And being curly haired, she's always on a constant hunt for solutions to problems that come with having ringlets and loves sharing them with people through her articles. For feedback and questions, email [email protected] or connect with her on twitter @ni95.