These fantasy-like Airbnb accommodations promise YOLO experiences. They'll make you wanna travel right away! These top Airbnb accomodations include everything from magical tree-houses to historic boats to geodesic domes!
The Most Gorgeous Places to Stay in the World!
After I got admitted, the first time I visited the Harvard campus was on Google Maps Street View! Living in India and stuck in my crisp white corporate office, there was no way I could travel half-way across the world and attend the Open House. So I used to zoom out all the way in Google Maps and roll over to the west. Then zoom in again on the East Coast, and up north to Massachusetts and to Cambridge. Walking around the Harvard Yard, taking in the street views and figuring out the directions from my dorm to my grad school felt as close to actually being there as one could get!
That's ok, because that's the way I had first traveled to the Eiffel Tower. And the Sydney Opera House. And the Colosseum. The traveler bug bit me soon after I arrived at Harvard and made friends from all over the world. Traveling to check monuments off of a bucket-list evolved to a wanderlust – a general curiosity for experiencing cultures and meeting people. Street View became common practice! What started as a wish-fulfilment soon evolved to research process before visiting any new place.
That's why now I do the same with Airbnb accomodations. Some listings are for spending the night as you go about the destination sightseeing or working. And some – well, those are for #YOLO (you only live once) experiences. They have the power to romance your soul. Or to take you back hundreds of years in the past. Or immerse yourself in nature. Or a fantasy!
Wanna check out some of my favorite Airbnb accomodations? Caution: It may make you wanna pack your bags and book a ticket right now! Renew our new wish-list perhaps?
Advert:

The Top Airbnb Accommodations
All-Bamboo House in a Bamboo Forest
Stunning All Bamboo House near Ubud
Abiansemal, Bali, Indonesia
This house is way prettier than it looks in this one picture, so you have to head over to their listing to really take it all in! This all-bamboo villa is set in a river valley. Everything – from staircase to the refridgerator door is bamboo. And they have gorgeous copper bathtubs! With a great view of a bamboo forest, this place is what Zen means!!
Luxury Mansion with a Near-Infinity Lake View
Stunning Luxurious Waterfront Home
Miramar, FL, United States
This house, despite having commonplace interiors, is anything but when you see the waterfront. With a pool and spa, the water seems to extend into infinity!
A Tugboat from 1908 Next to Golden Gate Bridge
Romantic 100 Year Old Tugboat
Sausalito, CA, United States
Living in a tugboat from 1908 with charming teak wood and maple interiors sounds super cool. Especially when it's less than 3 miles from the Golden Gate Bridge!
Advert:

A Mirrored House that Looks Dreamy
Unique artist mirrored house
Pittsburgh, PA, United States
This artist's house and studio not only contains original artworks, but also looks like one itself! Check out the aquariums, the designer dining table, the suspended lamps and the mirrors all over the ceiling!
A Victorian Castle from 1841
Stay in an Ancient British Castle
Kirkby Stephen, United Kingdom
An actual castle, and so fairy-tale like! Built in 1841, this castle has fireplaces and charming historic but homey interiors. Plus it is away from the city!
A White Geodesic Dome with Farm Animals
Geo Dome on Farm Upstate Catskills
Woodridge, NY, United States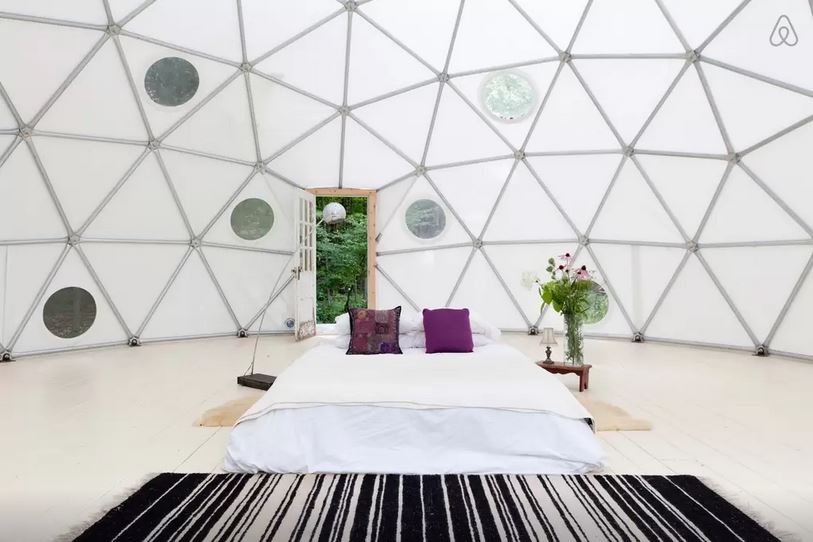 Perfect for an outdoorsy experience that doesn't even feel like camping! This white dome has lovely white interiors and screen windows. The farm shows animals like goat, sheep and rabbits! Plus: Yoga class!!
A Unique Seashell Paradise
The Seashell House – Casa Caracol
Isla Mujeres, Mexico
This house seems like the most unique resort- it's in the shape of a giant seashell. Plus: It claims to have a pool and barbecue. How honeymoon-ey!
Advert:

A Roulette Caravan
Atypic studio charming caravan
Ventabren, Provence-Alpes-Côte d'Azur, France
Fit for a cozy stay for the unconventional traveler, this caravan has traditional design and is next to a garden, villa and a pool!
A Magnificent Lighthouse from 1882
Beach front lighthouse Marlera
Medulin, Croatia
Away from the village, if you want to spend your days looking into the sea, listening to the sounds of waves crashing against the rocks in an actual lighthouse hidden from the world!
A Magical Tiny Wooden Cottage
'Silo Studio' Cottage
Tyringham, MA, United States
This gorgeous wood cottage is like a cross between a treehouse and a silo. It's a tiny little place in the middle of a lovely garden with the views of the pond, a stream and forest! And brook and bird-sounds all night!
Paradise Villa with Volcanic Vistas
Villa Gaia: 112952
Imerovigli, Sabtorini, Greece
Santorini is heaven on its own. But if you get a place like this you may really never wanna leave! With a panoramic view of the Agean Sea and the volcanic islands, gorgeous balcony for sunset-viewing and classic Santorini architecture, this place really looks unmissable!
Advert:

Camping Experience in the Midst of Nature
Yellowstone Under Canvas – Tipi
West Yellowstone, MT, United States
The idea of camping in Yellowstone seems cool on its own, and these camps claim to be "luxury". Equipped with pillows, sleeping bags and pillows, it seems a great place for those who don't like roughing it!
Picturesque Traditional Architecture Hut
Trullo of 1800 in the Itria Valley
Cisternino, Brindisi, Apúlia, Italy
This recently restored traditional Trullo seems so cultural and exotic! Great place to be inspired and spend the day reading or painting!
Did you love these idyllic places? I wanna go to all of these!! Which one do you wanna go to? And which is your favorite out of all Airbnb accomodations?? Comment below, lemme know! Muaah <3
Shilpa Ahuja the editor-in-chief of ShilpaAhuja.com, which she founded with the goal of inspiring confidence in the modern working woman through fashion. Other than defining the direction of the magazine, she also writes about fashion & beauty trend forecasts, industry analysis, and opinions.
Shilpa's work has been published in the University of Fashion blog and Jet Airways magazine. She is also an artist, illustrator and cartoonist. She is also the creator of Audrey O., a comic series that represents the lifestyle of millennial women. She enjoys creative writing and world travel. Her art has been exhibited at Harvard Graduate School of Design and the Aroma Hotel, Chandigarh and been published in Chandigarh Times.
Originally from Chandigarh, Shilpa also has a degree in architecture and has worked in interior project management. She is also the author of the book "Designing a Chinese Cultural Center in India". Shilpa has a Masters in Design Studies degree from Harvard University.
For feedback and questions, please email [email protected]