From the meanings of each lotus color to designs and ideas on where you should get them, here are 60 lotus tattoo designs!
Love spiritual tattoos? Into Buddhist culture? Want a meaningful tattoo? All of the above? Then the lotus flower tattoo is the one for you. Or even if you're just on the lookout for trendy tattoo ideas, this article will give you every reason to get a lotus one. Read on to know more about these pretty tattoos, what each lotus color means, what the latest trends in lotus tattoos are, where to get them and which one's the best for you!
Meaning of the Lotus Flower Tattoo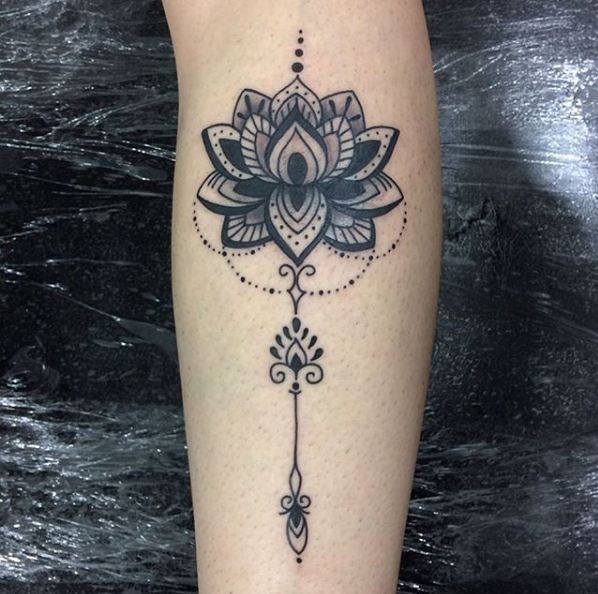 The lotus flower is a sacred symbol in various cultures. Apart from looking beautiful, the lotus also has a deep spiritual meaning. It stands for purity, strength and grace. Lotus flowers grow in the dirtiest of waters but bloom into beautiful flowers, despite their origins. The symbolism of a lotus flower is, how, just like a lotus, we can overcome any obstacles or difficulties that come our way. It's also one of the eight auspicious symbols of Buddhism.
Additionally the lotus flower is the only one that's perfectly symmetric both in front and aerial view. Its perfect mandala geometry has mystique and is based on sacred numerology.
The lotus also indicates a sense of detachment 'cause it lets water droplets slide easily due to the surface texture of the petals. It's also the national flower of India and considered to be divine in Hindu mythology. This flower is also greatly associated with lord Vishnu and Brahma and goddesses, Lakshmi and Saraswati.
In China, it's regarded as highly sacred and a symbol of beauty and purity. And because it manages to bloom even in the most unfavorable conditions, it's also an example of motivation, inspiration and never giving up.
Each tattoo design has its unique meaning. If you're a tattoo designer, you can upgrade your tattoo design to custom stickers or custom embroidery patches so that your design can be recorded forever as personalized crafts. Of course, you can also display them anywhere or give them to clients as thank-you gifts.
Trends in Lotus Tattoo
Lotus Mandala
Lotus mandala tattoos are one of the most popular trends in lotus tattoos. Like the lotus, mandalas have deep meanings on their own. They're usually symmetric and have super intricate detailing. They stand for the universe and the patterns within them, symbolize how we are all connected. Combine that with a lotus, which has just as profound a meaning, and you have the ultimate spiritual tattoo. Get a mandala lotus tattoo on the shoulder or celebrate its symmetry by getting it on the center of your back.
Lotus Symbol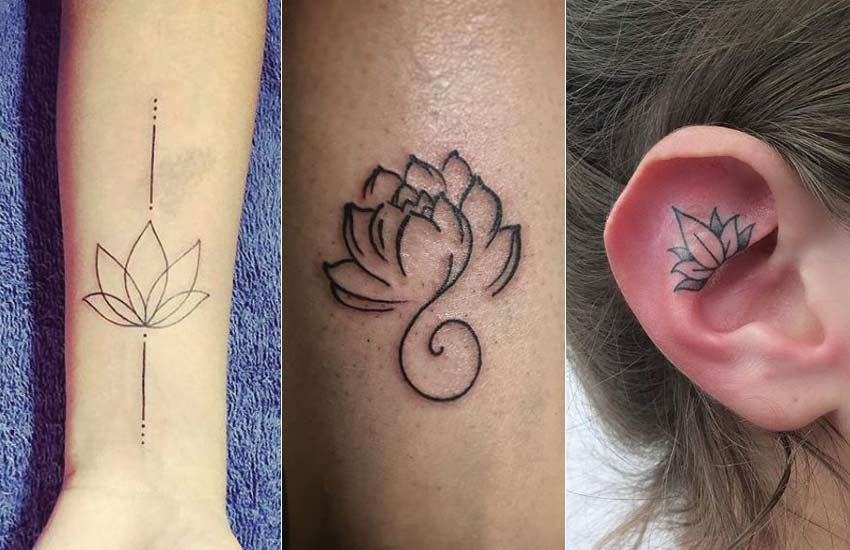 Fine line lotus tattoos are not only extremely popular but also very simple and minimal, which I personally like a lot. If it's your first time getting a tattoo, a simple line tattoo of this Buddhist symbol would be perfect.
Indie Tattoos
Not-so-mainstream hipster tattoo ideas include bohemian style lotuses, abstract ones and tribal inspired ones.
Small Lotus Flower Tattoo
If line tattoos are not your style, you can get small flower tattoos that are just as minimal but with a little bit of color or dots or a 3D effect or all! The best thing about small lotus flower tattoos are, they look good irrespective of where you get them! Some ideas are at the collarbone, shoulder, ankle, wrist and back of the ear or a helix tattoo on the ear itself! Or go for one on your finger.
Lotus Watercolor Tattoo
As a lover of watercolor art, I'm all for this trend. Lotus tattoos with a splash of fun colors in the background or a lotus tattoo filled with a watercolor effect have been tattoo favorites lately.
Tribal Lotus Flower Tattoo
Tribal tattoos express the origins or religious beliefs of tribes. They often have dots and geometric or Aztec patterns. Try one with a chandelier detail and jewels or a simple lotus flower tattoo with dot work.
Geometric Lotus Tattoo
Organic, abstract or geometric, lotus flower tattoos look great! Go for a lotus tattoo with geometric shapes behind it or a lotus with geometric shaped petals, which makes them look like crystals! You can also get a monochromatic one if you appreciate minimalism.
Chinese Lotus Tattoo
The lotus is a huge part of Chinese tradition and culture. It reflects purity of the heart and mind. A lotus flower tattoo with water designs and a koi or carp fish or with Chinese text are some great ideas for a Chinese lotus tattoo. And of course, lots of bright blues, purples, reds and yellows.
Lotus Dragonfly Tattoo
A dragonfly generally signifies change and transformation. Getting it along with a lotus would mean you have to go through changes and accept them in order to fully grow and bloom.
Om Lotus Tattoo Meaning
Om, a mantra used in Hindu rituals, is well-known as the vibrations of the universe. It is said that this syllable can help harness great power and energy. People often get their lotus blossom tattoo with this sacred symbol to make it even more meaningful.
Lotus Tattoo Ideas for Different Body Parts
Lotus Flower Wrist Tattoo
Small to medium-sized tattoos look best on the wrists, so go for one in a style of your choice – geometric, line, dots, colored or 3D.
Lotus Flower Tattoo on Back
For the back, you can go to town with tattoos! The bigger they are, the better they look. That being said, smaller ones look amazing too. And you can always choose to cover them up or flaunt them with a backless top or dress.
Lotus Finger Tattoo
I've wanted a finger tattoo for as long as I can remember, but being the indecisive person that I am, can't commit to a design. The reason I love them so much is because of their simplicity. It's always gonna be in your sight and keep reminding you of why you got it. Get a lotus flower tattoo right above your knuckle or on the side of your finger. Or get it as a tiny ring tattoo. Perfect for anyone who wants to keep their tattoo discreet.
Lotus Flower Leg Tattoos
As for the leg, you can get sacred lotus flower tattoos on your ankle, just above it, or at the thigh. Or you can get a photorealistic lotus tattoo on your knee!
Lotus Flower Color Meanings
Although the lotus has a general meaning, each lotus flower color has its own, too. Keep reading to know all about them!
Blue Lotus
Blue lotus tattoos represent enlightenment. If knowledge and wisdom is what you want your tattoo to convey, it's the one for you!
White Lotus
White lotus tattoos speak of innocence, purity and grace.
Red Lotus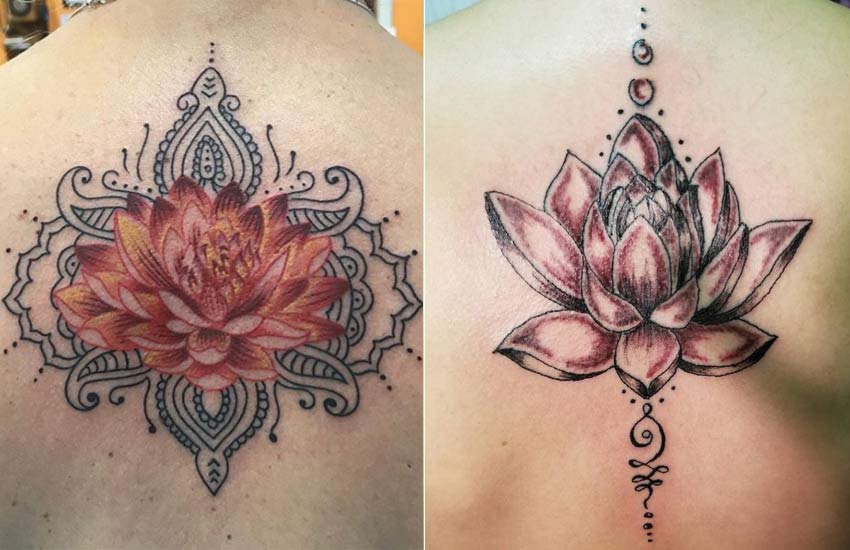 Red is the universal color for love. A red lotus is associated compassion, passion, beauty and of course, love. Opt for a solid fill red lotus tattoo or a gradient one.
Black Lotus Tattoo
The meaning of black lotus tattoo lies in its mystique and darkness. Get yourself a black tattoo as a reminder for every hardship and struggle you've faced and dealt with. Let it remind you how far you've come and how strong you are as a person.
Pink Lotus Tattoo
A pink lotus has the most relevance in Buddhism and is considered most sacred. It represents the Buddha, himself, for the pink lotus is considered his holy seat.
The Legends of Buddha
Honor the history and origins of Buddha by getting a tattoo of a sacred lotus flower with either a Buddha head or other Buddhist symbols like the endless knot, swastika or om.
Yellow Lotus Tattoo

A yellow lotus flower tattoo means awakening, learning and gaining of enlightenment.
Lotus Tattoos for Men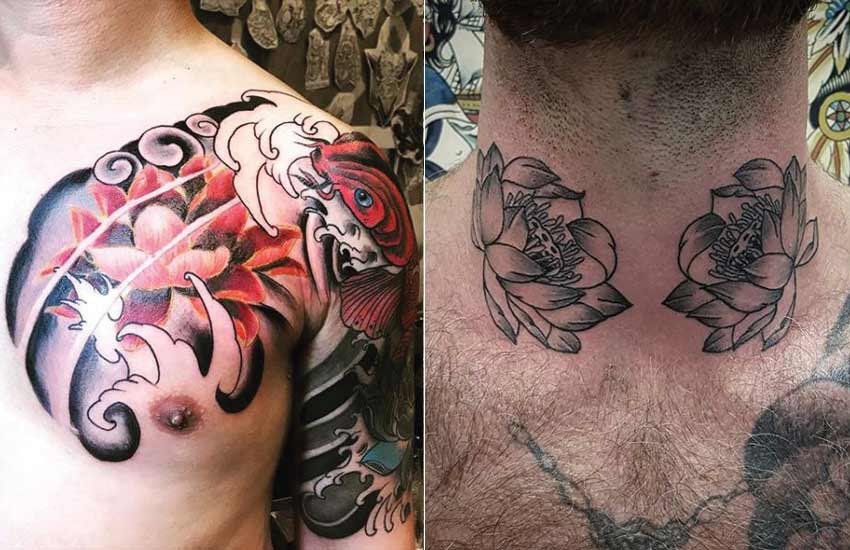 If you think lotus flowers aren't manly enough to get as a tattoo, try combining them with other tattoo designs like koi fish, tribal patterns or geometric ones. Tattoos on men look great on the arm, forearm, chest and back.
Or go for something more meaningful with an om or Buddha design.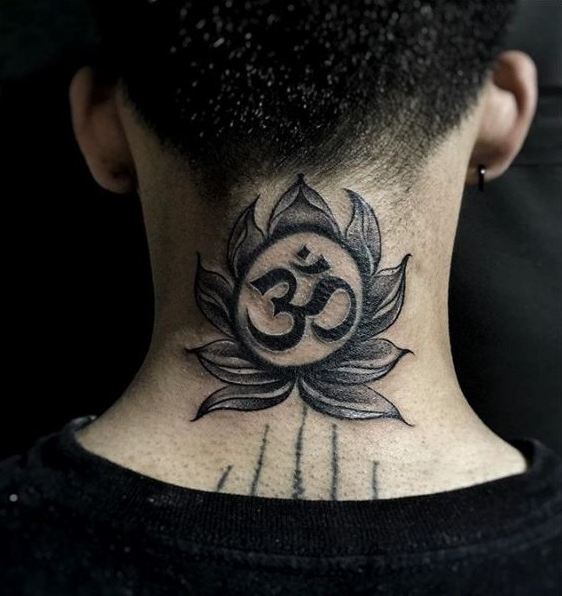 So those were our lotus tattoo ideas and where to get them. Let us know what you think of them by tweeting @shilpa1ahuja, or show us your cool lotus tattoo design on [email protected] and we'll surely like your pic!
Image Credits: Instagram
Also read:
– 60 Cute Tattoo Ideas | Best Tattoo Designs for Women
– 40 Cherry Blossom Tattoo Designs & Ideas
– Feather Tattoo Designs with Meanings: Lots of Different Types!
– King and Queen Tattoos | Best Couple Tattoo Ideas
– 50 Guy Tattoos for Men for All Body Parts
– 16 Most Popular & Cool Tattoo Styles
Nishita is a Staff Writer/ Journalist at ShilpaAhuja.com. She is a graduate of National Institute of Fashion Technology and has a degree in leather design. A lover of all things fashion, she writes about everything from beauty, hair and lifestyle to fashion trends and how-to's. Her area of expertise is outfit ideas but being fresh out of college, she also loves writing about college fashion. Her new found love of baking is currently taking over her life, making her write about all things chocolate and easy recipes. With a flair for sketching and a great eye for detail, she's previously designed leather garments for brands like Diesel and Salsa. When she's not writing, she's busy reading extremely sappy Nicholas Spark's novels, sewing clothes and listening to some indie rock. Also super passionate about photography, she loves portraits and wildlife photography – a habit turned love that formed with the amount of traveling she did as a teenager. As a girl who grew up with books and movies like Pride & Prejudice, her love for period fashion is huge. And being curly haired, she's always on a constant hunt for solutions to problems that come with having ringlets and loves sharing them with people through her articles. For feedback and questions, email [email protected] or connect with her on twitter @ni95.