Every woman should be aware of her body type to find out the best lingerie that makes you feel more confident and way sexier! Get to know your body shape and how to select lingerie for your body type as it is the first step towards creating your own unique style.
Hey beautiful! Lingerie is one of the first things that comes to mind when we think of wardrobe-essentials. A pair of precisely fitted undergarments is a wardrobe must-have that allows you to effortlessly make a statement. Every confident girl knows that.
However, selecting the appropriate lingerie for your body type might be a difficult task. Not everyone looks good in every cut and style. We often don't understand why some lingerie styles don't suit us. It's because we tend to select them based on current trends or celebrity styles, rather than our body type.
Wanna find out what's the right type of lingerie for your body type? No worries! To help you look and feel best in lingerie, we are here to discuss and give a complete guide to finding options for the best lingerie for your body-type that are flattering and comfortable.
How to Select Lingerie for Your Body Type?
Over time, the varying proportions of women's bodies have come to be arranged into key categories. These include the pear, rectangle, strawberry, hourglass, diamond, curvy/round, athletic, and skinny/slim body type.
They simply refer to the comparative proportions of a woman's shoulders, waist and hips, regardless of her weight. Knowing which category you fall into can be an invaluable secret weapon when it comes to selecting lingerie for your body type.
If you don't know what your body type is, here's our guide: How to Find Your Body Type and How to Dress for it.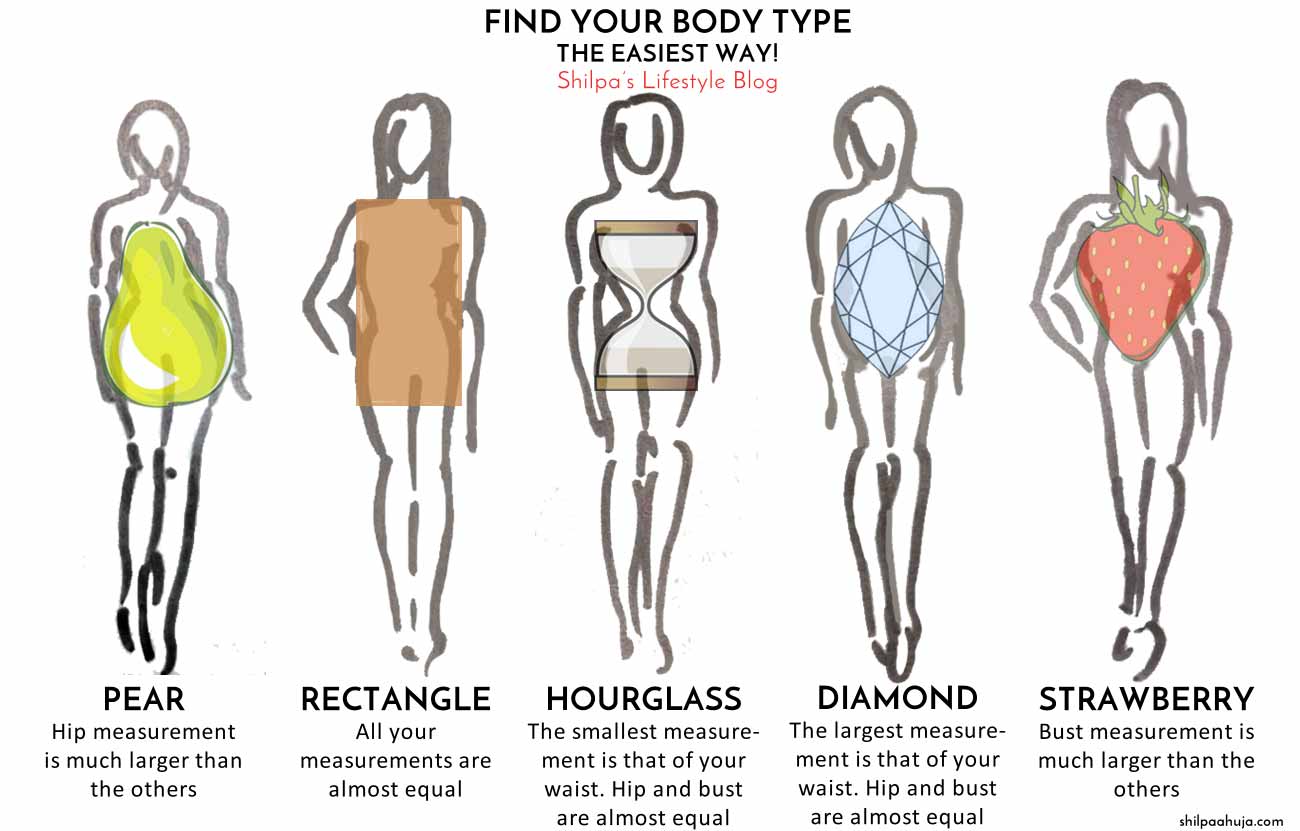 Pear-Shaped Body Type
Pear-shaped body type refers to bodies with bigger hips and comparatively smaller breasts. Women with such body types should aim at visually increasing the breast size and also reducing the size of the hips and bottom.
How to Select Lingerie for Pear-Shaped Body Type
You can balance out your smaller upper body by wearing a fuller, padded bra that provides more volume at the top. Try panties with a medium or high cut that will cover your bums, such as briefs or boy-shorts.
If you are a pear then the best lingerie for your body type is a ruffled bralette & boy shorts, as it adds more shape to your bust & hips.
Also try garter/suspender belt as it helps to bring in that waist.
Lingerie pieces such as a corset, bustier, bodysuit, or lacey babydoll will be the best option for this body type. It balances out your figure as it draws attention upwards.
Women with such a body type also have the option to draw attention to their wide hips with a teddy as it works well.
If you have a lengthier torso, try matching set, or V-cut panties, or balance your figure with a push-up bra.
Hourglass Body Type
Do you have an hourglass figure? If so, count yourself lucky! You have what's considered the ideal body type. Like a pin-up model, women with hourglass figures have a proportionate upper and lower body; your bust and hips are of nearly equal measurements with a relatively narrow waist.
If your shoulders and hips are fairly balanced and you have a defined waist, you're likely to have an hourglass body shape. These body types also tend to have round shoulders and hips.
How to Select Lingerie for Hourglass Body Type
Look for lingerie that keeps your curves in proportion. Thongs, matching sets, and C-cut panties sit stunningly on hourglass figures.
Garter/suspender belts highlight your smaller waist & are sexy AF. Teddy, bodysuits, and corsets will turn up the heat by emphasizing narrow waists.
Go for good support and show off your curves with plunge or balconette bras. High-waisted bottoms are very flattering for bigger hips, while high-legged briefs can look really attractive. A high-hip style that hits at your natural waist is the perfect way to accentuate your shape.
Strawberry Shaped Body Type
Do you have a strawberry figure?  You are likely to have a strawberry body type if your legs are narrower than your upper body, hence, you would want to make your upper body look narrower but at the same time visually add width to the hips to make your waistline more defined.
How to Select Lingerie for Strawberry Shaped Body Type
Find a bra that offers full support, or try the balconette which won't add to your size. High-waisted knickers are ideal for more support around your middle, Otherwise, the sexy Brazilian is your cut.
A halter or racerback neckline teddy and baby doll can bring focus inwards to show off your bust. Floaty babydoll dresses are great for women with strawberry-shaped body types. It's tight at the top, looser at the bottom, and balancing out your body line.
Try a bra set paired with a ruffled high cut, low-waisted bottoms for a accentuating effect on your bottom half.
Thongs or panties with straps, cutting straight across your torso will create the illusion of width. Or try a lightly-padded bra with a brief or high-waisted bottom tha will  complement your curves to perfection!
Rectangle Body Type
You are likely to have a rectangle-shaped body type if your hips, shoulders, and bust are almost at the same level. It's sort of a straight body line, so the focus should be on defining the waist and the lower half of the body.
How to Select Lingerie for Rectangle Body Type
In this case, you can try picking lingerie that helps in defining your waistline, such as romper and flirty camisole. Corsets are the best option as they add much-needed curves and will look utterly sensuous.
If you have a long torso, a garter/suspender belt, or teddy will look great on you as it helps to bring in that waist.
You can also accentuate your breasts by going for push-up bras and bustier lingerie. The bodysuit acts as a one-piece.
Pair a crop top with briefs or boy-shorts; it will elongate your chest and balance out the look.
Curvy/Round-Shape Body Type
You are known to have a circular body type if your waist and torso are slightly round, and your upper body is comparatively wider than your hips.
How to Select Lingerie for Curvy/Round-Shaped Body Type
A babydoll/negligee that hides chunks of your waistline and defines your bust line is a good option. A chemise or satin lingerie gown is an interesting choice as they are sexy and give you coverage.
Halter bra with high waist panties that will slightly lift your breasts and can make your waist appear smaller. Pair with a high waist, retro knickers to create a feminine look that provides extra coverage for your midsection.
If you want to elongate the line of your body, a sexy bodysuit or teddy with a deep V-neck is a great choice.
Diamond Shaped Body Type
Women with this type of body tend to have bigger chest and abdomen areas. The shoulders and hips are proportional, while the waist is not very defined and tends to be wider than the hips. The diamond shape body's waist is its largest measurement.
How to Select Lingerie for Diamond-Shaped Body Type
Plunge bras are perfect for larger chests with high-waisted briefs. They offer coverage while enhancing the cleavage and showing off your shoulders and the deep cut creates a vertical line that helps balance the body.
Athletic Body Type
If your body is muscular but isn't particularly curvy, you might have an athletic body type. Your shoulder and hip measurements are about the same. Your waist is narrower than your shoulder and hips but it isn't overly defined and looks more straight up and down.
How to Select Lingerie for Athletic Body Type
Try a push-up bra, bustier or cleavage-enhancing push-up bra set to suit this body type. Go for something playful with color and frills to give a fuller illusion. The sexy Brazilian cut, thongs, and cheeky shorts knickers are great options for the athletic shape.
A chemise is a simple, short dress that hangs straight down from the shoulders. This style suits all body types, particularly with long legs.
Skinny/Slim Body Type
People with this body type have little observable body fat, are lightly muscled, and have a small frame. With shoulders and hips that are of the same width and a slender waistline, anything sits well.
How to Select Lingerie for Skinny/Slim Body Type
Corsets are top-notch choices for this body type. You can try a high-leg panty or a thong with a lace bra, they elongate the body and make it appear more sensual.
If you have a long torso, a garter belt or a teddy will look great on you. You can also accentuate your breasts by going for push-up bras and bustier lingerie.
It's also a good idea to go for an underwired push up bra, racer-back bra or halter style. These options can give you the lift you need and side padding can create amazing cleavage!
To sum it up, every woman deserves the pampering, attention, and indulgence that makes her feel good about herself. Now, you can confidently pick lingerie for your body type that makes you feel sexy and at ease with your body.
So beautiful, I hope you got an idea of what your body type is and how to choose lingerie for your body type! Let us know which is your favorite lingerie piece according to your body type by commenting below!
If this article helped you find the best lingerie for your body type, leave a comment or show us your looks by tagging us on your Instagram pictures @shilpaahujadotcom. We'd definitely double tap them!
Read next:
13 Must Have Lingerie Essentials Every Girl Needs
Anita Senapati is a Fashion Journalist intern at ShilpaAhuja.com. She is currently pursuing her bachelor's degree in Fashion Designing from Amity University, Mumbai. She aspires to build her career in the fashion industry and wants to make her mark as a fashion designer in the industry.
She has always loved reading, especially fashion and lifestyle magazines, which soon lead to her love for writing. Anita also loves blogging, sketching, styling, sports, and traveling. She enjoys jogging as it helps her get motivated and gets many ideas for her design, sketching work, and writing work.
She spent her childhood in one of the most beautiful Indian cities, Odisha, Bhubaneswar. She has a great love for mythological facts and beliefs, which developed her love for reading and writing blogs. She loves to meet new people, and this helps her explore and learn more about her area of interest.